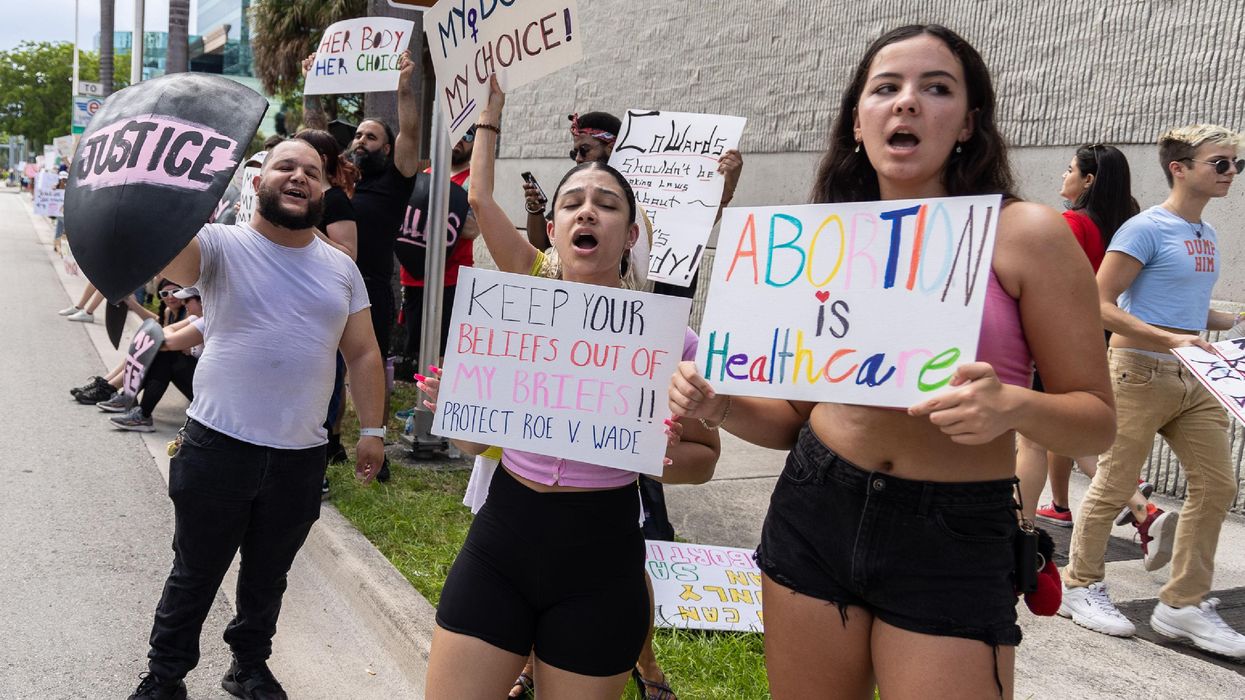 "The people of Florida have said over and over that their right to control their own bodies and make their own healthcare decisions should remain a protected right in the Florida Constitution," said one advocate.
Abortion providers and reproductive rights advocates demanded that that Florida Supreme Court consider "the will and the well-being of the people" in the state on Friday as an attorney for the ACLU argued before the court that it should block the 15-week abortion ban signed into law by Republican Gov. Ron DeSantis last year.
The court heard oral arguments in Planned Parenthood of Southwest and Central Florida, et al. v. State of Florida, et al., in which the reproductive rights organization has argued that the 15-week ban—as well as a six-week ban signed by DeSantis earlier this year, which would go into effect if the current law is upheld—violates the state constitution.

Whitney White, staff attorney for the ACLU Reproductive Freedom Project, represented the plaintiffs and argued before the court that Floridians have repeatedly affirmed that the right to obtain abortion care is protected by the the state constitution's privacy clause, which was added to the document via a referendum in 1980.

"In 2012," noted the ACLU, "voters overwhelmingly rejected Amendment 6, which would have taken those abortion protections away."

The group argued that the language in the constitution and those votes—along with a poll taken last year that showed two-thirds of Floridians support abortion rights—demonstrate that the Supreme Court must block House Bill 5, the 15-week ban.
In court, White said that for more than a year, H.B. 5 has been "violating fundamental rights and subjecting pregnant Floridians to serious and unnecessary risks to their health and indeed their lives."
"Now the state is asking this court not only to allow these harms to continue, but to in fact hold that there is no protection for abortion under the Florida Constitution whatsoever, and indeed hold that there is no protection for any decisional privacy rights at all," she said.
She told the justices that doctors across the state "are finding their hands tied by H.B. 5, and it is forcing them to wait for patients who are experiencing treatable medical pregnancy complications to deteriorate to the point of, for example, experiencing life-threatening conditions like sepsis before providers can intervene and feel confident that they can provide care."
"In another case," White said, "a provider was forced to deny care to a 14-year-old rape survivor—a child who had already been traumatized by the assault and now had to bare the additional trauma of continuing a pregnancy against her will."
"These injustices have been ongoing for a year, and if this court doesn't step in now there's an even more dangerous six-week ban waiting in the wings," she continued.
By sharing the stories of doctors and patients while defending a viewpoint held by the majority of the Florida population, White brought "the people's voice" to the state Supreme Court, said Stephanie Fraim, president and CEO of Planned Parenthood of Southwest and Central Florida.
"Across the state, Floridians are outraged that the government continues to interfere in their personal medical decisions," said Fraim. "The people of Florida have said over and over that their right to control their own bodies and make their own healthcare decisions should remain a protected right in the Florida Constitution. Moreover, the Florida Supreme Court must respect the decades of precedent that make this law clearly unconstitutional. Floridians understand that this ban is a gross overreach into their lives, and they will not stand for it. We will continue to fight for our reproductive rights through all possible avenues."
DeSantis—who is also running for the GOP's presidential nomination in 2024—appointed five of the seven justices to the Florida Supreme Court; only one justice was appointed by a Democratic governor. During the oral arguments, Chief Justice Carlos Muniz referred to Roe v. Wade at one point as "an abomination."
Considering the makeup of the court, abortion rights advocates have expressed fear that the justices are likely to uphold H.B. 5 and allow a six-week ban to be enforced, which would put abortion almost entirely out of reach across the Southeast, remaining legal only before 12 weeks of pregnancy in North Carolina and six weeks, before many people know they're pregnant, in Florida, Georgia, and South Carolina.
Like advocates in states including Arizona and Nebraska, rights groups in Florida are working to place a referendum on abortion access on 2024 election ballots.
"Florida prides itself on individual freedom without government interference and abortion bans directly contradict who we are," said Kelly Flynn, president and CEO of A Woman's Choice of Jacksonville. "This 15-week abortion ban undermines the care we provide to patients who come to our clinic, often under complex and difficult circumstances. Many patients in Florida aren't able to receive an abortion by 15 weeks, let alone six weeks, due to financial obstacles, logistical hurdles, and navigating overlapping policies designed to make it harder to provide and access care."
"We remain committed to providing abortion care to Floridians," said Flynn, "and attaining abortion justice for all."
News