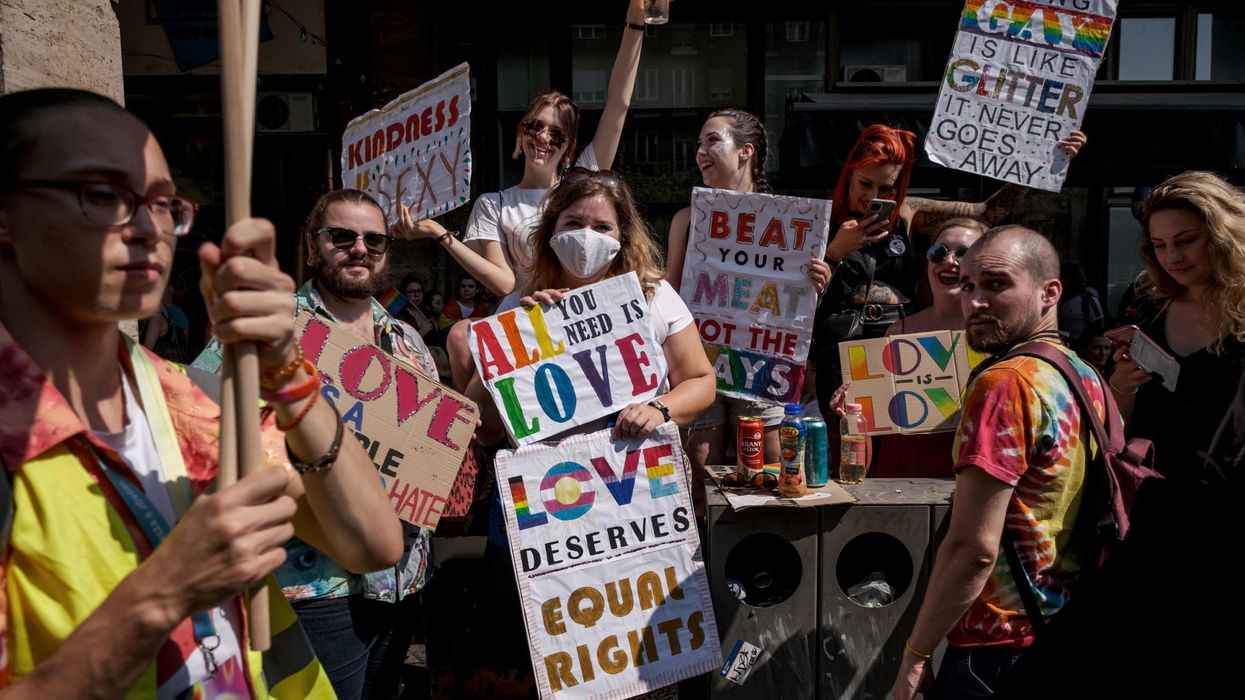 "A lot has happened over the last few years, and it's time to show that we're not okay with it," said one of the organizers.
Tens of thousands of people took to the streets Saturday for Budapest's annual Pride parade to protest the Hungarian government's recent attacks on the LGBTQ+ community, including a recently adopted law that aims to limit the discussion of homosexuality and transgender issues in schools.
"A lot of LGBTQ people are afraid and don't feel like they have a place or a future in this country anymore," Budapest Pride spokesperson Jojo Majercsik toldThe Associated Press.
That sentiment was shared by Mira Nagy, a 16-year-old Pride attendee who told the AP that "this year is much more significant, because now there are real stakes."
"Our situation is pretty bad," she said. "My plan is that if things get even worse, I will leave Hungary."
Balint Rigo, a 27-year-old Pride organizer, toldCNN that "a lot has happened over the last few years, and it's time to show that we're not okay with it."
"Minorities have been systematically attacked, and we're here to say enough," Rigo said, explaining that more attendees were expected this year because "people aren't just coming out for LGBTQ groups... they're coming out for minorities in general."
"There's power in numbers and we may not be able to change anything in the short term," he added, "but together we're a symbol of solidarity."
The new law from the ruling Fidesz party--supported by nationalist Prime Minister Viktor Orban--bans presenting materials that are considered to promote gender reassignment and homosexuality to people under the age of 18 and calls for creating a list of organizations allowed to provide sexual education programs in schools.
Andras Kadar, co-chair of the Budapest-based rights watchdog Hungarian Helsinki Committee, toldPolitico in June that "the provisions banning the 'promotion or display of homosexuality' fit into the trend of hate-mongering policies this governing majority has adopted over the past years against various social groups."
"Provisions like these should not be adopted or implemented," he added. "They are harmful, shameful, and violate fundamental rights."
Politico noted that "the move comes after Hungary last year approved measures effectively barring same-sex couples from adopting children and preventing transgender individuals from legally changing their genders."
Earlier this month, European Commission President Ursula von der Leyen announced legal action against Hungary--and Poland--for "violations of fundamental rights of LGBTIQ people."
"On Hungary," the statement said, "the cases include the recently adopted law, which in particular prohibits or limits access to content that promotes or portrays the so-called 'divergence from self-identity corresponding to sex at birth, sex change, or homosexuality' for individuals under 18; and a disclaimer imposed on a children's book with LGBTIQ content."
Orban responded by proposing a referendum on the new law, claiming that "in the past weeks, Brussels has clearly attacked Hungary over its child protection law. Hungarian laws do not permit sexual propaganda in kindergartens, schools, on television, and in advertisements."
Critics of the law have pushed back against such claims from the prime minister that the LGBTQ+ provisions are about child protection and have accused the Fidesz-Christian Democrat government--which faces a tough election next year--of trying to appeal to right-wing voters.
"The law is an outrage," Istvan, a 27-year-old who marched with his boyfriend, toldReuters on Saturday. "We live in the 21st century, when things like that should not be happening. We are no longer in communist times, this is the E.U. and everyone should be able to live freely."
Zoltan Adam, an associate professor of economics at Corvinus University of Budapest, delivered a broader critique of Hungary's government during the event.
"We are standing in solidarity with the LGBTQ community but we are also standing with anyone threatened by global authoritarian discourse," Adam told The New York Times. "This law is another step toward authoritarianism taken by this government."
News