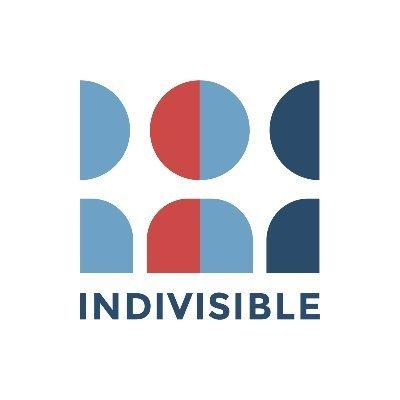 Indivisible Flash Poll of Supporters: 94% Support Primary Challenge to Sinema If She Votes Against Fixing the Filibuster and Passing Voting Rights
Today, Indivisible sent a "flash poll" by text message to Arizona Indivisible activists asking if they'd support a Democratic primary challenger to Senator Sinema in 2024, if she does not support fixing the filibuster and passing voting rights.
Text Sent to Activists via SMS:
"If Sen. Sinema votes no on fixing the filibuster & passing voting rights, would you support a Democratic primary challenge to her in 2024?"
Sample and Methodology:
WASHINGTON
Today, Indivisible sent a "flash poll" by text message to Arizona Indivisible activists asking if they'd support a Democratic primary challenger to Senator Sinema in 2024, if she does not support fixing the filibuster and passing voting rights.
Text Sent to Activists via SMS:
"If Sen. Sinema votes no on fixing the filibuster & passing voting rights, would you support a Democratic primary challenge to her in 2024?"
Sample and Methodology:
This SMS survey (n=723) was conducted on January 18, 2022 in Arizona. Surveys were conducted through automated text messages to cell phones. The sample included 4,656 Indivisible members who live in Arizona and had opted in to receive text messages. The response rate was 15.5% and the margin of sampling error is +/- 1.7 percentage points.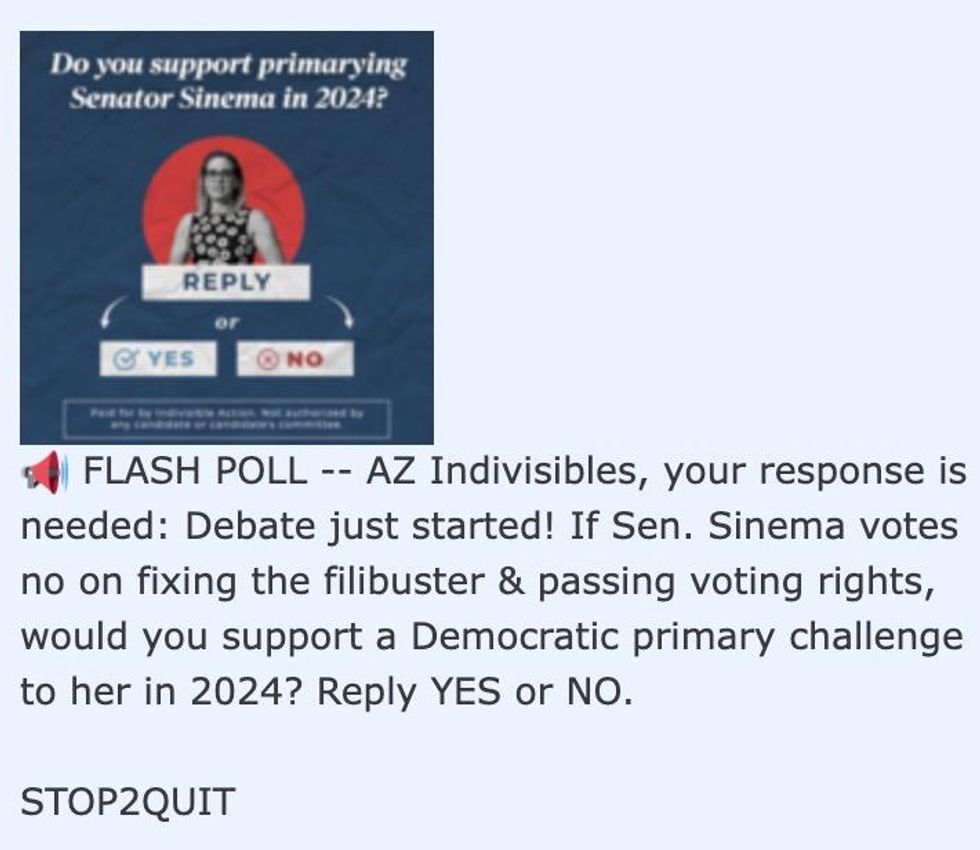 In 2018, Indivisibles helped Senator Sinema win by a narrow margin in a tight race by hosting 2500+ events like fundraisers, phone banks, and canvasses, making 741,600+ voter outreach attempts, and working on a statewide accountability team that helped shift the public narrative against Republican opponent Martha McSally through LTEs, social media, commercials, and more. For more: Huffington Post--" Kyrsten Sinema Faces Backlash From Arizona Democrats For Pro-Filibuster Stance"
Since 2021, Arizonans have been calling on Sinema to eliminate the filibuster and pass democracy reform. Despite the Senator's refusal to host a single town hall or have a meeting with activists, Indivisibles have been trying to get through to her with rallies, light brigades, car caravan protests, letters to the editor, and social media.
After a year of demonstrations and activist pressure, fed up constituents and voters who helped elect Sinema are starting conversations around finding a Democratic primary challenger to Sinema after her failure to represent Arizonans and follow through on her campaign promises.
Indivisible Project (501c4) drives coordinated campaigns, powering the grassroots Indivisible movement to defeat the rightwing takeover of American government and win an inclusive democracy and bold progressive policies.
LATEST NEWS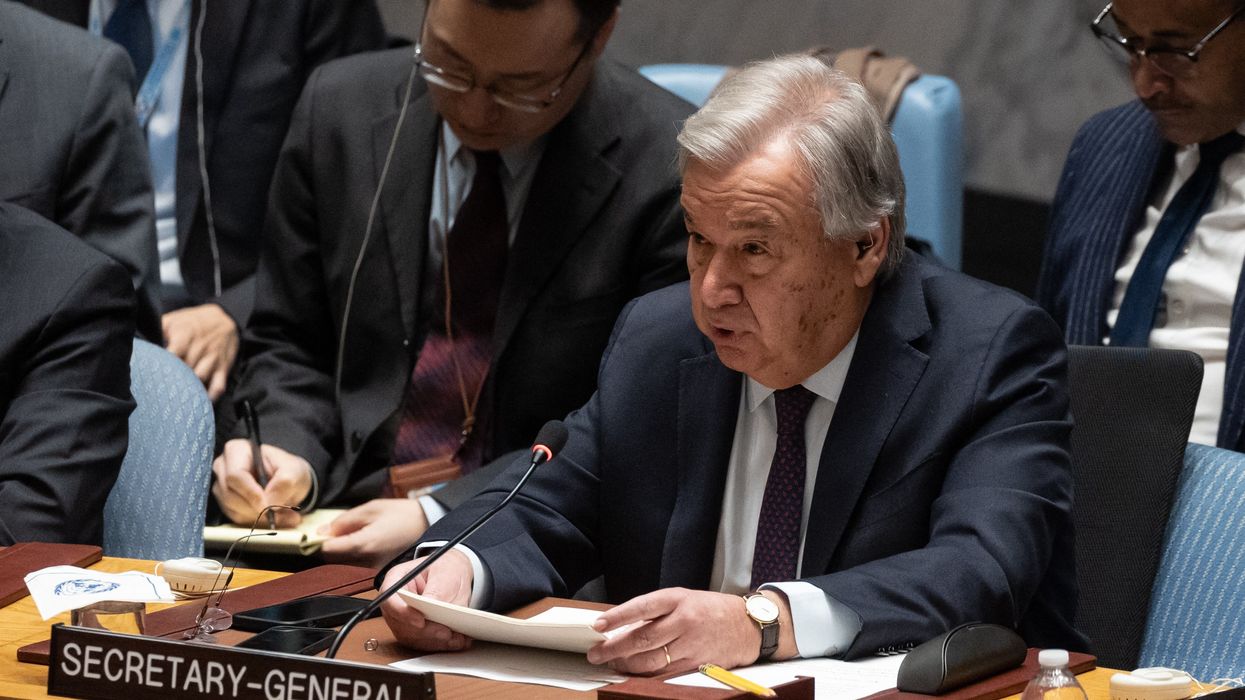 "The U.S. veto makes it complicit in the carnage in Gaza," said the executive director of Doctors Without Borders.
The United Nations General Assembly is expected to vote Tuesday on a Gaza cease-fire resolution after the United States used its veto power late last week to tank a similar measure put before the U.N. Security Council, a move that drew international outrage and condemnation.
Following the U.S. veto on Friday, U.N. Secretary-General António Guterres said he "will not give up" in his push for a cease-fire in the Gaza Strip as the territory's humanitarian crisis continues to spiral out of control, with the head of the World Health Organization (WHO) warning that conditions created by Israel's siege and near-constant bombing have made it "almost impossible" to respond sufficiently to the emergency.
"Without a cease-fire, there is no peace," WHO Director-General Tedros Adhanom Ghebreyesus said Sunday. "And without peace, there is no health."
In late October, the 193-member U.N. General Assembly passed a resolution calling for an immediate humanitarian truce in Gaza, with just 14 countries—including the U.S. and Israel—voting in opposition. Weeks later, Israel and Hamas agreed to a pause that lasted just seven days before Israel resumed and expanded its attack on the Palestinian territory.
After the U.S. blocked a United Arab Emirates-led cease-fire resolution at the Security Council on Friday, Egypt and Mauritania "invoked Resolution 377A (V) to call for an emergency meeting of the U.N. General Assembly (UNGA) on Tuesday," Al Jazeerareported.
"The resolution says that if the UNSC is not able to discharge its primary responsibility of maintaining global peace due to lack of unanimity, the UNGA can step in," the outlet explained.
Unlike Security Council resolutions, General Assembly measures are not legally binding—though they are seen as holding political weight.
The draft resolution expected to come to a vote during Tuesday's emergency UNGA session expresses "grave concern over the catastrophic humanitarian situation in the Gaza Strip" and demands "an immediate humanitarian cease-fire" as well as the "immediate and unconditional release of all hostages"—language that closely resembles the measure that the U.S. vetoed.

Linda Thomas-Greenfield, the U.S. ambassador to the U.N., said in an explanation of the veto that the resolution did not include language backed by the Biden administration that would have condemned Hamas and explicitly acknowledged Israel's right to defend itself.
Humanitarian groups responded with fury to the U.S. veto, which came as Israel—armed with American-made weaponry—ramped up its assault on southern Gaza, further imperiling displaced people and what's left of the territory's healthcare system.
Avril Benoît, executive director of Doctors Without Borders, said in a statement that the veto was a "vote against humanity."
"The U.S. veto stands in sharp contrast to the values it professes to uphold," said Benoît. "By continuing to provide diplomatic cover for the ongoing atrocities in Gaza, the U.S. is signaling that international humanitarian law can be applied selectively—and that the lives of some people matter less than the lives of others."
"The U.S. veto," Benoît added, "makes it complicit in the carnage in Gaza."
In an op-ed for Common Dreams on Monday, Columbia University professor Jeffrey Sachs—who also serves as president of the U.N. Sustainable Development Solutions Network—warned against cynicism about the U.N.'s role and purpose, writing that the international body is "currently blocked by the U.S."
"The U.N. is doing its job, building international law, sustainable development, and universal human rights, step by step, with advances and reverses, over the opposition of powerful forces, but with the arc of history on its side," Sachs wrote. "International law is a relatively new human creation, still in the works. It is difficult to achieve in the face of obstreperous imperial power, but we must pursue it."
News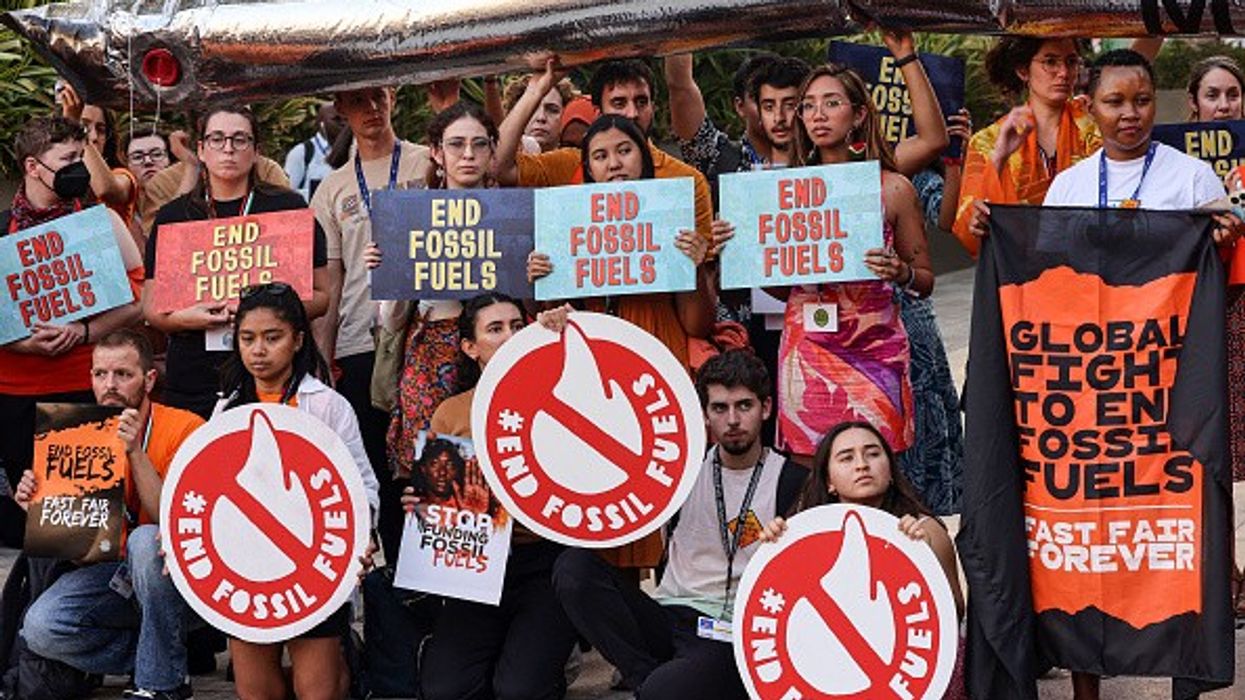 "Nations committed to climate action must reject this weakened proposal," said one campaigner.
The most recent draft text of the agreement world leaders are hoping to reach by the end of the United Nations Climate Change Conference on December 12 does not include any mention of a phaseout of fossil fuels.
Instead, the document released Monday calls for "reducing both consumption and production of fossil fuels, in a just, orderly, and equitable manner so as to achieve net zero by, before, or around 2050 in keeping with the science."
"COP28 is now on the verge of complete failure," former U.S. Vice President Al Gore tweeted in response to the release. "The world desperately needs to phase out fossil fuels as quickly as possible, but this obsequious draft reads as if OPEC dictated it word for word. It is even worse than many had feared. It is 'Of the Petrostates, by the Petrostates, and for the Petrostates.'"
"How do we go home and tell our people that this is what the world has to say about our futures?"

An agreement to phase out fossil fuels at COP28 has been a major demand of civil society groups and influential delegations including the European Union and nations especially vulnerable to the climate crisis, according to Reuters. The call comes as nations' current pledges under the Paris agreement put the world on a path for 2.9°C of warming, even as 2023 is almost certain to be the hottest year on record.
Yet there were concerns leading into the U.N. talks that the influence of the fossil fuel industry would undermine an ambitious outcome. COP28 President Sultan Ahmed Al Jaber is also the CEO of the United Arab Emirates' national oil company, and reports emerged that he had used talks surrounding COP28 to push oil and gas deals.
The latest language on fossil fuels comes in the text of the Global Stocktake, a mechanism by which parties to the Paris agreement assess their progress and set new goals. It is one bullet in a list of actions that the draft says nations "could include" in the path to "deep, rapid, and sustained reductions in greenhouse gas emissions."
Other actions in the list include
Tripling renewable energy capacity and doubling efficiency by 2030;
Quickly "phasing down unabated coal";
Achieving a "net-zero energy system" as soon as possible;
Curbing greenhouse gases beyond carbon dioxide such as methane; and
Ending "inefficient fossil fuel subsidies."
"The COP28 draft text resembles a disjointed wish list, far from the stringent measures required to limit warming to 1.5°C," Andreas Sieber, associate director of policy and campaigns at 350.org, said in a statement. "The presidency, displaying a troubling lack of leadership, has notably weakened commitments to phasing out fossil fuels and promoting renewables."
Sieber also criticized the lack of urgency in the text's overall language.
"By framing actions as 'could' instead of 'shall,' and with weak language on short-term declines and renewable targets, this draft falls short. Nations committed to climate action must reject this weakened proposal, insisting on transformative changes for a meaningful impact on global warming."
The Alliance of Small Island States, meanwhile, told the Financial Times that the "weak language on fossil fuels was completely insufficient."
Joseph Sikulu, Pacific managing director of 350.org, added, "This week we felt that the goal of phasing out fossil fuels was within reach, but the lack of climate leadership shown by the presidency and the blatant watering down of commitments to a 'wish list' is an insult to those of us that came here to fight for our survival. How do we go home and tell our people that this is what the world has to say about our futures?"
Environmental Defense associate director of national change Julia Levin called the draft text "unacceptable," while Jean Su from the Center for Biological DiversitytoldThe Associated Press that it "moves disastrously backward from original language offering a phaseout of fossil fuels."
"If this race-to-the-bottom monstrosity gets enshrined as the final word, this crucial COP will be a failure," Su said.
Climate campaigners are also concerned that the text opens the doorway to untested technological solutions like carbon capture and storage that can be used to extend the burning of fossil fuels.
"The word 'phaseout' has been phased out."
"It's incredibly dangerous for the fossil fuel industry and its enablers in government to promote the idea that they can keep burning fossil fuels while pulling carbon out of the air or out of the smokestacks with technologies that consistently fail to deliver," Collin Rees, the U.S. program manager at Oil Change International, toldNew York Times opinion writer Peter Coy before the latest draft was released.
Despite these warnings, one of the suggested actions in the text is "accelerating zero and low emissions technologies, including, inter alia, renewables, nuclear, abatement, and removal technologies, including such as carbon capture and utilization and storage, and low carbon hydrogen production, so as to enhance efforts towards substitution of unabated fossil fuels in energy systems."
"Like the smog-ridden Dubai skyline, the mention of fossil fuels in the final outcome is at best murky, and at worst, dangerous," Cansin Leylim, 350.org associate director of global campaigns, said in a statement. "This outcome leaves the doors wide open to dangerous distractions and false technologies like carbon capture and storage (CCS), which will surely blow us past the 1.5°C planetary limit, and fails to integrate the crucial finance and equitability aspects of the just transition to renewable energy that we need."
Activists are still hoping to strengthen the language before negotiations conclude Tuesday.
"The word 'phaseout' has been phased out," Li Shuo, director of the Asia Society Policy Institute, told AP. "We need to phase in the word phaseout. I think there's still a chance for countries to do so."
Peri Dias, 350.org Latin America representative at COP28, said: "In the coming hours, we will either witness a historic decision for the good of the planet, or one for its end. Are the parties at COP28 going to agree to a rapid and fair elimination of fossil fuels or not?"
Gore concluded: "There are 24 hours left to show whose side the world is on: the side that wants to protect humanity's future by kickstarting the orderly phase out of fossil fuels or the side of the petrostates and the leaders of the oil and gas companies that are fueling the historic climate catastrophe."
"In order to prevent COP28 from being the most embarrassing and dismal failure in 28 years of international climate negotiations, the final text must include clear language on phasing out fossil fuels," he said. "Anything else is a massive step backwards from where the world needs to be to truly address the climate crisis and make sure the 1.5°C goal doesn't die in Dubai."
News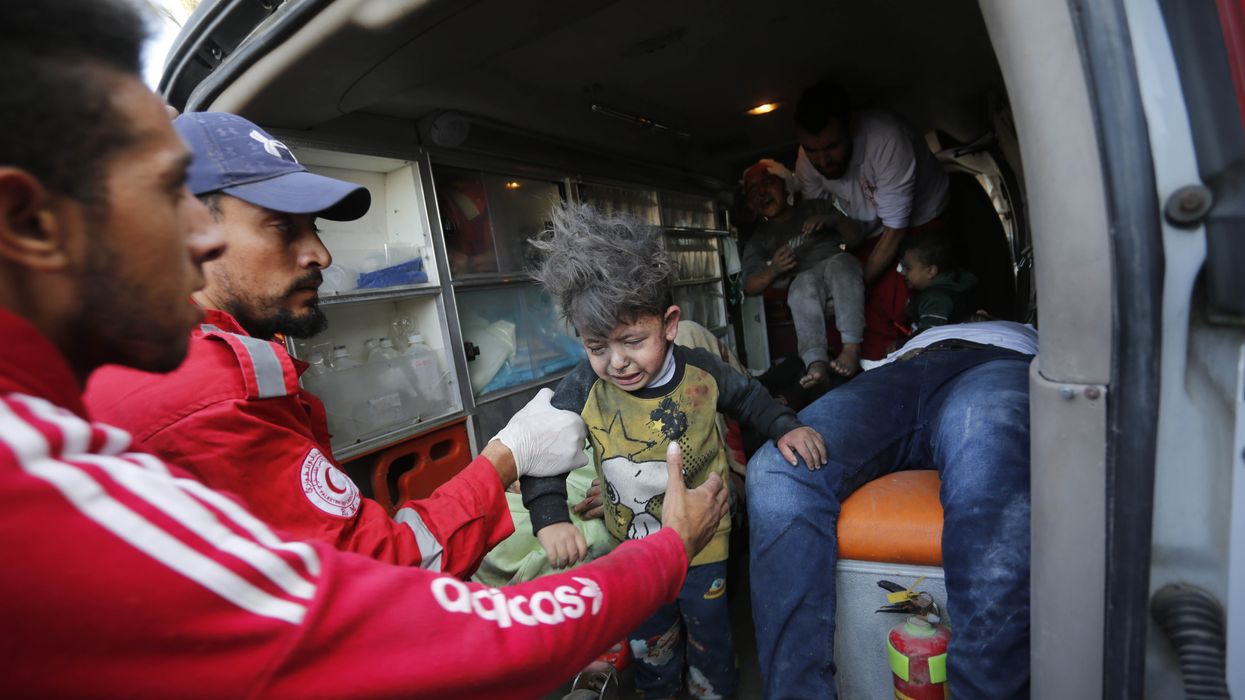 "I signed this statement because I believed until October 7th that harming the innocent is a crime, and I believe it even more today," said one Israeli history teacher.
Hundreds of academics, including faculty members from at least five Israeli universities, released an open letter Monday calling on the Biden administration to end its no-strings-attached support for Israel's war on the Gaza Strip.
The letter—also signed by artists, writers, and others—was made public after the U.S. vetoed a U.N. Security Council resolution calling for an immediate humanitarian cease-fire in the Gaza Strip, where Israeli forces have killed more than 17,000 people in just over two months.
"We denounce the October 7 attacks," reads the letter, which as of this writing has 720 signatories. "At the same time, 75 years of displacement, 56 years of occupation, and 16 years of blockade have generated an ever-worsening spiral of violence that can only be stopped with a political solution."
"Israel's continued apartheid in the West Bank, administrative detention (jail without trial) of 2000 civilians, and daily terrorizing of Palestinians by armed settlers, are causing an escalation of violence," the letter adds. "This historic injustice continues unchecked because the U.S. allows Israel to flout binding U.N. Security Council resolutions. We call on the U.S. to stop its unconditional support of Israel's assault on Gaza and flagrant violations of international humanitarian law. Ideas for a political resolution abound; they require political will."
Organizers of the letter said its signatories include scholars from 62 cities—including Tel Aviv—across 14 countries. Mordehai Amihai-Bivas, Israel's former ambassador to Barbados, is among the signers, as is Meir Baruchin, an Israeli history teacher who was arrested last month over social media posts criticizing the killing of Gaza civilians.
"I signed this statement because I believed until October 7th that harming the innocent is a crime, and I believe it even more today," Baruchin said in a statement Monday. "I believed that all human beings have the right to live in security, justice, and peace, and I believe that even more today."
The letter comes as Gaza's population of roughly 2.3 million people is facing dire humanitarian conditions—including widespread hunger, the lack of uncontaminated water, and the spread of infectious diseases—as well as near-constant bombing by Israeli forces, which have received thousands of bombs and other weaponry from the U.S.
The letter calls on the Biden administration—which has thus far rebuffed efforts to secure a sustained end to the bombing or attach conditions to its military assistance—to "lead the way in negotiating an immediate and lasting cease-fire, implementing a hostage-prisoner exchange, and supplying urgent humanitarian aid to Gaza."

Lior Sternfeld, a leading scholar of history and Jewish studies at Pennsylvania State University and the spokesperson for the group behind the new letter, said that "as an Israeli historian studying the modern Middle East and seeing the rapid deterioration of humanity in front of our eyes, I know that the unbearable toll of death will impact the lives of Palestinians and Israelis for generations to come."
"The only way to minimize damage and restore hope is to demand a cease-fire now and the unconditional release of all the hostages," said Sternfeld. "We must find a path to a peaceful Israel/Palestine."
News