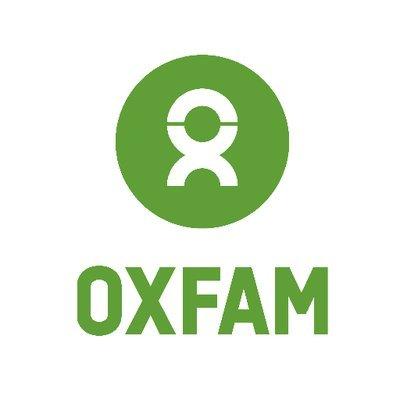 Oxfam Files SEC Complaint Against Moderna
WASHINGTON
Moderna shareholder Oxfam America today filed a whistleblower complaint against the company with the Securities and Exchange Commission (SEC) for publishing misleading statements and failing to disclose to shareholders and the SEC that it has been part of a prolonged patent dispute with scientists at the National Institutes of Health (NIH).
Oxfam's complaint alleges that, a year after receiving temporary emergency authorization for its COVID-19 vaccine from the Food and Drug Administration (FDA), Moderna has not been transparent about its patent dispute and buried critical information from its own investors. At the same time, according to Oxfam's complaint, the company has been unable to produce enough doses to cover global need yet unwilling to share the technology with other manufacturers to ramp up production so everyone, everywhere could have access to this life-saving vaccine.
"No company, however powerful, should be able to dictate who lives and who dies, or exercise outsized influence over whether the global economy prospers or grinds to a halt," said Diana Kearney, Senior Legal Advisor for Legal and Shareholder Advocacy at Oxfam America. "Instead of being transparent and using its life-saving technology to help curb the pandemic, Moderna is doing the opposite, obfuscating its patent dispute with the US government, ignoring the death and suffering of millions worldwide, and declining to share their technology to help alleviate the stranglehold that COVID-19 has placed on the global economy."
In the complaint, Oxfam outlines how Moderna used vague language in its annual and quarterly reports about its patent dispute with the government, rather than openly disclose it, a framing that may violate securities laws and camouflages a battle that could negatively impact the value of its stock. For shareholders, the company's refusal to share or transfer mRNA vaccine technology creates an additional reputational risk, as well as an economic one. The emergence of new variants and the resulting economic damage threatens to drag down returns across investors' entire portfolio.
"Few times in history has a single corporation exercised such a massive influence on the world's trajectory, impacting nearly all of humankind's physical, mental, and financial health," said Kearney. "Moderna is uniquely positioned to speed the end of the pandemic if it is transparent and shares its technology. In light of the company's misguided pursuit of short-term profit over transparency for its investors, and the deadly consequences this may have for millions, Oxfam is calling on the SEC to investigate and help hold the company to account."
Oxfam is a global organization working to end the injustice of poverty. We help people build better futures for themselves, hold the powerful accountable, and save lives in disasters.
(800)-776-9326
LATEST NEWS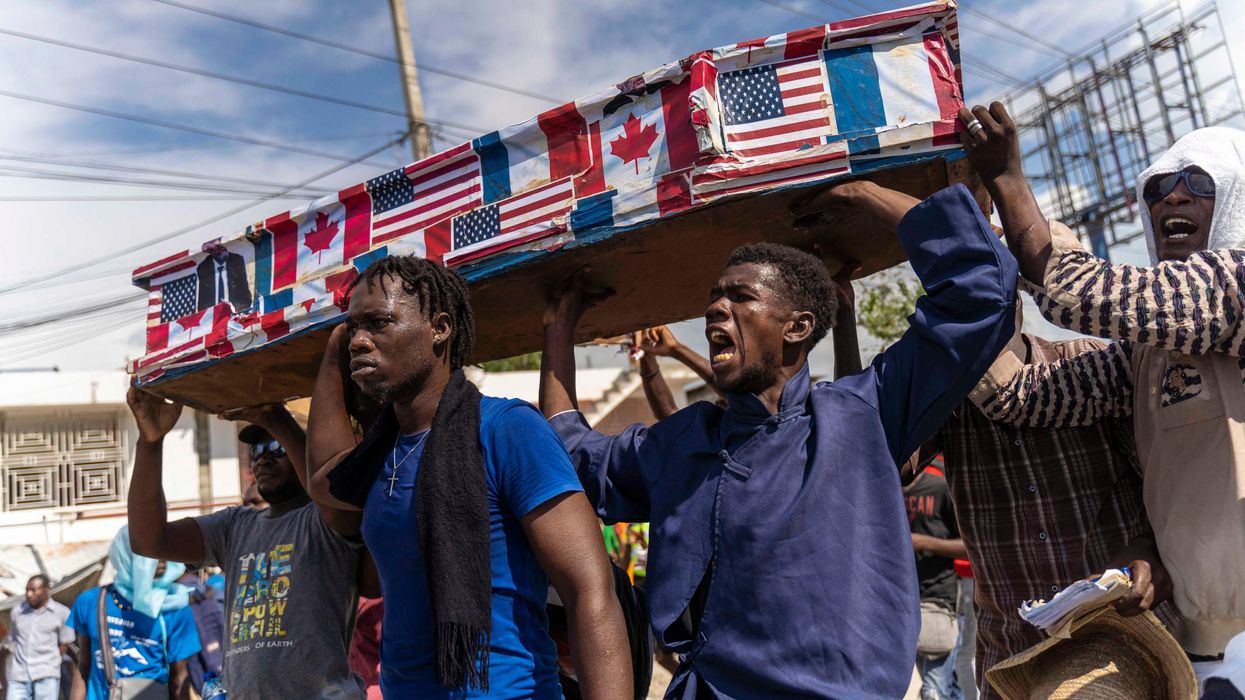 "EVERY foreign military invasion and occupation of Haiti has brought nothing but pain and misery to our people," said one Haitian-American critic.
Peace proponents in Haiti and around the world condemned Monday's authorization by the United Nations Security Council of a U.S.-backed, Kenyan-led multinational military invasion of Haiti to help its unelected government fight gangs that have run roughshod over parts of the Caribbean nation's capital.
The U.N. resolution—which was reportedly co-authored by the United States and Ecuador with input from Kenya—was approved by the 15-member Security Council, with 13 votes in favor and Russia and China abstaining. The measure authorizes a Multinational Security Support (MSS) force supported but not carried out by the U.N. to deploy for up to one year, with a review after nine months.
Kenya has offered to contribute 1,000 police officers to the invasion force, with the Bahamas, Jamaica, and Antigua and Barbuda also pledging to send forces. The U.S., while not sending any troops to Haiti, has offered $100 million in logistical support for the operation.
While no date has been set for the deployment, U.S. Secretary of State Antony Blinken said last month that the intervention could begin "in months," while Kenyan Foreign Affairs Minister Alfred Mutua told the BBC that the force should be in Haiti by next January, "if not before then."
Jean Victor Généus, the foreign affairs minister under Haitian Prime Minister Ariel Henry—who has served as acting president since the July 2021 assassination of President Jovenel Moïse—called the Security Council action "more than just a simple vote."
"This is in fact an expression of solidarity with a population in distress," Généus said, according to the Associated Press. "It's a glimmer of hope for the people who have been suffering for too long."
While some Haitians support an intervention as ongoing gang warfare has forced thousands of Haitians to flee their homes in the capital Port-au-Prince, others condemned what they are calling the latest chapter in a long history of imperialist invasions and meddling in the country.
"EVERY foreign military invasion and occupation of Haiti has brought nothing but pain and misery to our people," Jemima Pierre, a Haitian-American associate professor at the University of California, Los Angeles and member of the Black Alliance for Peace coordinating committee, wrote on social media. "So if you're still advocating that as some kind of solution, we know you hate us and think that we are only deserving of violence and degradation."
"The U.N. occupation of Haiti brought us a cholera epidemic that sickened a million and killed more than 30,000," she added, referring to the MINUSTAH "peacekeeping" operation authorized in 2004 by Security Council resolution 1542. "No 'gang' in Haiti has killed that many people while creating an ecological disaster. The U.N. has never paid reparations for that massacre."
The MINUSTAH mission was also marred by a sexual abuse scandal in which U.N. personnel reportedly raped girls as young as 11 years old before abandoning them to raise children—dubbed "petit MINUSTAH"—alone.
"Every invasion of Haiti is sold as helping to quell 'chaos.' Each time it just strengthens the neocolonial elite and the associated exploitation by Western companies," wrote U.S. journalist Eugene Puryear.
Referring to Kenyan President William Ruto—under whom the country's armed forces and allied militias have been accused of war crimes including the murder, rape, and torture of civilians in counterinsurgency operations—Puryear added: "This one will be no different. Shame on President Ruto for trying to use Pan-Africanism to cover for imperialism."
Imperialist invasions and meddling are as old as Haiti, home of the world's only successful nationwide slave revolt and the second country in the Western hemisphere to win its independence, after the United States. Haiti was the first truly free nation in the Americas, and the world's first Black republic. Its revolution also belied the hypocritically egalitarian pretensions of the French and U.S. revolutions, the latter of which fought to preserve and expand slavery while declaring that "all men are created equal."
While recognizing the crushing debt imposed by France as a condition for independence, the United States withheld diplomatic recognition of Haiti until 1862. Half a century later, U.S. President Woodrow Wilson, a professed champion of national "self-determination," ordered a U.S. invasion in the name of "stability" following the assassination of Haitian President Jean Vilbrun Guillaume Sam. The murder sparked widespread violence and U.S. Marines, wroteTime, "landed at Port-au-Prince and began forcibly soothing everybody."
U.S. troops occupied Haiti until 1934, killing thousands of Haitians who resisted the invaders. Occupation forces and administrators implemented forced labor to build infrastructure and public works projects. The occupiers introduced Jim Crow segregation while looting the country's finances for the benefit of New York banks. Rape of Haitian women and children by U.S. troops ran rampant, and went unpunished.
After U.S. troops left, successive U.S. administrations backed Haitian dictators including the brutal kleptocrat Francois "Papa Doc" Duvalier and his son Jean-Claude "Baby Doc" Duvalier, even as his death squads murdered as many as 60,000 Haitians.
Haiti finally held democratic elections in 1990. Jean-Bertrand Aristide, a Catholic priest, was elected with two-thirds of the vote. However, less than a year later he was overthrown in a military coup whose plotters included CIA operatives.
In 1994 Joe Biden, then the junior U.S. senator from Delaware, said that "if Haiti just quietly sunk into the Caribbean or rose up 300 feet, it wouldn't matter a whole lot to our interests." President Bill Clinton did not agree, and that same year his administration secured United Nations Security Council authorization to stage a U.S.-led invasion to "restore democracy" to Haiti. Clinton sent 25,000 troops on a "nation-building" mission, and Aristide was returned to the presidency.
However, a decade later the George W. Bush administration actively worked to topple Aristide's government in events culminating in a 2004 coup, in which the same CIA-trained forces that previously ousted the president again played a key role.
"Once again, the U.S. government is using the United Nations to push for a genocidal military intervention in Haiti," the International People's Assembly, a network of over 200 leftist groups, wrote on social media Monday. "The disastrous experiences of foreign interventions show that they only serve to deepen violence, poverty, and injustice against the Haitian people."
News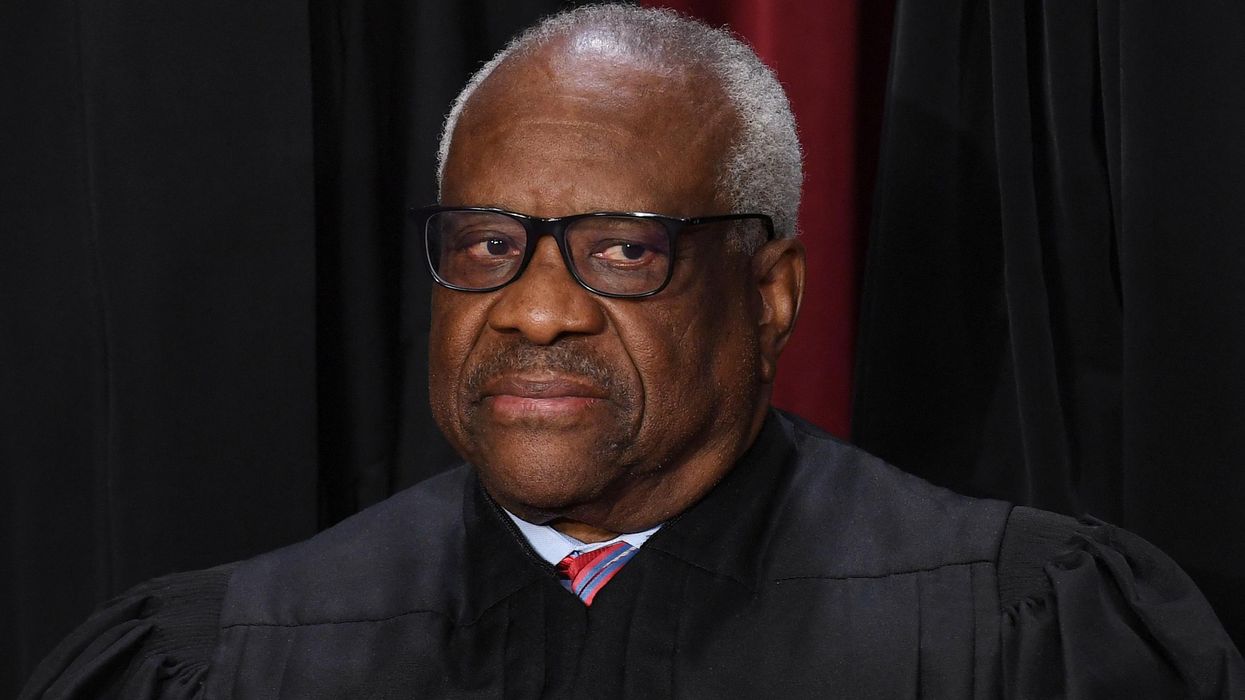 "Crow's interest in these cases is unambiguous, as is the depth of Thomas' relationship with his patron," said the head of the Revolving Door Project.
"It is a travesty that Clarence Thomas failed to recuse himself in yet another case from which his right-wing donors could directly benefit," said Revolving Door Project executive director Jeff Hauser in a statement. "Justice Thomas' billionaire benefactor Harlan Crow has a vested interest in weakening rent control laws across the country to buttress his real estate empire's profits."
The Supreme Court in recent months has faced calls for new ethics rules, a U.S. Department of Justice probe, and Thomas' resignation in response to revelations about his relationship with Crow and other rich GOP donors. In addition to treating Thomas to luxury vacations, Crow bought his mother's house and contributed to the private school tuition for a great-nephew he raised.
"Justice Thomas' billionaire benefactor Harlan Crow has a vested interest in weakening rent control laws across the country to buttress his real estate empire's profits."
"Crow's industry lobbyist of choice, the National Multifamily Housing Council, filed an amicus brief urging the 2nd Circuit to take up the challenge to New York City's rent control law in 2021," Hauser noted. "While the NMHC did not file a brief for the case before the Supreme Court, there should be little doubt that Thomas and his clerks are aware of NMHC's, and therefore Crow's, interest in the case."
As The New York Timesreported Monday, "Other petitions asking the Supreme Court to rule on aspects of the regulations are pending, and the justices may yet agree to consider one or more of those cases."
Given that, "the threat from the Thomas-Crow relationship remains imminent," Hauser stressed. "We call on Thomas to immediately recuse himself from two additional challenges to New York City's rent control law relisted for the October 6th conference by the court: 74 Pinehurst LLC v. New York (22-1130) and 335-7 LLC v. City of New York. Crow's interest in these cases is unambiguous, as is the depth of Thomas' relationship with his patron Crow."
The recusal demand comes after the Revolving Door Project in July released a report on Crow's ties to the National Multifamily Housing Council, including that—as the group highlighted Monday—NMHC Chair Ken Valach is CEO of three subsidiaries of his company Crow Holdings.
Thomas and other members of the court have also recently faced calls to recuse themselves from other cases due to similar conflicts. For example, he and fellow right-wing Justice Samuel Alito are under pressure to not be involved in Consumer Financial Protection Bureau v. Community Financial Services Association of America, which they are set to hear arguments for on Tuesday.
As Common Dreamsreported earlier Monday, in response to concerns about that case, Stand Up America's Brett Edkins said that "Justices Thomas and Alito are shamelessly thumbing their noses at judicial ethics, living the high life on GOP billionaires' dime. While they bask in luxury, the court's conservative supermajority is ruthlessly stacking the deck in favor of the wealthy and powerful, while chipping away at the freedoms of everyday Americans."
Although Thomas' involvement in the court's decision to not hear the New York rent stabilization case was cause for concern, advocates in the city still cautiously welcomed the outcome—while recognizing the threats to the protections for renters loom.
"It's definitely positive news that CHIP was denied and we hope that the same will happen in the other two cases," Ed Josephson of the Legal Aid Society, co-counsel for tenant groups who joined all of the related suits, toldCity Limits.
"I think I'm optimistic that the other petitions will be denied," he said, "because all of them are contrary to long-standing precedent."
News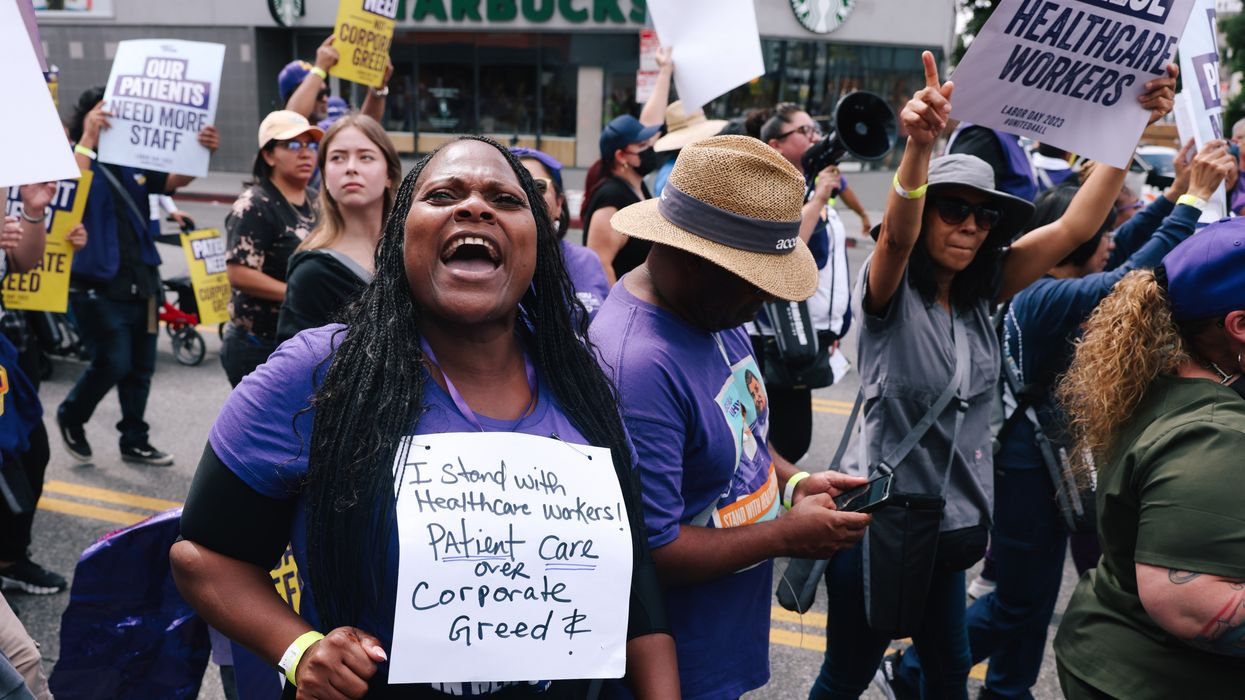 "We're burning ourselves out trying to do the jobs of two or three people, and our patients suffer when they can't get the care they need due to Kaiser's short-staffing," said one Kaiser Permanente worker.
In what's expected to be the largest-ever U.S. healthcare worker strike, more than 75,000 Kaiser Permanente employees in six states and Washington, D.C. are set to stop working for three days starting Wednesday to protest what they say are unfair working conditions and unsafe staffing levels at hundreds of hospitals and clinics across the country.
The Coalition of Kaiser Permanente Unions—which represents 85,000 KP workers in eight unions—began its national bargaining process in April in anticipation of worker contracts expiring at the end of September. Union members are seeking across-the-board raises of between 5.75%-6.5%; KP is offering 3%. Additionally, workers want protections against subcontracting and outsourcing, better performance-sharing bonuses, an improved retiree medical plan, and unionization rights for employees of nonunion entities acquired by the KP.
In a 2022 survey of 33,000 KP employees, two-thirds of respondents said they've seen patient care delayed or denied due to short staffing during the Covid-19 pandemic.
"Kaiser executives are refusing to listen to us and are bargaining in bad faith over the solutions we need to end the Kaiser short-staffing crisis," said Jessica Cruz, a licensed vocational nurse at Kaiser Los Angeles Medical Center. "I see my patients' frustrations when I have to rush them and hurry on to my next patient."
"That's not the care I want to give," Cruz added. "We're burning ourselves out trying to do the jobs of two or three people, and our patients suffer when they can't get the care they need due to Kaiser's short-staffing."
Based in Oakland, California, KP—which operates 39 hospitals and more than 700 medical offices staffed by over 300,000 workers and serving nearly 13 million patients—is the nation's largest nonprofit healthcare provider.
According to a statement from the coalition:
Kaiser has reported $3 billion in profits in just the first six months of this year. Despite being a nonprofit organization—which means it pays no income taxes on its earnings and extremely limited property taxes—Kaiser has reported more than $24 billion in profit over the last five years. Kaiser's CEO was compensated more than $16 million in 2021, and 49 executives at Kaiser are compensated more than $1 million annually. Kaiser Permanente has investments of $113 billion in the U.S. and abroad, including in fossil fuels, casinos, for-profit prisons, alcohol companies, military weapons, and more.
Workers in California, Colorado, Washington, Oregon, Maryland, Virginia, and Washington, D.C. will take part in the strike.
KP communications manager Hilary Costa toldHealthcare Dive Monday that "the best place to reach an agreement is at the bargaining table. We will ask our employees to reject any call to walk away from their jobs."
However, 30-year KP employee Maria Jostes told the outlet that while "there used to be this real collaborative problem-solving approach," over the past five or six years there's been "a culture shift from folks at the very top."
The imminent Kaiser strike comes amid a surge in U.S. labor organizing and action, including the expanding United Auto Workers strike and the Hollywood writers' strike, which ended last week with union members now voting on a tentative three-year contract.

News
Independent, nonprofit journalism needs your help.
Please Pitch In
Today!