Abdul El-Sayed's Statement on Arraignment for Disorderly Conduct at #Fightfor15 and SEIU Rally
"In the face of injustice, dissent is dignity"
WASHINGTON
This morning, sixteen Fight for $15 protestors and Dr. Abdul El-Sayed were arraigned at 36th District Court following their detainment at a peaceful protest for union rights and a $15 minimum wage on October 2nd in Detroit.
They pled guilty to Disorderly Conduct, and were sentenced with a $200 fine, 20 hours of community service, and three months probation.
"In the face of injustice, dissent is dignity" said Dr. Abdul El-Sayed. "Just this week, the state legislature moved to roll back the state's minimum wage.
For the brave women and men with whom I stood protesting for a basic living wage, the $200 fine we have each been charged will cost each of them nearly two days work - if they earned $15 an hour. At $9.25, that's 21 hours of work.
We have a responsibility to keep working for a more just, more equitable, more sustainable Michigan. That's why I'm inviting anyone who wants to come and serve the community with us to sign up at www.abdulelsayed.com/communityservice."
LATEST NEWS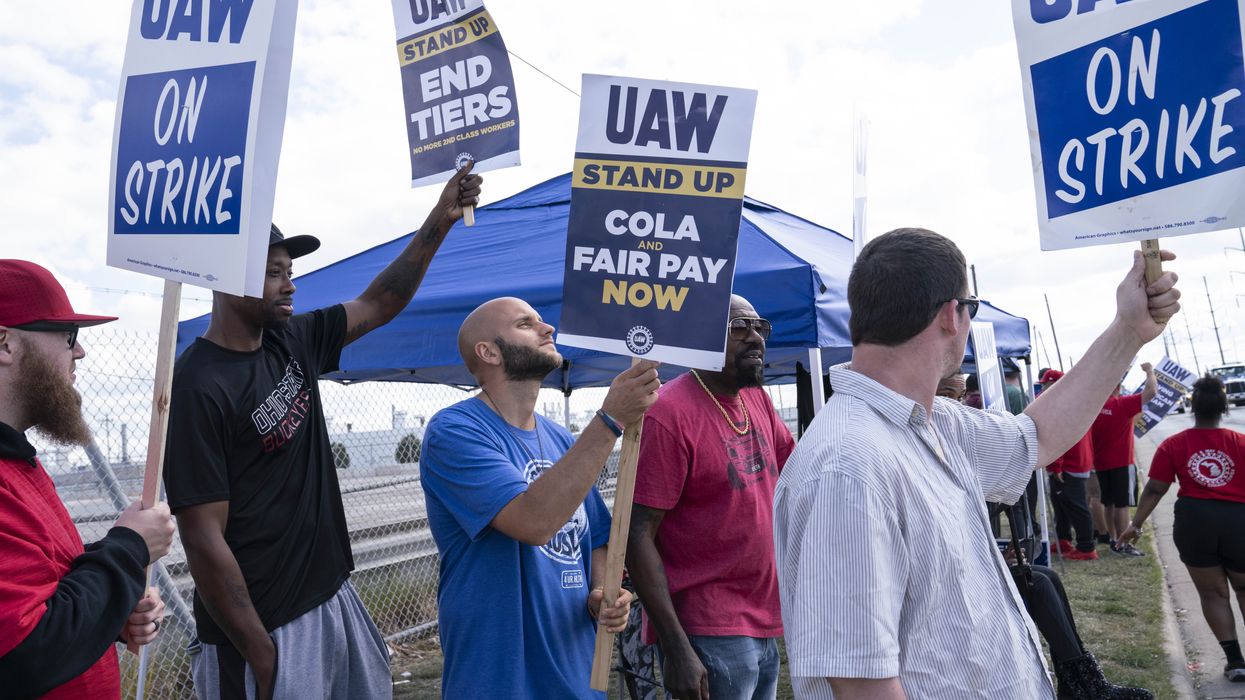 "Escalating CEO pay in recent decades has likely pulled up the pay of other top earners," notes a new Economic Policy Institute report. "This concentration of earnings at the top leaves fewer gains for ordinary workers."
A new analysis by the Economic Policy Institute shows that top U.S. CEOs saw their total compensation rise by 1,209% between 1978 and 2022 while typical worker pay rose just 15%—a chasm that is fueling the United Auto Workers strike and other labor actions across the country.
EPI's Josh Bivens and Jori Kandra found that the CEOs of the 350 largest publicly traded companies in the U.S. made 344 times more than a typical worker last year. In 1965, by contrast, the CEO-to-typical-worker pay gap was 21 to 1.
"Top CEO compensation grew roughly 28.1% faster than stock market growth during this period and far eclipsed the slow 15.3% growth in a typical worker's annual compensation," Bivens and Kandra noted in their report, which was released late last week.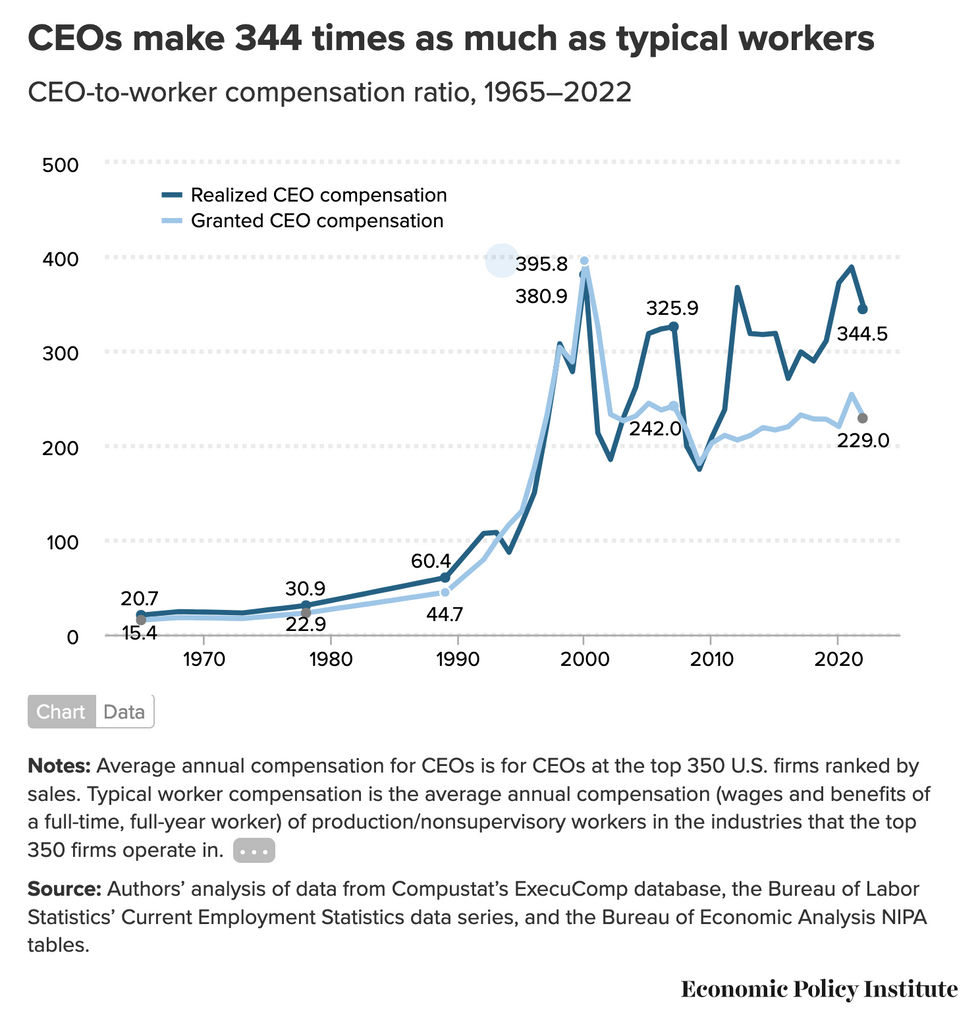 The analysis came as the UAW expanded its strikes against General Motors and Stellantis, accusing the auto giants of refusing to engage seriously with the union in contract negotiations.
UAW president Shawn Fain has repeatedly pointed to the exorbitant and rising compensation packages of GM CEO Mary Barra—who made $29 million last year—and other executives as evidence that the companies have chosen to prioritize enriching their leaders even as worker pay stagnates.
The UAW is demanding a 36% wage increase for autoworkers in the new four-year contract. Between 2013 and 2022, the CEOs of the Big Three U.S. car manufacturers received a 40% pay boost.

As The Associated Pressnoted earlier this month, "Fain's focus on CEO pay is part of a growing trend of emboldened labor unions citing the wealth gap between workers and the top bosses to bolster demand for better pay and working conditions."
"In June, Netflix shareholders rejected executive pay packages in a nonbinding vote, just days after the Writers Guild of America wrote letters urging investors to vote against the pay proposals, saying it would be inappropriate amid Hollywood's ongoing strike by writers," AP reported. "The WGA wrote similar letters targeting the executive pay at Comcast and NBCUniversal."
Bivens and Kandra stressed in their analysis that surging CEO pay "is not just a symbolic issue—it has contributed to rising inequality."
"CEOs are getting paid more because of their leverage over corporate boards, not because of contributions they make to their firms," they wrote. "Escalating CEO pay in recent decades has likely pulled up the pay of other top earners. This concentration of earnings at the top leaves fewer gains for ordinary workers."
News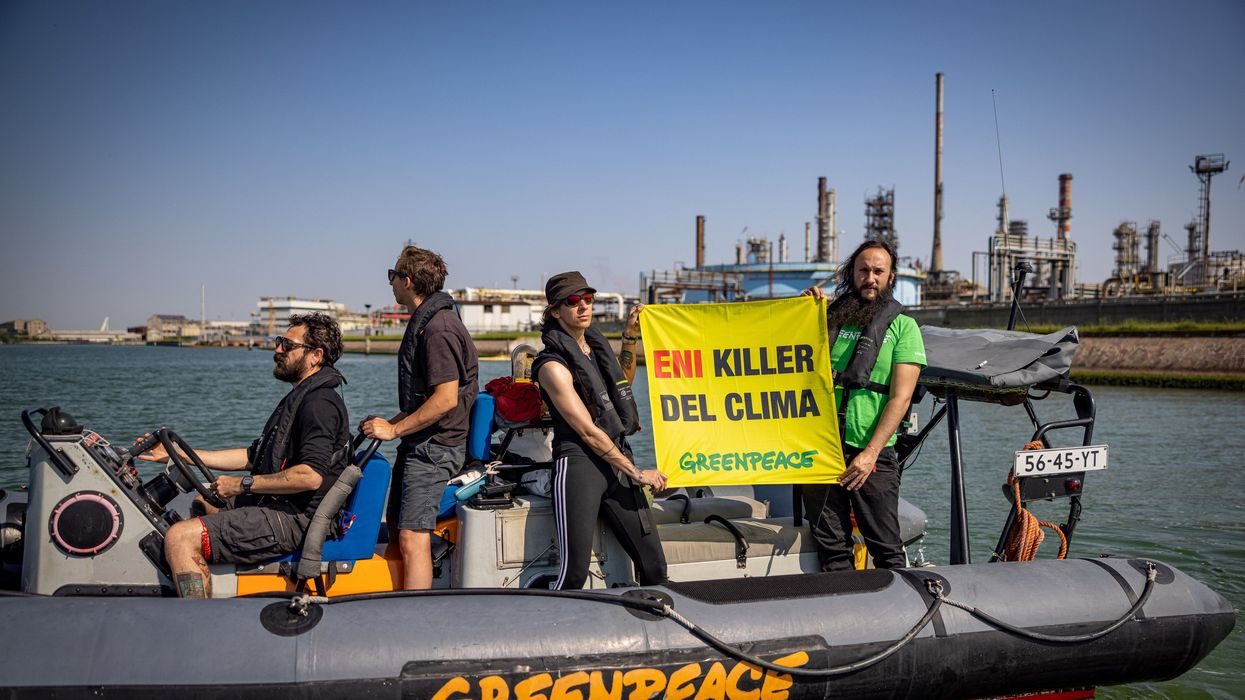 "ENI joins the long list of fossil fuel companies that... have been aware for decades of the destructive impacts of greenhouse gas emissions from coal, gas and oil" the report's research coordinator said.
Italian oil company ENI also knew it's product would contribute to the climate crisis as early as 1970, a report published Monday by Greenpeace Italy and ReCommon revealed.
The news comes as Greenpeace Italy, ReCommon, and 12 plaintiffs are in the midst of a lawsuit against ENI seeking damages for the past and future impacts of its emissions.
"Our investigation adds evidence to the cynical attitude of energy majors," Felice Moramarco, a communication expert at Greenpeace Italy who coordinated the report's research, said in a statement. "ENI joins the long list of fossil fuel companies that, according to numerous international investigations conducted in recent years, have been aware for decades of the destructive impacts of greenhouse gas emissions from coal, gas, and oil on the climate, but chose to ignore what they knew."
The report details several internal documents showing that the fossil fuel company knew that burning oil, gas, and coal could disrupt the future climate.
In 1969, ENI—while entirely owned by the state of Italy—charged its center the Istituto per gli Studi sullo Sviluppo Economico e il Progresso Tecnico (ISVET) with completing a technical-economic survey. The survey, completed the next year, acknowledged the potential impact of greenhouse gas emissions in the introduction to its summary.
"The carbon dioxide in the atmosphere, according to a recent report by the U.N. Secretary, due to the increased use of mineral fuel oils, has increased over the last century by an average of 10% worldwide; towards the year 2000 this increase could reach 25%, with 'catastrophic' consequences for the climate," the introduction read.
The next piece of evidence dates from 1973. As the environmental movement began to pick up steam in the early 1970s due to pollution concerns, ENI founded a company called TECNECO in 1971 whose sole purpose was to tackle pollution. Two years later, TECNECO published the First Report on the Environmental Situation of the Country. The report included a table that stated carbon dioxide's "increase in the atmosphere is considered a potential cause of climate change."
Another TECNECO report from 1978 included this passage:
Various hypotheses have been made about the effect of fossil fuel emissions on climate. On a local scale, even considerable changes to climate have been noted. Similar climatic changes may occur on a regional scale due to the continued, increasing consumption of fossil fuels, and this may become a major problem by the end of the century. As already noted, the best available data indicate that the CO2 content of the atmosphere will reach 375-400 ppm in the year 2000; this would increase the temperature of the atmosphere by 0.5°C.
In the 1980s, ENI's company magazine Ecos also acknowledged the potential climate crisis on multiple occasions. For example, a 1988 article read, "The tremendous development of combustion processes during this century has led scientists to fear the greenhouse effect that could lead to climate change with devastating effects on the entire earth's ecosystem."
"It can therefore be said that ENI—like other oil and gas majors—was already aware from the very early 1970s that its core business, the exploitation of fossil fuels, was a serious danger not only to people's health, but also to the planet's climate," the report authors wrote.
Despite this, in the 1980s ENI also advertised natural gas as a "clean fuel" and participated in the International Petroleum Industry Environmental Conservation Association (IPIECA). IPIECA was used by ExxonMobil to sow climate denial and work against national climate policies during this decade, as a 2021 study found. Coauthors of that study Ben Franta, a senior climate litigation researcher at Oxford's Sustainable Law Program, and Christophe Bonneuil, who directs France's National Center for Scientific Research, both contributed to the Greenpeace report.
"It is time companies like ENI take responsibility for their harmful policies."
Bonneuil told the report authors that IPIECA, because it had many state-owned oil companies as members, played a key role in "international oil diplomacy" as nations sought to regulate the industry due to concerns over air pollution, oil spills, and global heating.
"Although IPIECA has never described itself as a pressure group, from 1988 to 1994 it clearly became a channel through which oil companies from around the world shared information and strategies regarding the work of the United Nations on the road to the 1992 Rio Earth Summit and the details of the negotiations on the Climate Change Convention," Bonneuil said.
In 1992, ENI co-hosted an IPIECA in Rome. During that meeting, and despite the more definitive statements in internal company documents, ENI's manager of its Safety, Quality, and Environmental Protection department Ennio Profili said it was "necessary to obtain data" about how oceans and clouds might contribute to climate change "before taking political decisions, such as adopting a carbon tax, which could lead to dire and unexpected economic consequences."
In response to Greenpeace's report, ENI toldDesmog in a statement that it had "already responded to the claims of the two organizations in the court of Rome, through the procedural tools provided and within the timeframe assigned by the law."
"The complexity of the matter is such that it merits spaces which are not compatible with journalistic reductions," the company continued.
However, for Moramarco, the situation is not complex.
"Carbon majors have contributed to and exacerbated the climate crisis and, despite the evidence in their hands, they have blocked progress towards effective regulation," Moramarco said in a statement. "It is time companies like ENI take responsibility for their harmful policies and invest in ambitious action to limit the impacts of the climate crisis on people and the planet."
News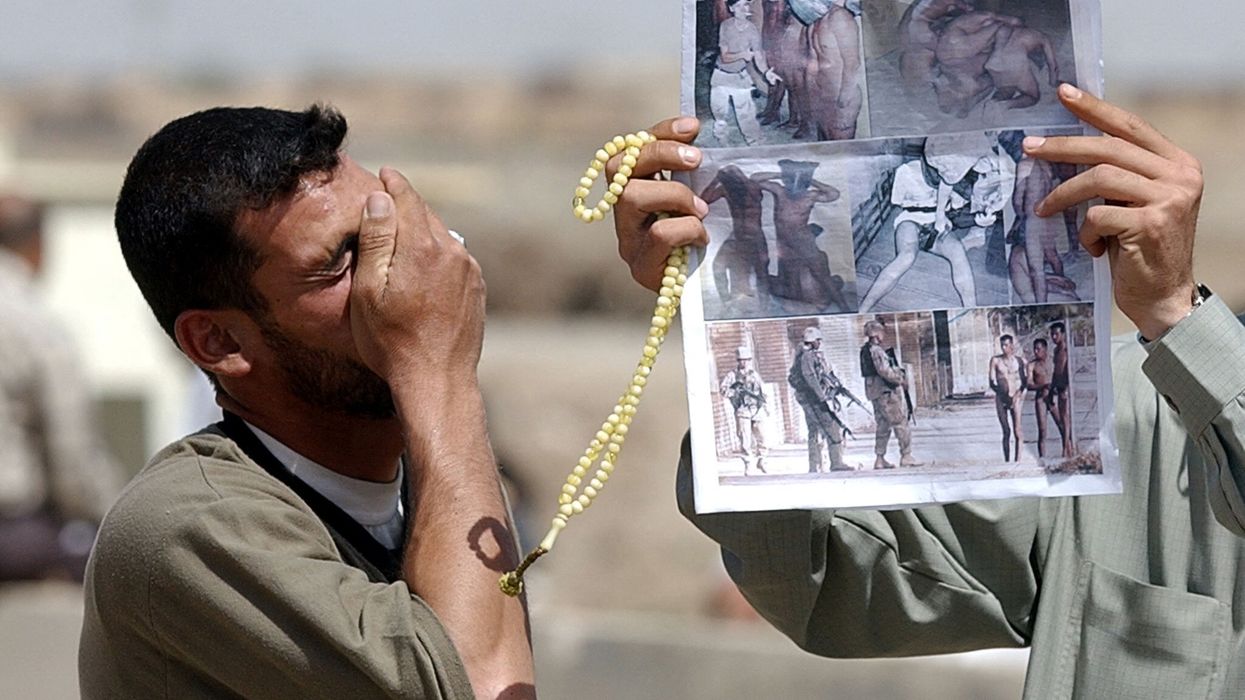 "Iraqis who were tortured by U.S. personnel still have no clear path for filing a claim or receiving any kind of redress or recognition from the U.S. government."
Iraqis tortured by American forces two decades ago during the disastrous U.S. occupation of their country have yet to receive any sort of compensation from the U.S. government as they suffer lasting physical and psychological trauma, according to a report released Monday by Human Rights Watch.
The group interviewed an Iraqi who was detained at Abu Ghraib prison—which U.S. forces used as a detention facility—between November 2003 and March 2005.
Taleb al-Majli, who was released without charge after 16 months, told HRW that he was one of the detainees in the infamous photo of naked, hooded Iraqi prisoners whom U.S. forces piled on top of each other to form a human pyramid. In the photo, two U.S. soldiers are behind the prisoners smiling, and one of them is flashing a thumbs-up.
"This one year and four months changed my entire being for the worse," said al-Majli, who told the human rights group that he started biting his hands and wrists as a coping mechanism while he was imprisoned—something he still does to this day.
"It destroyed me and destroyed my family," al-Majli said of his detention. "It's the reason for my son's health problems and the reasons my daughters dropped out of school. They stole our future from us."
HRW noted that al-Majli has spent the nearly two decades since his release pursuing redress for the abuse he endured at the hands of U.S. soldiers, to no avail. When the group wrote to the Pentagon earlier this year detailing al-Majli's case and asking for any information on plans to compensate Iraqis who were tortured by U.S. forces, it did not get a response.
"Twenty years on, Iraqis who were tortured by U.S. personnel still have no clear path for filing a claim or receiving any kind of redress or recognition from the U.S. government," Sarah Yager, HRW's Washington director, said in a statement. "U.S. officials have indicated that they prefer to leave torture in the past, but the long-term effects of torture are still a daily reality for many Iraqis and their families."
"The U.S. should provide compensation, recognition, and official apologies to survivors of abuse and their families."
During a 2004 congressional hearing convened days after reporting by veteran investigative journalist Seymour Hersh and others uncovered the grotesque torture that U.S. forces were perpetrating at Abu Ghraib, then-U.S. Secretary of Defense Donald Rumsfeld—a key architect of the Iraq invasion—said he was "seeking a way to provide appropriate compensation to those detainees who suffered such grievous and brutal abuse and cruelty at the hands of a few members of the U.S. military."
"It's the right thing to do," Rumsfeld added.
But HRW said Monday that it has "found no evidence that the U.S. government has paid any compensation or other redress to victims of detainee abuse in Iraq, nor has the United States issued any individual apologies or other amends."
"Some victims have attempted to apply for compensation using the U.S. Foreign Claims Act (FCA)," the group observed. "Human Rights Watch was unable to find public evidence that payments have been made under this law as compensation for detainee abuse, including torture. In 2007, the American Civil Liberties Union obtained documents detailing 506 claims made under the Foreign Claims Act: 488 in Iraq and 18 in Afghanistan. The majority of claims relate to harm or deaths caused by shootings, convoys, and vehicle accidents."
"The only case of a Foreign Claims Act payment relating to detention in those documents was for a claimant who was paid US$1,000 for being unlawfully detained in Iraq, with no mention of other abuse," HRW added. "Five other claims were for abuse in detention, but they are among eleven claims that do not contain the outcome, including whether payment was made."
Attempts by some Iraqis to pursue redress through the U.S. court system have also failed. According to HRW, "the U.S. Justice Department has repeatedly dismissed such cases using a 1946 law that preserves U.S. forces' immunity for 'any claim arising out of the combatant activities of the military or naval forces, or the Coast Guard, during time of war.'"
Yager argued that the heads of the Pentagon and Justice Department "should investigate allegations of torture and other abuse of people detained by the U.S. abroad during counterinsurgency operations linked to its 'Global War on Terrorism.'"
"U.S. authorities should initiate appropriate prosecutions against anyone implicated, whatever their rank or position," said Yager. "The U.S. should provide compensation, recognition, and official apologies to survivors of abuse and their families."

News
Independent, nonprofit journalism needs your help.
Please Pitch In
Today!