For Immediate Release
Contact:
Tel: +1-212-216-1832,Email:,hrwpress@hrw.org
Iran: Journalist's Detention Extended
Washington Post Reporter Held 4 Months, but Not Charged
Beirut
Iran's judiciary has extended Washington Post reporter Jason Rezaian's pretrial detention for another two months. Rezaian, a dual Iranian and American national, is being held in a section of Evin prison controlled by Iran's Revolutionary Guards. He has been in detention for more than four months without being formally charged with any crime.
On November 18, 2014, authorities informed Rezaian that investigations against him are ongoing, and that his pretrial detention has been extended for another two months, a source familiar with his case told Human Rights Watch. Prosecutors have not allowed the lawyer hired by Rezaian's family to defend him, to speak with him, or to review his case file, the source said. The source added that despite Rezaian's inability to read or write Persian, authorities did not provide him with an official translator during his interrogation. With a judge's approval, detaining authorities can, under Iranian law, hold a suspect indefinitely and deny him access to counsel.

"If authorities had evidence that Rezaian had committed a real crime, they should have charged him shortly after his arrest," said Sarah Leah Whitson, Middle East and North Africa director. "At this point, they should simply release him."
The Washington Postreported on July 24 that Rezaian had been arrested by security agents two days earlier together with his wife, Yeganeh Salehi, also a journalist, and an unnamed photojournalist and her spouse. They were arrested a day after Iran's Ministry of Culture and Islamic Guidance renewed Rezaian's press credentials.
Gholamhossein Esmaeili, the head of Tehran's judiciary, confirmed Rezaian's arrest on July 25, saying he had "been detained for some questions," but gave no other explanation. He said the judiciary would issue further details after completing its investigation, which has not yet happened. Authorities have since released Salehi and the others on bail, but have not yet charged them. Human Rights Watch is concerned, based on information it has received, that Salehi and Rezaian's family have been pressured by authorities not to speak to the media or publicize the circumstances of his ongoing detention.
Human Rights Watch is one of the world's leading independent organizations dedicated to defending and protecting human rights. By focusing international attention where human rights are violated, we give voice to the oppressed and hold oppressors accountable for their crimes. Our rigorous, objective investigations and strategic, targeted advocacy build intense pressure for action and raise the cost of human rights abuse. For 30 years, Human Rights Watch has worked tenaciously to lay the legal and moral groundwork for deep-rooted change and has fought to bring greater justice and security to people around the world.
LATEST NEWS
"Unfortunately, the White House is trying to convince us that they are working hard to put out the fire while they continue pouring gasoline on it," said one campaigner.
Climate campaigners on Tuesday took U.S. President Joe Biden to task following an address before the United Nations General Assembly in which he called on world leaders to urgently "climate-proof" the heating Earth while making what critics said were false claims about his administration's efforts to tackle the planetary emergency.

During his speech, Biden said that increasingly extreme weather events occurring around the world "tell the urgent story of what awaits us if we fail to reduce our dependence on fossil fuels," while claiming that "the United States has treated this crisis as the existential threat from the moment we took office."
Despite such lofty rhetoric and campaign pledges to center climate action—including by stopping new fossil fuel drilling on public lands—Biden has overseen the approval of more new permits for drilling on public land during his first two years in office than former President Donald Trump did in 2017 and 2018. The Biden administration has also held a massive fossil fuel lease sale in the Gulf of Mexico and has approved the highly controversial Willow project, Mountain Valley Pipeline, and increased liquefied natural gas production and export.
Oil Change International recently called the United States—which the climate action group says accounts for more than one-third of planned global oil and gas expansion through 2050—the "planet-wrecker-in-chief."

Outside the White House in Washington, D.C., three climate activists—Beaei Pardo, Kristen McKinney, and Chris Hager—were arrested Tuesday during a nonviolent protest calling on Biden to declare a climate emergency.
"Each day Biden delays in taking this step is precious time lost to save lives and secure a habitable future for humankind and countless other species," Pardo said. "As this summer of record heat and relentless climate disasters nears its end, protestors will appeal to Biden to lead courageously with the love he feels for his grandchildren and act to save all of our families. Together we can help make it happen."
Mitch Jones, managing director of policy and litigation at Food & Water Watch, said in a statement: "This summer sent the clearest message yet that our world is on fire. The only solution is to end the era of fossil fuels, period."
"Unfortunately, the White House is trying to convince us that they are working hard to put out the fire while they continue pouring gasoline on it," Jones added.
Jean Su, energy justice director at the Center for Biological Diversity, said in a statement that "President Biden's U.N. speech rightly recognized the climate dangers of fossil fuels, but Biden ignored his own immense powers to get us off them."
"As leader of the world's largest oil and gas producer, Biden has more power than anyone to rein in the fossil fuels wreaking havoc from Lahaina to Libya," Su continued. "We can't begin to tackle global development goals addressing poverty, famine, and lack of economic opportunity without confronting the climate crisis that intertwines with all of them. Biden must use this moment on the world stage to declare a climate emergency and halt expansion of the fossil fuels raining down chaos on our planet."

Biden also disappointed many activists by opting to not attend this week's U.N. Climate Ambition Summit, which is set to take place Wednesday in New York City. Jeff Ordower, the North American director of 350.org, called Biden's decision a "betrayal."
"I think the reality now is that Biden hasn't been the climate president that he had promised," Alice Hu, senior climate campaigner at New York Communities for Change, toldNPR on Sunday as tens of thousands of people took to the streets of Manhattan to demand an end to fossil fuels and a presidential climate emergency declaration.
Jones asserted that "the massive climate demonstrations we saw this weekend in New York and around the world should serve as a wake-up call to President Biden and other world leaders: The time for talking about climate action is over. We need to end the era of fossil fuels now—and that starts with the White House making climate commitments that finally match their rhetoric."
"We need the White House to stop approving fossil fuel drilling permits, to reject new pipelines and power plants, and to use the executive powers that would come with the declaration of a climate emergency," he added. "Instead of exhorting other countries to step up, President Biden should lead by example."

News
"It will take passage of the John R. Lewis Voting Rights Advancement Act to curb this new generation of assaults on the freedom to vote," said one campaigner.
Although it is nearly certain to go nowhere in a Republican-dominated U.S. House of Representatives, pro-democracy groups nationwide celebrated on Tuesday as Congresswoman Terri Sewell reintroduced the John R. Lewis Voting Rights Advancement Act.
"Generations of Americans—many in my hometown of Selma, Alabama—marched, fought, and even died for the equal right of all Americans to vote," Sewell (D-Ala.) said in a statement. "But today, their legacy and our very democracy are under attack as MAGA extremists target voters with new laws to restrict voting access."
"The fight for voting rights has never been more urgent," she argued, explaining that the legislation—named for the late Democratic Georgia congressman and civil rights leader—aims to restore and modernize the full protections of the Voting Rights Act of 1965 (VRA), which was gutted by the U.S. Supreme Court a decade ago in Shelby County v. Holder.
The bill is backed by every House Democrat but faces tough odds in both chambers. Early last year, Democratic right-wing Sen. Joe Manchin (W.Va.) and Sen. Kyrsten Sinema (Ariz.), who switched from Democrat to Independent in December, worked with Republicans to block a megabill that included the Freedom to Vote Act and the John Lewis legislation.
Still, U.S. advocacy groups on Tuesday applauded the lawmakers' renewed push for federal voting rights reforms—as they did in July, when Democratic leaders reintroduced the Freedom to Vote Act.
"The John Lewis Voting Rights Advancement Act is key in preserving democracy, full stop," declared Public Citizen executive vice president Lisa Gilbert. "A decade after the Supreme Court gutted 'preclearance' protection in the Voting Rights Act, more than half of U.S. states have passed over 90 laws that make it harder to vote for communities of color, in particular."
"Without this legislation, we risk further entrenching anti-democratic, partisan forces that want to choose their own voters," Gilbert warned.
According to the Declaration for American Democracy coalition:

In the last decade since the Shelby County v. Holder Supreme Court decision gutted key enforcement mechanisms in the Voting Rights Act, at least 29 states have passed 94 laws making it harder to vote, with at least 11 states enacting 13 restrictive voting laws in 2023 alone.

Attacks on our freedom to vote disproportionately impact Black, Latino, Asian, Native, and other voters of color. Since Shelby v. Holder, the racial turnout gap has grown significantly in 5 of the 6 states previously covered by the preclearance sections of the Voting Rights Act.
Sylvia Albert, Common Cause's director of voting and elections, stressed that "this ongoing effort to suppress the vote harkens back to the shameful Jim Crow era. At that time, it took the passage of the Voting Rights Act of 1965 and rigorous enforcement by the U.S. Department of Justice to curb the wholesale abuses and attacks on the freedom to vote."
"Today it will take passage of the John R. Lewis Voting Rights Advancement Act to curb this new generation of assaults on the freedom to vote and to strengthen the ability of the Department of Justice to protect that sacred freedom with the tools it used for decades," she asserted, specifically calling out Republican-controlled state legislatures that have tried "to silence Black and Brown voters after they showed up to vote in record numbers during the 2020 election."
Noting that the VRA "has a long history of bipartisan support," Leslie Proll of the Leadership Conference on Civil and Human Rights said: "We applaud our elected officials who have responded to the call of the majority of people in this country who support new legislation to protect the vote. We need federal action now."
Michael Waldman, president and CEO of the Brennan Center for Justice at New York University School of Law, also highlighted previous bipartisan support for the VRA, pointing out that "the last time the Voting Rights Act was reauthorized, in 2006, it gained 98 votes in the Senate." He called on Congress to swiftly pass the "urgently needed" John Lewis bill and the Freedom to Vote Act.
Organizations focused on key issues like abortion rights and the climate emergency also demanded action on the proposal.
"This legislation is long overdue," said a 15-member coalition that included Clean Water Action, Climate Hawks Vote, the Climate Reality Project, Earthjustice, EDF Action, Environmental Law & Policy Center, Greenpeace USA, Interfaith Power & Light, League of Conservation Voters, the National Wildlife Federation, NextGen America, Sierra Club, Union of Concerned Scientists, WE ACT for Environmental Justice, and Zero Hour.
"We cannot effectively tackle the critical issues our nation faces—like combating the climate crisis, advancing environmental justice, and protecting our air, lands, waters, biodiversity, wildlife, and oceans—without fixing the broken system that caters to corporate polluters and disenfranchises too many voters," the coalition argued.
Meanwhile, NARAL Pro-Choice America said on social media that "voting rights and reproductive freedom are deeply intertwined."
"Anti-abortion extremists attack voting rights knowing that it is critical to electing repro champions," the organization added. "Congress MUST pass the John Lewis Voting Rights Act."
News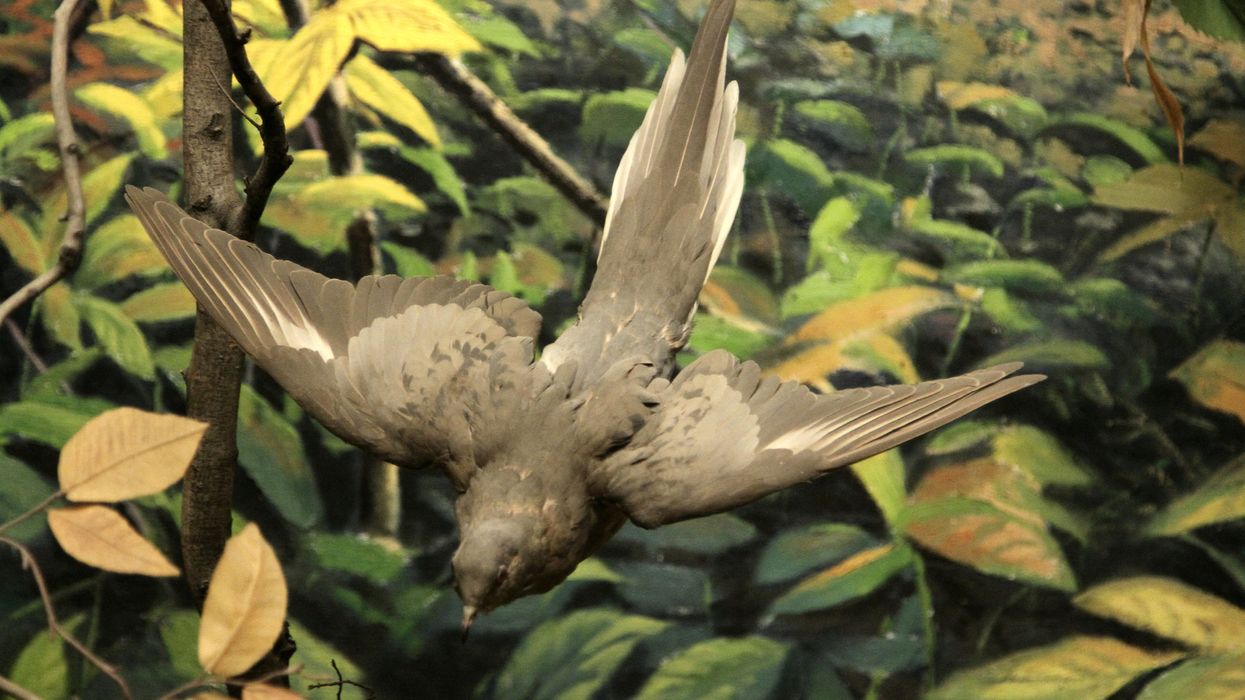 "What we're losing are our only known living companions in the entire universe," one study author said.

In what researchers call a "biological annihilation," human activities are driving entire groupings of vertebrate species to extinction at a rate 35 times what it would have been without human interference.

The study, published in the Proceedings of the National Academy of Sciences Monday, found that 73 genera—the next thickest branch from species on tree of life—had been lost since A.D. 1500. Without the mass exploitation of the natural world that took off around that date with European colonization, the number lost in the past 500 years would have been only two, and it would have taken 18,000 years to reach 73 extinctions.
"Such mutilation of the tree of life and the resulting loss of ecosystem services provided by biodiversity to humanity is a serious threat to the stability of civilization," study co-authors Paul Ehrlich of Stanford University and Gerardo Ceballos of the National Autonomous University of Mexico wrote in the abstract.
Or, as Ehrlich summarized it in all caps on social media, "New approach to extinction crisis, very bad news."
Previous attempts to grapple with the sixth mass extinction had focused on the number of species lost or at risk. But looking at genera can provide a clear view of the "magnitude and impact" of these losses, the study authors wrote.
Why? Because when one species dies, other species in the same genus can fill its niche in the ecosystem and preserve much of its genetic code, Ceballos toldStanford News. However, when a genus disappears, it leaves a larger gap in both the ecosystem and the genetic record—one that it can take evolution tens to millions of years to fill.
For example, when the passenger pigeon genus went extinct in 1914, the white-footed mouse lost its main food competitor. This combined with a decrease in large predators caused white-footed mouse populations to explode, which has been fatal for humans, because white-footed mice are the primary carriers of Lyme disease.
"We are alarmist because we are alarmed."
"By losing all these genera, we are losing the foundations of the planet to have life in general and human life in particular," Ceballos told The Guardian.
There's also an inherent sadness to the disappearance of so much unique life.
"What we're losing are our only known living companions in the entire universe," Ehrlich told Stanford News.
Ceballos and Eherlich expected genera extinction rates to be lower than species ones, but found in fact that they were about the same. The pair looked specifically at birds, mammals, reptiles, and amphibians. Beyond the 73 extinct genera, the planet also lost 10 families and two orders: the elephant bird and the New Zealand moa. Birds overall lost the most genera, with mammals coming in second.
What's more, if the climate emergency, the illegal wildlife trade, and habitat loss continue and all endangered genera go extinct by 2100, their extinction rate would jump to 354 times what it would have been without these human actions.
"People say that we are alarmist by saying that we expect a collapse," Ceballos told The Guardian. "We are alarmist because we are alarmed."
However, both authors emphasized that it was not too late to act.
"As dramatic as the results are, what is important to mention is that we still have time," Ceballos added. Though he noted that "the window of opportunity is closing rapidly."
News
Independent, nonprofit journalism needs your help.
Please Pitch In
Today!