Cultivating Knowledge and Crops: Women Are Key to Sustainable Agricultural Development
Worldwatch's Nourishing the Planet team emphasizes the power that women hold to solve hunger and poverty globally
WASHINGTON
Women account for 75 percent of the agricultural producers in sub-Saharan Africa, but the majority of women farmers are living on only $1.25 per day, according to researchers from the Worldwatch Institute. "The lack of access to information technology and the inability to connect rural enterprises to banks can prevent women from obtaining vital financial services," said Danielle Nierenberg, director of the Institute's Nourishing the Planet project, a two-year evaluation of environmentally sustainable agricultural innovations to alleviate hunger.
Despite the challenging circumstances that women in developing countries face, important innovations in communications and organizing are helping women play a key role in the fight against hunger and poverty. "Access to credit, which provides women farmers with productive inputs and improved technologies, can be an effective tool in improving livelihoods in Africa and beyond," said Worldwatch Institute's executive director Robert Engelman.
Worldwatch researchers traveled to 25 countries across sub-Saharan Africa to meet with more than 350 farmers groups, NGOs, government agencies, and scientists, highlighting innovations, such as better extension and communication services, that are helping farmers improve their livelihoods. The findings are documented in the recently released report, State of the World 2011: Innovations that Nourish the Planet.
Nourishing the Planet highlights four innovations that can strengthen women's agricultural capacity: providing microfinance credit, providing access to the global market, providing extension services, and providing organizational support to women's projects.
* Providing women withmicrofinance credit. Globally, women fall well short of receiving the same financial benefits and opportunities as men. Only 10 percent of the credit services available in sub-Saharan Africa, including small "microfinance" loans, are extended to women. The New York-based nonprofit Women's World Banking is the only microfinance network focused explicitly on women, providing loans of as little as $100 to help women start businesses. Microfinance institutions from 27 countries provide the loans to women who in many cases have no other way to access credit.
* Providing women access to the global market. In Africa's Western Sahel, the production of shea butter is boosting women's entry into global markets. Women-run cooperatives across the region are tapping into the global demand for fair trade and organic beauty products by selling the skin-care cream they produce from the shea nut crop to cosmetics firms such as Origins and L'Oreal. These "responsible" companies in turn pay fair price for the products and invest in the women's communities.
* Providing women with extension services. In the United States, outreach programs like Purdue Cooperative Extension Services offer training for women to grow their businesses and increase profitability. And in Uganda, agricultural extension workers have introduced women's groups to "coolbot" technology-solar energy and an inverter-that can be used in traditional reed, mud, and thatch shops to reduce temperatures and prolong the shelf lives of vegetables. "When extension programs invest in women farmers, the payoff can be huge," write Dianne Forte, Royce Gloria Androa, and Marie-Ange Binagwaho in State of the World2011. "Women receive an education, raise yields, increase their incomes, and improve the nutritional status of family members, contributing to the wellbeing of entire communities."
* Helping women work together. Around the world, numerous organizations are helping to empower and support women farmers. In the United States, American Agri-Women, a coalition of farm, ranch, and agribusiness women's organizations, works with more than 50 state and commodity affiliates on legislative and regulatory matters as well as on student and consumer education. And the country's National Women in Agriculture Association helps socially disadvantaged women in rural areas obtain resources administered by the U.S. Department of Agriculture, with the mission to "educate, develop, network and create bonds of sisterhood among all women."
With a large percentage of women worldwide still lacking necessary services, it is time that policymakers include women, respect what they know, and stand beside them in pursuing the right to equality for all women. The ideas and technologies for the success of women are available, and development programs have the opportunity to thrive if they embrace the knowledge and skills of women farmers.
State of the World 2011 is accompanied by informational materials including briefing documents, summaries, an innovations database, videos, and podcasts, all available at www.NourishingthePlanet.org. The project's findings are being disseminated to a wide range of agricultural stakeholders, including government ministries, agricultural policymakers, and farmer and community networks, as well as to the increasingly influential nongovernmental environmental and development communities.
The Worldwatch Institute was a globally focused environmental research organization based in Washington, D.C., founded by Lester R. Brown. Worldwatch was named as one of the top ten sustainable development research organizations by Globescan Survey of Sustainability Experts. Brown left to found the Earth Policy Institute in 2000. The Institute was wound up in 2017, after publication of its last State of the World Report. Worldwatch.org was unreachable from mid-2019.
LATEST NEWS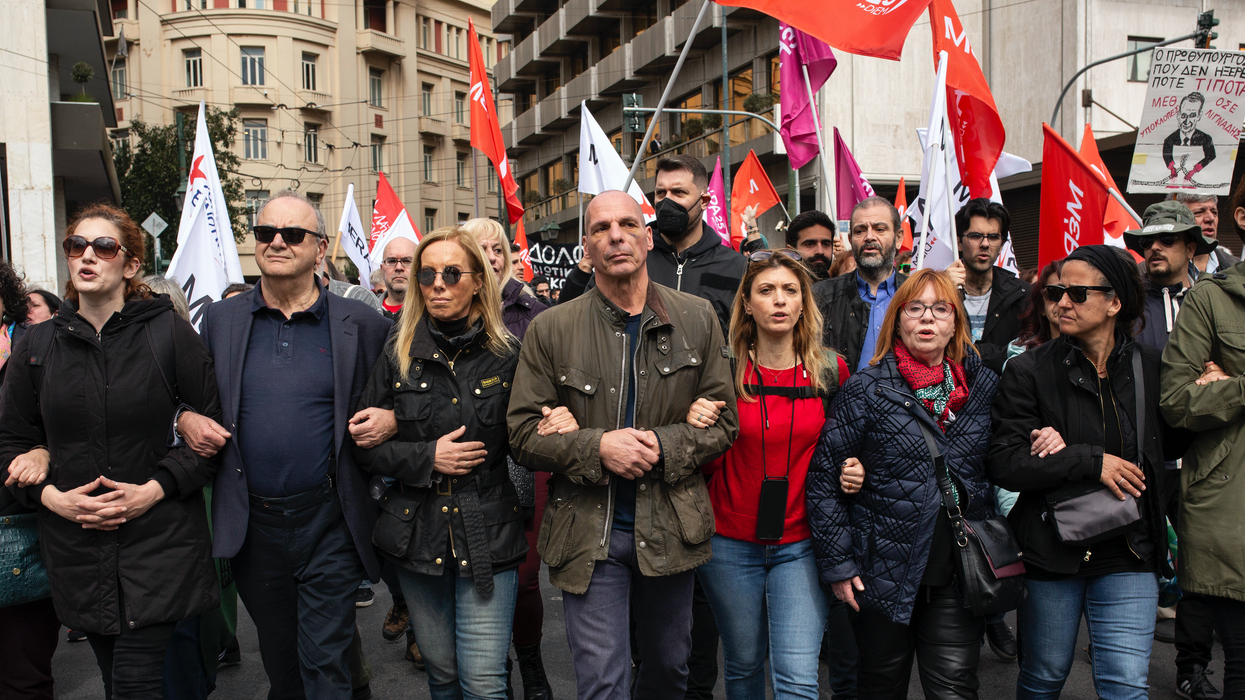 "It is the debt of every worker, every youth, to continue to demand the obvious: This crime must not be covered up!"
At least tens of thousands of demonstrators took to the streets of cities and towns across Greece Thursday to protest the government's handling of last month's Tempi railway disaster and the capitalist system that puts profits before people.
The general strike—which was called by the General Confederation of Greek Workers and public sector workers umbrella organization ADEDY—crippled transportation on land, in the air, and at sea. In the capital Athens, metro services and the tram network were shut down. Many flights were canceled due to a work stoppage by air traffic controllers, and many ferries remained docked.
In addition to Athens, demonstrations took place in Thessaloniki, Patras, and elsewhere—including in Tempi, site of the February 28 head-on collision between a freight train and a high-speed inter-city passenger train carrying 350 people. Fifty-seven people died and 85 others were injured in the crash.
"Had this been a serious country, everybody at the transport ministry would be in handcuffs."
Much of the Greek left blames the disaster on railway staffing cuts, outdated technology, and infrastructure neglect and degradation caused by years of severe fiscal austerity measures.
Rallying under the slogan "this crime will not be forgotten; we will be the voice of all the dead," demonstrators shouted "murderers" and "the tears have dried up and turned into rage" as they marched in central Athens.
"This was mass murder," Pavlos Aslanidis, the father of one of the passengers killed in the crash, toldAlphaTV. "Had this been a serious country, everybody at the transport ministry would be in handcuffs."
According toWorld Socialist Web Site:
Demonstrations were replete with anti-government slogans and chants rejecting the initial claims of New Democracy Prime Minister Kyriakos Mitsotakis that the disaster was the result of the errors of a single station master in Larissa—the passenger train's last stop before the crash. Some banners in Syntagma Square outside Parliament read, "It was no human error, it was a crime" and "Our dead, your profits."
"Two weeks have passed since the crime in Tempi, Larissa and the country is shaking with anger and daily struggle," the All-Workers Militant Front (PAME), which backed the strike, said in a statement. "It is the debt of every worker, every youth, to continue to demand the obvious: This crime must not be covered up!"

PAME accused the government of trying "to block people's participation to the strike by... spreading fake news about the legality of the strike in the public sector and on the day of the strike, ordering the closing of Athens central Metro stations, so as to block people from reaching Athens center and participating in the rallies."
"At the same time, a series of photos and videos on social media and news sites show unprovoked police violence and also persons with civilian clothes, black hoods, and covered faces sitting side by side with the riot police forces," the leftist confederation added.
Video footage posted on social media showed what appeared to be unprovoked attacks by police on demonstrators. Other footage showed people throwing Molotov cocktails and projectiles at police.
Among those participating in Thursday's demonstrations was Yanis Varoufakis, the leftist lawmaker and former finance minister who is recovering from a brutal assault last Friday.
"The masterminds of the austerity and dogmatic privatization that led us to disaster were international institutions: the IMF, the European Central Bank, and the European Commission—the so-called Troika," the Varoufakis-led MeRA25 party said in a statement before Thursday's strike, referring to the International Monetary Fund.
"Their reach is global, and the victims of their inane policies are spread from Argentina to Greece and beyond," the leftist party added. "The fight against them is something that must unite all progressive forces."
News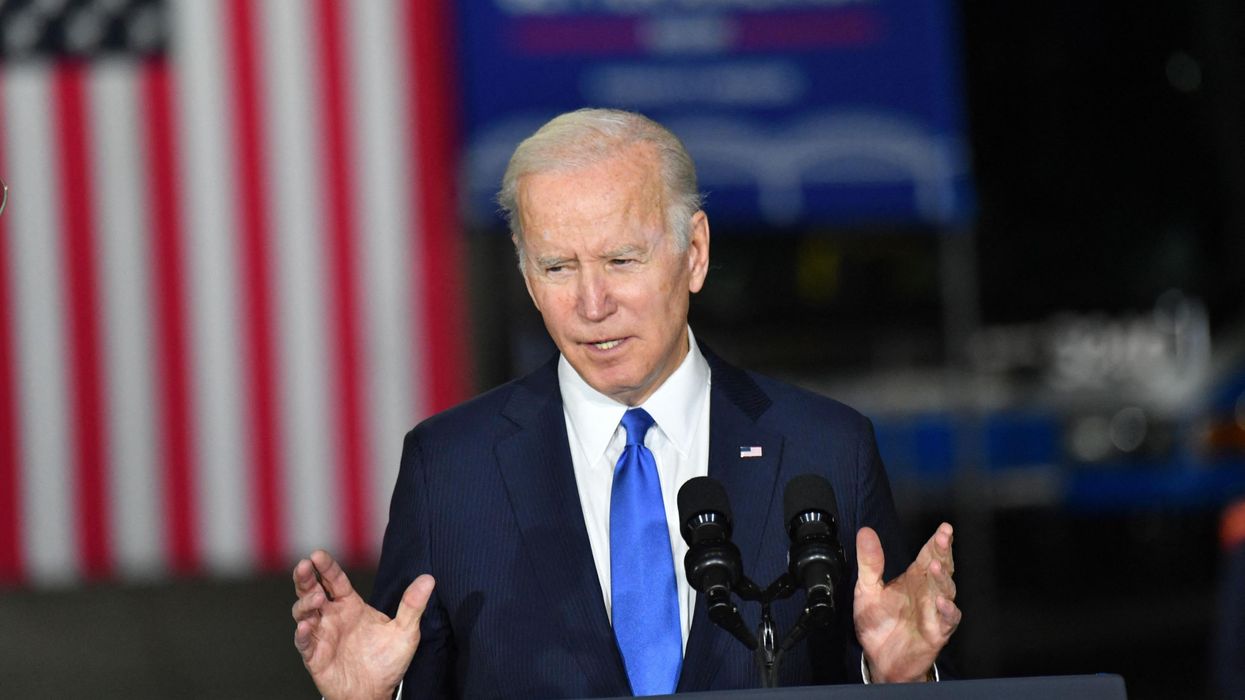 The president is "rightfully fighting to hold bank executives accountable for their failures," said Sen. Elizabeth Warren.
Days after U.S. Sen. Elizabeth Warren expressed outrage over the bonuses that Silicon Valley Bank executives were handing out hours before the bank failed, President Joe Biden on Friday called on Congress to strengthen regulatory powers to hold officials at failed banks accountable.
The president said in a statement that the White House's authority to hold SVB executives directly responsible for the failure is limited, but said Congress can and should pass legislation granting the Federal Deposit Insurance Corporation (FDIC) broader powers to take action against former SVB CEO Greg Becker and other executives.
He called on lawmakers to allow the FDIC to claw back compensation from executives, impose civil penalties, and bar executives from working in the financial services industry if their banks failed "due to mismanagement and excessive risk taking."
"I'm firmly committed to accountability for those responsible for this mess," said Biden. "No one is above the law—and strengthening accountability is an important deterrent to prevent mismanagement in the future. Congress must act to impose tougher penalties for senior bank executives whose mismanagement contributed to their institutions failing."
SVB and Becker himself raked in significant profits by largely serving wealthy tech companies, and took a risk by holding an "abnormally large ratio of uninsured deposits," as Warren said earlier this week. They also invested a large share of the funds into long-term Treasury bonds whose value plummeted as interest rates rose, causing the bank's clients to withdraw their money only to find SVB did not have sufficient funds on hand.
In addition to giving out bonuses hours before SVB collapsed, Becker sold roughly $3 million worth of shares of the bank in the weeks before the failure.

Currently
the FDIC can claw back compensation of executives of the nation's largest banks if they fail and can only impose other penalties if executives act with "recklessness" or "willful or continuing disregard."
Biden called for Congress to allow the regulatory agency to penalize executives for "negligent" conduct as well.
Warren applauded Biden's call, saying the president is "rightfully fighting to hold bank executives accountable for their failures."
"We need to claw back every penny of their unjust pay and bonuses, impose real penalties, and ensure these executives never work in the banking industry again," said the Massachusetts Democrat. "Congress must step up."

News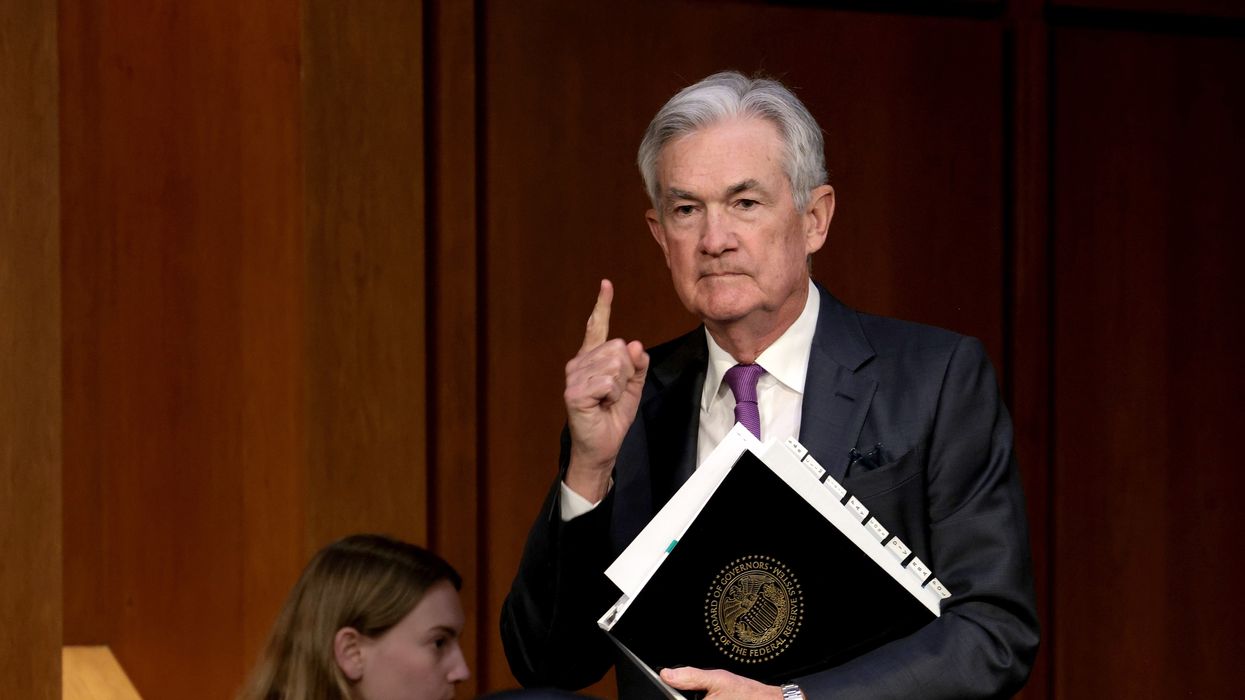 "Everyone involved in Biden's decision to renominate him must apologize," said one watchdog.
The Federal Reserve was the primary regulator of both Silicon Valley Bank and Signature Bank, whose back-to-back collapses sparked panic in financial markets and concerns about cascading impacts on the U.S. economy.
But despite immediate questions about the possible supervisory failures that allowed the banks' crises to fester, Fed Chair Jerome Powell personally intervened over the weekend to block any mention of regulatory slipups in a joint statement on the federal government's response to the situation.
The New York Timesreported late Thursday that some Biden administration officials "wanted to include that lapses in bank regulation and supervision had contributed to the problems that helped fell" Silicon Valley Bank, whose collapse marked the second-largest bank failure in U.S. history.
But Powell, an ex-investment banker originally nominated by former President Donald Trump, "pushed to take the line on regulation out of the statement because he wanted to focus on the actions being taken to shore up the financial system," according to the Times, which cited an unnamed person familiar with the matter.

The resulting statement issued Sunday by the Fed, the Treasury Department, and the Federal Deposit Insurance Corporation (FDIC) appeared to conform to Powell's demand, not mentioning what Sen. Elizabeth Warren (D-Mass.) and watchdogs have described as glaring failures in supervision by the central bank.
The joint statement vaguely highlights "reforms that were made after the financial crisis that ensured better safeguards for the banking industry"—but neglects to mention that the Fed and Congress rolled back some of those rules in subsequent years, decisions that experts say set the stage for SVB and Signature Bank's collapse.
"That sounds a lot like putting the institutional interests of Fed and personal interests of the chair above financial stability," Americans for Financial Reform (AFR) said in response to news of Powell's intervention, which—according toThe American Prospect's David Dayen—ended up delaying the release of the statement for "an indeterminate period of time."
Dayen also reported Friday that the Fed "tried to influence" President Joe Biden's statement on the bank failures and bailout that followed.
Jeff Hauser, director of the Revolving Door Project, wrote on Twitter that "Biden should have never renominated Powell," calling the Fed chair "an abomination."
While Biden's Sunday statement doesn't specifically mention regulatory failures, the president—who renominated Powell in late 2021—said in prepared remarks the following day that "there are important questions of how these banks got into these circumstances in the first place."
"During the Obama-Biden administration, we put in place tough requirements on banks like Silicon Valley Bank and Signature Bank, including the Dodd-Frank Law, to make sure the crisis we saw in 2008 would not happen again," Biden said. "Unfortunately, the last administration rolled back some of these requirements. I'm going to ask Congress and the banking regulators to strengthen the rules for banks to make it less likely that this kind of bank failure will happen again and to protect American jobs and small businesses."
Biden was referring to a 2018 measure passed by the then-Republican-controlled Congress with the support of dozens of Democrats—and with a public endorsement from Powell.
Emboldened by the Republican-authored law—which weakened regulations for banks with between $50 billion and $250 billion in assets—the Fed under Powell's leadership proceeded to go well beyond the measure's mandates "by relaxing regulatory requirements for domestic banking institutions that have assets in the $250 to $700 billion range," then-central bank governor Lael Brainard noted in October 2018.
Brainard went on to caution, presciently, that the Fed's deregulatory actions would "weaken the buffers that are core to the resilience of our system" and result in "increased risk to financial stability and the taxpayer."
"Make no mistake: your decisions aided and abetted this bank failure, and you bear your share of responsibility for it."
As Dayen wrote Friday, "Silicon Valley Bank had billions in unrealized losses on its balance sheet that it hoped to avoid having to surface."
"It also had a tightly correlated, mostly uninsured depositor base, all largely from one industry and connected to each other, that represented significant flight risk if there were any signs of trouble," he added. "The rapid growth at the bank and its significant mismatch for liquidity purposes should have had the system flashing red."
Dennis Kelleher, the president of Better Markets, expressed a similar sentiment earlier this week, noting that "the Fed has much more and superior knowledge, information, expertise, and access to banks than short sellers, rating agencies, and the media, yet they all appear to have done a much better job at identifying the very serious risks at SVB than the Fed."
In a letter to Powell on Thursday, Warren—one of the Fed chair's most outspoken critics in Congress—laid out in detail what she characterized as the central bank's "astonishing list of failures" that contributed to the collapse of Silicon Valley Bank and Signature Bank.
"As chair of the Fed, you have led and vigorously supported efforts to weaken the regulations that would have subjected banks like SVB and Signature to stronger liquidity requirements, more robust stress testing, and routine resolution planning obligations," the Massachusetts Democrat wrote. "Make no mistake: your decisions aided and abetted this bank failure, and you bear your share of responsibility for it."
In response to the Times' reporting, Warren tweeted Friday that "the Fed chair's outrageous attempt to muzzle the rest of the government about his role in contributing to this current crisis is completely inappropriate—and it won't work."
"Congress needs to step in to fix these mistakes before things get even worse," added Warren, who introduced legislation earlier this week that would repeal a key section of the 2018 bank deregulation law.
This story has been updated to include Sen. Elizabeth Warren's reaction to the reporting on Fed Chair Jerome Powell's intervention.

News
SUPPORT OUR WORK.
We are independent, non-profit, advertising-free and 100%
reader supported.