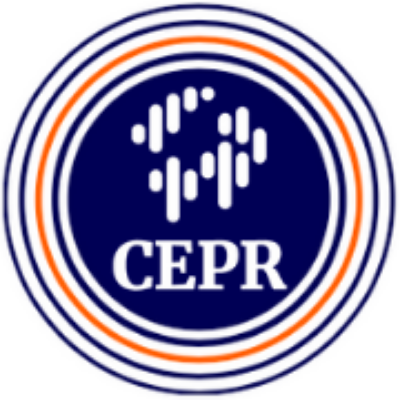 For Immediate Release
Contact:
Alan Barber, 202-293-5380 x115
Diverse Asian American and Pacific Islander Workforce Faces Many Challenges
WASHINGTON
Asian American and Pacific Islander (AAPI) workers face significant challenges in the labor market, according to a new report prepared by the Center for Economic and Policy Research and the Center for Labor Research and Education at UCLA.
"This report provides essential information on the Asian Pacific Islander workforce that is useful for labor and community organizations, scholars and students, and policy makers and government leaders. The research reflects the complexity and diversity of the API workforce, and challenges the stereotypes that are perpetuated by the model minority myth," said Kent Wong, director of the UCLA Labor Center and an author of the report.
The report, "Diversity and Change: Asian American and Pacific Islander Workers 2011", reviews over 50 years of government data and provides the most in-depth picture to date of the AAPI workforce in the United States.
The study portrays a highly diverse workforce. About three-fourths of AAPI workers were born outside of the United States, but a high share have become U.S. citizens. AAPI workers are more likely than whites to have a four-year college degree or more, but AAPI workers are also less likely than whites to have a high school diploma.
AAPI women workers are concentrated both in typically high-paying occupations in health, finance, and computer-related fields, as well as typically poorly-paying occupations, such as cashiers, cleaners, and wait staff. AAPI men are also concentrated in many of these same high-paying occupations, but also in low-paying occupations including cooks, truck drivers, and janitors.
According to the report, AAPI workers are less likely than whites to be self-employed. In 2010, 6.6 percent of white workers were self-employed, compared to only 5.6 percent of AAPI workers. A larger share of AAPI workers are in unions (about 12 percent) and in public-sector jobs (about 14 percent) than are self-employed.
Despite having a higher-than-average level of education, AAPI workers face important economic challenges. AAPI workers are less likely than whites to have health insurance and the share of AAPI workers with employer-provided health insurance has dropped sharply over the last two decades, in step with national trends.
AAPI workers are also substantially less likely than white workers to own their home. In 2009, less than two-thirds of AAPI workers (64.4 percent) owned their home, compared to almost three-fourths of white workers (74.3 percent).
A sizeable minority of AAPI workers also have difficulties with English. About 1-in-6 AAPI workers lives in a household that is "linguistically isolated." According to the standard used by the Bureau of the Census, a household is linguistically isolated if all of the adult members of the household speak English less than "very well."
"Like the rest of the workforce, AAPI workers face significant challenges including high unemployment and declining access to health insurance," Nicole Woo, Director of Domestic Policy at the Center for Economic and Policy Research and another author of the report added. "But AAPI workers also face some unique challenges. Three fourths, for example, are immigrants and about 1-in-6 has language difficulties."
Some additional findings of the report include:
AAPI workers are the only one of the four major racial and ethnic groups in which more men have a four-year college degree than women
Earnings of AAPI workers are more unequal than they are for white, black, and Latino workers.
Over the past two decades earnings inequality increased more among AAPI workers than it did among white workers
AAPIs between the ages of 16 and 64 are less likely to have a job (68.0 percent) than whites (70.5 percent) in the same age range.
More information on the state of the AAPI workforce in the United States can be found here.
The Center for Economic and Policy Research (CEPR) was established in 1999 to promote democratic debate on the most important economic and social issues that affect people's lives. In order for citizens to effectively exercise their voices in a democracy, they should be informed about the problems and choices that they face. CEPR is committed to presenting issues in an accurate and understandable manner, so that the public is better prepared to choose among the various policy options.
(202) 293-5380
LATEST NEWS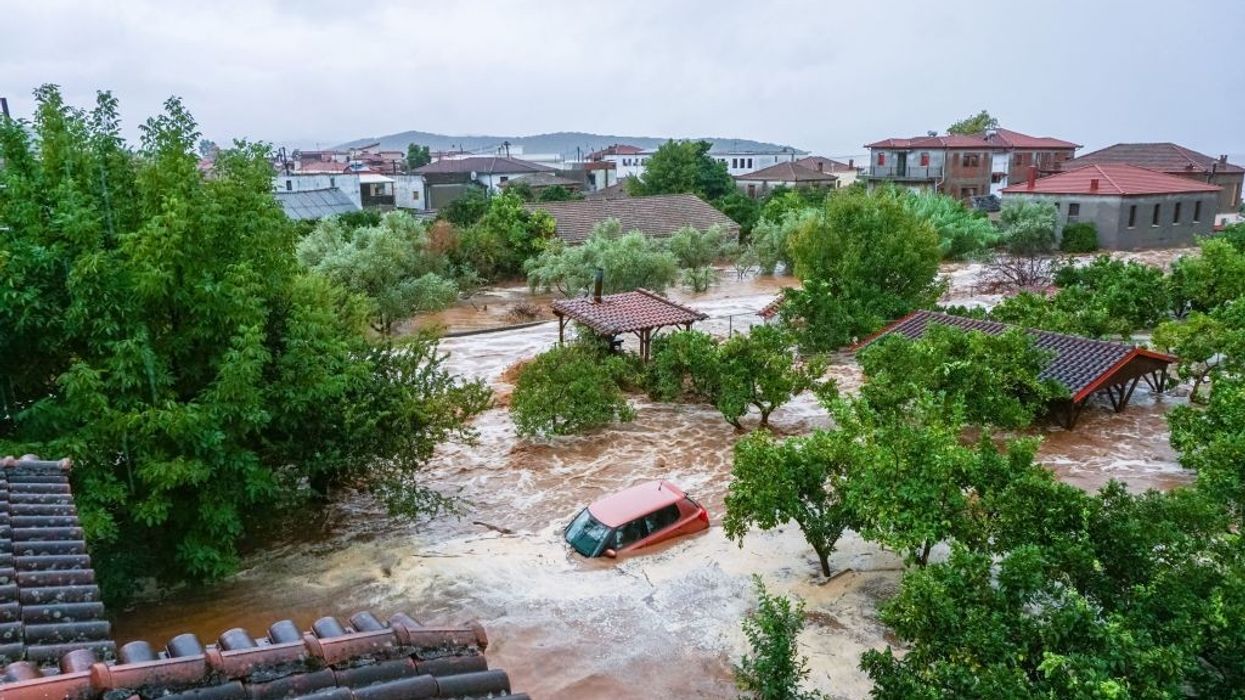 "I am afraid that the careless summers, as we knew them… will cease to exist," the Greek prime minister said.
Historic flooding in Greece, Turkey, and Bulgaria has killed at least 11 people as rain followed heat and fire in a summer of extremes.
The storm knocked out bridges, swept cars out to sea, and made roads impassable, dumping more than two feet of rain on some parts of Greece within hours.
"This is the most extreme phenomenon in terms of the maximum amount of rain in a 24-hour period since records began in the country," Vassilis Kikilias, who acts as Greece's climate crisis and civil protection minister, said, as The Guardian reported.
The torrential rain follows deadly wildfires in the country that killed more than 20, including one megafire that scorched 81,000 hectares of forest, making it the largest in Europe since record-keeping began in 2000, as The Associated Press reported at the time.
Both fires and heavy rains are made more likely by the climate crisis caused primarily by the burning of fossil fuels. Hotter temperatures generate ideal fire conditions, and the atmosphere can hold around 7% more moisture per 1.8°F of warming. The floods come as the European Union's Copernicus Climate Change Service determined that summer 2023 was the hottest on record.
"I am afraid that the careless summers, as we knew them… will cease to exist and from now on the coming summers are likely to be ever more difficult," Greek Prime Minister Kyriakos Mitsotakis said Tuesday, as The Guardian reported.
"We almost couldn't believe the forecast."
"Correct," Just Stop Oil responded on social media. "It's not getting better. It gets worse until we stop oil and gas."
The immediate cause of the rain was a system called Storm Daniel, as The New York Timesreported. In the 13 hours between 12 am and 3 pm Tuesday, it dumped more than 25 inches of rain on the town of Pelion and its surroundings.
"We almost couldn't believe the forecast," Konstantinos Lagouvardos, the research director at the National Observatory of Athens, told The New York Times. "This is a number we've never seen before. It's unreal."
Another town in the Pelion region, Zagora, saw 21 inches in 10 hours Tuesday, with more predicted to fall.
"A historic flooding event is underway!" European Synchrotron Radiation Facility researcher Nahel Belgherze wrote on the site formerly known as Twitter.
One Pelion resident, Iro Proia, shared a dramatic video on Facebook of cars being pushed out to sea by floodwaters.
Another hard-hit area was the city of Volos, which received approximately 10 times its monthly rainfall in less than 14 hours, as CNN reported. There, the River Krafsidonas overflowed, destroying a bridge, according to The New York Times. One man was also killed in the city when a wall collapsed on top of him, The Guardian reported. Another woman died close to Pelion.

One resident who lives near Volos described the toll of back-to-back extreme weather events.
"Everything saved from the fire we had in July has been destroyed by this bad weather," 49-year-old Christos Kleftakis toldAgence France-Presse. "This is unprecedented—these severe weather events, the strength of the rain, the wind. I've never seen anything like that before."
The death toll was even higher in Turkey, where two people died in Istanbul and four died in the city of Kirklareli, while two remain missing.
In another example of weather whiplash, Istanbul's reservoirs had been at their lowest in nine years before the floods. The storm flooded streets and homes in the capital, closing some subway stations and trapping about 12 people in a library, who were eventually rescued, Al Jazeera reported.

In Bulgaria, the usually dry Black Sea Coast saw its heaviest rainfall since 1994, according to AFP, entirely cutting off the area south of the city of Burgas and killing at least three people.
"It's a disaster," Prime Minister Nikolay Denkov said, as AFP reported.
And it's predicted the situation could worsen in the coming days, as Storm Daniel potentially develops into a hurricane-like cyclone over the Mediterranean, also known as a "medicane," CBS News explained.

Such storms usually need sea temperatures of around 79°F to form, and meteorologists said that there was "more than enough warmth."
News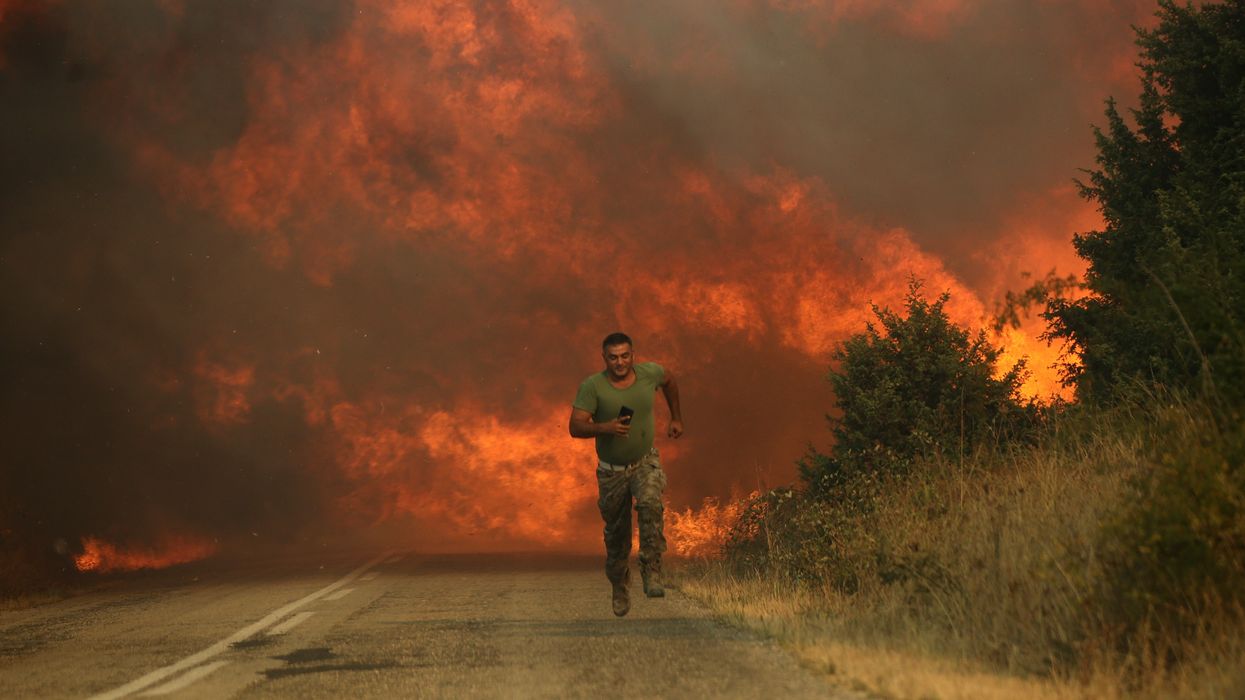 "Breaking heat records has become the norm in 2023," said one scientist. "Global warming continues because we have not stopped burning fossil fuels. It is that simple."
Climate scientists across the world have been alarmed over the past three months by fast-spreading wildfires, prolonged and deadly heatwaves, and numerous shattered heat records across the northern hemisphere both in the oceans and on land—and data released Tuesday confirmed that the past three months have been the hottest summer on record, driven by humans' continued emission of heat-trapping gases and compounded by El Niño.
The Copernicus Climate Change Service (C3S), the European Union's climate agency, found that the global average temperature during June, July, and August reached 16.77°C (62.18°F), which was 0.66°C or 1.18°F above the 1991-2020 average.
The previous temperature record was set in 2019 and was 0.29°C (0.5°F) lower than this year's high.
Last month was the hottest August on record "by a large margin," said the World Meteorological Organization, with the average temperature 1.5°C higher than the preindustrial average.
United Nations Secretary-General António Guterres said Wednesday the world is experiencing the consequences of "our fossil fuel addiction," which "scientists have long warned" would be unleashed if humans continue extracting oil and gas instead of rapidly shifting to renewable energy sources.

"Our planet has just endured a season of simmering—the hottest summer on record. Climate breakdown has begun," said Guterres.
"In the southern hemisphere Antarctic sea ice extent was literally off the charts, and the global sea surface temperature was once again at a new record. It is worth noting that this is happening BEFORE we see the full warming impact of the El Niño event."
C3S released the data as the Eastern United States experienced a "dangerous heatwave," with cities including New York and Washington, D.C. announcing heat advisories.
As the World Weather Attribution (WWA) said earlier this summer, the extreme heat felt across North America and Europe in July—the hottest month ever on record, followed by August—would have been "virtually impossible" without planetary heating and the climate crisis.
Scientists at the WWA also found that the hot, dry conditions that allowed wildfires to spread rapidly in Eastern Canada were made twice as likely by the climate emergency, and independent scientists at Climate Central determined that the current heat forecast in the United Kingdom—with temperatures over 33°C or 91°F expected in London on Saturday—was made five times more likely.

Friederike Otto, a senior lecturer on climate change and the environment at Imperial College London, toldThe Guardian that "breaking heat records has become the norm in 2023."
"Global warming continues because we have not stopped burning fossil fuels," said Otto. "It is that simple."
Scientists last observed a powerful El Niño warming event, which is marked by very high temperatures in the Pacific Ocean near the equator, in 2016, which currently holds the record for the hottest January-August period, followed by this year.
El Niño is still developing this year, and experts have warned that next summer could see even more intense heatwaves and wildfires as the effects of the warming phenomenon are typically observed the year after it develops.
"The northern hemisphere just had a summer of extremes—with repeated heatwaves fueling devastating wildfires, harming health, disrupting daily lives, and wreaking a lasting toll on the environment," said Petteri Taalas, secretary-general of the WMO. "In the southern hemisphere Antarctic sea ice extent was literally off the charts, and the global sea surface temperature was once again at a new record. It is worth noting that this is happening BEFORE we see the full warming impact of the El Niño event."
Mark Maslin, professor of earth system science at University College London, told The Guardian that the news from C3S "is a wake-up call to international leaders that we must rapidly reduce carbon emissions now."

"Let us hope this message hits home at COP28... this December and action actually happens," Maslin said.
Advocates have raised alarm about the appointment of Sultan Ahmed Al Jaber, CEO of the United Arab Emirates' Abu Dhabi National Oil Company, to lead the United Nations Climate Change Conference, also known as COP28, later this year.
"Surging temperatures demand a surge in action," said Guterres. "Leaders must turn up the heat now for climate solutions. We can still avoid the worst of climate chaos—and we don't have a moment to lose."
News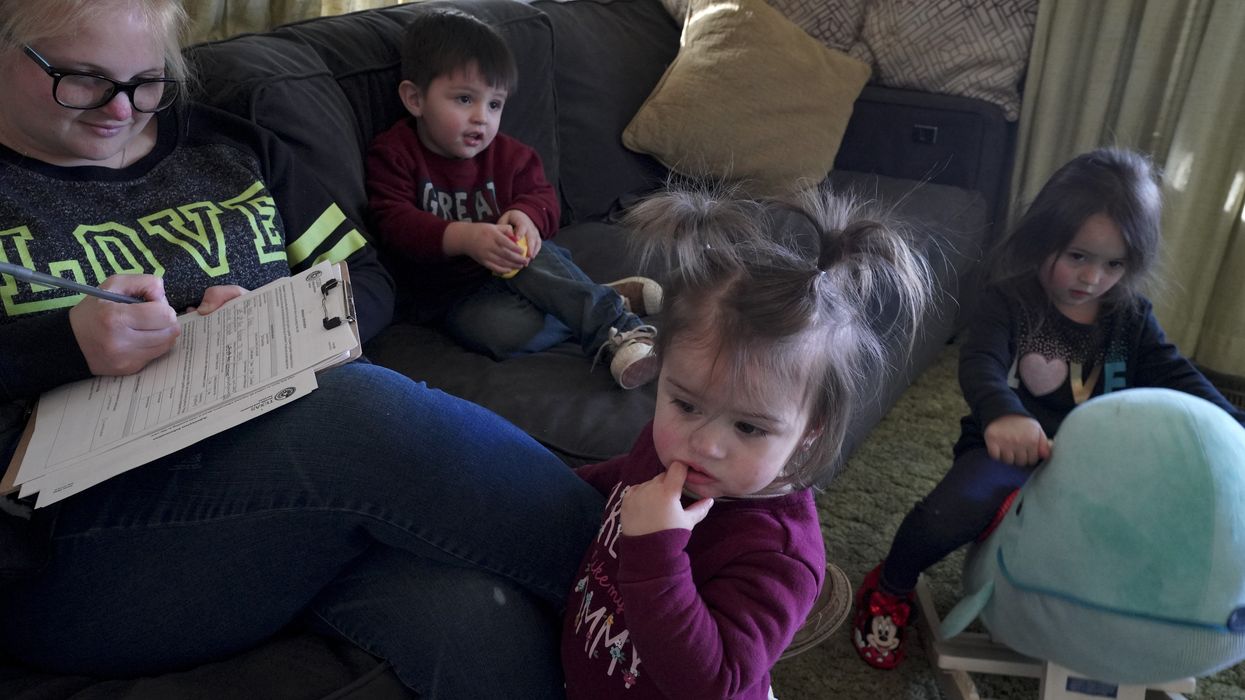 "We need to make sure that childcare doesn't just fall over a cliff," said Sen. Elizabeth Warren.
The United States is barreling headlong toward a childcare disaster as House Republicans threaten to shut down the federal government, casting doubt on the prospects of a last-minute agreement to approve additional childcare funding before emergency allotments expire at the end of September.
Progressive lawmakers, advocates, and childcare providers have been sounding the alarm for months, warning that the nation's already deeply flawed and difficult-to-access childcare system will be thrown into further chaos if funding approved during the coronavirus pandemic is allowed to lapse without any additional investments.
In a June report, The Century Foundation estimated that more than 70,000 childcare programs across the U.S. will likely be forced to shut down without an infusion of funding. As a result, around 3.2 million kids could lose their childcare slots and states could lose nearly $11 billion in economic activity per year, the think tank found.
Separately, Sens. Bernie Sanders (I-Vt.) and Patty Murray (D-Wash.) released an analysis in May indicating that childcare funding approved under the American Rescue Plan kept hundreds of thousands of childcare providers afloat during the pandemic and prevented roughly a million childcare workers from losing their jobs.
Murray said at the time that inaction from Congress would "likely force providers to lay off staff or shut down, force parents to leave work when they lose their childcare, and take a wrecking ball to our economic recovery."
Despite such warnings, the divided Congress took no action on childcare before departing for their August recess, leaving lawmakers with less than a month to approve new funding and keep the doors of tens of thousands of childcare facilities open.
But there appears to be little urgency on the part of many lawmakers or the Biden White House, which did not include childcare money in its supplemental funding request for a potential short-term deal to keep the government open.
A week before the White House sent its request to Congress, a group of Democratic lawmakers implored the Biden administration to support an annual childcare investment of at least $16 billion per year.
"We need to make sure that childcare doesn't just fall over a cliff," Sen. Elizabeth Warren (D-Mass.) said in an interview last month.

A large faction of House Republicans, meanwhile, has signaled that it is willing to force a government shutdown in an effort to secure steep cuts to federal spending and other far-right agenda items. In recent weeks, GOP appropriators have proposed major cuts to education programs, environmental spending, and more.
"I am fighting alongside House Democrats to avoid a childcare cliff on September 30th when emergency federal funding is set to expire," Rep. Jennifer McClellan (D-Va.) wrote in a social media post on Tuesday. "Meanwhile, House Republicans propose $750 million in funding cuts to Head Start."
As Politicoreported last week, Republican lawmakers "have questioned how the [emergency childcare] cash was spent and expressed skepticism that more is needed." During a spring hearing, the outlet noted, Sen. Bill Cassidy (R-La.) accused Democrats of "promoting additional federal dollars under the guise of crisis."
But childcare providers across the U.S. have been speaking out for months, demanding urgent action from lawmakers as emergency funding runs dry.
In May, more than 650 U.S. childcare providers closed their doors for a day to highlight the sector's worsening crises, including woefully inadequate resources.
"I would invite anyone, especially our elected officials who are choosing not to fund the true cost of care, to come work at a childcare center for just a couple weeks while trying to pay all of your bills," Evelan Fountain, an early childhood educator at Family Circle Academy in Philadelphia, said at the time. "It's impossible."
Chabeli Carrazana of The 19th Newsreported last week that many U.S. childcare programs are already teetering on the edge of collapse, just barely scraping by thanks in part to emergency federal funding.
"All of those problems remain, but soon the money will be gone," Carrazana wrote. "For centers that have staved off closure, most of the costs will get passed on to parents in the form of tuition hikes in the fall that could push the most vulnerable kids out of care. More than a third of programs serving infants and toddlers expect to raise rates after the funding runs out, according to a May survey of providers."
"Already, the annual cost of childcare exceeds the cost of in-state public university tuition in 34 states, and that cost has been rising at a faster rate than inflation for three decades," she added. "But before widespread closures, services will contract and costs to parents will increase. It's already happening."
News
Independent, nonprofit journalism needs your help.
Please Pitch In
Today!