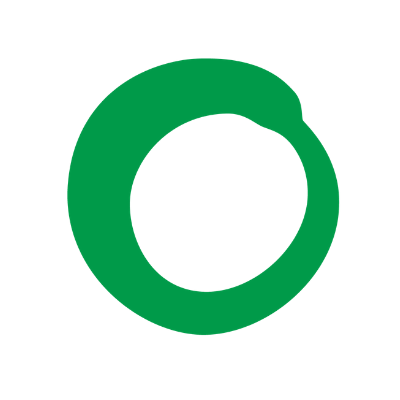 For Immediate Release
May, 10 2011, 02:04pm EDT
Friends of the Earth Challenges New AP1000 Reactor Design as Comment Period Ends
Nuclear Regulatory Commission's refusal to extend comment period beyond May 10 called typical of regulator held captive by the industry it is supposed to regulate
WASHINGTON
In comments submitted today as part of the formal review to determine whether reactors of the Westinghouse AP1000 design will be licensed for construction in the United States, Friends of the Earth challenged both the integrity of the review process employed by the Nuclear Regulatory Commission and the safety flaws in the proposed reactor design.
This reactor is the first new design in decades being considered for construction in the U.S. Though questions linger about the design's safety, and even though the NRC has not conducted additional analysis in the wake of the Fukushima disaster in Japan, the NRC is sticking with an industry-backed fast-track licensing approach.
The 75-day formal comment period on the AP1000 "rulemaking," which began with the publication of an announcement in the Federal Register on February 24, closes today. Included in the record are more than 14,000 comments submitted throughout the public comment period by Friends of the Earth activists, asking that the comment period be extended. This number of comments appears to be a record number submitted in an NRC rulemaking procedure. Yet, today the NRC rejected the call to extend the comment period, despite the thousands of public requests.

"The AP1000 reactor design is flawed, but due to industry pressure it is being rushed through an inadequate licensing process that is not serving public health or safety," said Tom Clements, Southeastern Nuclear Campaign Coordinator with Friends of the Earth. "The Nuclear Regulatory Commission must stop this process until it has time to consider the multitude of lessons about reactor design and operation which will eventually be learned from the Fukushima accident. Failure to do so could well be a recipe for a nuclear disaster here in the U.S."
Nuclear engineer Arnie Gundersen and the staff of Fairewinds Associates analyzed the design of the AP1000 reactor and found many aspects lacking, as cataloged in the comments formally submitted to the NRC by Friends of the Earth. The comments state that claims made about the safety of the reactor's containment structure "are not based upon sound scientific analysis and engineering review, but appear instead to be based upon the mythical dreaming of an aggressive industry and its captive regulator."
According to the comments authored by Gundersen and Fairewinds, the passive cooling system of the AP1000, which lacks a robust containment shell, merits close scrutiny. The cooling of the 1.75-inch steel containment shell is dependent upon a vulnerable 800,000-gallon tank precariously perched on top of a vented "shield building," a structure whose integrity has been questioned by even the lead NRC engineer in the design review. Fairewinds states: "This single source of cooling water perched atop the shield building is unique to the AP1000 design and Westinghouse's reliance upon it creates a single point of vulnerability that has not been thoroughly evaluated by industry regulator NRC due to the rush to AP1000 certification and licensure."
The comments also identify problems with a computer analysis of the design conducted by the NRC, arguing that the "review has uncovered analytical problems with the containment design computer codes applied to both the AP1000 containment analysis and the analysis of the AP1000 shield building."
The submission goes on to highlight earlier comments by a former Westinghouse reactor design employee, Dr. Susan Sterrett, who raised numerous, as of yet unanswered, questions about the methodology employed by both Westinghouse and the NRC in relation to the AP1000 design. Dr. Sterrett alleges that Westinghouse improperly based the AP1000 design on aspects of the AP600 design and that the NRC and the Advisory Committee on Reactors Safeguards (ACRS) did not thoroughly review this choice by Westinghouse.
The remarks prepared for Friends of the Earth state that "it appears that the ACRS and NRC have done a woefully inadequate review of both Dr. Sterrett's and Fairewinds Associates' AP1000 legitimate safety and engineering concerns in order to meet industry demand for an accelerated review process and fast-track licensure of a woefully unreviewed and untested new reactor design."
"We expect a full and detailed response to every point raised in our comments on the AP1000 design. The NRC must convince a skeptical public that all lessons learned from the Fukushima accident will be incorporated into the design before it is approved," said Clements.
Failure by the NRC to adequately take into account concerns about the reactor design and information flowing from the Fukushima disaster could lead to a legal challenge if the final rule certifying the design is approved.

###
Notes:
1. Link to Fairewinds comments prepared for Friends of the Earth and submitted to NRC on May 10, 2011: https://www.foe.org/sites/default/files/Gundersen_FOE_Report_5-10-2011.pdf
2. "AP1000 Design Certification Amendment" published in Federal Register, February 24, 2011, https://edocket.access.gpo.gov/2011/2011-3989.htm
3. Fairewinds Associates, https://www.fairewinds.com/, tel. 802-503-3890, contact@fairewinds.com
4. New Reactor Model Faces Legal Challenge, https://www.foe.org/new-reactor-model-faces-legal-challenge
Friends of the Earth fights for a more healthy and just world. Together we speak truth to power and expose those who endanger the health of people and the planet for corporate profit. We organize to build long-term political power and campaign to change the rules of our economic and political systems that create injustice and destroy nature.
(202) 783-7400
LATEST NEWS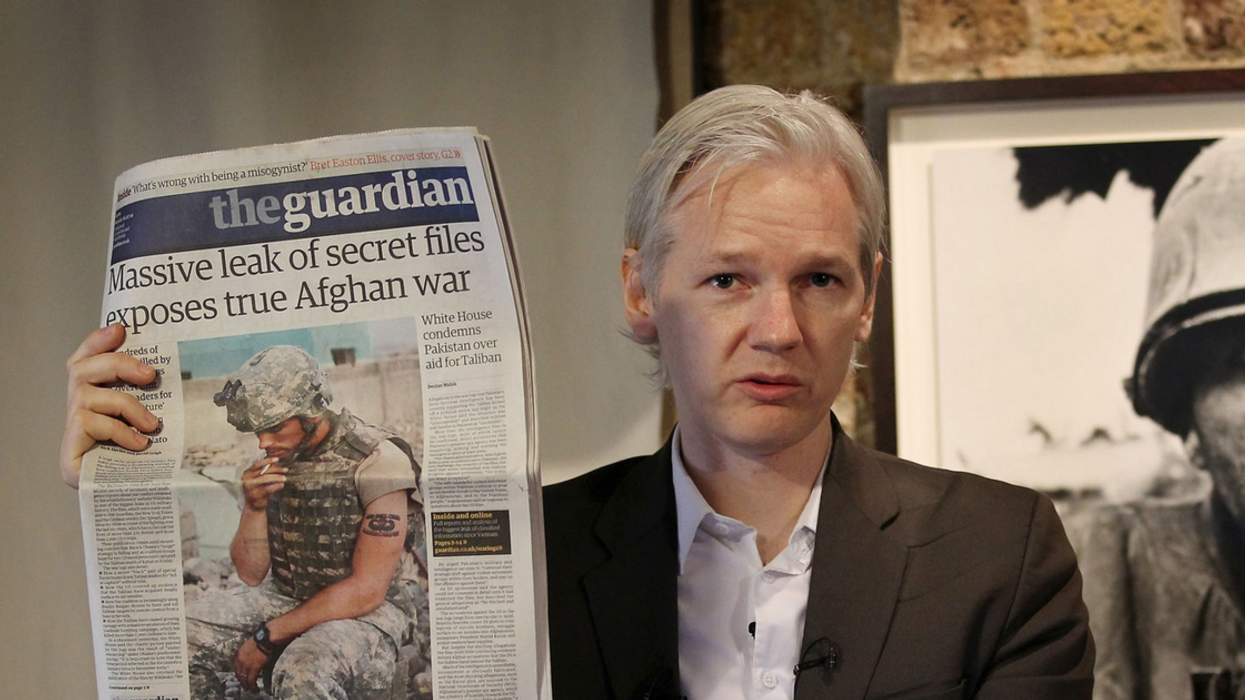 "As long as the Biden administration continues to deploy tools like the Espionage Act to imprison those who dare to expose war crimes, no publisher and no journalist will be safe," said one of the tribunal's co-chairs.
As Julian Assange awaits the final appeal of his looming extradition to the United States while languishing behind bars in London's notorious Belmarsh Prison, leading left luminaries and free press advocates gathered in Washington, D.C. on Friday for the fourth sitting of the Belmarsh Tribunal, where they called on U.S. President Joe Biden to drop all charges against the WikiLeaks publisher.
"From Ankara to Manila to Budapest to right here in the United States, state actors are cracking down on journalists, their sources, and their publishers in a globally coordinated campaign to disrupt the public's access to information," co-chair and Democracy Now! host Amy Goodman said during her opening remarks at the National Press Club.
"The Belmarsh Tribunal... pursues justice for journalists who are imprisoned or persecuted [and] publishers and whistleblowers who dare to reveal the crimes of our governments," she continued.
"Assange's case is the first time in history that a publisher has been indicted under the Espionage Act," Goodman added. "Recently, it was revealed that the CIA had been spying illegally on Julian, his lawyers, and some members of this very tribunal. The CIA even plotted his assassination at the Ecuadorean Embassy under [former U.S. President Donald] Trump."
\u201cWatch the Belmarsh Tribunal LIVE from Washington, D.C. today at 2 pm ET. \n\nIncluding Amy Goodman, @HorvatSrecko, Daniel Ellsberg, Noam Chomsky, @khrafnsson, @jeremycorbyn, Betty Medsger & @SMaurizi.\n\nFreedom for Assange and journalism are at stake. \n\nhttps://t.co/BsTWi02Xct\u201d

— Progressive International (@Progressive International) 1674225186
Assange—who suffers from physical and mental health problems including heart and respiratory issues—could be imprisoned for 175 years if fully convicted of Espionage Act violations. Among the classified materials published by WikiLeaks—many provided by whistleblower Chelsea Manning—are the infamous "Collateral Murder" video showing a U.S. Army helicopter crew killing a group of Iraqi civilians, the Afghan War Diary, and the Iraq War Logs, which revealed American and allied war crimes.
According to the United Nations Working Group on Arbitrary Detention, Assange has been arbitrarily deprived of his freedom since he was arrested on December 7, 2010. Since then he has been held under house arrest, confined for seven years in the Ecuadorean Embassy in London while he was protected by the administration of former Ecuadorean President Rafael Correa, and jailed in Belmarsh Prison, for which the tribunal is named.
Human rights, journalistic, peace, and other groups have condemned Assange's impending extradition and the U.S. government's targeting of a journalist who exposed American war crimes.
\u201c"That the extradition proceedings against Assange are an unexpected legal outcome \u2014 is a lie. Based on my experience as Ecuador's foreign minister...the British government wanted to extradite him all along." \u2014 @GuillaumeLong\n\nAttend the Belmarsh Tribunal. https://t.co/1au3neo8FD\u201d

— Progressive International (@Progressive International) 1674143897
In a statement ahead of Friday's tribunal, co-chair and Croatian philosopher Srećko Horvat said:
The First Amendment, freedom of the press, and the life of Julian Assange are at stake. That's why the Belmarsh Tribunal is landing literally just two blocks away from the White House. As long as the Biden administration continues to deploy tools like the Espionage Act to imprison those who dare to expose war crimes, no publisher and no journalist will be safe. Our tribunal is gathering courageous voices of dissent to demand justice for those crimes and to demand President Biden to drop the charges against Assange immediately.
Belmarsh Tribunal participants include Pentagon Papers whistleblower Daniel Ellsberg, U.S. academic Noam Chomsky, British parliamentarian Jeremy Corbyn, former Assange lawyer Renata Ávila, human rights attorney Steven Donziger, and WikiLeaks editor-in-chief Kristinn Hrafnsson.
Assange's father, John Shipton, and the whistleblower's wife and lawyer Stella Assange, are also members, as are Shadowproof editor Kevin Gosztola, Chip Gibbons of Defending Rights, Selay Ghaffar of the Solidarity Party of Afghanistan, investigative journalist Stefania Maurizi, The Nation publisher Katrina vanden Heuvel, and ACLU attorney Ben Wizner.
\u201cFormer U.K. Labour Party leader @jeremycorbyn is in Washington for the Belmarsh Tribunal to advocate for Julian Assange's freedom as he fights extradition from Britain to the United States.\n\n"We're standing up for the right to know. We're standing up for journalism," Corbyn says.\u201d

— Democracy Now! (@Democracy Now!) 1674220962
"One of the foundation stones of our form of government here in the United States... is our First Amendment to the Constitution," Ellsberg—whom the Richard Nixon administration tried to jail for up to 115 years under the Espionage Act, but due to government misconduct was never imprisoned—said in a recorded message played at the tribunal.
"Up until Assange's indictment, the act had never been used... against a journalist like Assange," Ellsberg added. "If you're going to use the act against a journalist in a blatant violation of the First Amendment... the First Amendment is essentially gone."
Ávila said before Thursday's event that "the Espionage Act is one of the most dangerous pieces of legislation in the world: an existential threat against international investigative journalism."
"If applied, it will deprive us of one of our must powerful tools towards de-escalation of conflicts, diplomacy, and peace," she added. "The Belmarsh Tribunal convenes in Washington to present evidence of this chilling threat, and to unite lawmakers next door to dismantle the legal architecture that undermines the basic right of all peoples to know what their governments do in their name."
The Belmarsh Tribunal, first convened in London in 2021, is inspired by the Russell Tribunal, a 1966 event organized by philosophers Bertrand Russell and Jean-Paul Sartre to hold the U.S. accountable for its escalating war crimes in Vietnam.
News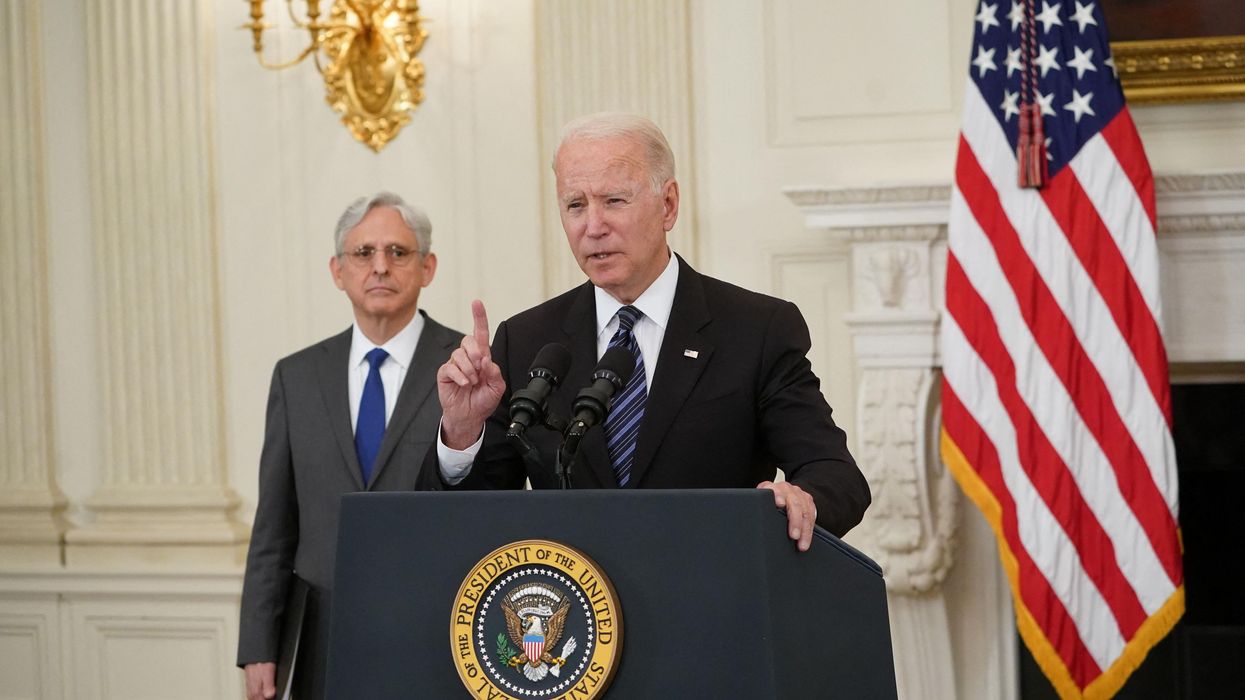 "As the previous administration violated legal and ethical norms at every turn, Attorney General Merrick Garland's choice of continuity with the Trump DOJ's positions erodes the integrity of the very institution he is determined to protect," said one researcher.
Two years after President Joe Biden was inaugurated, his administration continues to advance Trump-era legal positions in dozens of court cases, a progressive watchdog group revealed Friday.
Former President Donald Trump's Department of Justice (DOJ) "consistently made a mockery of the law throughout his four years in power," the Revolving Door Project (RDP) noted in the latest release of its long-running litigation tracker.
Even though "their laughable reasoning and indefensible positions were struck down at a historic rate, many cases were still waiting for Biden," RDP wrote. "Two years into Biden's presidency, an alarming number remain, either in some form of pause or advancing forward with the Biden administration adopting Trump's position."
RDP's litigation tracker, a noncomprehensive database updated Friday to include additional cases and developments, breaks down legal actions across more than a dozen categories. A selection of the Biden administration's moves follows:
Immigration
Biden's DOJ bowed to Republican pressure and pulled out of settlement talks with migrants whose families were separated at the border;
The Biden administration continues to misuse Title 42 public health authority, first misused by Trump, to turn away asylum-seekers at the border; and
The Biden administration continued to defend the practice of violating the legal rights of unaccompanied migrant children under the Migrant Protection Protocols (MPP) program.
Environment
Though Biden canceled the Keystone XL pipeline on his first day as president, his Department of Justice defended the Trump-approved Line 3 pipeline in court; and
The Biden administration urged an appeals court to overturn an offshore fracking ban once backed by Vice President Kamala Harris.
Education
Biden's DOJ defended Betsy DeVos and her corrupt Education Department's actions in court.
Voting Rights
Biden failed to defend voting rights amid historic assault.
Criminal Justice Reform
Biden endorsed an expansion of police power.
Social Security
Biden's DOJ defended a Social Security provision that deprives Puerto Rico residents of benefits before the Supreme Court.
Executive Power and Immunity
Biden's DOJ is defending former President Trump in a defamation lawsuit stemming from a sexual assault accusation; and
Biden's DOJ argued to toss out lawsuits against Trump and top officials for violently removing protestors ahead of a photo-op.
Death Penalty
Biden's DOJ asked the Supreme Court to reinstate the death sentence in the Boston Marathon bomber case.
International Law/Human Rights
Biden's DOJ declined to take a position on whether prisoners at Guantánamo have due process rights.
"Fidelity to Trump-era positions takes many forms," RDP pointed out. "Biden's DOJ successfully defended Trump-era warrantless searches of travelers' phones; in 2022, the public learned that customs officials maintain a huge database of travelers' copied phone data. The DOJ continued to prosecute an Indigenous woman arrested while praying on sacred grounds disrupted by Trump's border wall construction. They successfully defended the 17-year allowance Trump's EPA granted to Montana to fail to meet clean water standards for nutrient pollution."
In addition, the Biden White House persists "in siding with the pork industry against California and animal rights groups in a high-profile Supreme Court case, despite dozens of Democratic lawmakers urging a change of course," RDP continued. "National Pork Producers Council v. Ross is not the only animal farming case in which the Biden-Garland Justice Department continues to maintain Trump administration positions. The latest update to the litigation tracker shows the Justice Department continuing to defend multiple Trump-era Department of Agriculture decisions that excuse or enable the cruel treatment of poultry, lab-kept primates, and pigs in slaughterhouses."
In a statement, RDP researcher Ananya Kalahasti said that "as the previous administration violated legal and ethical norms at every turn, Attorney General Merrick Garland's choice of continuity with the Trump DOJ's positions erodes the integrity of the very institution he is determined to protect."
"While the Justice Department makes concerted strides towards a more just application of the law in many cases," Kalahasti added, "it pulls backward in others, muddling the legacy and body of precedent it is shaping in real-time."
RDP researcher Hannah Story Brown observed that although "the Justice Department has chosen continuity with its Trump-era position in amicus filings before the Supreme Court in National Pork Producers Council v. Ross... the Biden administration still has a potent opportunity to chart a better course, withother ongoing cases like Suncor v. Boulder County Commissioners, a climate damages case in which the Supreme Court has solicited the Justice Department's opinion."
Brown made clear that RDP is "watching closely to see whether the Justice Department chooses to break from or maintain the position it first adopted under disgraced former DOJ environmental attorney Jeffrey Clark in related state-level climate cases."
Under normal circumstances, maintaining the previous administration's positions "would be relatively routine," RDP argued. "Even if the White House is shifting from one party to another, it is not generally assumed that all of the federal government's litigation positions will change. Instead of a blanket reversal, each case tends to receive a thorough review before the new administration decides to stay the course or reverse."
"But these are not normal circumstances," the group continued. "At every turn and in every corner of the federal government, the Trump administration gleefully trampled the law. In fact, loyalty to the president's person—which plainly required a willingness to ignore legal constraints—was a nonnegotiable condition of employment. In the wake of such an attack, normal deference is not warranted."
"The Biden administration must move quickly to drop, reverse, or settle the cases that Trump left behind," RDP stressed. "And—we would have thought this wouldn't need to be said—the administration should adopt Trump's positions about as often as a stopped clock is accurate."
News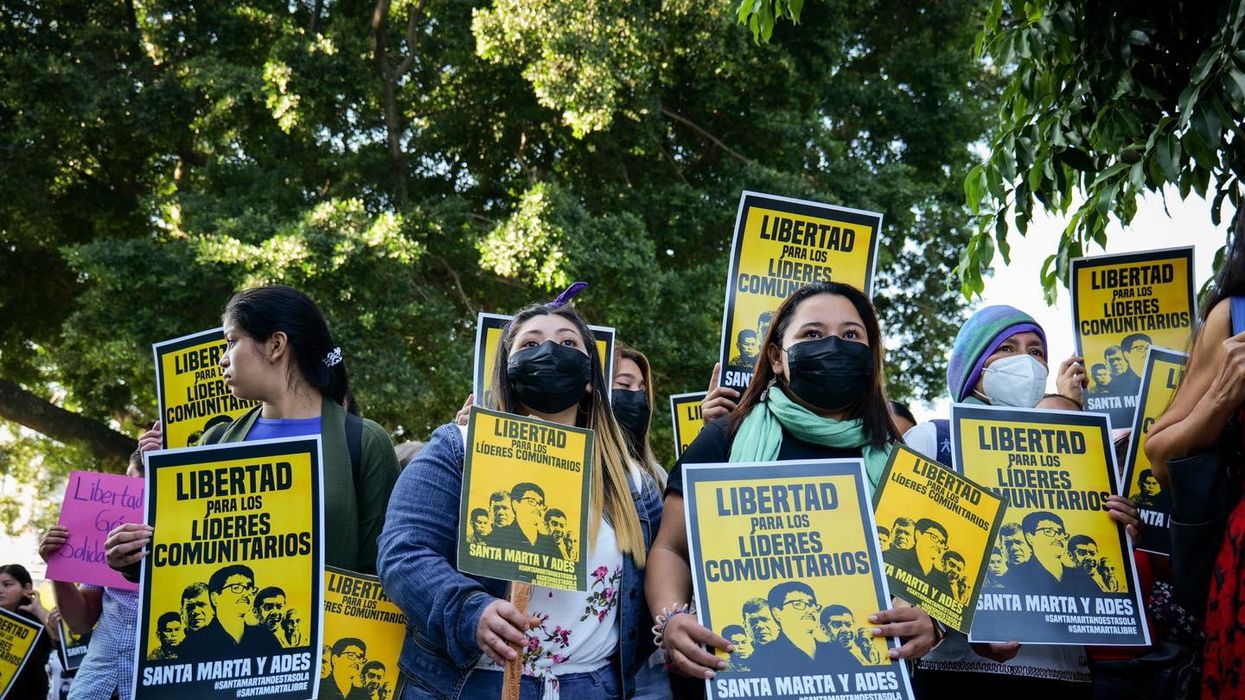 Critics warn that the Salvadoran government is "desperate for revenues" and trying to "demobilize potential grassroots opposition" to reversing a historic nationwide ban on environmentally destructive metal mining.
More than 250 organizations from 29 countries came together Friday to pressure the Salvadoran government to drop the charges against and release five water defenders who were instrumental in achieving a 2017 legislative ban on metal mining in El Salvador.
Global alarm has been building since Miguel Ángel Gámez, Alejandro Laínez García, Pedro Antonio Rivas Laínez, Teodoro Antonio Pacheco, and Saúl Agustín Rivas Ortega were detained in northern El Salvador on January 11. In a case that critics call politically motivated, they are accused of murdering an alleged military informant over three decades ago and of illicit association, which the government of Salvadoran President Nayib Bukele has used to detain tens of thousands of supposed gang members.
The groups' joint statement highlights that "thanks in part to its ill-advised embrace of Bitcoin, the Salvadoran government is under enormous pressure to find new revenues" and is reportedly considering reversing the historic mining ban—despite environmental concerns and the Central American country's ongoing water issues due to the climate emergency and pollution.
"Among El Salvador's greatest heroes of this century are the brave water defenders, including several of those arrested last week."
"The five are accused by El Salvador's attorney general of an alleged murder over 30 years ago during the brutal civil war in El Salvador that claimed the lives of 75,000," explained the organizations. "The victims of crimes from that war, which saw a U.S.-backed dictatorship and right-wing death squads kill tens of thousands, have, for decades, been calling for justice."
"The current government, however, has chosen to actively uphold decades of impunity," the groups continued. "Rather than investigate or prosecute those responsible for the dozens of cases of human rights violations and crimes against humanity that members of the Salvadoran military committed against the Santa Marta community (including the murders of the Lempa River massacre in 1980, where 30 people were assassinated and 189 were disappeared), the government is now re-victimizing the community by targeting their leaders, who have been outspoken against the policies of the current government."
"This further raises questions about whether the attorney general's true motivation is to attempt to silence these water defenders, especially in light of the current administration's crusade to criminalize, persecute, and demobilize its political opponents," adds the statement, spearheaded by the U.S.-based Institute for Policy Studies (IPS)—which in 2009 honored the National Roundtable on Metals Mining, a coalition the arrested men helped build, with its annual Letelier-Moffitt Human Rights Award.
The collective demand that Bukele's government "drop the charges against the five water defenders and otherwise release them from prison to await their trial" came a day after a Salvadoran judge ruled that the case should proceed and the leaders of the Association of Economic and Social Development (ADES) Santa Marta should remain detained.
\u201c#SantaMartaNoEst\u00e1Sola| La comunidad Santa Marta es ejemplo de organizaci\u00f3n en defensa de los bienes naturales. El movimiento ambiental acompa\u00f1a sus resistencias y demanda que se respete los derechos de los l\u00edderes ambientalistas detenidos de @ades_sm y la comunidad.\u201d

— ADES Santa Marta (@ADES Santa Marta) 1674151327
"Among El Salvador's greatest heroes of this century are the brave water defenders, including several of those arrested last week, who led the 13-year fight that culminated in El Salvador's legislature voting unanimously in 2017 to make that country the first in the world to ban all metals mining to save its rivers," IPS senior adviser John Cavanagh told Common Dreams.
Cavanagh, who co-authored with Robin Broad The Water Defenders: How Ordinary People Saved a Country from Corporate Greed, stressed that Bukele "is desperate for revenues" because he "has so mismanaged El Salvador's finances."
"So for Bukele's government, why not arrest key water defenders if you are exploring overturning the mining ban for the revenues that gold mining brings?" he said. "This is the great fear of water defenders in El Salvador. And, this is why there is now a global outcry over these arrests."
\u201c#SantaMarta | Diversos colectivos ambientalistas est\u00e1n afuera del Centro Judicial Isidro Men\u00e9ndez, exigiendo la libertad de los l\u00edderes comunitarios de Caba\u00f1as.\n\nVidalina Morales, presidenta de @ades_sm, habla de la lucha antiminera que han librado.\n\n\u270d\ud83c\udffb @GuerreroMarvin\u201d

— MalaYerba (@MalaYerba) 1674140382
Pedro Cabezas of the Central American Alliance on Mining said in an email to Common Dreams that "different from previous presidents, the government of Nayib Bukele has shown no interest in implementing pending aspects of the mining prohibitions of 2017, like environmental remediation and reparation for the victims of the mining conflicts."
"On the contrary," he explained, "recent government actions signal an imminent reopening of the mining sector: El Salvador joined the Intergovernmental Forum on Mining in 2021, legislation to create a Directorate of Hydrocarbons, Energy, and Mines was passed at the legislature this year, there are rumors that the current secret negotiations of a Free Trade Agreement with China involve negotiations on mining, and there are testimonies from the communities that representatives of mining companies are visiting their territories to offer social programs and to lease large quantities of land."
"With that in mind," Cabezas concluded, "the only explanation for the arbitrary detention of five community leaders of Santa Marta, the community that led the anti-mining struggle for more than 12 years in order to protect the fragile water supply in El Salvador, is to demobilize potential grassroots opposition to the government's plans."
\u201c\ud83d\udea8 Last week, police arrested five prominent Water Defenders in El Salvador. Together with @CISPES & @stopESmining, we call on the Salvadoran government to drop the charges.\n\n251 groups from 29 countries around the world have joined in this urgent call: https://t.co/wkfeRe4MGB\u201d

— Institute for Policy Studies (@Institute for Policy Studies) 1674230613
Given Bukele and Attorney General Rodolfo Delgado's track records as well as the state of exception that began in March—under which state security forces have been accused of widespread human rights abuses—advocates in El Salvador and around the world fear for the men's safety.
As Yesenia Portillo, program director at the Committee in Solidarity with the People of El Salvador (CISPES), told Common Dreams: "Under ordinary circumstances, the arrests of internationally recognized water defenders would be major cause for concern. But in El Salvador today, where torture and deadly prison conditions reign under the current state of exception, this quickly becomes a matter of life and death."
While allies of the water defenders have pointed out that "the allegations against them have major holes and contradictions, President Bukele's near-total control over both the judiciary and the prosecution casts serious doubt on whether a fair trial is even possible," Portillo said. "Since Attorney General Delgado was illegally appointed last May, virtually all cases he has brought have been sent to trial—whether there is evidence or not—and even the most compelling petitions for alternative measures to avoid a lengthy pretrial detention get denied."
"We are deeply concerned for the well-being of these men and the dangerous precedent this sets in El Salvador," Portillo added. "With these arrests, the Bukele administration is indicating to the world that their idea of 'justice' is to allow the atrocities carried out by U.S.-backed state forces during the 1980s to remain in impunity, while punishing the leaders of communities, like Santa Marta, who bore the brunt of that very violence."
This post has been updated with comment from CISPES.

News
SUPPORT OUR WORK.
We are independent, non-profit, advertising-free and 100%
reader supported.