For Immediate Release
Contact:
Sally Martinelli,(202) 822-8200 x104,smartinelli@vpc.org
Murder, Suicide, and More Convictions: VPC Concealed Carry Killers December Update
WASHINGTON
The conviction of a Massachusetts concealed
handgun permit holder who executed his wife in the driveway of their home, a
domestic violence offender who sued to get his concealed carry permit reissued
and then killed his six-year-old son and himself, and a drug dealer accused of
shooting a customer who didn't pay for three ounces of marijuana are among this
month's updates and additions to Concealed Carry Killers, a Violence Policy
Center (VPC) on-line resource that tallies reports of killings by concealed
handgun permit holders that have not been determined to be legitimate self
defense.
Since May 2007, concealed handgun permit holders have killed
at least 282 individuals--including nine law enforcement officers--in 193
incidents in 28 states. In more than two-thirds of the incidents (134)
the concealed handgun permit holder has already been convicted, committed
suicide, or was killed in the incident. Of the 59 cases still pending, the vast
majority (47) of concealed handgun permit holders have been charged with
criminal homicide, two were deemed incompetent to stand trial, two incidents
were unintentional shootings, and eight incidents are still under
investigation. Of the 193 incidents, 17 were mass shootings where
concealed handgun permit holders claimed the lives of 73 victims.
Commenting on the most recent additions to the Concealed
Carry Killers tally, Violence Policy Center Legislative Director Kristen Rand states,"Each month we see a
different set of lives destroyed by concealed carry permit holders."
A summary of each of the 193 incidents is available at https://www.vpc.org/ccwkillers.htm,
clicking on each category leads to a state-by-state breakout for the incidents
with current known status. To review all killings by concealed handgun permit
holders, click on "Total People Killed by Concealed Handgun Permit
Holders." While the incident summaries of the few concealed handgun
permit holders eventually found not guilty of their charges are listed on the
site, those numbers are not included in the VPC's totals.
New additions and updates for December include:
o In December 2010, Missouri concealed handgun permit holder
Clinton Gallagher, 35, shot and killed his six-year-old son Alex and then
himself in a murder-suicide. Court documents filed the prior week by
Gallagher's wife revealed that she feared for her son's life as
well as her own. According to news
reports, in her filing she expressed concerns about a gun
Gallagher owned and requested temporary custody of Alex. She wrote,
'I'm afraid he will use it on me at this time being that he is in a
rage." In 2009, Gallagher pleaded guilty to a misdemeanor domestic
violence charge against his wife. As a result, he lost his concealed
weapons permit. He then sued the Jackson County Sheriff's Office in
2010 to have his permit re-issued and won.
o In December 2010, Florida concealed handgun permit
holder and drug dealer Emanuel "Emma" Laboy Rivera, 26, allegedly
shot and killed Lekeefe Lee, 25, the result of a drug deal gone bad.
According to news reports, Rivera, who dealt drugs out of his home, had agreed
to sell Lee three ounces of marijuana for $900. Lee, who had no cash on
him, took only two ounces, leaving his .380 handgun with Rivera as
collateral. A half hour later Lee returned to Rivera's home and
took his handgun and the remaining ounce of marijuana without paying
Rivera. As Lee attempted to leave, Rivera fired his Glock pistol into
Lee's car, hitting and killing him. Because of Florida's Castle law, which allows the
use of lethal force in cases of perceived threat, Rivera was not charged with
homicide (even though the law does not apply to a person who is engaged in
unlawful activity). Rivera was instead charged with two felony counts of
delivery of drugs and use of a gun in the commission of a felony.
o In November 2010, Massachusetts concealed handgun
permit holder John Tassinari was found guilty of first degree murder and
sentenced to life in prison without parole for the murder of his wife, whom he
shot and killed in the driveway of the couple's home. "It was an
execution," Plymouth County District Attorney Timothy J. Cruz said after
the verdict was read. According to the medical examiner who performed the
autopsy on Barbara Tassinari's body, the damage was so extensive that it
was difficult to tell how many times she'd been shot.
"Justice was served, absolutely," said neighbor Anne Irwin, who had
witnessed Barbara Tassinari falling in her driveway, calling her husband a "sick,
sick guy."
Because most state systems that allow the carrying of
concealed handguns in public by private citizens release little data about
crimes committed by permit holders, the VPC reviews and tallies concealed
handgun permit holder killings primarily as reported by news outlets. It
is likely that the actual number of fatal incidents involving concealed handgun
permit holders is far higher.
***
For non-fatal concealed carry incidents follow the VPC on
Twitter -- https://twitter.com/VPCinfo
-- and visit the Violence
Policy Center's
Concealed Carry Killers page on Facebook: https://www.facebook.com/pages/manage/#!/pages/Violence-Policy-Center-Concealed-Carry-Killers/258069527568
The Violence Policy Center (VPC) works to stop gun death and injury through research, education, advocacy, and collaboration. Founded in 1988 by Executive Director Josh Sugarmann, a native of Newtown, Connecticut, the VPC informs the public about the impact of gun violence on their daily lives, exposes the profit-driven marketing and lobbying activities of the firearms industry and gun lobby, offers unique technical expertise to policymakers, organizations, and advocates on the federal, state, and local levels, and works for policy changes that save lives. The VPC has a long and proven record of policy successes on the federal, state, and local levels, leading the National Rifle Association to acknowledge us as "the most effective ... anti-gun rabble-rouser in Washington."
LATEST NEWS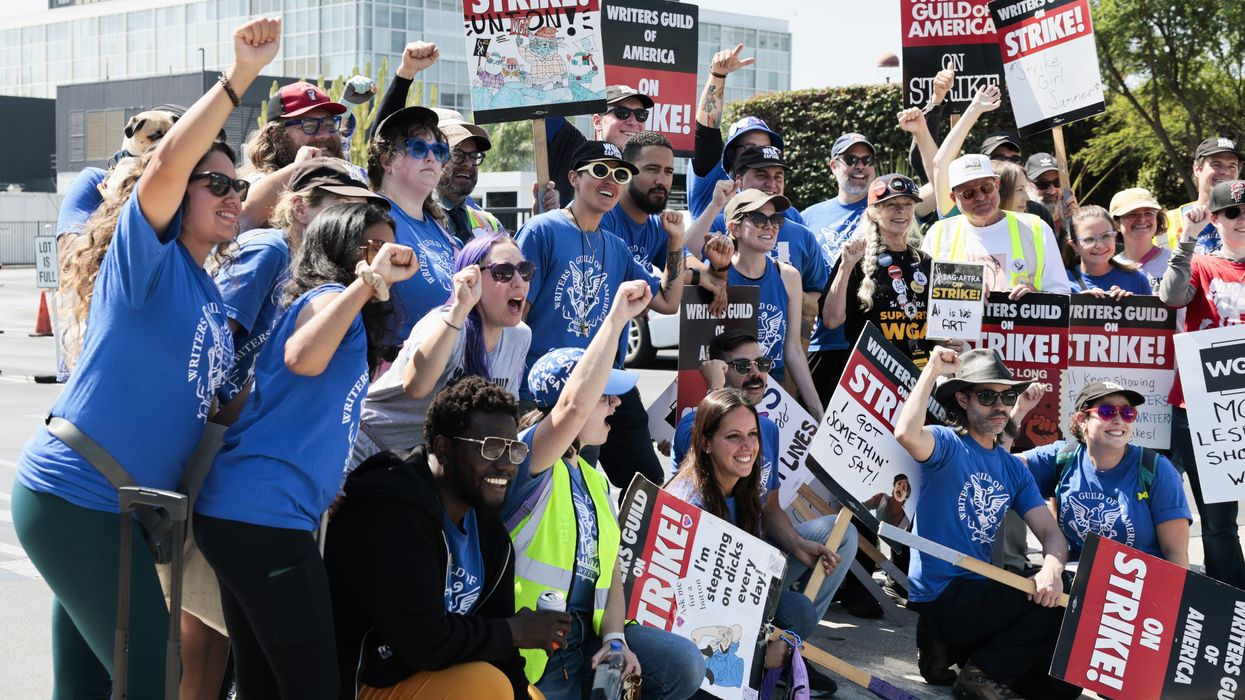 "It is the leverage generated by your strike, in concert with the extraordinary support of our union siblings, that finally brought the companies back to the table to make a deal."
After nearly 150 days on strike, the Writers Guild of America reached a tentative contract deal Sunday night with Hollywood studios that reportedly contains significant victories for screenwriters, including compensation boosts for streamed content and rules restricting the use of artificial intelligence.
In a letter to members late Sunday, the WGA's negotiating committee stressed that the deal still must be converted into final contract language and that while picketing will be suspended, no one will return to work and the strike will continue until key steps are taken toward member ratification of the agreement.
"Though we are eager to share the details of what has been achieved with you, we cannot do that until the last 'i' is dotted," the letter states. "To do so would complicate our ability to finish the job. So, as you have been patient with us before, we ask you to be patient again—one last time."
Without offering specifics, the letter calls the deal "exceptional" with "meaningful gains and protections for writers in every sector of the membership." The WGA represents more than 11,000 screenwriters.
"What we have won in this contract—most particularly, everything we have gained since May 2nd—is due to the willingness of this membership to exercise its power, to demonstrate its solidarity, to walk side-by-side, to endure the pain and uncertainty of the past 146 days," the letter reads. "It is the leverage generated by your strike, in concert with the extraordinary support of our union siblings, that finally brought the companies back to the table to make a deal."
The New York Timesreported that the tentative three-year contract agreement includes "increases in compensation for streaming content, concessions from studios on minimum staffing for television shows, and guarantees that artificial intelligence technology will not encroach on writers' credits and compensation."
The Alliance of Motion Picture and Television Producers (AMPTP), which represents the studios, did not offer much comment in response to the deal.
"The WGA and AMPTP have reached a tentative agreement," AMPTP said in a joint statement with the WGA.
SAG-AFTRA, the actors' union that joined the WGA on strike in July, congratulated the writers late Sunday for showing "incredible strength, resiliency, and solidarity on the picket lines."
"Since the day the WGA strike began, SAG-AFTRA members have stood alongside the writers on the picket lines," the actors' union said. "We remain on strike in our TV/Theatrical contract and continue to urge the studio and streamer CEOs and the AMPTP to return to the table and make the fair deal that our members deserve and demand."

News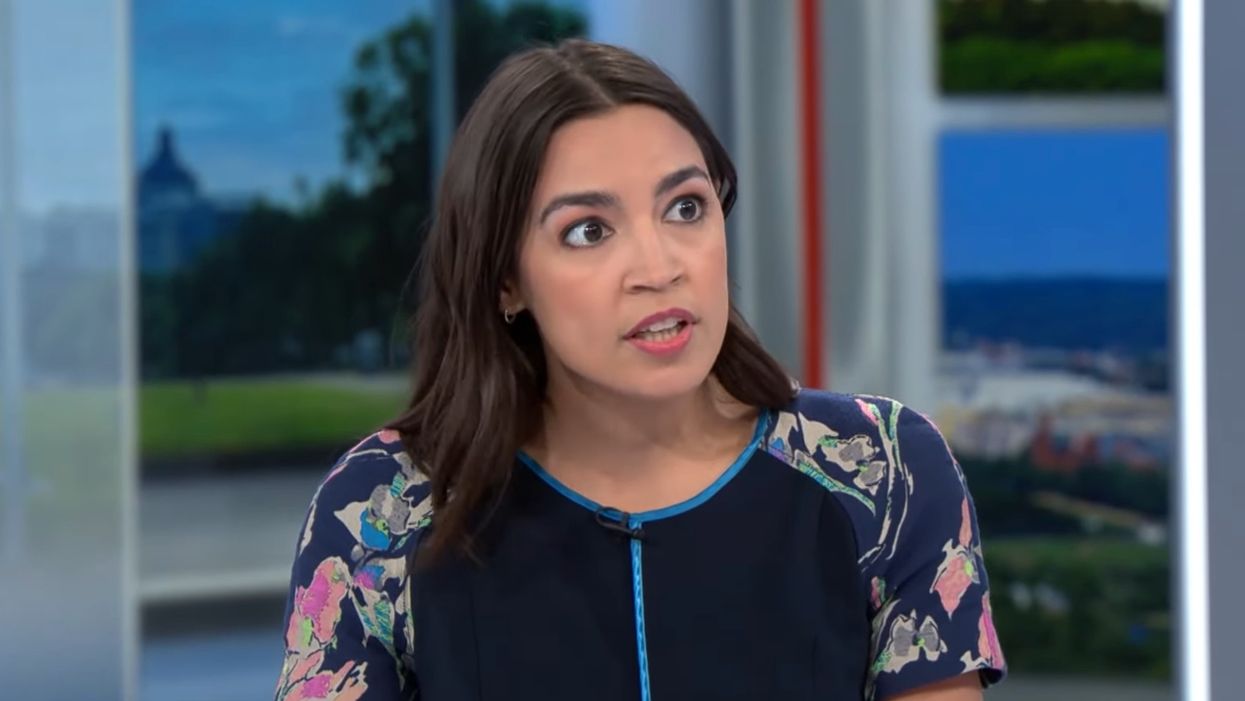 "Consistency matters. It shouldn't matter if it's a Republican or a Democrat," Ocasio-Cortez asserted.
New York Congresswoman Alexandria Ocasio-Cortez on Sunday became the first progressive House Democrat to call on Sen. Bob Menendez to resign following the former Senate Foreign Relations Committee chair's indictment last week on federal bribery charges.
Menendez (D-N.J.) and his wife, Nadine Menendez, were charged Friday with accepting hundreds of thousands of dollars in bribes—including gold bars, cash, home mortgage payments, and a Mercedes-Benz—from businessmen in exchange for influence. The indictment also accuses Menendez of giving "sensitive U.S. government information" to Egypt's dictatorship.

Appearing on CBS' "Face the Nation," Ocasio-Cortez said that "the situation is quite unfortunate, but I do believe that it is in the best interest for Sen. Menendez to resign in this moment."
"Consistency matters. It shouldn't matter whether it's a Republican or a Democrat. The details in this indictment are extremely serious. They involve the nature of not just his, but all of our seats in Congress," added Ocasio-Cortez, who is the vice-ranking member of the House Oversight Committee.
Asked for her reaction to Menendez's assertion that some of his congressional colleagues "are rushing to judge a Latino and push him out of his seat," Ocasio-Cortez said: "As a Latina, there are absolutely ways in which there is systemic bias, but I think what is here in this indictment is quite clear. And I believe it is in the best interest to maintain the integrity of the seat."
Ocasio-Cortez joins a growing list of Democrats including Sen. John Fetterman (Pa.) and Reps. Jeff Jackson (N.C.), Dean Phillips (Minn.), Josh Gottheimer (N.J.), Tom Malinowski (N.J.), Frank Pallone (N.J.), Mikie Sherill (N.J.), Bill Pascrell (N.J.), and Andy Kim (N.J.) who are urging Menendez to resign.
On Saturday, Kim said he would run for Menendez's Senate seat amid the senator's refusal to resign.
"I feel compelled to run against him. Not something I expected to do, but N.J. deserves better," Kim wrote in a fundraising pitch on social media. "We cannot jeopardize the Senate or compromise our integrity."
While defiantly declaring that he is "not going anywhere," Menendez did step down from his chairmanship of the Senate Foreign Relations Committee, a position he had held since 2021.

Following her "Face the Nation" appearance, Ocasio-Cortez flew to Missouri to stand in solidarity with striking United Auto Workers members. The congresswoman said the nation is facing "a crisis of inequality," while hailing President Joe Biden's planned trip to join Michigan UAW workers on the picket line Tuesday as "a historic event."
"We have never seen in modern history a president show up to a picket line like this," she said.
News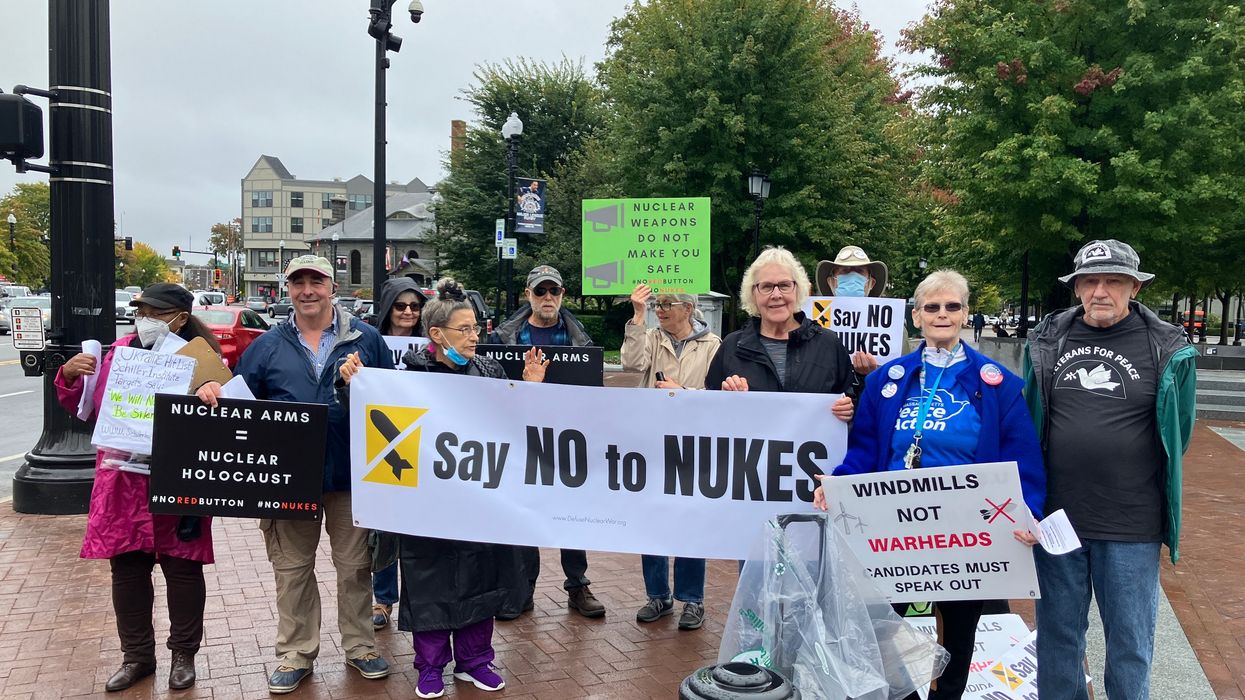 "The need for action to curtail the possibility of nuclear conflict could not be more urgent," said the campaign's organizer.
Activists from the Defuse Nuclear War coalition on Sunday launched a week of action to demand the U.S. government take steps to reduce the existential threat of thermonuclear annihilation, including by reinstating arms control treaties, shutting down hair-trigger missiles, and engaging in "genuine diplomatic efforts to end the war in Ukraine."
Defuse Nuclear War is organizing around 40 events across the United States. Demonstrations are planned in Baltimore, Boston, Philadelphia, Tucson, Fresno, and Salt Lake City, pickets are scheduled across Washington state, vigils are set to take place in Hawaii and California, activists plan to unfurl a banner at a Lockheed Martin facility in Pennsylvania, and an interfaith gathering will be held outside United Nations headquarters in New York.
"Our coalition of activists is demanding that the Biden administration seriously consider the consequences of their inaction in addressing this threat."
"The U.S. has allowed far too many weapons treaties to lapse in recent years, and the Ukraine War threatens daily to plunge the world into nuclear war," Defuse Nuclear War national campaign organizer Ryan Black said in a statement. "Our coalition of activists is demanding that the Biden administration seriously consider the consequences of their inaction in addressing this threat."
Chris Nelson of the California group Chico Peace Alliance—which is planning a Monday march through the Chico State University campus and the city's downtown—said:
The annual obscene "Defense" Authorization Act maintains and grows constant war infrastructure that can only be curtailed by the action of civilians. The revolving door in Congress for the arms contractors now makes representative government ineffective for arms control. Nuclear weapons are illegal under the International Treaty for the Prohibition of Nuclear Weapons. It is up to us to make that normative and create effective pressure to get interim treaties reestablished.
The landmark treaty—which was signed in 2017 and went into effect in 2021—has been signed by 97 nations.

Sean Arent of Physicians for Social Responsibility and Washington Against Nuclear Weapons—which is holding 12 demonstrations around the Evergreen State later this month—said that "Washington state is at the center of the atomic world, with more deployed nuclear weapons than anywhere else in the United States based out of the Kitsap-Bangor Trident nuclear submarine base."
"The plutonium for some of the very first bombs were made at the ongoing disaster site known as Hanford, still radioactive to this day," Arent continued. "It is past time that our members of Congress recognize this legacy and lead our country away from nuclear weapons."
"We're asking our members of Congress to support justice for communities impacted by these weapons like the Marshallese, support diplomatic negotiations towards arm reductions, and to fight tooth and nail to phase out—not enhance—our nuclear weapons arsenal in the impending National Defense Authorization Act," Arent added. "The world is at stake."

This year, the Bulletin of Atomic Scientisits' Doomsday Clock—which tracks the world's proximity to a possible nuclear war—was set to 90 seconds to midnight, the closest it has been to thermonuclear armageddon since it was created in 1947.
News
Independent, nonprofit journalism needs your help.
Please Pitch In
Today!