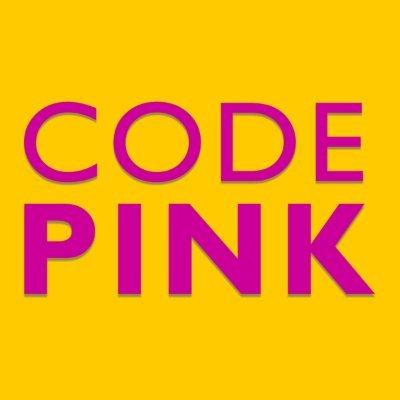 The Iraq Debacle Is Not Over, Women Speaking Out Against Continued Presence in Iraq
Military Moms, Iraq Veterans and Veteran Peace Activists Respond to the Iraq Withdrawal
WASHINGTON
In light of the withdrawal of combat troops from Iraq, military moms,
veterans, and peace activists are speaking out and pushing back against
President Obama's declarations that the war in Iraq is ending because a
majority of the combat troops are returning home. Below are the short
bios and contacts of several women from Maine to California, who are
available to speak about their experience either in the Iraq War or
their affected communities as well as respond to President Obama's
speech scheduled for 8pm EST, August 31st.
"Just as the cost of the war in Iraq cannot be measured only in
terms of lives lost or billions wasted, its end cannot be 'scheduled,'
as is the unstated implication of combat troop withdrawal. For the
Iraqis who have to deal with broken lives, broken infrastructure, a
broken political system, the war is not over," says Cynthia Benjamin,
mother of an OIF soldier, emergency room nurse and active member of
Military Families Speak Out and CODEPINK. "It will go on and on for too
many of our warriors and their families because of PTSD, traumatic brain
injuries and other devastating injuries to our soldiers."
"With the withdrawal of U.S. combat troops from Iraq, the
administration, the military and the media are trying to put a positive
spin on this grim chapter of U.S. history. It would certainly give some
comfort to the grieving families of the over 4,400 soldiers killed in
Iraq if their sacrifices had left Iraq a better place or made America
safer," Medea Benjamin, cofounder of CODEPINK and Global Exchange,
states.

Spokeswomen available for interview on August 31 Iraq withdrawal date:
Medea Benjamin (Washington, DC) and Jodie Evans (Los Angeles, CA) are CODEPINK cofounders and
internationally recognized spokeswomen of the American peace and social
justice movement. CODEPINK started as a preemptive protest to the
invasion of Iraq and continues to mobilize communities for peace around
the world today. Both Benjamin and Evans have been featured on CNN,
NYTimes, Fox News, Democracy Now!, MSNBC and countless others over the
years.

Joyce Wagner, 2 time OIF veteran (OIF II and OIF III) and
currently a student at Chatham College and a member of Iraq Veterans
Against the War. She lives in Pittsburgh, Pennsylvania. Additional
contact for IVAW: Maggie Martin is the media team leader for IVAW's
Operation Recovery campaign, maggiemartin1@gmail.com.
Ann Wright U.S. Army colonel (retired), official of the U.S. State Department (retired) resigned
from her post in 2003 to protest the occupation of Iraq. She is the
author of "Voices of Dissent" and speaks world-wide on issues of peace.
She has been featured on FOX, CNN, NYTimes, BBC, CBC and many other
domestic and international outlets.
Cindy Thomas, is an army wife and works with the Under the
Hood Veterans Outreach Cafe in Killeen, Texas. Under The Hood Cafe is a
place for soldiers to gather, relax and speak freely about the wars and
the military. Most recently, Under the Hood organized a press conference
to respond to President Obama's withdrawal plans and to shed light on
the disastrous effects of this war and ongoing presence has on our
troops.
Cynthia Benjamin is a military mother, an emergency room nurse, and an activist with
CODEPINK and Military Families Speak Out living in New York State. The
promise of a homecoming next week for all combat troops stationed in
Iraq is not the end of the struggle for Cynthia Benjamin and other such
mothers, whose sons and daughters still suffer the trauma of engagement.
Read her most recent article here on Women's Media Center.
Lisa Savage, teacher and local peace organizer in Solon,
Maine. As a teacher, CODEPINK Maine Local Coordinator and organizer with
Bring Our War $$ Home coalition, daughter of a veteran (Korean war),
and granddaughter of two veterans (WWII and WWI), Savage was inspired to
activism after seeing her teenaged students being seduced by
sophisticated ad campaigns and high pressure sales tactics to enlist in
the military to get an education and healthcare.
Janet Weil, military family member and member of Bay Area Code Pink and Military Families Speak Out
in Concord, California. Weil is the aunt of a Marine lieutenant who has
served one deployment in Iraq and is scheduled to be deployed to
Afghanistan. She has been active in opposing the war in the Bay Area
since summer 2002. As a citizen, wife, mother of a grown son, and the
daughter and granddaughter of veterans, she is dedicated to helping
bring our war dollars back home for jobs not war.
For interview requests please call Dana Balicki, CODEPINK Campaign
Director, at 202 422 8624.
CODEPINK is a women-led grassroots organization working to end U.S. wars and militarism, support peace and human rights initiatives, and redirect our tax dollars into healthcare, education, green jobs and other life-affirming programs.
(818) 275-7232
LATEST NEWS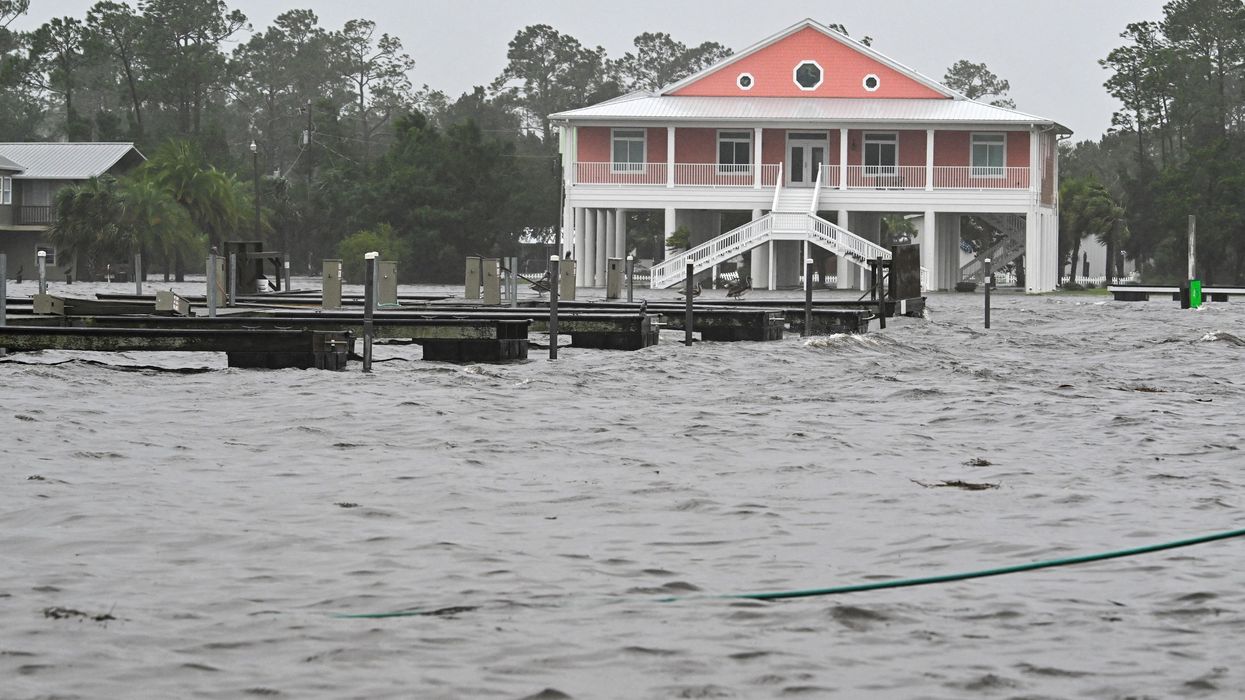 "The growing insurance crisis illustrates the vital importance of seeing climate change as a risk to the entire financial system," said one watchdog group.
With extreme weather disasters increasing in frequency and intensity as the global climate crisis rages, wealthy homeowners in some coastal areas of the United States are paying six figures a year to insure their houses against flooding and other impacts of the kind that Hurricane Idalia brought to Florida last week.
Bloomberg's Felipe Marques and Devon Pendleton reported Thursday that the owner of a $50 million mansion on Florida's Star Island was given a $622,000-per-year quote for home insurance.
"Granted, that was a recent quote for a policy on one of the ultraluxe mansions on the Biscayne Bay island, where A-listers like Rick Ross, Ken Griffin, and Alex Rodriguez own homes. But, only last year, the same policy cost $200,000," Marques and Pendleton wrote. "Even for the moderately wealthy, insurance costs are beginning to verge on unaffordable: The cost of so-called high-value insurance, loosely defined as policies covering homes worth more than $1 million, is outpacing the rise in premiums for more modestly valued homes by anywhere from two to 70-fold."
Surging home insurance premiums for the rich underscore a broader crisis that is disproportionately impacting regular homeowners who live in areas particularly vulnerable to climate chaos.
"Insurance premiums are soaring as climate risk grows, pricing everyone but the wealthy out of some coastal areas," Marques and Pendleton wrote. "Even before Hurricane Idalia hit Florida's Gulf Coast last week, leaving a trail of destruction in its wake, tens of thousands of ordinary Floridians were struggling to find affordable policies."
This year alone, the U.S. has seen a record 15 extreme weather disasters that caused damage exceeding $1 billion, a number that scientists say is likely to increase unless urgent action is taken to phase out fossil fuels.
"They've underwritten financing fossil fuels, and then they profit from selling protection from the impacts of those fossil fuels on climate."
With climate risks growing exponentially, major insurers have jacked up rates, restricted coverage in disaster-prone areas, and even withdrawn entirely from states.
"At least five large U.S. property insurers—including Allstate, American Family, Nationwide, Erie Insurance Group, and Berkshire Hathaway—have told regulators that extreme weather patterns caused by climate change have led them to stop writing coverages in some regions, exclude protections from various weather events, and raise monthly premiums and deductibles," The Washington Postreported earlier this week.
Farmers Insurance, one of the nation's largest home insurance providers, announced in July that it would no longer cover properties in Florida. The move followed State Farm's decision in May to stop selling homeowners' insurance in California.
"Wildfires, hurricanes, thunderstorms, and flash floods have wreaked havoc across the U.S. this year, and after each disaster, homeowners have looked to their insurance providers to defray their losses," Carly Fabian, insurance policy advocate with Public Citizen's Climate Team, said Thursday. "More and more often, those companies have packed up and moved on, leaving homeowners fewer and fewer options for insurance."
"The growing insurance crisis illustrates the vital importance of seeing climate change as a risk to the entire financial system," Fabian added. "Year after year, disasters with multi-billion dollar price tags have struck around the globe."
The industry's response to escalating climate risk has drawn greater attention to insurers' role in fueling the crisis.
Last month, Sens. Sheldon Whitehouse (D-R.I.), Ron Wyden (D-Ore.), and Bernie Sanders (I-Vt.) noted in a letter to insurance giants that "U.S. insurers currently have approximately $582 billion invested in fossil fuels—with nearly $90 billion in coal alone."
"U.S. insurers continue to underwrite polluting projects while making investments in an industry whose continued expansion poses multiple serious dangers to overall economic stability and to insurance services in particular," the senators wrote.
During a Senate Banking Committee hearing on Thursday, Sen. Elizabeth Warren (D-Mass.) said that insurance companies "have kind of been playing every part of this game."
"They've underwritten financing fossil fuels, and then they profit from selling protection from the impacts of those fossil fuels on climate. Now when climate risks are rising, they're trying to hang American families out to dry."

News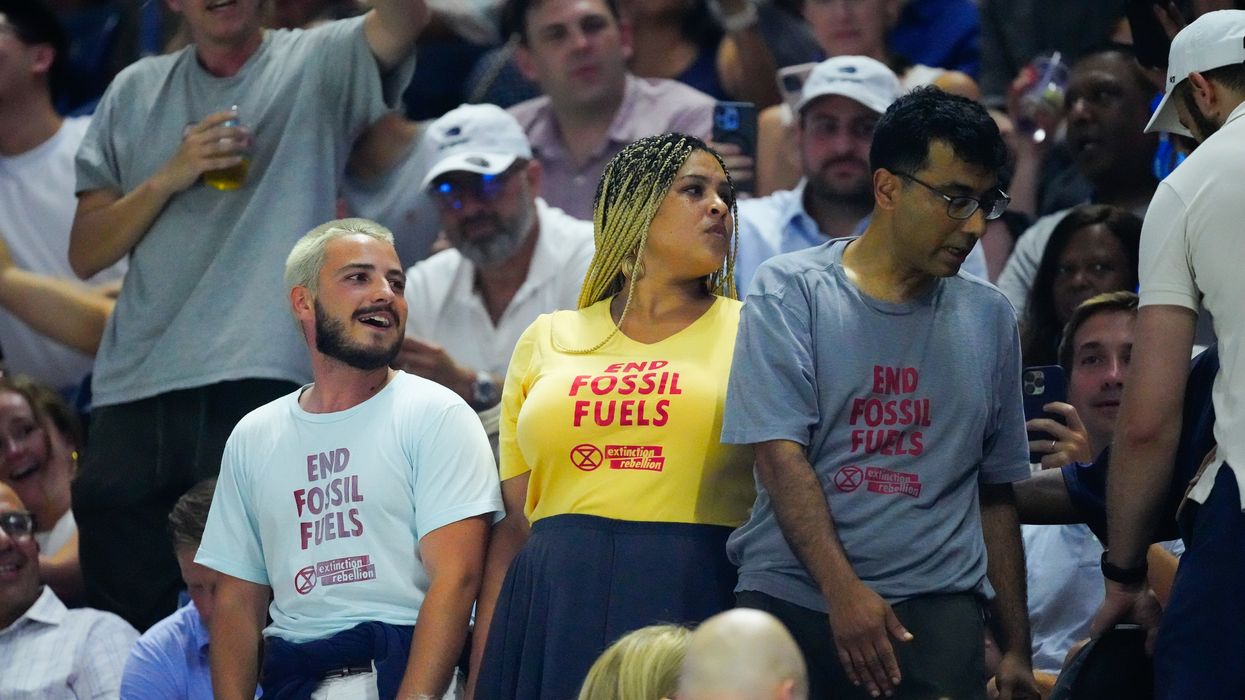 "The climate is already more disruptive than any activists can possibly be," said a spokesperson for Extinction Rebellion.
A group of climate activists wearing shirts that read "End Fossil Fuels" delayed the semifinal match of the U.S. Open Tennis Championships by around 45 minutes Thursday night in an effort to call greater public attention to the planetary emergency that is wreaking deadly havoc worldwide.
One of the demonstrators glued his bare feet to the concrete in the stands at New York City's Arthur Ashe Stadium, requiring additional effort by medical personnel and police to remove him and take him into custody.
The protesters were associated with the climate group Extinction Rebellion NYC, which said in a statement Thursday that there is "no tennis on a dead planet."
"The climate and ecological crisis threatens everything on our planet, including sports," the group said. "This action and similar actions are the response of a movement that has no other recourse than to engage in unconventional means of protest to bring mass attention to the greatest emergency of our time."
Nineteen-year-old Coco Gauff won the semifinal match after it resumed. In an interview following her victory, Gauff said she supports "preaching about what you feel and what you believe in."
"It was done in a peaceful way, so I can't get too mad at it," she said of the demonstration. "Obviously I don't want it to happen when I'm winning up 6-4, 1-0, and I wanted the momentum to keep going. But hey, if that's what they felt they needed to do to get their voices heard, I can't really get upset at it."
The U.S. Open—which counts JPMorgan, a major funder of fossil fuels, as an official partner—kicked off late last month amid growing concerns about the impact of extreme heat on the sport.
During a match earlier this week, Russian player Daniil Medvedev looked into a courtside camera between points and warned that an athlete is "gonna die" from the scorching temperatures.
The Associated Pressreported that "it got so hot and humid at the U.S. Open on Tuesday that the folks in charge adopted a new policy for the rest of this year's tournament: They will partially shut the Arthur Ashe Stadium roof in extreme conditions to offer some extra shade."
"An Associated Pressanalysis showed the average high temperatures felt during the U.S. Open and the three other major tennis tournaments steadily have gotten higher and more dangerous in recent decades, reflecting the climate change that created record heat waves around the globe this summer," the outlet noted. "For athletes, it can keep them from playing their best and, worse, increases the likelihood of heat-related illness."
Earlier this week, the European Union's Copernicus Climate Change Service confirmed that this summer has been the hottest on record, and a separate global report led by the U.S. National Oceanic and Atmospheric Administration showed that greenhouse gas concentrations hit a record high last year as fossil fuel extraction continued.
A recent survey found that experts on social movements believe disruptive protests of the kind launched by Extinction Rebellion are important to the success of a particular cause, even though the initial public reaction to such tactics can often be negative. The U.S. Open protest drew loud boos from attendees.
Miles Grant, an Extinction Rebellion spokesperson, said Thursday that "the climate is already more disruptive than any activists can possibly be."
"Just look at the U.S. Open and other big tennis events—year after year, the average temperatures have been rising, making it hotter and more dangerous for the players and spectators," said Grant. "At some point, there will be fewer outdoor sporting events due to excessive heat."
News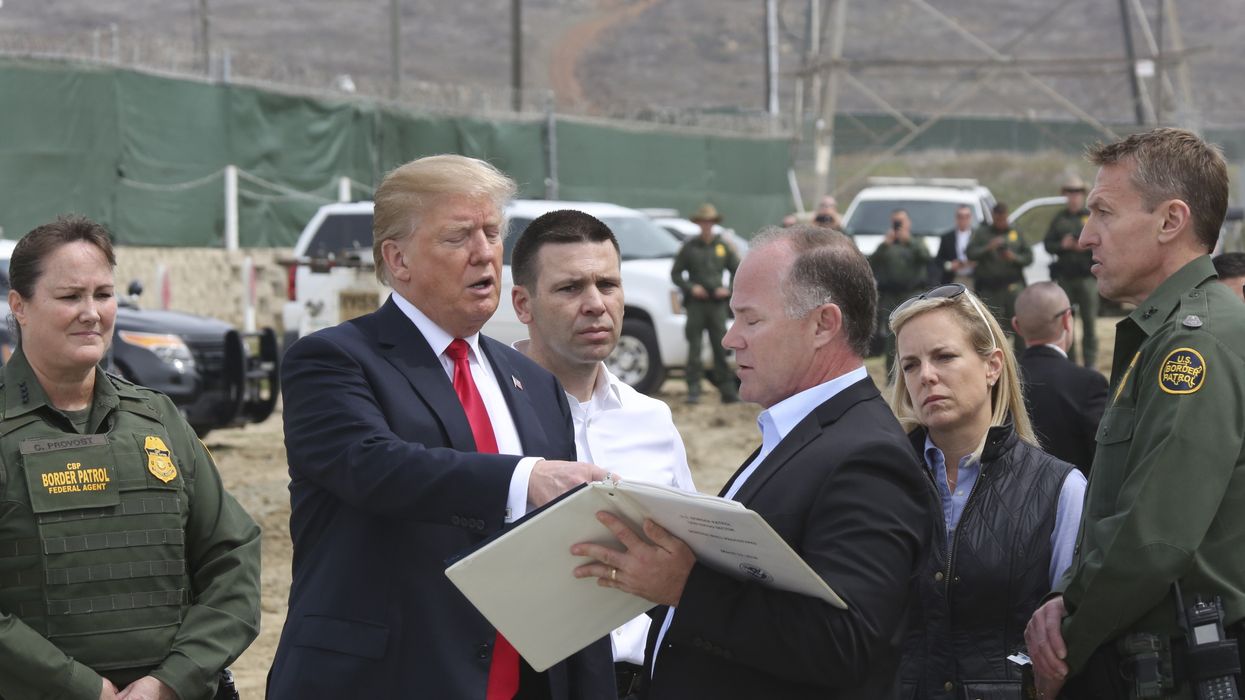 "This racist political stunt has been an ineffective waste of billions of American taxpayers' dollars—and now we know it has caused immeasurable, irreparable harm," said Congressman Raúl Grijalva.
A U.S. government watchdog agency on Thursday released a report exposing how former President Donald Trump's wall construction along the nation's border with Mexico negatively affected cultural and natural resources, as critics have long argued.
"The Department of Homeland Security's (DHS) U.S. Customs and Border Protection (CBP) and the Department of Defense (DOD) installed about 458 miles of border barrier panels across the southwest border from January 2017 through January 2021," according to the Government Accountability Office (GAO) report. "Most (81%) of the miles of panels replaced existing barriers."
"The agencies installed over 62% of barrier miles on federal lands, including on those managed by the Department of the Interior," the report continues. "Interior and CBP officials, as well as federally recognized tribes and stakeholders, noted that the barriers led to various impacts, including to cultural resources, water sources, and endangered species, and from erosion."
The GAO document details how the border wall work caused severe erosion; disrupted natural water flows; damaged native plants while spreading invasive species; disturbed wildlife habitats and migration patterns, including for threatened and endangered species; and destroyed Indigenous burial grounds and sacred sites.
"From the start, President Trump's border wall was nothing more than a symbolic message of hate, aimed at vilifying migrants and bolstering extreme MAGA rhetoric," said U.S. House Natural Resources Committee Ranking Member Raúl Grijalva (D-Ariz.), who requested the report in May 2021. "This racist political stunt has been an ineffective waste of billions of American taxpayers' dollars—and now we know it has caused immeasurable, irreparable harm to our environment and cultural heritage as well."
"So much damage has been done, but we still have the opportunity to keep it from getting worse," he stressed. "Environmental restoration and mitigation work must be led by science and input from the right stakeholders, including tribes and communities along the border. So many corners were cut in building the wall—let's not repeat history by cutting corners in repairing the damage it caused."
"The report also makes clear that federal land management agencies, like the Interior Department and U.S. Forest Service, must be involved in environmental restoration and mitigation. These agencies have the utmost expertise and scientific knowledge of the borderlands," he added, calling on Congress to include funds for Interior and the Forest Service in the fiscal year 2024 budget "to make sure they have a strong leadership role going forward."
The GAO's report broadly recommends that the CBP commissioner and Interior secretary jointly document "a strategy to mitigate cultural and natural resource impacts from border barrier construction that defines agency roles and responsibilities for undertaking specific mitigation actions; identifies the costs, associated funding sources, and time frames necessary to implement them; and specifies when agencies are to consult with tribes."
The document adds that "the commissioner of CBP, with input from Interior, DOD, tribes, and stakeholders, should evaluate lessons learned from its prior assessments of potential impacts." The agencies have agreed to implement the recommendations, according to the GAO.
Building the border wall—which also increased rates of serious injuries and deaths among migrants—was a prominent pledge in Trump's 2016 campaign messaging. It was part of a broader anti-migrant platform that continued into his presidency, which also featured the notorious family separation policy.
When Democratic President Joe Biden took office in January 2021, he delivered on a campaign promise to suspend work on the wall. The following month, he ended Trump's related emergency declaration and halted funding toward wall construction. That April, DOD announced that it was canceling all border barrier projects paid for with funds originally intended for other military uses.
While Biden was widely praised for those moves, the GAO report points out that "pausing construction and canceling contracts exacerbated some of the negative impacts because contractors left project sites in an incomplete or unrestored state as of the January 2021 pause, and the sites remained that way, at times, for more than a year."
Biden—who has faced criticism from rights groups for some of his immigration policies—is seeking reelection in 2024. He is expected to face the Republican nominee. Trump is currently the GOP front-runner, despite his various legal problems and arguments that he is constitutionally barred from holding office again after inciting the January 6, 2021 insurrection.
The GAO report was released the same day as a United Nations International Children's Emergency Fund (UNICEF) alert that the number of kids traveling major migration routes in Latin America and the Caribbean hit a new record, due to gang violence, instability, poverty, and the climate emergency. As Common Dreamsreported earlier Thursday, CBP has recorded more than 83,000 children entering the United States in the first eight months of this year.
News
Independent, nonprofit journalism needs your help.
Please Pitch In
Today!