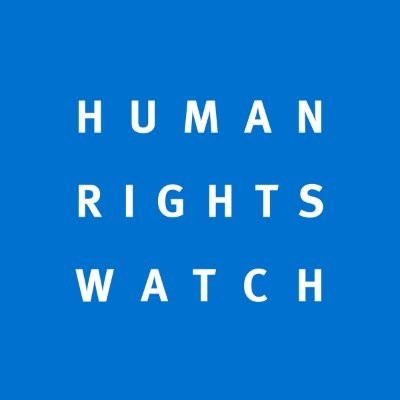 For Immediate Release
Contact:
Tel: +1-212-216-1832,Email:,hrwpress@hrw.org
US: Arizona Violating Human Rights Treaty
New Immigration Law Contrary to Binding International Anti-Racism Measure
SAN FRANCISCO
Arizona's new immigration law violates an international anti-racism
treaty that is binding on all government officials in the United
States, Human Rights Watch said today.
Key provisions of the "Support Our Law Enforcement and Safe Neighborhoods Act,"
enacted by Arizona on April 23, 2010, conflict with the International
Convention on the Elimination of All Forms of Racial Discrimination,
which the United States ratified in 1994, Human Rights Watch said.
"LWL - living while Latino - has become hazardous in Arizona," said
Alison Parker, US director at Human Rights Watch. "Arizona's governor
and law enforcement officials should know that with this law, they are
violating an international treaty."
Under the new law, police officers will be empowered to stop and
interrogate any person whom they "reasonably suspect" might be in the
United States illegally. The law includes provisions allowing Arizona
residents who believe the local police are not enforcing the law
vigorously enough to sue a city or town. As a result, police officers
will be under pressure to make an arrest, even when in doubt, rather
than risk a lawsuit, resulting in wrongful arrests and unfair
enforcement, Human Rights Watch said.
While Arizona's governor, Jan Brewer, has required training for
police officers to prevent "racial profiling" - acting on the basis of
racial or ethnic characteristics - police will have little to go on
other than an individual's appearance when choosing whom to stop.
People of Latino descent, whether US citizens, legal residents, or
undocumented persons, will be most at risk.
The Convention against Racial Discrimination requires the federal
and all state and local governments to ensure that their immigration
policies do not have the effect of discriminating against persons on
the basis of race, color, descent, or national or ethnic origin. This
includes ensuring that non-citizens enjoy equal protection and
recognition before the law. The US government is prohibited from
engaging in acts or the practice of racial discrimination against
persons or groups of persons and must "ensure that all public
authorities and public institutions, national and local, shall act in
conformity with this obligation."
In January, the US State Department's legal adviser, Harold Koh,
wrote to all state governors, including Arizona's Brewer, making them
aware of their obligations under the anti-racism treaty. Human Rights
Watch had similarly written to Arizona's attorney general in 2007 about the state's obligations under the treaty.
Human Rights Watch called on the Arizona legislature to revoke the
"Support our Law Enforcement and Safe Neighborhoods Act." In the
meantime, the federal government should take all appropriate steps to
ensure that provisions of the law that violate US treaty obligations
are not enforced, Human Rights Watch said. Any future federal
legislation on immigration should include strong human rights
safeguards, including fair treatment for non-citizens facing
deportation and prohibitions against arbitrary detention.
"There are plenty of valid objections to Arizona's new immigration
law," Parker said. "One that hasn't received much attention is that it
violates an international anti-racism treaty that Arizona state
officials are obligated to uphold."
Human Rights Watch is one of the world's leading independent organizations dedicated to defending and protecting human rights. By focusing international attention where human rights are violated, we give voice to the oppressed and hold oppressors accountable for their crimes. Our rigorous, objective investigations and strategic, targeted advocacy build intense pressure for action and raise the cost of human rights abuse. For 30 years, Human Rights Watch has worked tenaciously to lay the legal and moral groundwork for deep-rooted change and has fought to bring greater justice and security to people around the world.
LATEST NEWS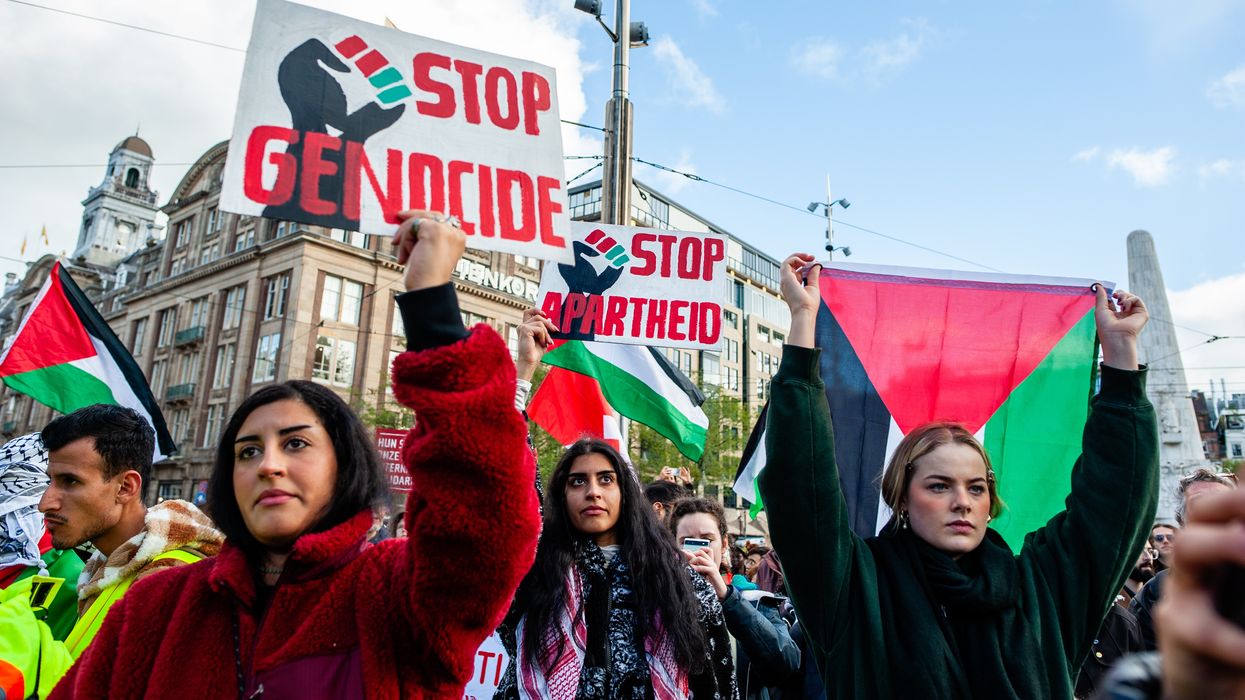 "When military goods can contribute to human rights violations or international humanitarian law, that export is strictly prohibited," said one campaigner. "It is incomprehensible that, despite clear warnings, the government has knowingly deviated from this."
A Dutch court on Monday heard opening arguments in a case brought by four human rights organizations that have accused the government of the Netherlands of being complicit in Israeli war crimes due to its export of military supplies as Israel kills thousands of civilians in Gaza.
Supplying the Israel Defense Forces (IDF) with parts for F-35 fighter jets, which are stored in a warehouse in the Netherlands, puts the Dutch government at risk for "becoming complicit in violations of international humanitarian law," the director of the Dutch branch of Amnesty International, one of the plaintiffs, said when the lawsuit was announced last month.
Amnesty is joined by Oxfam Novib—the Dutch chapter of Oxfam International—The Rights Forum, and PAX in the case, which is expected to result in a judgement around December 15.
The groups filed the lawsuit after government documents showed the Netherlands had allowed at least one shipment of reserve parts for F-35s since October 7, Al Jazeera reported.
The Dutch Defense Ministry wrote in a letter to Parliament that "it cannot be established that the F-35s are involved in grave violations of the humanitarian laws of war," but with nearly 16,000 people killed in Gaza in less than two months—including more than 6,600 children—the human rights groups aim to test that claim in court.
"The state must immediately stop its deliveries of F-35 parts to Israel," lawyer Liesbeth Zegveld said Monday at the Hague District Court. "That is its obligation under... Article 1 of the Geneva Conventions, it is its obligation under the Genocide Treaty to prevent genocide, and it is its obligation under export law."
Martje van Nes, PAX's director of organization, pointed out last month that "the Netherlands has a very concrete assessment framework for arms exports."
"When military goods can contribute to human rights violations or international humanitarian law, that export is strictly prohibited," said van Nes. "It is incomprehensible that, despite clear warnings, the government has knowingly deviated from this. This makes them responsible for the deployment of the equipment."
PAX noted on Monday that the call for the Netherlands to end shipments of any supplies that Israel could use to continue its massacre of Palestinian civilians—in retaliation for an attack by Hamas in October that killed 1,200 Israelis—"is all the more urgent" considering the end of a temporary cease-fire on Friday. More than 800 people have been killed since the pause in fighting ended last week, and Israel was stepping up its ground attacks on Monday.
"As far as we are concerned, the government must take action now to protect citizens," said PAX on social media. The group has demanded a permanent humanitarian cease-fire.
Dagmar Oudshoorn, director of Amnesty International in the Netherlands, said that as the host country "of both the International Court of Justice and the International Criminal Court," the Dutch government "likes to present itself as a champion of international law."
"Our government is losing all credibility right now," she said. "Evident violations such as food, water, and fuel blockade, the forced displacement of the population, and the bombing of schools and hospitals, are not mentioned. And by supplying armies, the Netherlands runs the risk of becoming complicit in violations of international humanitarian law."
The Netherlands has maintained since October 7 that Israel "has the right to defend itself" and has called for Prime Minister Benjamin Netanyahu's government to adhere to international law, but the groups said the IDF is clearly not doing so and should lose the support of the country.
"This complicity must stop now," said Gerard Jonkman, director of The Rights Forum.
News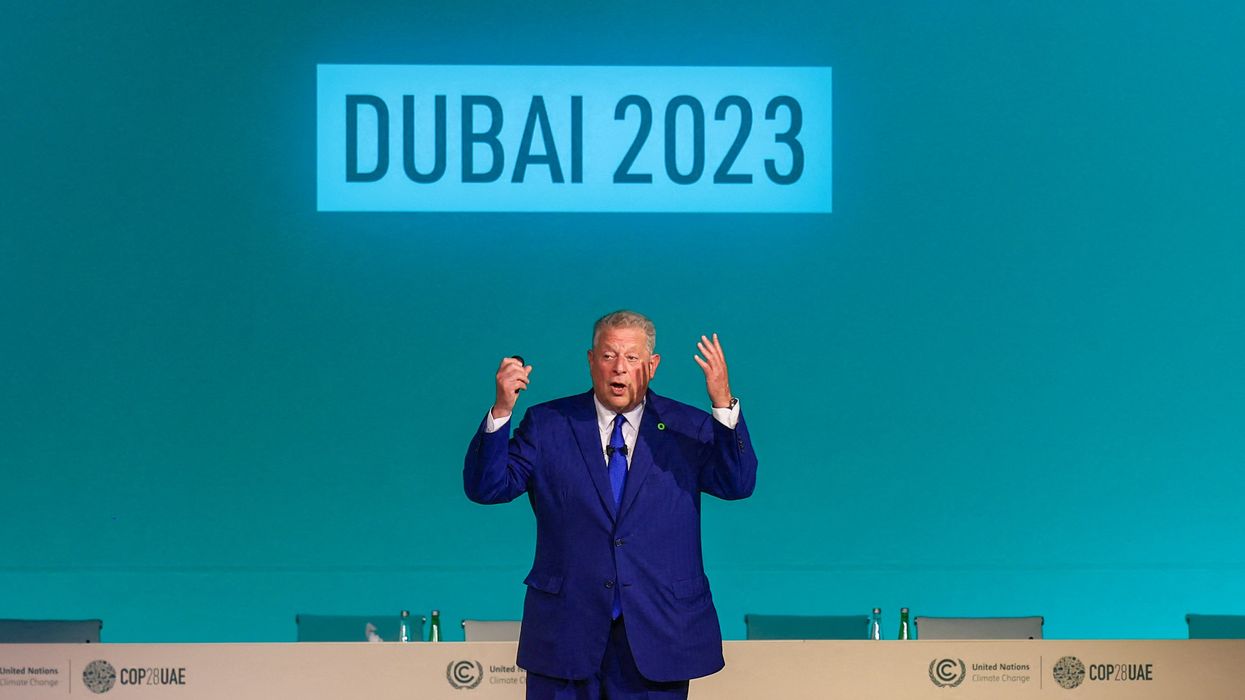 The former U.S. vice president accused the United Arab Emirates of "abusing the public's trust" by naming the CEO of its national oil company as president of COP28.
Former U.S. Vice President Al Gore said Sunday that fossil fuel interests have effectively seized the reins of the United Nations climate summit process, preventing the kind of ambitious action that scientists say is necessary to prevent catastrophic warming and all of its cascading impacts.
"This industry is way more effective at capturing politicians than they are at capturing emissions," Gore toldReuters on the sidelines of the COP28 summit in Dubai. "And they have captured the COP process itself now and overreached, abusing the public's trust by naming the CEO of one of the largest and least responsible oil companies in the world as head of the COP. It's an abuse of the public's right to have confidence in the processes by which the decisions about humanity's future are made."
Sultan Ahmed Al Jaber, COP28 president and chief executive of the Abu Dhabi National Oil Company (ADNOC)—which is planning a massive expansion of oil and gas production in the coming years—has insisted that any deal reached at the critical climate summit must include fossil fuels.
A record number of fossil fuel lobbyists are believed to be in attendance at the latest round of U.N. climate talks, and little has been done to curb their influence.

Gore's interview with Reuters came after he delivered a presentation highlighting the UAE's rising greenhouse gas emissions. Citing data from Climate TRACE—an emissions tracking coalition that he co-founded—Gore said the UAE's planet-warming emissions rose 7.5% last year compared to 2021, while the rest of the world's rose 1.5%.
As AFPreported Sunday, Dubai's skyline was "obscured by a blanket of smog rated as 'unhealthy'" as COP28 delegates attended day four of the summit, which was deemed "health day."
A Human Rights Watch report published Monday notes that the UAE's "dangerously high air pollution levels" are "creating major health risks for its citizens and residents." Pointing to World Health Organization estimates, the group observed that more than 1,800 people die from air pollution every year in the UAE.
"Even as the United Arab Emirates government works to burnish its image as a global climate leader," the report notes, "the country's vast fossil fuel production and use spew toxic pollutants into the air and contribute to climate change."
News
"This dismisses decades of work by IPCC scientists," said one expert. "Disgraceful."
Scientists and climate advocates responded with outrage Sunday to COP28 president Sultan Ahmed Al Jaber's claim that there is "no science" behind the push to rapidly phase out planet-warming fossil fuels, which Al Jaber's company is extracting on a large scale.
Al Jaber's comments, first reported by The Guardian on Sunday, came in response to questioning from Elders chair Mary Robinson during a virtual She Changes Climate discussion. Robinson told Al Jaber that "we're in an absolute crisis that is hurting women and children more than anyone... and it's because we have not yet committed to phasing out fossil fuel."
The COP28 chief and Abu Dhabi National Oil Company (ADNOC) CEO responded dismissively, saying he "accepted to come to this meeting to have a sober and mature conversation" and not to take part in "any discussion that is alarmist," according to audio published by The Guardian.

"There is no science out there, or no scenario out there, that says that the phaseout of fossil fuel is what's going to achieve 1.5°C," Al Jaber added. "Please help me, show me the roadmap for a phaseout of fossil fuel that will allow for sustainable socioeconomic development, unless you want to take the world back into caves."
That position runs directly counter to the outspoken stance of United Nations Secretary-General António Guterres, who said Friday that "the 1.5°C limit is only possible if we ultimately stop burning all fossil fuels," arguing that "the science is clear."
Joelle Gergis, a climate scientist and lead author of the Intergovernmental Panel on Climate Change's (IPCC) Working Group I contribution to the Sixth Assessment Report, called Al Jaber's remarks "disgraceful."
"This dismisses decades of work by IPCC scientists," Gergis wrote on social media.
"'Sending us back to caves' is the oldest of fossil fuel industry tropes: it's verging on climate denial."
The IPCC, which has synthesized the research of hundreds of climate scientists from around the world, has argued that any successful effort to prevent catastrophic planetary warming "will involve a substantial reduction in fossil fuel use."
"More than a century of burning fossil fuels as well as unequal and unsustainable energy and land use has led to global warming of 1.1°C above pre-industrial levels," the IPCC said following the release of its latest report earlier this year. "This has resulted in more frequent and more intense extreme weather events that have caused increasingly dangerous impacts on nature and people in every region of the world."
Other recent research has warned that rich nations must completely halt oil and gas production by 2034 to give the world a 50% chance of limiting warming to the 1.5°C target set by the Paris Agreement.
Bill Hare, chief executive of Climate Analytics, toldThe Guardian that Al Jaber's response to Robinson was "extraordinary, revealing, worrying, and belligerent."
"'Sending us back to caves' is the oldest of fossil fuel industry tropes: it's verging on climate denial," said Hare.
Al Jaber's comments, which he says have been misrepresented, were seen as further confirmation that he is ill-suited to lead a climate summit given his simultaneous role as the top executive at one of the world's largest fossil fuel firms. A Global Witness analysis released over the weekend found that ADNOC is on track to become the second-largest oil producer in the world by 2050, and Al Jaber has been accused of using his position as COP28 president to pursue oil and gas deals.
"ADNOC plans to produce more oil than any of the 'Big 5' supermajors—ExxonMobil, Chevron, Shell, BP, TotalEnergies," Global Witness found. "In fact, its projected output will positively dwarf that of the European majors; ADNOC's 35.9 billion barrels is 49% higher alone than the projected 24.1 billion barrels production of Shell, BP, and Total combined."
On Monday, the COP28 presidency published a summary of the World Climate Action Summit, a gathering of more than 150 heads of state aimed at facilitating coordinated climate action.
The document states that world leaders "highlighted the opportunities to cut emissions in every sector and to accelerate the technology innovation to address scope 3 emissions, as well as the phase-down of fossil fuels in support of a transition consistent with limiting warming to 1.5°C."
Romain Ioualalen, global policy lead at Oil Change International, said in a statement that "strong support from the leaders' summit to address fossil fuels in the final COP28 agreement is a promising sign, but it is just good enough."
"Leaders must raise their ambition above a phase-down, and agree to immediately stop new fossil fuel expansion, and build a fast, full, fair, and funded phaseout of all fossil fuels while rapidly phasing in renewables," said Ioualalen. "Contrary to the COP28 president's assertions, the science is abundantly clear that warming will continue as long as we keep producing and burning fossil fuels."

News