For Immediate Release
January, 27 2010, 10:45pm EDT
Contact:
Matthew Allee,(202) 580-6922 or,mallee@constitutionproject.org
Constitution Project Rejects Governor McDonnell's Assessment of Intelligence Gathering through Traditional Federal Prosecution
Signatories to Beyond Guantánamo support federal prosecution of Abdulmutallab
WASHINGTON
In the Republican response to President Barack Obama's State of the
Union address tonight, Governor Bob McDonnell suggested that federal
authorities erred in choosing to prosecute Umar Farouk Abdulmutallab in
traditional federal court. He implied that the government would have
obtained additional intelligence had it kept him outside the
jurisdiction of our traditional legal system.
In fact, multiple signatories to Beyond Guantanamo: A Bipartisan Declaration
have supported the administration's decision to prosecute Abdulmutallab
in federal court. Former U.S. Attorneys James Brady and Richard
Rossman, both of Michigan, in an opinion piece in the Detroit Free Press said, in part:
"Those
who propose transferring Abdulmutallab to military custody for
interrogation ignore that he reportedly proffered valuable information
immediately upon his arrest. They imply that military interrogation
will use "alternative methods of interrogation" that will therefore
elicit more accurate and useable information.
We find this implication extremely disturbing.
First,
abusive methods of interrogation are not consistent with our values and
constitutional principles, and treating some criminal cases differently
from others would ultimately result in fundamental changes to our
criminal justice system.
Second, they do not work; traditional
interrogation techniques have repeatedly been shown to elicit more, and
more accurate, information.
We applaud the administration's
decision to try Abdulmutallab in federal court, even while we remain
troubled by its November announcement that it will try other terror
suspects in the flawed military commission process."
To view the full text of Brady and Rossman's opinion piece, go to:
https://www.freep.com/article/20100111/OPINION05/100111063/1231/opinion05/American-values-v.-Abdulmutallab?GID=Ur4o1MWiG1f7vysd8hfHpMDXSEe6RyixryVWeqq7HXs%3D
Others have also supported the decision to prosecute Abdulmutallab in federal court, including:
Mickey Edwards:
https://correspondents.theatlantic.com/mickey_edwards/2010/01/the_unbelievers.php
Bob Barr:
https://blogs.ajc.com/bob-barr-blog/2010/01/07/time-to-give-obama-a-break/
https://blogs.ajc.com/bob-barr-blog/2010/01/11/prosecute-christmas-bomber-in-federal-court/
David Irvine and Virginia Sloan:
https://jurist.law.pitt.edu/hotline/2010/01/christmas-day-bomber-prompts-unwise.php
The Constitution Project is a politically independent think tank established in 1997 to promote and defend constitutional safeguards. More information about the Constitution Project is available at https://constitutionproject.org/.
LATEST NEWS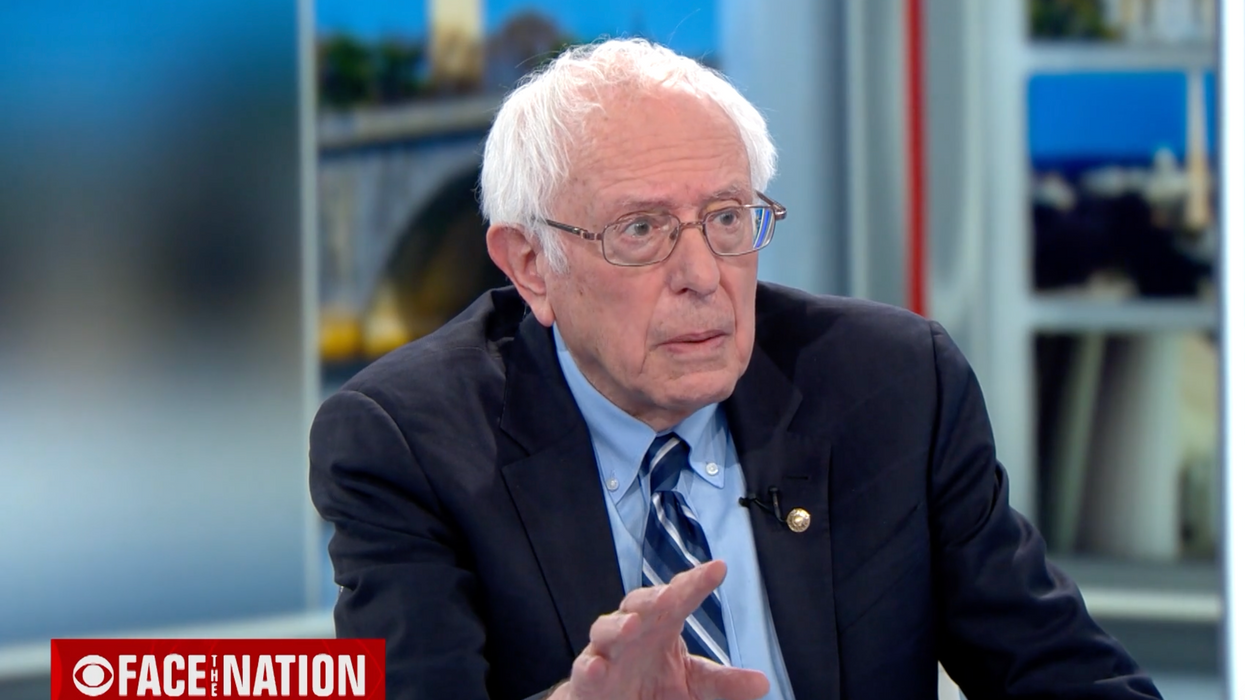 Nonpartisan, publicly funded media is "an idea that we should explore," said the senator.
Appearing on "Face the Nation" on CBS Sunday, U.S. Sen. Bernie Sandersdiscussed a number of issues he covers in his upcoming book, It's OK to Be Angry About Capitalism, including his proposal to ensure the news media acts in the interest of the general public and not wealthy corporations and powerful interest groups.
Host Margaret Brennan described his proposal as "a New Deal for journalism."
As some European countries do, the Vermont Independent senator said, the U.S. should have "nonpartisan public funding of media" to ensure local news outlets can stay afloat and keep communities informed about "their city council, their school board."
Such a system would also prevent news networks like CBS from relying on advertising dollars, which Medicare for All advocates have blamed for playing a role in the corporate media's hostility towards a nationalized healthcare system and other progressive proposals for the public good.

"What I say in the book is that look, I've done 1,000 interviews, like I'm doing with you right now," Sanders told Brennan. "And nobody has ever come up to me, not one reporter—not you, not anybody else—and said, 'Bernie, why are we spending twice as much on healthcare as any other country and yet we have 85 million uninsured or underinsured?' How many programs at CBS, NBC, ABC had on why we have a dysfunctional healthcare system? Does that have anything to do with who owns the major networks? 'Bernie, what are you going to do about income and wealth inequality?' ... 'Why are billionaires paying an effective tax rate lower than working class people?' No one asked me those questions."
As Luke Savage reported at Jacobin following the 2020 presidential election, viewers of the Democratic primary debates weren't informed by moderators that Medicare for All was supported by a majority of Americans, and ad breaks featured "health insurance and pharmaceutical companies seizing every opportunity to bombard viewers with misleading industry agitprop about the breathtaking wonders of profit-driven healthcare."
He added:

CNN's Detroit debate is a case in point; the network was demanding at least $300,000 from companies advertising, with a single thirty-second spot costing an estimated $110,000—and groups like the so-called Partnership for America's Health Care Future (in practice, a front for various corporate interests), filled out many of the slots. Regardless of how anchors or hosts think about an issue like healthcare, the networks' basic model essentially precludes meaningful critique of the status quo by design. As long as it persists, don't expect to see the public interest or popular opinion reflected anywhere on cable TV.
To counter that dynamic, Sanders argued on "Face the Nation," a New Deal for journalism including publicly funded media is "an idea that we should explore."

In the interview, the senator spoke about his support for attaching "some strings" to U.S. funding for Israel to help pressure the country to end its human rights abuses against Palestinians.
\u201c.@SenSanders says \u201csome strings\u201d should be attached to the billions in US aid that goes to Israel as he is \u201cworried\u201d about what PM Netanyahu & \u201csome of his allies in government are doing.\u201d\n\n \u201cYou cannot run a racist government\u2026and then come to America and ask for money.\u201d\u201d

— Face The Nation (@Face The Nation) 1676823986
Sanders also reiterated his call for the Democratic Party to focus on representing the interests of all working people.
"What we need to do is have a movement of Black workers, Latino workers, white workers, gay workers, straight workers, and understand that we're all in this together," said Sanders. "I don't care if you're living in rural Iowa, where I spent a lot of time, alright, you can't afford health care, you can't afford to send your kid to college, or you're living in San Francisco. So too often we forget about the economic issues that unite us. The vast majority of the people know the pharmaceutical industry is ripping us off. The vast majority of the people understand that we have to improve our educational system. Let's work on that."

News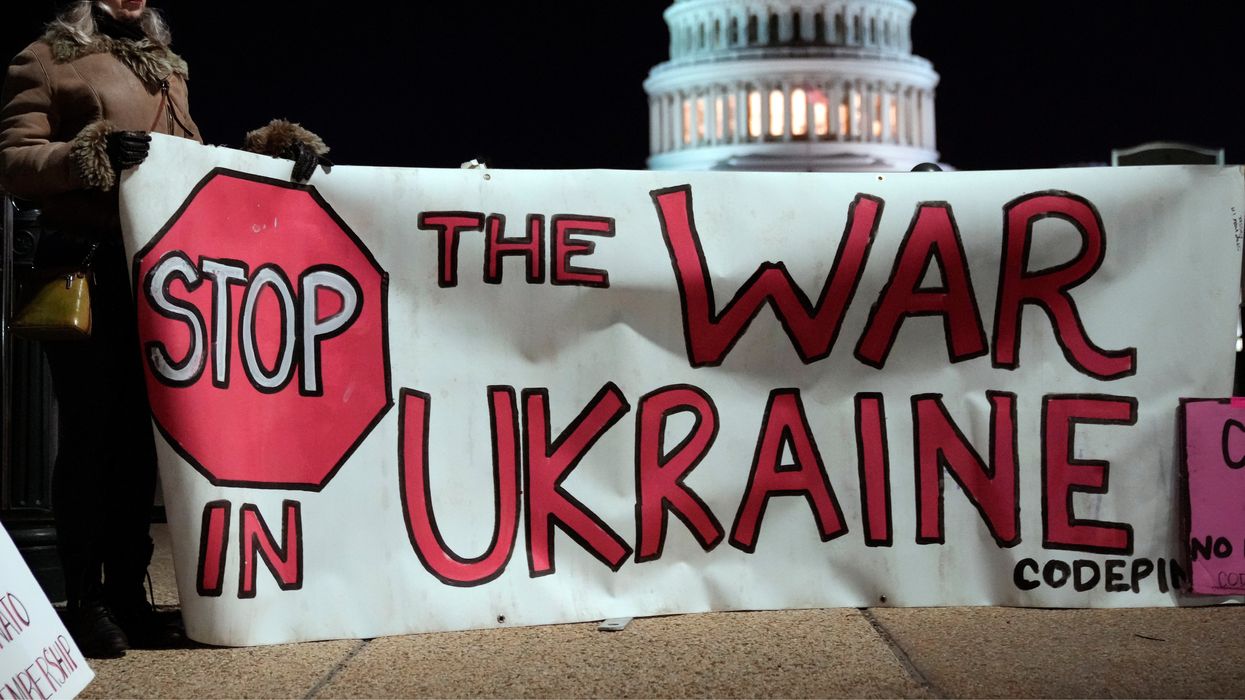 "We need Congress to take a stand and push for urgent diplomatic efforts to end the war."
Peace advocates from across the United States plan to convene in Washington, D.C. on Tuesday for a lobby day during which they'll call on lawmakers to push for a ceasefire and diplomatic talks in Ukraine, as the Biden administration responds to pressure to escalate the conflict by providing the Ukrainians with fighter jets.
"We need to stop rubber-stamping tens of billions of dollars for weapons for an unwinnable proxy war between the United States and Russia," said co-organizer Ann Wright, a retired Army colonel and State Department diplomat. "It's time for Congress to reassert its constitutional authority over matters of war and peace, and call for negotiations, not escalation."
Days before the one-year mark of the Russian invasion, the campaigners will begin by delivering a letter to the offices of House Speaker Kevin McCarthy (R-Calif.) and House Minority Leader Hakeem Jeffries (D-N.Y.) and will then visit the offices of lawmakers who sit on the House Armed Services Committee.
Organizers say they will ask representatives to publicly call on President Joe Biden to "pursue urgent diplomatic efforts" to end the war as quickly as possible, as progressives in Congress did last October with a letter they were then forced to retract under pressure, and as Joint Chiefs of Staff chairman General Mark Milley also urged shortly thereafter.
They will also call on lawmakers to support legislation to end military support for the war, oppose the sending of fighter jets to Ukraine, and request a briefing by the White House on efforts to promote peace talks.
"We need to stop rubber-stamping tens of billions of dollars for weapons for an unwinnable proxy war between the United States and Russia."

The lobby day is being organized as leaders meet at the Munich Security Conference in Germany, where Western leaders in recent days said they were prepared to support Ukraine "as long as necessary," as German Chancellor Olaf Scholz said.
Scholz toldCNN anchor Christiane Amanpour Friday that discussions of "when, in which month, the war will end" are "not really a very good idea."
French President Emmanuel Macron also said that France and its allies are "ready for a prolonged conflict."
The U.S. has so far declined to send fighter jets to Ukraine, but it did agree to send more than two dozen Abrams tanks to the country last month, marking "a serious escalation," according to U.K.-based group Stop the War Coalition.
Britain and France have signaled that they're open to sending fighter planes, as Ukrainian President Volodymyr Zelenskyy has requested, and a bipartisan group of American lawmakers on Friday wrote to President Joe Biden asking him to send F-16 jets.
Gen. Christopher Cavoli, the top U.S. general in Europe, told a group of U.S. legislators last week that American F-16s would help Ukraine win the war.
Doing so would necessitate either training Ukrainians to fly the planes, which could take months, or sending "volunteer [U.S.] veterans," Konstantinos Zikidis, an aerospace engineer at the Hellenic Air Force in Greece, told Al Jazeera last month.
The latter option would likely be seen as a major escalation by Russian President Vladimir Putin, wing commander Thanasis Papanikolaou told the outlet.
"The Russians will try to present that NATO is directly involved in the Ukraine war, and will threaten nuclear war," he said.
In Munich on Saturday, Vice President Kamala Harris said support for supplying the Ukrainians with weapons remains high among the U.S. public, although the issue now polls at 48%, according to an Associated Press/NORC poll released last week, compared to 66% last May.

"We cannot continue to fuel a war that creates such daily suffering and risks becoming a nuclear confrontation," said Medea Benjamin, peace activist and co-founder of CodePink, ahead of the lobby day. "We need Congress to take a stand and push for urgent diplomatic efforts to end the war."
News
"During his presidency, he advocated to have Medicare cover all Americans," said one progressive. "After his presidency, he continued humanitarian works that everyone, regardless of political affiliation, should respect."

Progressives expressed gratitude and appreciation for former U.S. President Jimmy Carter late Saturday after his family announced he has opted to enter hospice care at age 98.
Carter has faced some health issues in recent years and received treatment for cancer in 2015. The Carter Center, the organization he established with his wife Rosalynn after his presidential term ended in 1981, said he has had "a series of short hospital stays" recently."
"Former U.S. President Jimmy Carter today decided to spend his remaining time at home with his family and receive hospice care instead of additional medical intervention," said the Carter Center. "He has the full support of his family and his medical team. The Carter family asks for privacy during this time and is grateful for the concern shown by his many admirers."
An outpouring of condolences followed on social media, with progressives acknowledging the Democrat's four-decade post-presidency as one that has exemplified public service.
The Carter Center was founded "on a fundamental commitment to human rights and the alleviation of human suffering," and has led efforts to fight disease and strengthen public health systems in the Global South as well as promoting peace in countries including South Sudan, Haiti, and Ethiopia.
Advocates for Palestinian rights noted that Carter has been an outspoken critic of Israel's violent policies in the occupied Palestinian territories, authoring the New York Times bestseller Palestine: Peace Not Apartheid in 2006.
While acknowledging that "no one leading the U.S. empire can have an impeccable moral record," political analyst Omar Baddar applauded Carter as striving to be "decent and principled" in his post-presidential years.
\u201cNo one leading the US empire can have an impeccable moral record, but

Jimmy Carter

was as decent & principled as a president can be. & no one of similar prominence in US politics ever had the courage to write a whole book on the oppression of Palestinians under Israeli apartheid.\u201d

— Omar Baddar \u0639\u0645\u0631 \u0628\u062f\u0651\u0627\u0631 (@Omar Baddar \u0639\u0645\u0631 \u0628\u062f\u0651\u0627\u0631) 1676767669
Others acknowledged Carter's hands-on volunteer work with Habitat for Humanity, which he and Rosalynn Carter first joined in 1984, helping to renovate an abandoned building in New York City to help families in need of affordable housing. The couple volunteered with the organization every year until the coronavirus pandemic began in 2020.
\u201cIn 2019, President

Jimmy Carter

, the oldest living former president in US history, at age 95, built Habitat for Humanity homes in Nashville.\n\nPresident Carter represents the best of humanity.\u201d

— Vala Afshar (@Vala Afshar) 1676753671
Former U.S. Rep. Mondaire Jones (D-N.Y.) posted a video of Carter debating former Republican President Ronald Reagan in 1980, in which Carter noted that his opponent "began his political career campaigning around this nation against Medicare."
"Now we have an opportunity to move toward national health insurance," said Carter, "with an emphasis on the prevention of disease; an emphasis on outpatient care, not inpatient care; an emphasis on hospital cost containment to hold down the cost of hospital care for those who are ill."

\u201c\u201cGovernor Reagan, as a matter of fact, began his political career campaigning around this nation against Medicare. Now we have an opportunity to move toward national health insurance, with an emphasis on prevention of disease\u2026.\u201d -President Jimmy Carter\u201d

— Mondaire Jones (@Mondaire Jones) 1676774145
"During his presidency, he advocated to have Medicare cover all Americans," said former Ohio state Sen. Nina Turner. "After his presidency, he continued humanitarian works that everyone, regardless of political affiliation, should respect."

News
SUPPORT OUR WORK.
We are independent, non-profit, advertising-free and 100%
reader supported.