For Immediate Release
Contact:
(202) 466-3234,Joe Conn,Rob Boston,Sandhya Bathija
Americans United Denounces Arizona Preacher's Death Prayers Against Obama
AU's Barry Lynn – Who Has Also Been the Target of Death Prayers – Calls on Religious Right Leaders to Repudiate Violent Rhetoric
WASHINGTON
Americans United for Separation of Church and State today denounced
the violent rhetoric of an Arizona preacher who is praying for the
death of President Barack Obama and called on Religious Right leaders
to repudiate such extremism.
The Rev. Steven Anderson of the Faithful Word Baptist Church told
his Tempe, Ariz., congregation he prays that Obama "dies and goes to
hell." In an Aug. 16 sermon that recently came to public attention,
Anderson said, "If you want to know how I'd like to see Obama die, I'd
like him to die of natural causes. I don't want him to be a martyr, we
don't need another holiday. I'd like to see him die, like Ted Kennedy,
of brain cancer."
Anderson's sermon took place just before an Obama visit to Arizona,
and a member of the congregation showed up outside the Obama event in
Phoenix carrying an AR-15 semi-automatic assault rifle.
"This has gone much too far," said the Rev. Barry W. Lynn, Americans
United executive director. "When preachers call for the death of the
president or others that they disagree with, it provides a
justification for acts of intimidation and violence. It's grossly
irresponsible, and the American people ought to rise up and say 'enough
is enough.'"
Lynn said Religious Right leaders have a special responsibility to repudiate such rhetoric.
"National Religious Right leaders have been feeding their flock a
steady diet of shrill and provocative language," said Lynn. "It should
come as no surprise when Anderson and those like him escalate the
animosity."
Lynn noted that "imprecatory prayers" (prayers that ask God to kill
or otherwise harm others) have become all too common in recent years.
* The Rev. Wiley Drake, pastor of First Southern
Baptist Church in Buena Park, Calif., announced in June of this year
that he is praying for Obama's death. Drake, former second vice
president of the Southern Baptist Convention, has also called for
imprecatory prayers against AU's Lynn and other staff members of Lynn's
organization.
* The Rev. Gordon Klingenschmitt, head of Pray In
Jesus' Name Ministries and a former Navy chaplain, has also sought
prayers for the death of Lynn and others who challenged
Klingenschmitt's Religious Right activities.
* Randall Terry, Operation Rescue founder and head
of the Society for Truth and Justice, held a June 1 news conference at
the National Press Club to say he is glad that Nebraska physician Dr.
George Tiller is dead. Terry said the doctor, whose clinic provided
abortions for women with problem pregnancies, was a "mass murderer" who
"reaped what he sowed." Tiller was murdered while serving as an usher
at his church.
* TV preacher and Christian Coalition founder Pat Robertson
as recently as 2003 urged his followers to pray that God would remove
three Supreme Court justices so that President George W. Bush could
replace them with nominees that support Religious Right positions
against reproductive choice, gay rights and church-state separation. In
2001 Robertson joined the late Jerry Falwell in blaming the 9/11
terrorist attacks on the Supreme Court, gays, feminists and civil
liberties groups. Said AU's Lynn, "Religious Right leaders have
every right to make the case for their views on public issues, but when
they inflame opinion with outrageous statements, they are going too far.
"This must stop," said Lynn, "before more tragedies occur."
Americans United is a religious liberty watchdog group based in Washington, D.C. Founded in 1947, the organization educates Americans about the importance of church-state separation in safeguarding religious freedom.
LATEST NEWS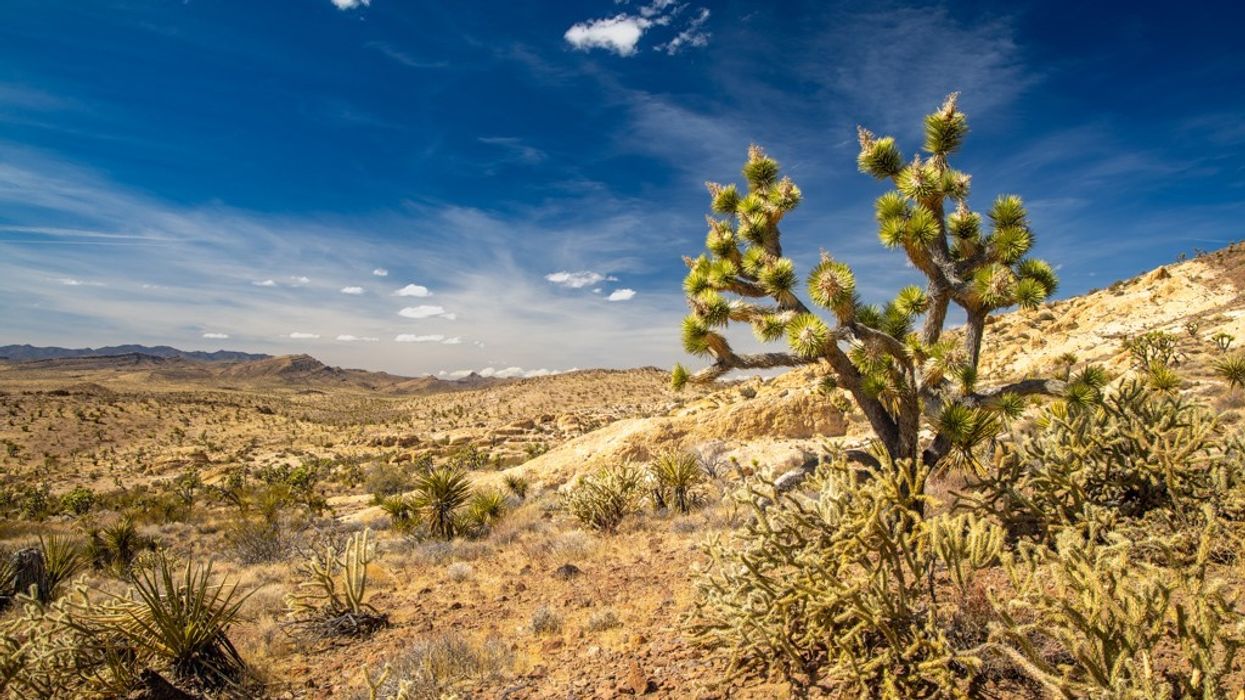 "We cannot save more nature if the federal government continues to approve destructive oil and gas operations like the Willow project," said one campaigner.
Conservation advocates on Tuesday credited yearslong campaigns led by Indigenous groups and other frontline organizers with pushing President Joe Biden to designate two new national monuments in the southwestern U.S., but they also emphasized that the gesture cannot negate the environmental damage that the White House set in motion last week when it approved ConocoPhillips' Willow oil drilling project.
Biden announced new protections for a large portion of Avi Kwa Ame—also known as Spirit Mountain—in the Mojave Desert in southern Nevada, and the Castner Range near El Paso, Texas.
Under the Antiquities Act of 1906, the two regions will be protected from industrial development by oil and gas drilling companies as well as renewable energy firms.
Avi Kwa Ame serves as a migratory route for bighorn sheep and mule deer and a critical habitat for species including bald eagles, peregrine falcons, and western screech owls. It is considered the creation site for tribes including the Cocopah and the Hopi, and Biden's designation is only the second aimed at protecting Native lands.

"While we celebrate this victory, these designations don't negate Biden's past giveaways to Big Oil, including last week's approval of the devastating Willow project in Alaska."
Castner Range was home to members of tribes including the Apache, Pueblo, and Comanche Nation, and contains more than 40 known Indigenous archeological sites. The land, which was taken over by the U.S. Army and used as a training site for 40 years until 1966, is also a crucial habitat for Mexican poppies, brush vegetation, the golden eagle, and the Texas horned lizard, among other species.
Coalitions including Castner Range Forever and Honor Avi Kwa Ame celebrated Biden's announcement and thanked him for listening to years of advocacy.
"The president's action today will safeguard hundreds of thousands of acres of cultural sites, desert habitats, and natural resources in southern Nevada, which bear great cultural, ecological, and economic significance to our state," said Honor Avi Kwa Ame. "Together, we will honor Avi Kwa Ame today—from its rich Indigenous history, to its vast and diverse plant and wildlife, to the outdoor recreation opportunities created for local cities and towns in southern Nevada by a new gorgeous monument right in their backyard."
Biden said the designations were aimed at conserving "our country's natural gifts" and "protecting pieces of history, telling our story that will be told for generations upon generations to come."
National climate action groups, however, were quick to point out that the credit Biden gets for protecting the lands doesn't negate his refusal to listen to advocates and Indigenous people who called on him to reject the $8 billion Willow project, which could lead to the production of more than 600 million barrels of crude oil over three decades—and ultimately 280 million metric tons of carbon dioxide emissions at a time when scientists and energy experts are warning that fossil fuel emissions must be drawn down.
"We thank the Biden administration for these important and long overdue designations," said Raena Garcia, fossil fuels and lands campaigner at Friends of the Earth. "The public has expressed strong support for protecting public lands, especially Avi Kwa Ame and Castner Range, for a very long time."
"While we celebrate this victory, these designations don't negate Biden's past giveaways to Big Oil, including last week's approval of the devastating Willow project in Alaska," Garcia added. "All communities must be protected from destructive fossil fuel and energy extraction. We urge Biden to read the writing on the wall and take action to protect our lands and waters for future generations."

The preservation of public lands and waters, said Chris Hill, senior director of Sierra Club's Our Wild America Campaign, are an important part of "a nature-based solution to taking on climate change."
"But we cannot save more nature if the federal government continues to approve destructive oil and gas operations like the Willow project," added Hill. "Designating new national monuments and safeguarding public lands from extraction can help us reach important climate goals, provide clean air and water, and expand access to nature for millions. It is through these actions that President Biden can build his monumental legacy."

News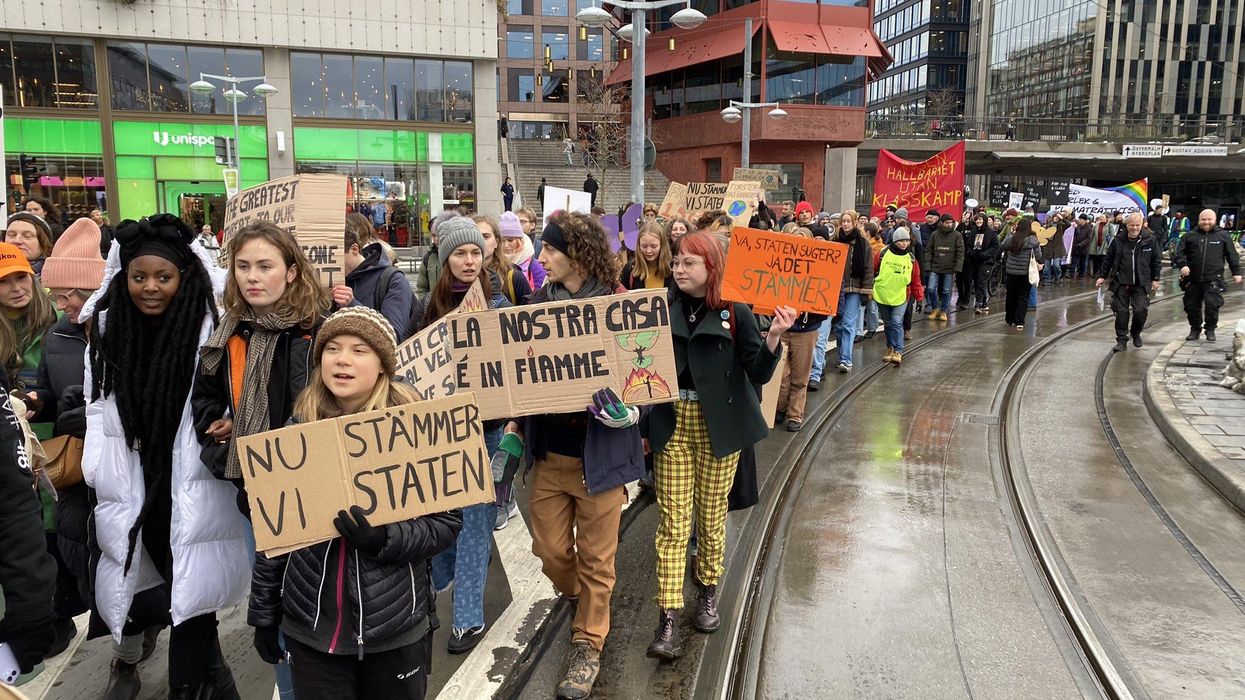 The country's climate action "constitutes a violation of human rights," argues one Swedish group.
A Swedish court on Tuesday ruled that hundreds of youth climate activists including Greta Thunberg can collectively sue Sweden for the government's "insufficient climate policy."
More than 600 people under age 26, including 20-year-old Thunberg, signed the 87-page document that is the basis for the lawsuit, which was filed in Stockholm in November and coincided with a march through the city.

"Sweden has never treated the climate crisis like a crisis," Anton Foley of the youth-led group Aurora, which prepared and filed the class-action suit, said at the time. "Sweden is failing in its responsibility and breaking the law."
The Nacka District Court determined Tuesday that the case can proceed and gave the Swedish government three months to respond.
"The district court has today issued a summons in a high-profile class-action lawsuit," the court said. "In the case, demands have been made for the district court to determine that the state has an obligation to take certain specified measures to limit climate change."
"Limiting global warming to 1.5°C requires drastic emission reductions starting now."

"At present, the district court cannot give a forecast as to when the case may be finalized or when it may be necessary to hold hearings in the case," the court continued, adding that the case could go to trial or be settled in writing.
As Aurora's webpage for the case explains, the young activists believe the climate emergency "is a problem we all have to solve together, but the responsibility is not evenly distributed between the countries of the world" and "Sweden, as a rich country with historically high emissions, has a particularly big responsibility to take the lead."
Referencing the 2015 Paris agreement's more ambitious goal for global heating by the end of this century, the activists argue that their country's climate action "is insufficient to be in line with Sweden's fair share of limiting global warming to 1.5 °C" and therefore "constitutes a violation of human rights."
"Limiting global warming to 1.5°C requires drastic emission reductions starting now," the youth warn, noting calculations that suggest Sweden doing its fair share would involve moves to cut emissions by 6.5-9.4 million tons annually from 2019-30.
"The consequences of the climate crisis in Sweden are a serious threat to life and health," Aurora's webpage says, pointing to forest fires, floods, droughts, heatwaves, and the spread of diseases.
The climate crisis also negatively impacts mental health, "partly as a consequence of the extreme weather and environmental changes that are happening and will happen, but also due to anxiety and stress during youth," the site stresses. "Everyone who is involved in the class action is young and therefore runs a high risk of suffering these consequences during their lifetime."
The Swedish court's decision came a day after the release of a highly anticipated Intergovernmental Panel on Climate Change (IPCC) report that United Nations Secretary-General António Guterres called "a survival guide for humanity" which shows the 1.5°C goal for this century is still achievable but requires "a quantum leap in climate action."
Thunberg, founder of the global Fridays for Future movement, tweeted Monday in response to the report, "The fact that people in power still somehow live in denial, and actively move in the wrong direction, will eventually be seen for and understood as the unprecedented betrayal it is."
"Today, after yesterday's IPCC report, everything is back to normal—as always," Thunberg added Tuesday. "We continue to ignore the climate crisis as if nothing happened. Our societies are still in denial, and those in power go on with their never ending quests to maximize profits. We cannot afford this."
News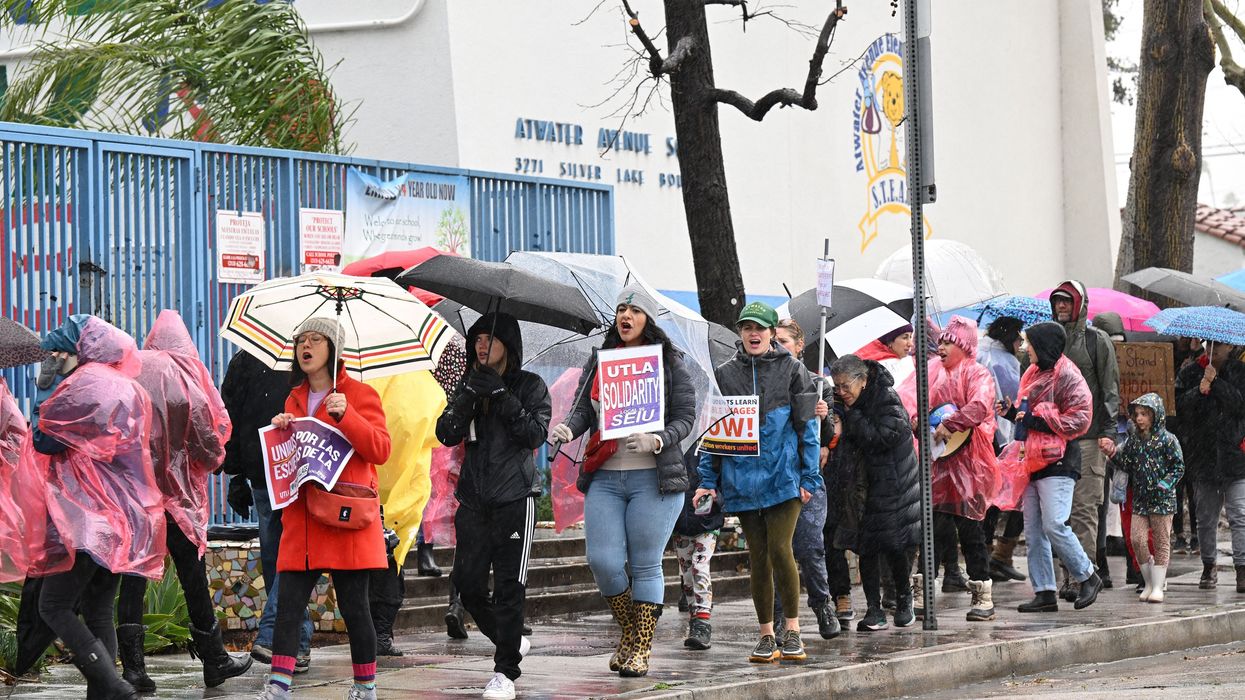 "As workers we are powerful. As parents we are powerful. As the people united, we are unstoppable."
An estimated 65,000 teachers and school staffers from across Los Angeles walked picket lines in the rain on Tuesday as the city's public school district employees went on strike—but more than half of the picketers were staging the walkout in solidarity, protesting conditions that don't directly affect them.
The 35,000 teachers who are represented by United Teachers of Los Angeles (UTLA) joined cafeteria workers, bus drivers, teaching aides, grounds workers, and others who help ensure that more than 1,000 public schools in Los Angeles run safely and smoothly, demanding that support staff are treated fairly by the district.
"We are LA Public Schools," tweeted UTLA. "We are on strike because we won't let the district treat any of us with disrespect. It stops here."
Classes were canceled across the district—the second-largest in the nation.

As Common Dreamsreported Monday, support workers represented by Service Employees International Union (SEIU) Local 99 have been in contract negotiations with the district since April 2022, and the union is demanding a 30% overall pay raise to help ensure its members can afford to live in one of the country's most expensive cities.
SEIU Local 99 members currently earn about $25,000 on average.
Speaking to The New York Times, SEIU Local 99 executive director Max Arias said the union's last contract expired in the early days of the coronavirus pandemic in 2020—"when his workers were on the front lines helping to feed students at lunch pickup sites even as schools were closed."
"We are now here demanding respect from the district, and it starts with livable wages," said one member on a picket line on Tuesday.

Arias noted at a rally in Tuesday that the district can afford to spend far more on employees' compensation.

"Let me be clear, the district has approximately between a $13 billion and $14 billion budget a year," he said. "Out of that budget, it spends between 5% and 6% on payroll for 40% of the workforce. That's negligible."
Bus drivers were some of the first employees on the picket lines Tuesday, marching and chanting in the early morning hours.
"We're often the first LAUSD employees that students see in the early morning when we pick them up and the last ones they see when we drop them off," said SEIU Local 99. "We are essential and demand respect."

Special education teacher Opal Getaw told the Times that her own daily living expenses have risen in recent months amid inflation, and that she "could not imagine" the financial struggles her colleagues in support services are facing.

"It's not just about teachers, it's about community and camaraderie, it's about our colleagues," Getaw told the Times. "They want a fair chance and an ability to be able to earn enough, to have what everybody wants: a good life."
In a number of picket lines, teachers dressed in ponchos danced in the rain.
The union said in December that the negotiations had reached an impasse, and members voted overwhelmingly to strike last month. The strike has been called in response to unfair negotiating tactics, according to the union, rather than demands for fair pay.
SEIU Local 99 said Monday that the district subjected members "to surveillance, intimidation, and harassment" during the bargaining and strike voting process, and broke a confidentiality agreement.
"This afternoon, SEIU Local 99 had agreed to enter a confidential mediation process with LAUSD to try and address our differences," said Arias. "Unfortunately, LAUSD broke that confidentiality by sharing it with the media before our bargaining team, which makes all decisions, had a chance to discuss how to proceed. This is yet another example of the school district's continued disrespect of school workers. We are ready to strike."
LAUSD attempted to block the strike, issuing a complaint to state officials that the strike is actually in response to members' pay and that the union has not exhausted all bargaining possibilities before staging a walkout. The state rejected those claims over the weekend.
The strike is set to continue through Thursday.

News
SUPPORT OUR WORK.
We are independent, non-profit, advertising-free and 100%
reader supported.