For Immediate Release
Contact:
(202) 466-3234,Joe Conn,Rob Boston,Sandhya Bathija
Lawsuit Challenging Government Funding of 'Faith-Based' Youth Home to Go Forward
WASHINGTON
A federal appeals court ruled today that a lawsuit brought by the
American Civil Liberties Union and Americans United for Separation of
Church and State challenging government funding of a religious group's
youth home in Kentucky can go forward.
The 6th U.S. Circuit Court of Appeals reversed a lower court ruling
and ruled that taxpayers have standing to bring a legal challenge to
the state's decision to fund Kentucky Baptist Homes for Children (since
renamed Sunrise Children's Services), which indoctrinated children
placed under state care with its religious beliefs.
"This Baptist agency has made no secret of the fact that it was
evangelizing children under the state's care in complete disregard of
the Constitution's ban on government-sponsored religion," said the Rev.
Barry W. Lynn, executive director of Americans United. "We're extremely
pleased that the court has made it clear that taxpayers have the right
to challenge government when it promotes religious doctrine."
The lawsuit was brought on behalf of several taxpayers and Alicia
Pedreira, a lesbian who was fired from the group home after someone at
the agency saw a photograph of Pedreira and her partner at the state
fair. In addition to the constitutional challenge, Pedreira had also
claimed that the agency illegally discriminated against her because she
did not conform to the religious beliefs of the agency.
Although the appeals court dismissed that claim, the court said that
she would be allowed to present evidence of her firing to prove that
the funding of the agency violated the Constitution's prohibition of
religious funding.
"While I'm disappointed that Baptist Homes won't be held liable for
firing me, today's decision helps ensure that government funds won't be
given to employers who discriminate based on their religious beliefs
about sexual orientation, and that's why I brought this case," said
Pedreira, who after struggling for years to get her career back on
track, is currently working as a counselor in Louisville.
Filed in April 2000, this lawsuit has been closely watched by many
because it underscores the problems that arise when government funds
religious organizations to perform their functions.
"The government should be helping to end discrimination against gay
people, not funding it," said Ken Choe, a senior staff attorney with
the ACLU's Lesbian Gay Bisexual Transgender Project. "While today's
decision gives taxpayers recourse when the government oversteps the
line in funding religiously affiliated service providers, this case
illustrates all too well what can go wrong when the government fails to
ensure appropriate safeguards."
Added Americans United Senior Litigation Counsel Alex J.
Luchenitser, who argued the appeal before the court, "This decision
puts the brakes on the Religious Right's efforts to keep taxpayers out
of court in order to allow unfettered public funding of religious
indoctrination. Proselytizing groups should not be able to get away
with using government money illegally because they think that no one
can sue them."
The court noted that reviews conducted by a private company of
Baptist Homes "contain 296 interview responses from youth describing
[Baptist Homes'] religious practices as coercive." The court also
quoted a Baptist Homes annual report as stating, "The angels rejoiced
last year as 244 of our children made decisions about their
relationships with Jesus Christ."
The case is returned to the district court for trial, but other appeals are possible.
In addition to Choe and Luchenitser, the legal team representing
Pedreira includes Americans United Legal Director Ayesha Khan; ACLU
attorneys James Esseks, David Friedman, Daniel Mach and William Sharp;
ACLU cooperating attorney Vicki Buba of the Oldfather Law Firm in
Louisville, KY; attorneys David Bergman, Joshua Wilson, Elizabeth
Leise, Alicia Truman, Lea Johnston, and Alessandro Maggi of the
international law firm Arnold & Porter LLP; and Washington, D.C.
attorney Murray Garnick.
A copy of today's opinion is available at https://www.aclu.org/pdfs/lgbt/pedreira_6cir_opinion.pdf and the order is available at https://www.aclu.org/pdfs/lgbt/pedreira_6cir_order.pdf.
Americans United is a religious liberty watchdog group based in Washington, D.C. Founded in 1947, the organization educates Americans about the importance of church-state separation in safeguarding religious freedom.
LATEST NEWS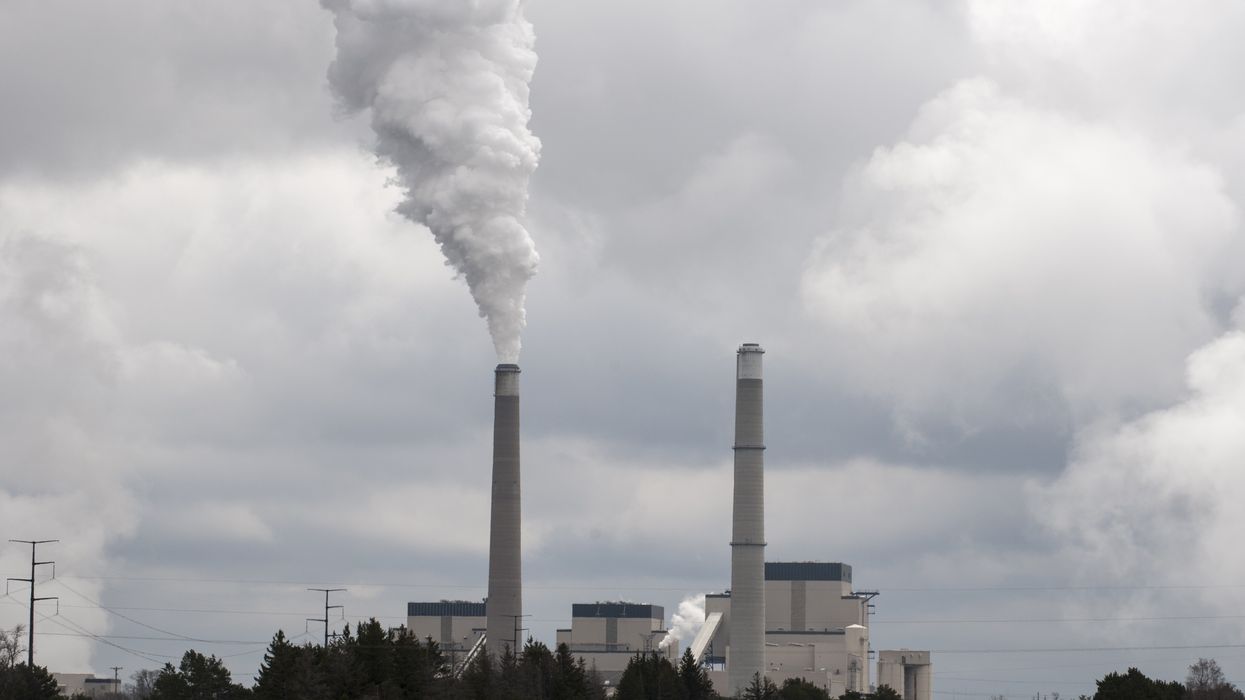 Federal regulators said they are monitoring groundwater for a radioactive compound following the leak.
The operator of a Minnesota nuclear power plant said the facility would be taken offline Friday to repair a new leak near the Mississippi River, an announcement that came a week after the company and state officials belatedly acknowledged a separate leak that occurred in November.
Xcel Energy insisted in a statement Thursday that the leak at its Monticello Nuclear Generating Plant poses "no risk to the public or the environment," but a team of federal regulators is monitoring the groundwater in the area amid concerns that radioactive materials—specifically tritium—could wind up in drinking water.
Valerie Myers, a senior health physicist with the U.S. Nuclear Regulatory Commission, told a local CBS affiliate that "there are wells between the ones that are showing elevated tritium and the Mississippi that are not showing any elevated levels."
"We are watching that because the ground flow is toward the Mississippi," added Myers.
The Associated Pressreported Friday, that "after the first leak was found in November, Xcel Energy made a short-term fix to capture water from a leaking pipe and reroute it back into the plant for re-use."
"However, monitoring equipment indicated Wednesday that a small amount of new water from the original leak had reached the groundwater," the outlet noted. "Operators discovered that, over the past two days, the temporary solution was no longer capturing all of the leaking water, Xcel Energy said."
The Minnesota Pollution Control Agency and the Minnesota Department of Health said in a statement that they "have no evidence at this point to indicate a current or imminent risk to the public and will continue to monitor groundwater samples."
"Should an imminent risk arise, we will inform the public promptly," the agencies said. "We encourage the U.S. Nuclear Regulatory Commission, which has regulatory oversight of the plant's operations, to share ongoing public communications on the leak and on mitigation efforts to help residents best understand the situation."
News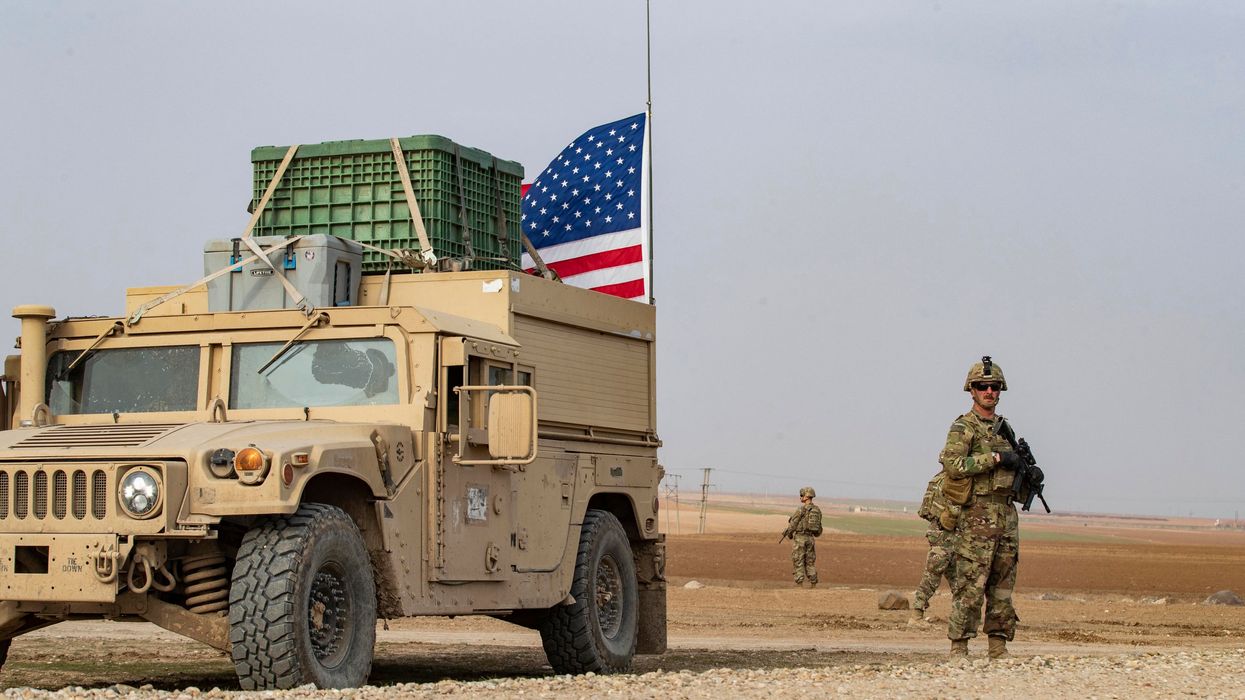 "We are at war in Syria, but American lawmakers haven't debated it and the public barely knows," said one foreign policy writer.
The U.S. launched airstrikes in Syria on Thursday after one American contractor was killed and five service members were injured in an attack by a drone that the Pentagon claims was of "Iranian origin."
The drone attack on a maintenance facility in northeast Syria and the U.S. response came two weeks after the House of Representatives voted down a bipartisan resolution that would have required President Joe Biden to withdraw all American troops from Syria within 180 days.
Around 900 U.S. troops and hundreds of contractors are currently stationed in Syria under a legal rationale that experts say is highly dubious at best.
Thursday's airstrikes in Syria were among several Biden has approved without congressional authorization since taking office. In a statement, U.S. Defense Secretary Lloyd Austin said that "at the direction of President Biden," the Pentagon "authorized U.S. Central Command forces to conduct precision airstrikes tonight in eastern Syria against facilities used by groups affiliated with Iran's Islamic Revolutionary Guards Corps (IRGC)."
"The airstrikes were conducted in response to today's attack as well as a series of recent attacks against coalition forces in Syria by groups affiliated with the IRGC," Austin added.
The strikes, which reportedly killed at least eight people described as "pro-Iran fighters," spurred another flurry of questions about the legal authority that the Biden administration is using to maintain the presence of U.S. troops and carry out military operations in Syria.
While Austin did not specifically invoke any legal authority in his statement, he did say the U.S. airstrikes were "intended to protect and defend U.S. personnel"—an apparent reference to Article II of the Constitution.
"We are at war in Syria, but American lawmakers haven't debated it and the public barely knows," Vox foreign policy writer Jonathan Guyer tweeted late Thursday. "One of the most significant and least discussed legacies of George W. Bush's 20-year-old invasion of Iraq is the way it's led to unauthorized forever wars we scarcely discuss."

Members of Congress have previously voiced alarm over the Biden administration's reliance on Article II to carry out military operations without congressional approval, something that was also done by previous administrations.
In 2021, following two rounds of U.S. airstrikes in Syria, more than 30 House lawmakers led by Reps. Peter Defazio (D-Ore.), Nancy Mace (R-S.C.), and Jamaal Bowman (D-N.Y.) sent a letter criticizing the Biden administration's "dangerous claim that Article II of the Constitution permits you to bypass congressional authorization to perform strikes inside Syria."
The lawmakers also rebuked the administration's insistence that "the wide range of activities" it has "undertaken as part of the ongoing U.S. occupation of a large swath of Syrian territory is justified by the Authorization for Use of Military Force (AUMF) of 2001," the measure Congress passed in the wake of the September 11 attacks.
That AUMF has been used by several administrations to justify military operations in Afghanistan, Iraq, Libya, Yemen, Somalia, Syria, and other countries. Opponents of the war powers resolution aimed at withdrawing U.S. forces from Syria invoked the 2001 AUMF to justify the continued occupation.
Congress has never specifically authorized the U.S. military to combat "Iran-backed forces" in Syria.

Earlier this week, as Congress moved to repeal the separate 2002 Iraq War AUMF, Sen. Lindsey Graham (R-S.C.) attempted to pass an amendment to change the language of the authorization to greenlight operations "against Iranian-backed militias operating in Iraq."
The Graham amendment was soundly defeated, with 60 senators voting no.
News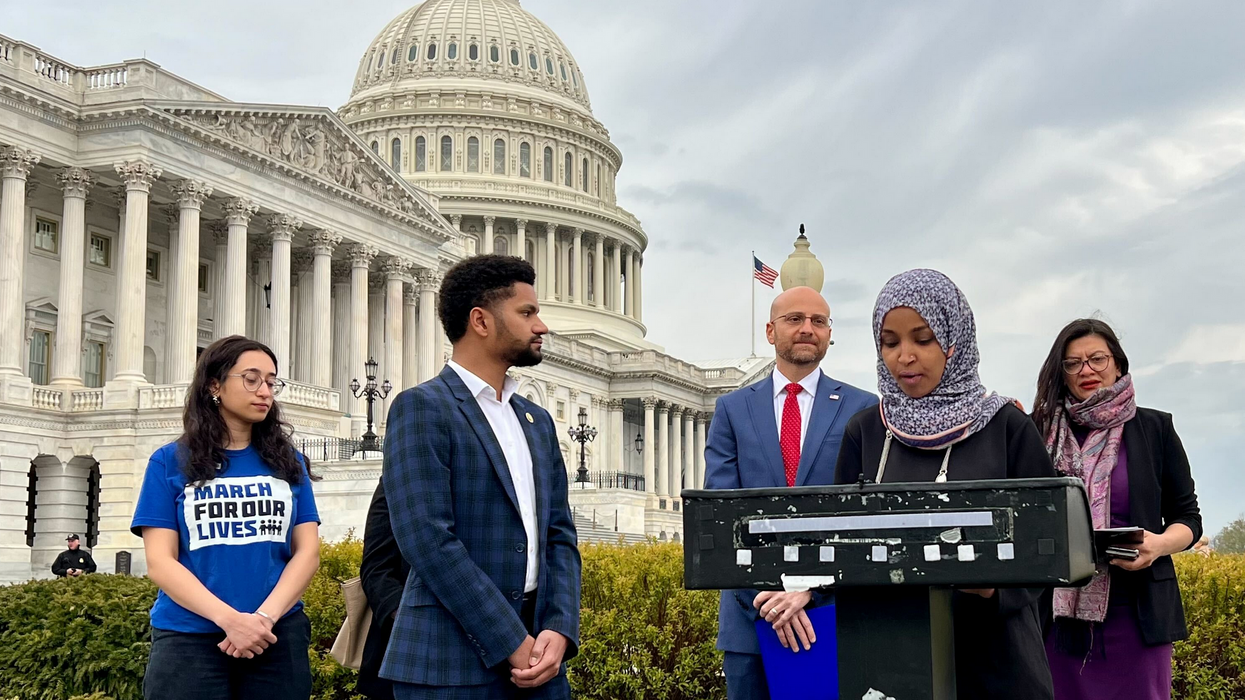 "In order to confront the evils of religious bigotry and hatred, we must come to understand that all our destinies are linked," said Omar, a former refugee from Somalia and one of two Muslim women in Congress.
Joined by Democratic House colleagues and activists outside the U.S. Capitol on Thursday—the first full day of Ramadan—Minnesota Congresswoman Ilhan Omar announced a new resolution condemning Islamophobia and commemorating the recent anniversary of the 2019 Christchurch, New Zealand mosque massacre.
Omar's office said the resolution—which is co-sponsored by more than 20 House Democrats—"comes after continued violence and threats made against religious minorities, particularly Muslims," while adding that the March 15, 2019 murder of 51 Muslim worshippers at the Al Noor Mosque in Christchurch by an Australian white supremacist "was a stated source of inspiration for mass shootings in the United States."
These include the deadly synagogue shooting in Poway, California; the massacre of 23 people, most of them of Mexican origin, at a Walmart in El Paso, Texas; and the murder of 10 people by a white supremacist in a Buffalo, New York grocery store.
Omar said:

As we begin the holy month of Ramadan, we must reaffirm that all people of faith should have the right to worship without fear. According to the Council on American-Islamic Relations, anti-Muslim hate crimes and attacks are at an all-time high. The attack in Christchurch, motivated by an extremist ideology of white supremacy, anti-Muslim hate, and the so-called replacement theory resonates deeply for Muslims in nearly every corner of the globe.

We also know that this increase in hate is not isolated to only Muslims. Church bombings, synagogue attacks, and racial hate crimes are also on the rise.
"In order to confront the evils of religious bigotry and hatred, we must come to understand that all our destinies are linked," Omar added. "That's why I'm proud to lead my colleagues in condemning the rise in Islamophobia and affirming the rights of religious minorities in the United States and around the world."
Robert McCaw, director of government relations at the Council on American-Islamic Relations, also spoke at Thursday's event, saying that "it is with a heavy heart that CAIR welcomes Omar's resolution," which "recognizes the threat posed by rising global Islamophobia to American Muslims and Muslims in other countries across the world, as well as the threat white supremacism poses to all people."
"It is incredibly important for Congress to lead the way in rejecting these hateful and dangerous ideologies, and CAIR calls on both sides of the aisle to co-sponsor and adopt this resolution," McCaw added. "As we remember the lives lost in Christchurch, we must continue to work towards a world where everyone is treated with humanity and dignity, regardless of their faith, ethnicity, or background."
In 2021, the Democratic-controlled House narrowly passed a resolution introduced by Omar aimed at combating Islamophobia after Rep. Lauren Boebert (R-Col.) referred to her and Rep. Rashida Tlaib (D-Mich.)—the only two Muslim women in Congress—as the "jihad squad."

The House GOP, which now narrowly controls the chamber, voted last month to remove Omar from the foreign affairs panel. Just before the vote, the congresswoman said that Republicans "are not OK with having a Muslim have a voice on that committee."
Omar's new federal resolution stood in stark contrast with Texas state Rep. Tony Tinderholt's (R-94) vote against a legislative resolution celebrating Ramadan.
"As a combat veteran, I served beside many local translators who were Muslims and good people," the Iraq War veteran explained. "I can also attest that Ramadan was routinely the most violent period during every deployment."
"Texas and America were founded on Christian principles and my faith as a Christian prevents me from celebrating Ramadan," Tinderholt added.
Responding to Tinderholt's statement, CAIR tweeted: "Every elected official has the right to express their own sincerely held religious beliefs—and we welcome that. But to insult another religion is uncalled for and harmful."

News
SUPPORT OUR WORK.
We are independent, non-profit, advertising-free and 100%
reader supported.