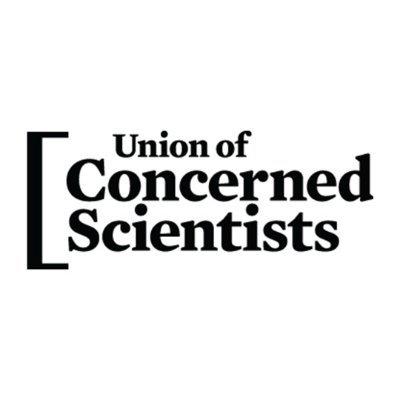 For Immediate Release
Contact:
Emily Robinson, 312-578-1750 ext. 15
Genetic Engineering Has Failed to Significantly Boost US Crop Yields Despite Biotech Industry Claims, New Report Finds
Increases Over the Last Decade Due to Traditional Breeding and Conventional Agricultural Improvements
WASHINGTON
For years, the biotechnology industry has trumpeted that it will feed
the world, promising that its genetically engineered crops will produce
higher yields.
That
promise has proven to be empty, according to a new report by the Union
of Concerned Scientists (UCS). Despite 20 years of research and 13
years of commercialization, genetic engineering has failed to
significantly increase U.S. crop yields.
"The
biotech industry has spent billions on research and public relations
hype, but genetically engineered food and feed crops haven't enabled
American farmers to grow significantly more crops per acre of land,"
said Doug Gurian-Sherman, a biologist in the UCS Food and Environment
Program and author of the report. "In comparison, traditional breeding
continues to deliver better results."
The
report, "Failure to Yield: Evaluating the Performance of Genetically
Engineered Crops," is the first to closely evaluate the overall effect
genetic engineering has had on crop yields in relation to other
agricultural technologies. It reviewed two dozen academic studies of
corn and soybeans, the two primary genetically engineered food and feed
crops grown in the United States.
Based on those studies, the UCS report concluded that genetically
engineering herbicide-tolerant soybeans and herbicide-tolerant corn has
not increased yields. Insect-resistant corn, meanwhile, has improved
yields only marginally. The increase in yields for both crops over the
last 13 years, the report found, was largely due to traditional
breeding or improvements in agricultural practices. (For the report, go
here.)
The UCS report comes at a time when food
price spikes and localized shortages worldwide have prompted calls to
boost agricultural productivity, or yield -- the amount of a crop
produced per unit of land over a specified amount of time.
Biotechnology companies maintain that genetic engineering is essential
to meeting this goal. Monsanto, for example, is currently running an
advertising campaign warning of an exploding world population and
claiming that its "advanced seeds . significantly increase crop
yields.." (For a pdf of the ad, go here.)
The UCS report debunks that claim, concluding that genetic engineering
is unlikely to play a significant role in increasing food production in
the foreseeable future.
The
biotechnology industry has been promising better yields since the
mid-1990s, but "Failure to Yield" documents that the industry has been
carrying out gene field trials to increase yields for 20 years without
significant results.
"After
more than 3,000 field trials, only two types of engineered genes are in
widespread use, and they haven't helped raise the ceiling on potential
yields," said Margaret Mellon, a microbiologist and director of UCS's
Food and Environment Program. "This record does not inspire confidence
in the future of the technology."
"Failure
to Yield" makes a critical distinction between potential -- or
intrinsic -- yield and operational yield, concepts that are often
conflated by the industry and misunderstood by others. Intrinsic yield
refers to a crop's ultimate production potential under the best
possible conditions. Operational yield refers to production levels
after losses due to pests, drought and other environmental factors.
The
study reviewed the intrinsic and operational yield achievements of the
three most common genetically altered food and feed crops in the United States: herbicide-tolerant soybeans, herbicide-tolerant corn and insect-resistant corn (known as Bt corn, after the bacterium Bacillus thuringiensis, whose genes enable the corn to resist several kinds of insects).
Herbicide-tolerant soybeans, herbicide-tolerant corn and Bt
corn have failed to increase intrinsic yields, the report found.
Herbicide-tolerant soybeans and herbicide-tolerant corn also have
failed to increase operational yields, compared with conventional
methods.
Meanwhile, the report found that Bt corn likely provides a marginal operational yield advantage of 3 to 4 percent over typical conventional practices. Since Bt
corn became commercially available in 1996, its yield advantage
averages out to a 0.2 to 0.3 percent yield increase per year. To put
that figure in context, overall U.S.
corn yields over the last several decades have annually averaged an
increase of approximately 1 percent, which is considerably more than
what Bt traits have provided.
In
addition to evaluating genetic engineering's record, "Failure to Yield"
considers the technology's potential role in increasing food production
over the next few decades. The report does not discount the possibility
of genetic engineering eventually contributing to increase crop yields.
It does, however, suggest that it makes little sense to support genetic
engineering at the expense of technologies that have proven to substantially increase yields, especially in many developing countries.
In addition, recent studies have shown that organic and similar farming
methods that minimize the use of pesticides and synthetic fertilizers
can more than double crop yields at little cost to poor farmers in such
developing regions as Sub-Saharan Africa.
The
report recommends that the U.S. Department of Agriculture, state
agricultural agencies, and universities increase research and
development for proven approaches to boost crop yields. Those
approaches should include modern conventional plant breeding methods,
sustainable and organic farming, and other sophisticated farming
practices that do not require farmers to pay significant upfront costs.
The report also recommends that U.S. food aid organizations make these more promising and affordable alternatives available to farmers in developing countries.
"If
we are going to make headway in combating hunger due to overpopulation
and climate change, we will need to increase crop yields," said
Gurian-Sherman. "Traditional breeding outperforms genetic engineering
hands down."
The Union of Concerned Scientists is the leading science-based nonprofit working for a healthy environment and a safer world. UCS combines independent scientific research and citizen action to develop innovative, practical solutions and to secure responsible changes in government policy, corporate practices, and consumer choices.
LATEST NEWS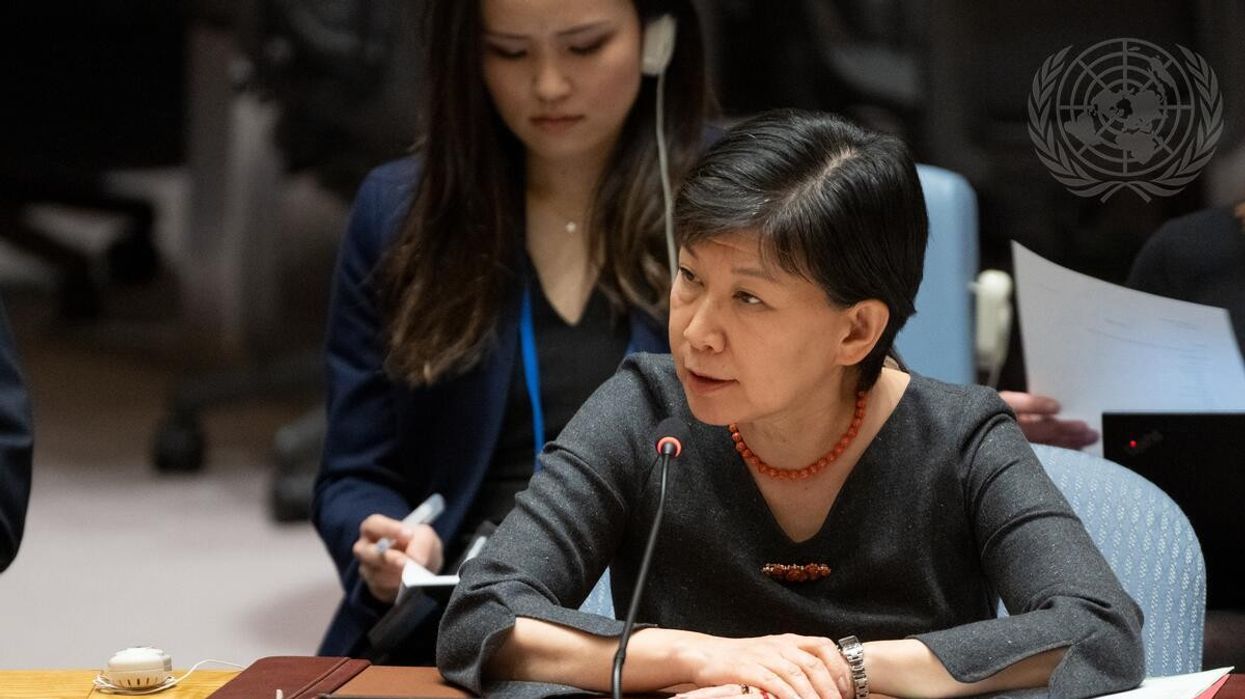 "The absence of dialogue and the erosion of the disarmament and arms control architecture, combined with dangerous rhetoric and veiled threats, are key drivers of this potentially existential risk."
The United Nations disarmament chief on Friday called for de-escalatory talks to curb the risk of nuclear war amid global concerns about Russian President Vladimir Putin's plan to station so-called "tactical" nuclear weapons in Belarus.
Roughly 13 months into the Russian invasion of Ukraine, Putin announced what critics called the "extremely dangerous escalation" last weekend, as United Nations High Representative for Disarmament Affairs Izumi Nakamitsu noted at the beginning of her briefing to the U.N. Security Council—which Russia, a permanent member, is set to lead for a month starting on Saturday.
Nakamitsu's remarks came as Belarusian President Alexander Lukashenko, in a speech to his country's Parliament, claimed without evidence that the United States and other Western nations plan to take over both Belarus and neighboring Poland, and vowed that "we will protect our sovereignty and independence by any means necessary."
"States must avoid taking any actions that could lead to escalation, mistake, or miscalculation."

Nakamitsu said that "the risk of a nuclear weapon being used is currently higher than at any time since the depths of the Cold War. The war in Ukraine represents the most acute example of that risk. The absence of dialogue and the erosion of the disarmament and arms control architecture, combined with dangerous rhetoric and veiled threats, are key drivers of this potentially existential risk."
"States must avoid taking any actions that could lead to escalation, mistake, or miscalculation," she continued. "They should return to dialogue to de-escalate tensions urgently and find ways to develop and implement transparency and confidence-building measures."
Putin justified the deployment plan in part by insisting that the weapons will remain under Russian control and pointing to the U.S. nukes that have been stationed in allied European countries for decades. The United States—which has the world's second-largest nuclear arsenal after Russia—is believed to have about 100 such bombs spread across Belgium, Germany, Italy, the Netherlands, and Turkey.
Both Russia and the United States are parties to the Nuclear Nonproliferation Treaty (NPT). Nakamitsu stressed Friday that all parties to the treaty, whether or not they have nukes, "must strictly adhere to the commitments and obligations they have assumed under the treaty."
\u201cToday, High Representative @INakamitsu urged dialogue to reduce nuclear risk and de-escalate tensions during @UN Security Council briefing on the threat to international peace and security.\n\nRead \u25b6\ufe0f\u00a0https://t.co/iLA5M3miD7\u201d

— ODA (@ODA) 1680279137
The issue of a state without its own weapons hosting some from one of the world's nine nuclear-armed nations "has existed for decades, across various regions and under different arrangements. These arrangements pre-date the NPT, with the exception of the recent announcement," Nakamitsu acknowledged. "The issue of so-called 'nuclear sharing' was debated intensely during the negotiation of the NPT" and "has been the subject of subsequent discussions."
After echoing U.N. Secretary-General António Guterres' call for Russia and the United States "to return to full implementation of the New START Treaty and commence negotiations on its successor," Nakamitsu said that "the accelerated implementation of commitments under the NPT can also contribute to undergirding international stability. I therefore appeal to all states parties of the NPT to fully adhere to their obligations to the treaty, and to immediately engage in serious efforts to reduce nuclear risk and de-escalate tensions."
Meanwhile, the U.S. and Russian ambassadors took aim at each other's countries during the U.N. Security Council meeting.

"We are pursuing cooperation with Belarus without violating obligations," argued Vassily Nebenzia, the Russian ambassador, highlighting the U.S. warheads across Europe. "We are not transferring nuclear weapons."
According toU.N. News:
Russia must take "all requisite measures" in response to "provocative steps," [Nebenzia] said, given the fraying global security architecture, dictated exclusively by Washington, along with London's recent decision to deploy armor-piercing ammunition to Ukraine.

"A nuclear war cannot be won," he said.

Russia's suggestion that this intended deployment is justified because of the use of armor-piercing ammunition supplied by Western forces, containing depleted uranium, is "ludicrous," U.S. Ambassador Robert Wood said.

"Armour-piercing ammunition is in no way analogous to tactical nuclear weapons," he said, adding that the Kremlin is attempting to limit and deter Ukraine's efforts to defend itself, and manipulate matters to win the war.
"Any use of nuclear weapons in Ukraine would have severe consequences and would fundamentally change the nature of this war," Wood added, urging Russia to reconsider its decision to deploy nukes in Belarus.

News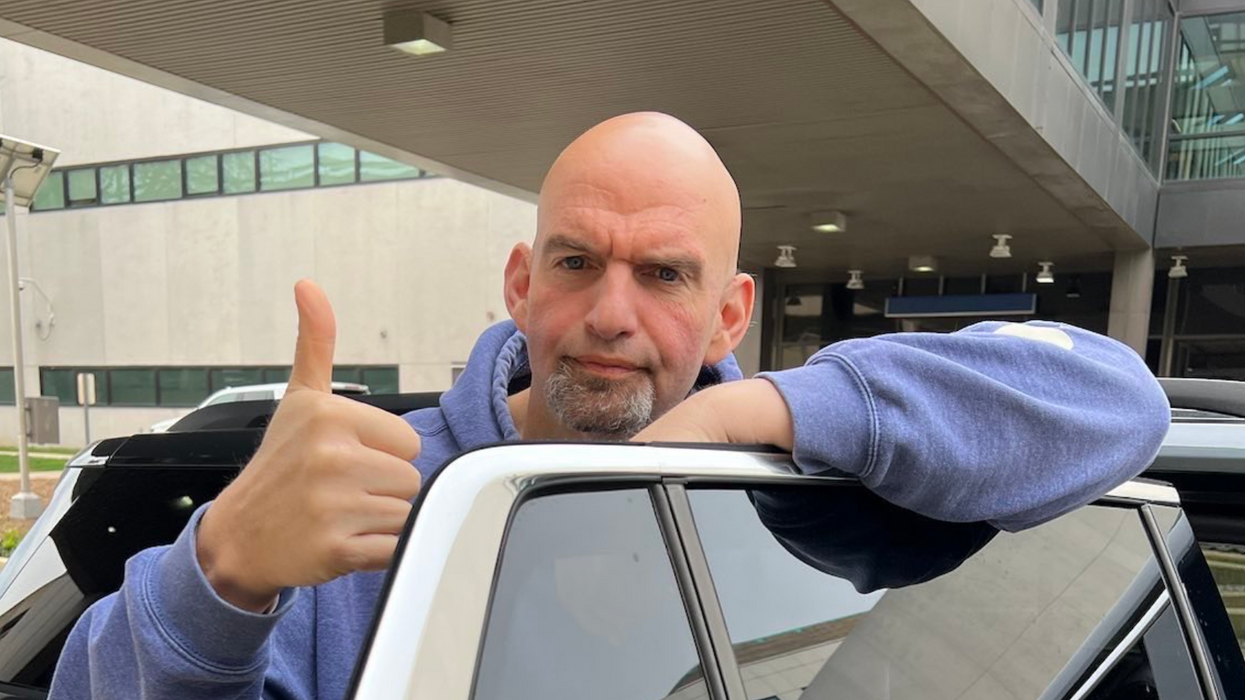 "I'm excited to be the father and husband I want to be, and the senator Pennsylvania deserves," the freshman lawmaker said.
Democratic U.S. Senator John Fetterman is back in his hometown of Braddock, Pennsylvania and looking forward to returning to work soon after being released Friday from Walter Reed military hospital in Maryland, where he was treated for depression.
"I am so happy to be home. I'm excited to be the father and husband I want to be, and the senator Pennsylvania deserves," Fetterman—who was hospitalized for more than a month—said in a statement Friday. "Pennsylvanians have always had my back, and I will always have theirs."
"I am extremely grateful to the incredible team at Walter Reed. The care they provided changed my life," he continued. "I will have more to say about this soon, but for now I want everyone to know that depression is treatable, and treatment works."
\u201cI am so happy to be home. I\u2019m excited to be the father and husband I want to be, and the senator Pennsylvania deserves.\n\nPennsylvanians have always had my back, and I will always have theirs.\u201d

— Senator John Fetterman (@Senator John Fetterman) 1680298883
"This isn't about politics—right now there are people who are suffering with depression in red counties and blue counties," the senator—who also suffered a stroke while campaigning during the Democratic primary race last year—added. "If you need help, please get help."
In an interview slated to be aired on "CBS Sunday Morning" this weekend, Fetterman told anchor Jane Pauley that, for him, depression is like "you just won the biggest, you know, race in the country, and the whole thing about depression is that, objectively, you may have won, but depression can absolutely convince you that you actually lost."
"And that's exactly what happened," he added. "And that was the start of a downward spiral."
\u201cSix weeks after entering Walter Reed National Military Medical Center for inpatient treatment for depression, Sen. @JohnFetterman shares his struggle with depression, his health, and more in an intimate interview with Jane Pauley this "Sunday Morning."\u201d

— CBS Sunday Morning \ud83c\udf1e (@CBS Sunday Morning \ud83c\udf1e) 1680298547
Fetterman is set to return to work the week of April 17 following the congressional recess, Politicoreports.
While still in the hospital on Thursday, Fetterman introduced his first bill—a railroad safety and accountability measure—with Sens. Bob Casey (D-Pa.) and Sherrod Brown (D-Ohio).

News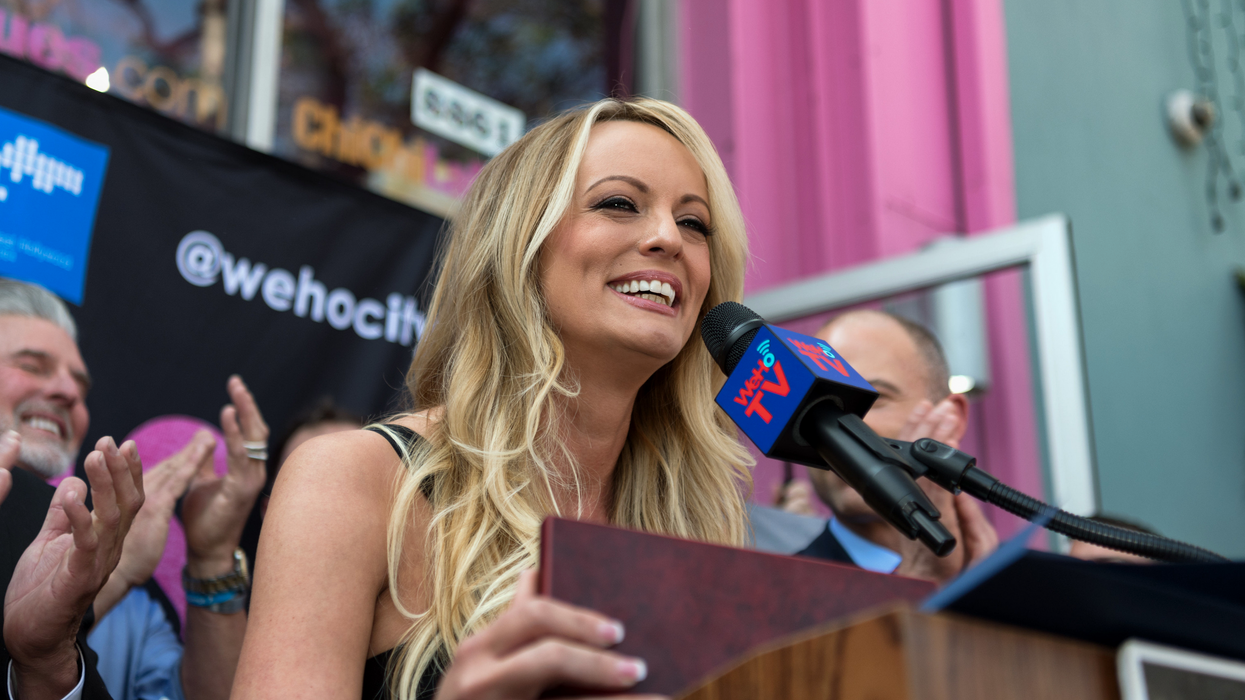 The porn star said she is unafraid of facing the former president in court: "I've seen him naked. There's no way he could be scarier with his clothes on."

Stormy Daniels reacted Friday to the criminal indictment of former U.S. President Donald Trump with a play on his infamous taped remarks seemingly confessing to sexually assaulting women.
"This pussy grabbed back," Daniels—the porn star paid $130,000 by Trump fixer Michael Cohen in return for silence about an alleged 2006 sexual encounter with the future president—told TheTimes of London in a paywalled article.
One month before the 2016 presidential election, a 2005 recording of Trump telling "Access Hollywood" host Billy Bush that "when you're a star," women let you "do anything" to them," including "grab 'em by the pussy" surfaced.
More than two dozen women and a 13-year-old girl have accused Trump—a 2024 Republican presidential candidate—of sexual misconduct, including assault.

"Trump is no longer untouchable," Daniels continued in the interview. "A person in power is not exempt from the law. And no matter what your job is, or what your bank account says, you're held accountable for the things you've said and done, and justice is served."
\u201c\ud83d\udd3a EXCLUSIVE: Stormy Daniels speaks out after Trump is charged with paying alleged hush money.\n\n\u201cHe\u2019s done so much worse that he should have been taken down [for] before. I am fully aware of the insanity of it being a porn star. But it\u2019s also poetic; this pussy grabbed back\u201d\u201d

— The Times and The Sunday Times (@The Times and The Sunday Times) 1680282617
Daniels called Trump's indictment—which reportedly involves over 30 as-of-yet unspecified counts stemming from the $130,000 payment—a "vindication."
"But it's bittersweet," she added. "He's done so much worse that he should have been taken down [for] before. I am fully aware of the insanity of it being a porn star. But it's also poetic."
Trump is both the first president to be impeached twice and the first ex-president to face criminal charges.

Daniels said she learned about the indictment while she was out riding her horse, whose name is Redemption.
"There's something really ironic and hilarious that I got the news about the indictment while I was sitting on a horse named Redemption," she said, adding that she used some of the $130,000 hush money payment to buy a horse trailer.
\u201cThank you to everyone for your support and love! I have so many messages coming in that I can't respond...also don't want to spill my champagne \ud83d\ude1c #Teamstormy merch/autograph orders are pouring in, too! Thank you for that as well but allow a few extra days for shipment.\u201d

— Stormy Daniels (@Stormy Daniels) 1680219745
Daniels said the indictment will "divide people" and questioned whether Trump would ultimately be held accountable, noting that he has "already gotten away with inciting a riot."

"Whatever the outcome is, it's going to cause violence, and there's going to be injuries and death," Daniels warned. "There's the potential for a lot of good to come from this. But either way, a lot of bad is going to come from it, too."
However, Daniels says she's undaunted by the prospect of facing Trump in court.
"I've seen him naked," she explained. "There's no way he could be scarier with his clothes on."
News
SUPPORT OUR WORK.
We are independent, non-profit, advertising-free and 100%
reader supported.