For Immediate Release
December, 03 2008, 11:48am EDT
Contact:
Mark Kastel, 608-625-2042
Last Minute Rulemaking by Bush USDA Threatens Organic Farmers
Consumers and Farmers Join Together to Promote Organic Integrity
CORNUCOPIA, Wisconsin
Many media outlets, from the New York Times to the blogosphere, have
tracked what has been dubbed the "corporate takeover" of organic
farming. One of the hottest controversies in this rapidly growing $20 billion
industry has been giant factory farms milking thousands of cows each in
feedlots and masquerading as organic. Some of these industrial dairies are
controlled by the nation's largest agribusinesses.
Since the organic community first appealed to the USDA for
better clarification and enforcement of regulations requiring organic dairy
producers to graze their cattle, nearly 9 years ago, the number of giant industrial
dairy operations, with as many as 10,000 cows, has grown from two to
approximately 15. After years of delay, the USDA has finally responded with a new
proposed rule that they said would crack down on abuses.
"The birds have come home to roost," said Mark
Kastel, Senior Farm Policy Analyst for The Cornucopia Institute. The
Wisconsin-based farm policy research group estimates there are 35,000 to 45,000
cows on giant CAFOs (concentrated animal feeding operations) operating in the
United States producing as much as 40% of the nation's organic milk supply.
"These CAFOs are producing so much milk that they have depressed
pricing and profit margins for organic family farmers, and now some are being
forced out of business by this distressing situation," Kastel said. "Organics
was supposed to be the antidote to family farmers being forced off the
land."
The Cornucopia Institute has filed formal legal complaints
with the USDA aimed at compelling the agency to enforce organic livestock and
management rules. These actions have led to the shut down or penalizing of
some of what they call "organic scofflaws." But many in the industry
criticized the agency for failing to fully investigate many other alleged
violations on giant farms, including several that supply milk to the nation's
largest dairy processor, Dallas-based Dean Foods.
The new USDA rule proposal and its analysis total 26 pages,
as published in the Federal Register. The draft rule complies with organic
community requests to close specific loopholes being exploited by factory farms
confining their cattle. But it also represents the broadest rewrite of federal
organic regulations in the $20 billion industry's relatively short history.
Some farm advocates believe that the new rules, if enacted,
would put out of business the majority of organic livestock
farmers-including hundreds who are operating ethically.
"At first we were delighted that the USDA had stopped
their delaying tactics and finally published a rule cracking down on the large
factory farms that have been 'scamming' organic consumers and
placing ethical family farmers at a competitive disadvantage," stated Bill
Welch, former member of the National Organic Standards Board and an Iowa
livestock producer. "Many in the industry have spent the past weeks
carefully examining this dense document, and it has become painfully clear that
it would not only crack down on certain factory farm abuses, but it's
also so restrictive that it would likely put the majority of family farmers producing
organic milk and meat out of business.
"It's inexcusable," noted Ronnie
Cummins, Director of the Organic Consumers Association, "that the USDA would
allow, as part of this rule, that conventional cattle can be brought onto
organic farms, and milked, on a continuous basis."
In response to the USDA's sweeping livestock/pasture
proposal, a consortium of organizations representing organic family farmers has
crafted an "alternative" rule proposal. Led by FOOD Farmers, with
support from The Cornucopia Institute, organic certifiers, and other policy
experts, the revisions they have drafted would carry out what is said to be the
will of the organic community, farmers and consumers.
"You don't have to take the word of The Cornucopia
Institute alone that the Department has 'Katrina-ed' the organic
industry," Kastel stated. "The USDA rule proposal is just the
latest salvo in this fight," added Kastel. He noted that audits by the
American National standard Institute (ANSI) and the Inspector General's office
were both highly critical of the USDA's execution of its Congressional mandate
to oversee the organic industry.
The community's alternative proposal, which is now
being circulated among organic farmers and consumer groups, would require that
all organic dairy, sheep, goat, and beef producers graze their animals for the
entire grazing season and sets a minimum percentage of feed from pasture.
A growing body of scientific literature illustrates the
nutritional superiority of milk and meat from organic animals that are grazed
on fresh grass, including higher levels of antioxidants and beneficial fats,
like omega-3 fatty acids, that protect against cancer and heart disease.
"The good news continues to be that the vast majority
of all organic dairy brands available in the marketplace
use milk produced by family farmers," observed Cummins. "These farmers
truly uphold the high expectations that their customers have," Cummins
said.
The Cornucopia Institute just updated their path-breaking research
study of the organic dairy sector. The group's scorecard (found at www.cornucopia.org), reveals that 85% of
the nation's 110 organic dairy brands are meeting the letter and spirit of current
organic federal law. "Out of 1800 organic dairy farms in this country,
the very few factory farms are a bad aberration, although they are producing
huge quantities of milk," explained Cornucopia's Kastel.
Because of the broad scope of the USDA's proposed rule
making, Cornucopia, the Organic Consumers Association, and some the largest
organic certifiers and other groups representing farmers and consumers are formally
asking the USDA to extend the public comment period for an additional 30 days
to January 23, 2009.
- 30 -
MORE:
New, major policies proposed by the USDA
livestock/pasture rule (never reviewed or recommended by the National Organic
Standards Board) include:
Eliminating
the fattening of beef cattle on grain, in feedlots, for the last few
months of their lives. Although many might view this proposal as
meritorious it would radically change the industry and could force some
operators out of business. Full analysis and discussion by the
organic community is vitally necessary.
Requiring
animals to be outside year-round, without exemptions for extreme weather
conditions, would put the lives and well-being of livestock at risk and
economically injure farmers.
Setting
aside part of a farmer's land in a "sacrifice" pasture for when
weather conditions make grazing unsuitable. This might be a
provision that some current operators cannot meet and might violate
certain state and federal environmental standards. This may have positive
application, but its overall impacts have never been fully analyzed.
Classifying
bees and fish as livestock will likely garner positive and negative
response from that industry sector depending on its perceived present and
future regulatory impact.
The
USDA draft rule ignores the NOSB recommendation to eliminate the
"continual transition" of conventional cattle, brought onto
organic dairy operations. The industry has universally agreed that
all animals brought onto a farm, after its initial transition to organics,
must be managed organically from the last third of gestation.
Animals raised for meat already have to meet this higher standard.
Many industry experts feel that the USDA has misinterpreted the law, for
years, allowing giant factory farms to "burn out" their cattle
and prematurely sending them to slaughter, then replace them with cheap
conventional cattle on an ongoing basis. This new rulemaking
proposes that the Department's "misinterpretations" become
institutionalized as law.
"This 26-page document put forth by
the USDA may so muddy the water that we could be facing years of additional
delays until the widely agreed-upon provisions for dairy are enacted,"
said Kastel.
Certain industry players, including the
dairy giant Dean Foods and Aurora Dairy, the nation's largest private-label
producer of organic milk (Wal-Mart, Target, Costco, Safeway, etc.) have based
their business model on exploiting the trust of the organic consumer and
violating both the spirit and letter of the organic law (full documentation
available).
The USDA's proposed pasture rule,
along with the "alternative" proposal endorsed by organic farmers and
consumers, can be viewed at:
https://www.cornucopia.org/usda-proposed-organic-pasture-livestock-rule/
The Cornucopia Institute, a Wisconsin-based nonprofit farm policy research group, is dedicated to the fight for economic justice for the family-scale farming community. Their Organic Integrity Project acts as a corporate and governmental watchdog assuring that no compromises to the credibility of organic farming methods and the food it produces are made in the pursuit of profit.
LATEST NEWS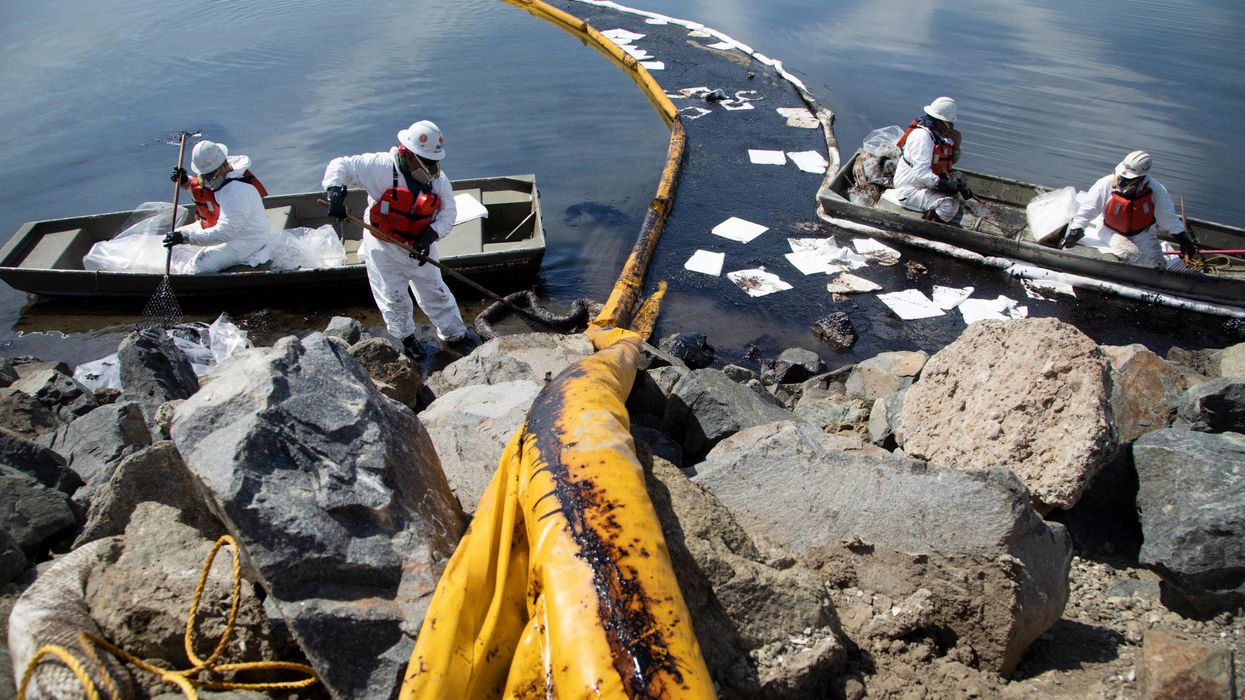 "The decision to halt fracking was exceedingly well-reasoned, and I hope the court rejects the oil industry's reckless attempt to overturn the 9th Circuit's ruling," said one campaigner.
The American Petroleum Institute and a pair of oil companies filed a petition for certiorari with the U.S. Supreme Court on Wednesday in a bid to overturn a lower federal court ruling that blocked fracking in public waters off California's coast.
"The decision to halt fracking was exceedingly well-reasoned, and I hope the court rejects the oil industry's reckless attempt to overturn the 9th Circuit's ruling," Kristen Monsell, oceans legal director at the Center for Biological Diversity (CBD), said in a statement. "Fracking is dangerous to whales, sea otters, and other marine wildlife, and this dirty, harmful technique has no place in our ocean."
CBD and the Wishtoyo Foundation sued the Trump administration to stop offshore fracking in 2016. Then-California Attorney General Kamala Harris filed a similar case.
In 2018, U.S. District Judge Philip S. Gutierrez ordered a prohibition on permits for offshore fracking in federal waters off California, ruling that the U.S. Department of Interior (DOI) had failed to adhere to multiple federal laws.
A three-judge panel of the 9th Circuit Court of Appeals upheld Gutierrez's decision last June, arguing that the DOI violated the Endangered Species Act, the National Environmental Policy Act, and the Coastal Zone Management Act when it allowed fracking in offshore oil and gas wells in all leased public waters off California.
In late August, the Biden administration, of which Harris is the vice president, asked the 9th Circuit for an en banc review to overturn the panel's ruling.
The Biden administration's request, which drew the ire of environmentalists because it would have enabled offshore fracking to resume, was denied in September.
"Fracking is dangerous to whales, sea otters, and other marine wildlife, and this dirty, harmful technique has no place in our ocean."
In its June ruling, the 9th Circuit stated that the DOI "should have prepared a full [environmental impact statement] in light of the unknown risks posed by the well stimulation treatments and the significant data gaps that the agencies acknowledged."
Instead, the agency "disregarded necessary caution when dealing with the unknown effects of well stimulation treatments and the data gaps associated with a program of regular fracking offshore California in order to increase production and extend well life," the 9th Circuit wrote.
The panel's decision prevents the DOI from issuing fracking permits until it completes Endangered Species Act consultations and published an environmental impact statement that "fully and fairly evaluate[s] all reasonable alternatives."
In addition to the fact that offshore fracking increases planet-wrecking greenhouse gas emissions, tens of millions of gallons of toxic fracking wastewater have been dumped into the ocean since 2010.
According to CBD scientists, "At least 10 chemicals routinely used in offshore fracking could kill or harm a broad variety of marine species, including sea otters, fish, leatherback turtles, and whales."
News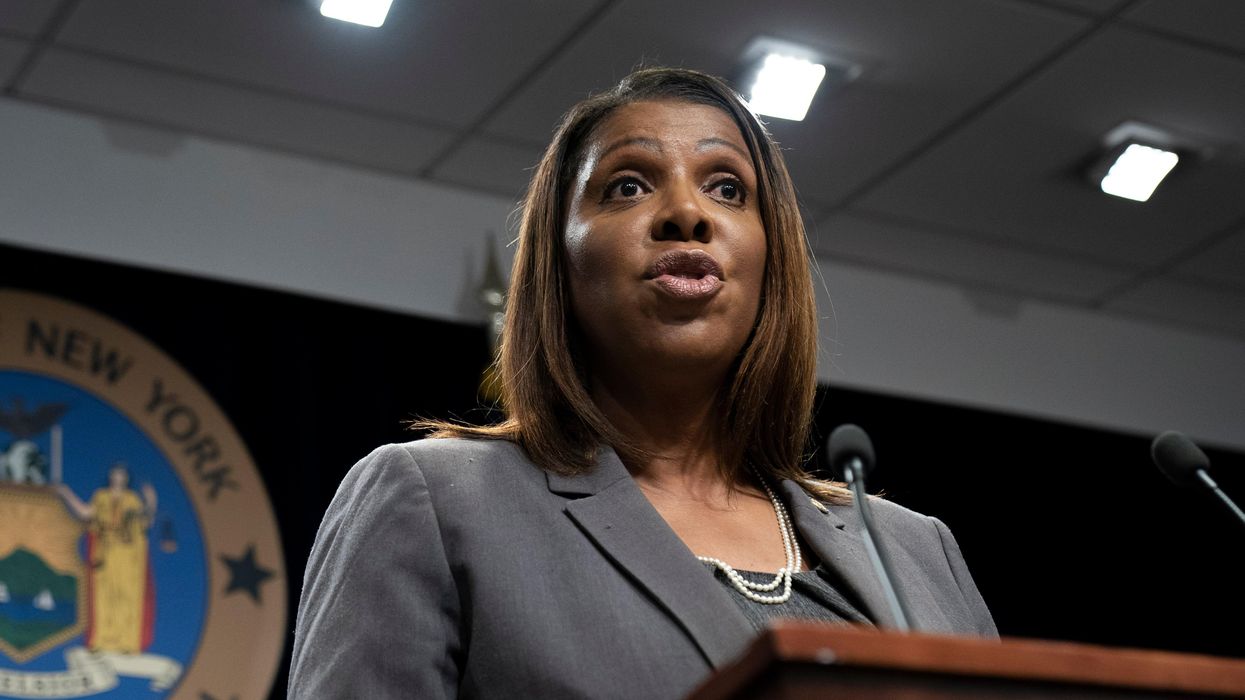 James's warning to MSG Entertainment illustrates the "growing consensus against the use of facial recognition in places of public accommodation," said one advocate.
The digital rights group Fight for the Future was among those applauding New York Attorney General Letitia James on Wednesday as she demanded answers from MSG Entertainment, the owner of Madison Square Garden and Radio City Music Hall, over its use of facial recognition technology to deny entry to lawyers whose firms represent people suing the company.
James wrote to MSG Entertainment and its CEO, James Dolan, to warn that they may be violating civil rights laws in New York by barring attorneys from entering their properties, even if they are not involved in litigation against the company.
"Such practices certainly run counter to the spirit and purpose of such laws, and laws promoting equal access to the courts: forbidding entry to lawyers representing clients who have engaged in litigation against the company may dissuade such lawyers from taking on legitimate cases, including sexual harassment or employment discrimination claims," wrote the attorney general.

James's letter shows that there is a "growing consensus against the use of facial recognition in places of public accommodation," said Fight for the Future director Evan Greer.

\u201cGreat to see this. Growing consensus against the use of facial recognition in places of public accommodation https://t.co/9N0Py4Mzw3\u201d

— Evan Greer is on Mastodon (@Evan Greer is on Mastodon) 1674675393
The letter came a month after The New York Timesreported that Kelly Conlon, a personal injury attorney, had been informed by security guards at Radio City Music Hall that she was on an "attorney exclusion list" when she tried to enter the theater for a show in November. Conlon had been identified by facial recognition technology and flagged as being prohibited from entering because her law firm is involved in litigation against one of MSG Entertainment's restaurants.

"Reports indicate that approximately 90 law firms are impacted by the company's policy, constituting thousands of lawyers," James wrote to the company.

Since October, MSG Entertainment has removed at least four attorneys from their properties, forbidding them from attending sports games and concerts because of where they work. Dolan has claimed the policy is aimed at preventing attorneys from collecting evidence "outside proper litigation discovery channels."

Employment lawyer Benjamin Noren told the Times earlier this month that despite Dolan's claims, the policy is "a transparent effort... to stop attorneys from suing them."
"MSG Entertainment cannot fight their legal battles in their own arenas," James said in a statement. "Madison Square Garden and Radio City Music Hall are world-renowned venues and should treat all patrons who purchased tickets with fairness and respect. Anyone with a ticket to an event should not be concerned that they may be wrongfully denied entry based on their appearance, and we're urging MSG Entertainment to reverse this policy."
Caitlin Seeley George, campaigns and managing director at Fight for the Future, said MSG Entertainment's use of facial recognition illustrates "the crux of the threat of this technology" and how it is "an inherently dangerous affront to peoples' rights."
"Despite the current attention on how this policy is impacting lawyers, the truth is the impact will always be disproportionately greater for marginalized communities," said Seeley George. "James Dolan and Madison Square Garden Entertainment are adding to the long history of people in power using surveillance to silence opposition. We need lawmakers to defend peoples' rights and put an end to facial recognition in public places immediately."

News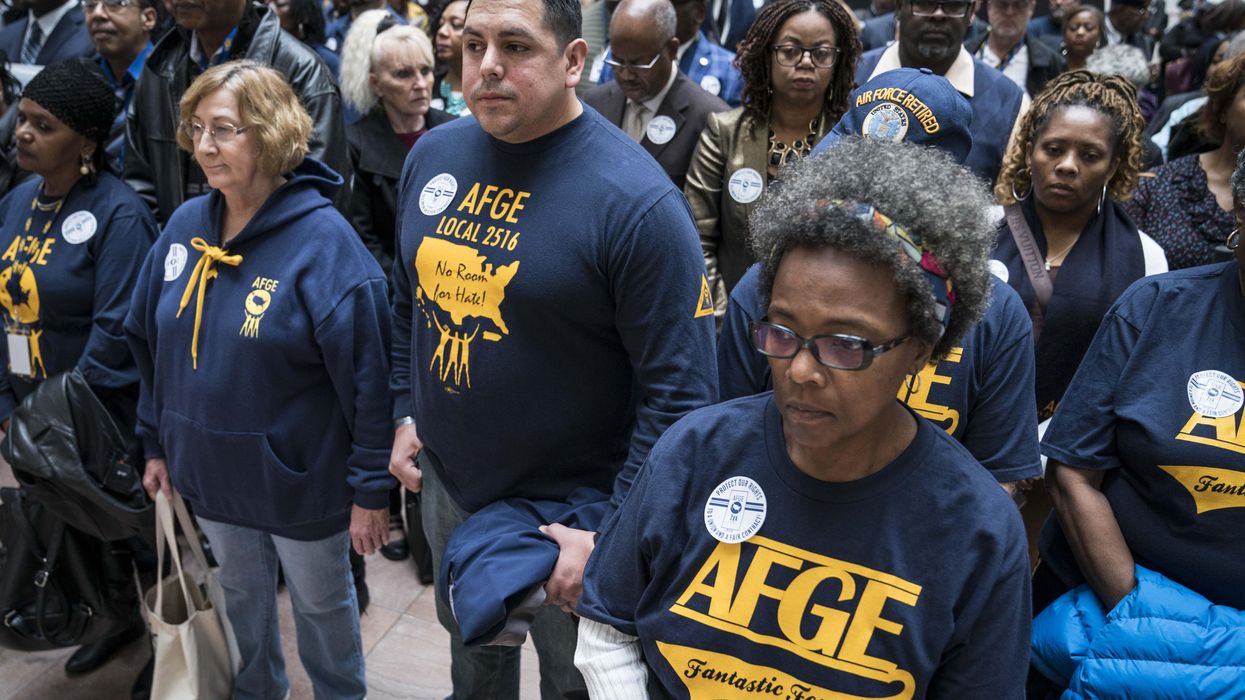 "The debt limit must be cleanly raised to avoid default and ensure the continuation of funding for the government and critical programs," the AFGE president told lawmakers.
The largest union of federal workers in the U.S. urged Congress this week to raise the debt ceiling without mandating reductions in social spending, arguing that President Joe Biden is right to reject the GOP's attempt to use the nation's borrowing limit as leverage to force through devastating cuts.
"The debt limit must be cleanly raised to avoid default and ensure the continuation of funding for the government and critical programs like Social Security, Medicare, veterans' benefits, and the U.S. military," Everett Kelley, president of the American Federation of Government Employees (AFGE), wrote in a letter sent to every member of Congress on Monday. "No negotiation that puts these programs or any aspect of federal employee compensation at risk should be considered."
Several House Republicans are threatening to block the lifting of the country's borrowing cap—an arbitrary and arguably unconstitutional figure set by Congress—unless Democrats agree to slash government spending, including on vital social programs
Notably, Capitol Hill's deficit hawks oppose reducing the Pentagon's ever-growing budget and rescinding former President Donald Trump's tax cuts for the wealthy.
The U.S. government's outstanding debt officially hit the statutory limit of $31.4 trillion last Thursday, at which point the Treasury Department started repurposing federal funds.
Treasury Secretary Janet Yellen recently told congressional leaders that "the use of extraordinary measures enables the government to meet its obligations for only a limited amount of time," possibly through early June. She implored Congress to "act in a timely manner to increase or suspend the debt limit," warning that "failure to meet the government's obligations would cause irreparable harm to the U.S. economy, the livelihoods of all Americans, and global financial stability."
A 2011 debt ceiling standoff enabled the GOP to impose austerity and led to a historic downgrading of the U.S. government's credit rating, but the country has never defaulted on its debt. Economists warn that doing so would likely trigger chaos in financial markets, resulting in millions of job losses and the elimination of $15 trillion in wealth.
Aware that an economic calamity is at stake, many Republican lawmakers "have announced that they will not support an increase in the debt ceiling without concomitant reductions in spending, possibly in the form of reductions to Social Security, Medicare, and Medicaid," Kelley wrote in the letter sent earlier this week.
"The White House says it will not negotiate such an arrangement," he added. "AFGE strongly supports the administration's refusal to negotiate on this matter."
"No negotiation that puts these programs or any aspect of federal employee compensation at risk should be considered."
In a Wednesday speech from the floor of the upper chamber, Senate Majority Leader Chuck Schumer (D-N.Y.) criticized "the House GOP's reckless approach to the debt ceiling" and challenged Speaker Kevin McCarthy (R-Calif.) "to level with the American people" on which popular programs his party wants to cut.
"The debt ceiling is a subject of the highest consequence, and using it as a bargaining chip, using it as brinkmanship, as hostage-taking, as Republicans are trying to do is exceedingly dangerous," said Schumer.
"If the House of Representatives continues on [its] current course and allows the United States to default on its debt obligations, every single American is going to pay a terrible and expensive price," Schumer continued. "The consequences of default are not some theoretical abstraction; if default happens, Americans will see the consequences in their daily lives."
"Interest rates will go soaring on everything from credit cards, and student loans, to cars, mortgages, and more," he added. "That's thousands of dollars for each American going right out the door, and it will happen through no fault of their own."
As many observers pointed out repeatedly in the wake of the midterm elections, Democrats had the power to prevent this high-risk game of brinkmanship altogether by raising the debt ceiling—or abolishing it completely—when they still controlled both chambers of Congress.
Despite ample warnings from Sen. Elizabeth Warren (D-Mass.) and other progressive lawmakers and advocacy groups, conservative Democrats refused to take unilateral action during the lame-duck session.
On Wednesday, Schumer pleaded with GOP lawmakers to simply raise the debt ceiling without demanding policy concessions in exchange.
"I'd remind my Republican colleagues that they did it before when Trump was president three times; no Democratic obstruction or hostage-taking," said Schumer. "We did it once together when Biden was president. And much of this debt comes from spending when Trump was president, voted on by a Republican House and a Republican Senate."
"It's a bit of hypocrisy now to say that they can't do it again, and they are holding it hostage and are playing a dangerous form of brinksmanship," Schumer argued. "It shouldn't matter who is president. It's still bills we already incurred that must be paid for the good of all Americans."
News
SUPPORT OUR WORK.
We are independent, non-profit, advertising-free and 100%
reader supported.