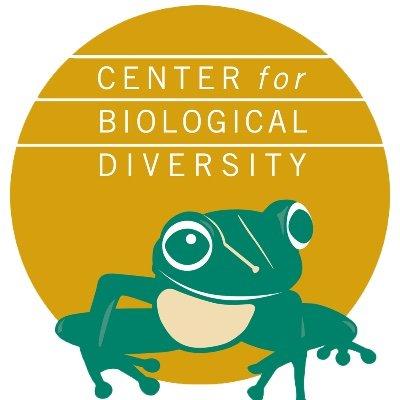 For Immediate Release
Contact:
Miyoko Sakashita, Center for Biological Diversity, (415) 436-9682 x 308 or (510) 845-6703 (cell)
Group Plans Suit Against Bush Administration for Ignoring Global Warming Threat to Coral Habitat
Federal Protection of Coral Habitat in Florida and the Caribbean Falls Short
SAN FRANCISCO
The Center for Biological Diversity on Wednesday will give
the Bush administration official notice of its intent file a lawsuit for
illegally excluding global warming and ocean acidification threats from a
new rule protecting habitat for elkhorn and staghorn corals. The federal
government announced today that it will designate almost 3,000 square miles
of reef area off the coasts of Florida, Puerto Rico, and the U.S. Virgin Islands as critical
habitat under the Endangered Species Act for the threatened corals. The new
rule, to be published in Wednesday's Federal Register, was required
by a court-approved settlement of a 2007 lawsuit brought by the Center.
Although
the polar bear has gained more notoriety, elkhorn coral and staghorn coral --
which were listed as threatened under the Endangered Species Act in 2006
-- have the dubious honor of being the first species protected under
the Endangered Species Act due to threats to their survival primarily
caused by global warming. The law requires that when a species is listed
under the Act, the federal government must protect habitat that is
essential to its survival and recovery. In the new critical-habitat rule,
the federal government designated important areas to be protected for the
corals, but created a giant loophole that disregards the primary threats to
coral habitat: elevated seawater temperatures and ocean acidification.
"The
critical-habitat rule exposes the Bush agenda to ignore global warming,
while rising temperatures are driving corals extinct," said Miyoko
Sakashita, an attorney with the Center for Biological Diversity. "The
rule shows the double standard of the Bush administration. On one hand, the
law required the federal government to identify areas to protect for the
threatened corals. On the other hand, the administration skirted the real
threats to coral habitat, global warming and ocean acidification, by
inserting language into the rule that carves out an exception for those
threats. It is not only irrational, but it is illegal under the Endangered
Species Act."
Once
the most abundant and important reef-building corals in Florida and the
Caribbean, staghorn and elkhorn corals have declined by more than 90
percent in many areas, mainly as a result of disease and
"bleaching," an often-fatal stress response to abnormally high
water temperatures in which corals expel the symbiotic algae that give them
color. The rising temperature of the ocean as a result of global warming is
the single greatest threat to these two coral species, as well as coral
reefs more generally worldwide. A related threat, ocean acidification,
caused by the ocean's absorption of carbon dioxide, impairs the
ability of corals to build their protective skeletons. Scientists have
predicted that most of the world's coral reefs will disappear by
midcentury due to global warming and ocean acidification under a
business-as-usual emissions scenario.
"Critical
habitat protection can be an important factor leading to the recovery of
our coral reefs, because changes to the ocean habitat are some of the
primary threats to the corals," Sakashita said. "This rule,
however, misses the mark by ignoring the simple fact that carbon dioxide
pollution is degrading coral habitat and killing coral reefs."
Once
an area is designated as critical habitat, the Endangered Species Act
requires federal agencies to ensure that any activities they authorize do
not destroy or adversely modify that habitat. Federal authorizations resulting
in substantial greenhouse gas emissions should be subject to this
prohibition. While today's critical habitat rule properly identifies
important coral areas off Florida, Puerto Rico, and the U.S. Virgin Islands for
increased legal protection, the rule bizarrely and illegally states that
elevated water temperatures will not be analyzed as a factor impacting
critical habitat.
The Center for Biological Diversity on Wednesday
will file an official 60-day notice letter to the Bush administration outlining
the Center's intent to sue over the Administration's misguided
critical-habitat rule.
More
information regarding the elkhorn
and staghorn corals is available at: www.biologicaldiversity.org/species/invertebrates/staghorn_coral/index.html.
Photos
are also available for use with attribution to photographers: www.biologicaldiversity.org/species/invertebrates/staghorn_coral/coral_images/.
At the Center for Biological Diversity, we believe that the welfare of human beings is deeply linked to nature — to the existence in our world of a vast diversity of wild animals and plants. Because diversity has intrinsic value, and because its loss impoverishes society, we work to secure a future for all species, great and small, hovering on the brink of extinction. We do so through science, law and creative media, with a focus on protecting the lands, waters and climate that species need to survive.
(520) 623-5252
LATEST NEWS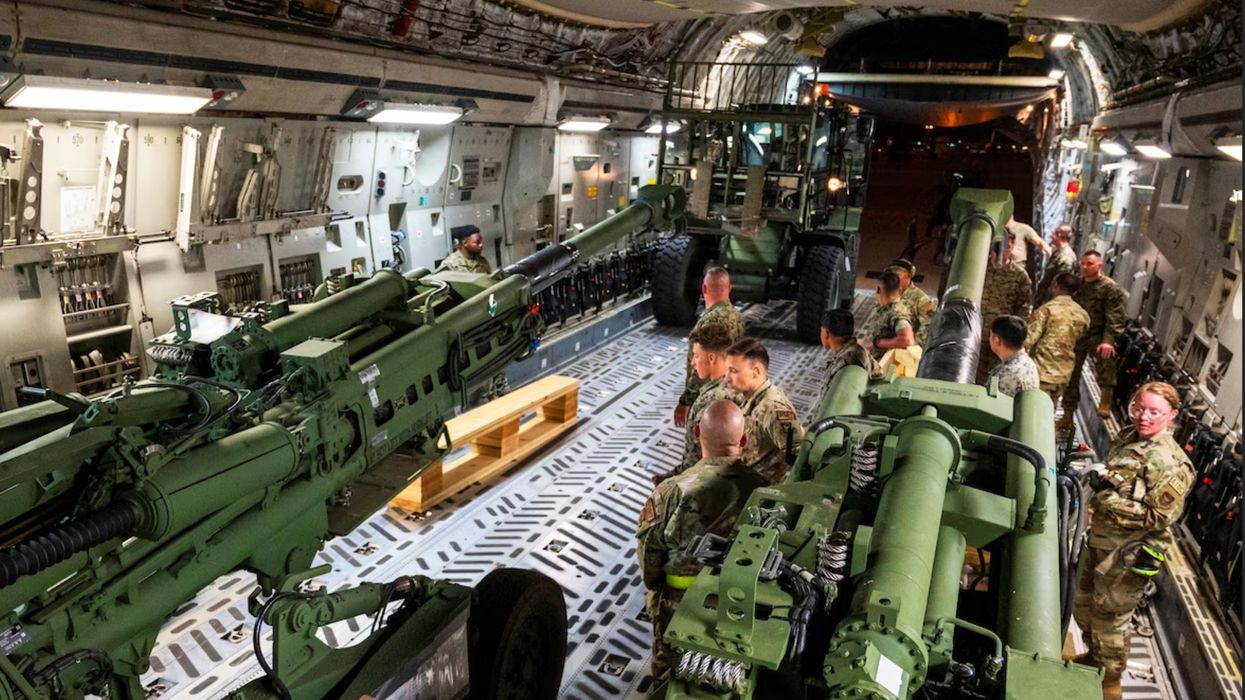 "The impacts of the global arms trade aren't just about the volume of weapons delivered," said one expert, citing "a few examples of how U.S. arms deliveries can make the world a more dangerous place."
A Sweden-based research institute published a report Monday showing that the United States accounted for 40% of the world's weapons exports in the years 2018-22, selling armaments to more than 100 countries while increasing its dominance of the global arms trade.
The report—entitled Trends in International Arms Transfers, 2022—was published by the Stockholm International Peace Research Institute (SIPRI) and listed the United States, Russia, France, China, and Germany as the world's top five arms exporters from 2018-22. The five nations accounted for 76% of worldwide weapons exports during that period.
The five biggest arms importers over those five years were India, Saudi Arabia, Qatar, Australia, and China.
"The United States has much room for improvement."
The United States saw a 14% increase in arms exports over the previous five-year period analyzed by SIPRI. U.S. arms were delivered to 103 nations from 2018-22, with 41% going to the Middle East.

"Even as arms transfers have declined globally, those to Europe have risen sharply due to the tensions between Russia and most other European states," Pieter Wezeman, senior researcher at the SIPRI Arms Transfers Program, said in a statement. "Following Russia's invasion of Ukraine, European states want to import more arms, faster. Strategic competition also continues elsewhere: Arms imports to East Asia have increased and those to the Middle East remain at a high level."
According to the report, Russia's invasion of Ukraine early last year "had only a limited impact on the total volume of arms transfers in 2018–22, but Ukraine did become a major importer of arms in 2022."
Ukraine was the 14th-largest arms importer from 2018-22 and the third-biggest last year.
Wiliam Hartung, a senior research fellow at the Washington, D.C.-based Quincy Institute for Responsible Statecraft, wrote Monday that "the impacts of the global arms trade aren't just about the volume of weapons delivered. The question is how those weapons are likely to be used, and the extent to which they promote stability versus fueling conflict or propping up repressive regimes with abysmal human rights records."
"On this score the United States has much room for improvement," he continued. "Transfers to Saudi Arabia and the United Arab Emirates for use at the peak of their brutal war in Yemen, and sales to major human rights violators from the Philippines, Egypt, and Nigeria are a few examples of how U.S. arms deliveries can make the world a more dangerous place."
"There are a number of promising steps that Congress can take—as articulated by a new coalition, the Arms Sales Accountability Project—that would mandate closer scrutiny of U.S. sales," Hartung asserted.
"There is also some useful language in the Biden administration's new arms transfer policy directive, that, if implemented, would significantly rein in the most egregious sales," he added. "Only time will tell if U.S. policy can be moved towards one based on arms sales restraint rather than arms sales promotion."

News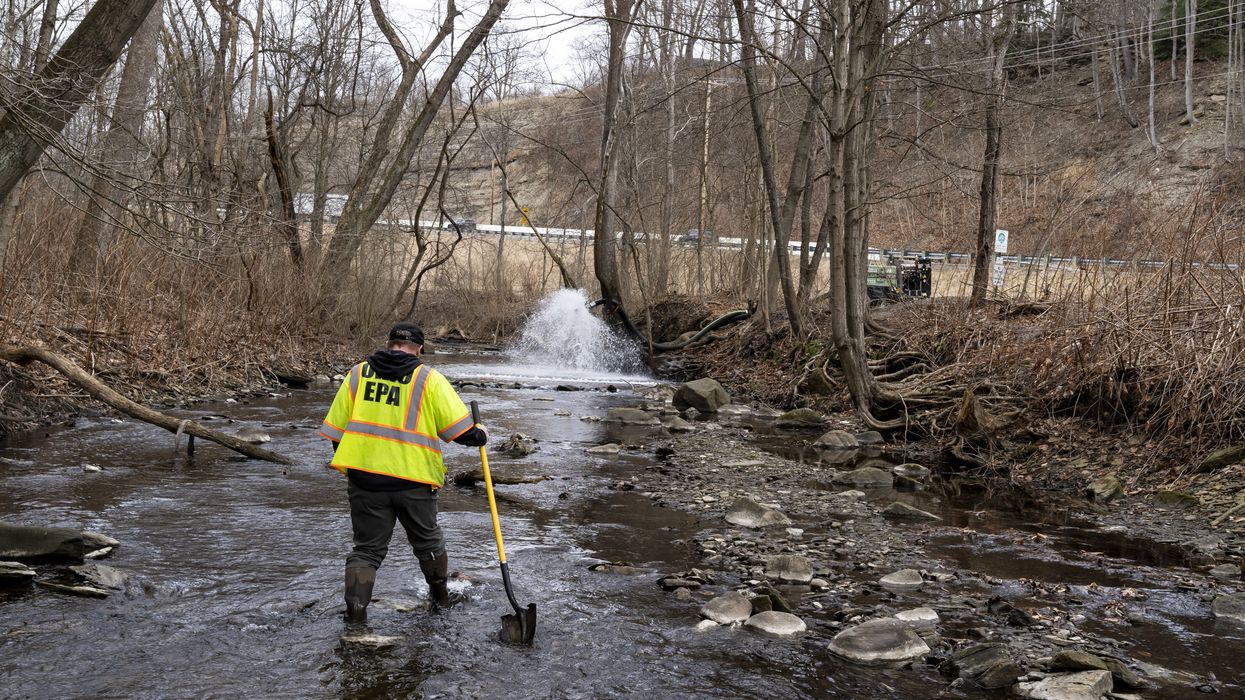 "It's important for the residents of East Palestine that accurate and transparent testing for dioxin be done at the lowest levels possible, so that the residents can begin to understand the risks they face and can make informed decisions to protect their health," said one expert.
While welcoming a federal order that Norfolk Southern test for dioxins near a derailed train that was carrying hazardous materials through East Palestine, Ohio, over 100 groups on Monday shared "recommendations on how this testing should be conducted to improve transparency, rebuild public trust, and comprehensively address possible releases."
The U.S. Environmental Protection Agency (EPA) told the rail company to develop a plan to test for dioxins—carcinogenic chemical compounds that persist in the environment and human body and are tied to developmental, reproductive, and immune system problems—only after nearly a month of pressure from residents across Ohio and Pennsylvania.
River Valley Organizing (RVO), Toxic-Free Future, and other organizations signed the letter sent on Monday to agency leaders including EPA Administrator Michael Regan—which states that "to date, Norfolk Southern has done an extremely poor job of building trust with the community of East Palestine and other communities impacted by the disaster."
"We strongly recommend the U.S. EPA itself conduct the dioxin sampling or hire its own consultants to conduct the testing."

"To ensure this testing is adequately conducted, and to rebuild public trust, we strongly recommend the U.S. EPA itself conduct the dioxin sampling or hire its own consultants to conduct the testing," the letter continues. "Norfolk Southern should not be in charge of the dioxin sampling. This testing must be paid for by the responsible parties, not taxpayers."
Along with laying out what the groups believe should be detailed in the dioxin sampling plan—including goals, locations, detection limits, procedures, and laboratories used—the letter calls for allowing residents to weigh in before testing begins.
"All sampling data and test results should be made available to the public for review in a transparent and easily accessible format," the organizations argued. "This information must be accessible for review, given the need for results to be meaningful to impacted communities as well as to build trust through transparent action."
While the EPA has said that its own "monitoring for indicator chemicals has suggested a low probability" that dioxins were released as a result of the February 3 derailment and subsequent "controlled burn" of vinyl chloride, as the letter says:
Responders reportedly punctured and burned more than 115,000 gallons of vinyl chloride in uncontrolled conditions for numerous days, making it likely that dioxins and related chlorinated substances were formed and released into the communities surrounding the disaster site. Four train cars of polyvinyl chloride plastic also burned, also likely forming dioxins. There have been elevated levels of dioxins released in other major accidents involving chlorinated chemicals—from the 2004 explosion at the PVC plant in Illiopolis, Illinois, to the 1997 Plastimet PVC recycling fire in Ontario, to the 2001 World Trade Center attacks.
The organizations also recommended that "the EPA work with other agencies to provide medical monitoring for impacted
communities, especially East Palestine and those in the combustion plume, that desire it."
"Communities surrounding and downwind of the derailment have a right to know whether the fire resulted in elevated concentrations of dioxins. The testing must be transparent and comprehensive," the letter asserts. "This would help demonstrate EPA's commitment to comprehensively responding to this disaster, rebuilding trust with East Palestine and other impacted communities, and advancing environmental justice."
Leaders and experts at groups that signed the letter echoed its key messages in a statement Monday—including RVO co-executive director Amanda Kiger, who declared that "this community deserves to know what potential toxic chemicals they will have to live with for years to come due to Norfolk Southern's greed."
Just like per- and polyfluoroalkyl substances (PFAS), often called forever chemicals, "dioxins are toxic even at very low levels of exposure," noted Mike Schade, director of Mind the Store, a program of Toxic-Free Future.
Stephen Lester, science director of the Center for Health, Environment & Justice, highlighted that "exposure to dioxins can cause cancer, reproductive damage, developmental problems, immune effects, skin lesions, and other adverse effects."
"It's important for the residents of East Palestine that accurate and transparent testing for dioxin be done at the lowest levels possible, so that the residents can begin to understand the risks they face and can make informed decisions to protect their health," Lester said.
Others took aim at Norfolk Southern, which since the derailment has faced intense scrutiny for its safety culture and practices.
Given that "Norfolk Southern has obvious financial conflicts of interest in the outcomes of all environmental testing and public health evaluations," Dr. Ted Schettler, science director at the Science and Environmental Health Network, stressed the need for "rigorous oversight of the U.S. EPA, including strict quality control measures and split-sample testing."
Judith Enck, a former U.S. EPA regional administrator who is now president of Beyond Plastics, said that "it is unfortunate that the EPA took a month to decide to test for dioxins, and then rather than doing it itself, is having Norfolk Southern consultants to do the actual testing."

"The testing plan is too limited and should be revised to require some testing inside people's homes, at schools, and air filters in schools and buildings and cars should be tested, not just soil," she added. "Rain has likely driven contaminants toward groundwater and that water should be tested over a period of months and year[s]."
Enck's comments came after she wrote in a New York Times opinion piece last week that the EPA should have "ordered comprehensive testing the very day of the burn" and "told residents, especially pregnant women and families with young children, not to return home until it was safe to do so."
"Instead, it timidly stood back, leaving local authorities, corporate interests, and rumors to fill the void," she charged. "In lieu of a comprehensive plan, the EPA appears to be playing a game of crisis whack-a-mole, waiting and then responding to the news cycle. This is no way to safeguard our communities."
News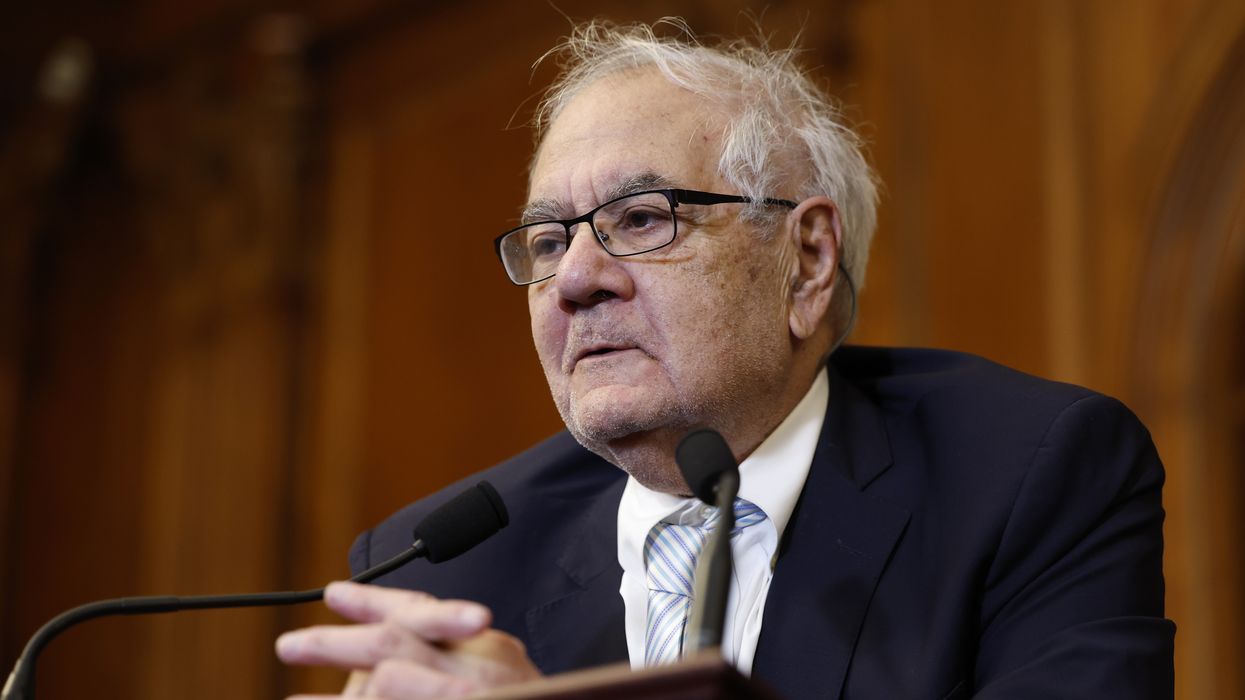 After he had received more than $1 million as a Signature board member, the architect of the Dodd-Frank banking regulations minimized the risks of weakening rules he helped enact post-2008 financial crisis.
Barney Frank, a former House Democrat from Massachusetts, has been the subject of criticism since federal regulators took over Signature Bank on Sunday.
That's because Frank, architect of the Dodd-Frank banking regulations implemented in the aftermath of the 2008 financial crisis, played a key role in whitewashing the bipartisan effort to weaken those rules in 2018—after he had received more than $1 million while serving on Signature's board following his departure from Congress.
Since federal regulators seized Signature's assets on Sunday—two days after they intervened to protect depositors amid the collapse of Silicon Valley Bank (SVB)—progressive critics have been quick to blame a deregulatory measure approved five years ago by the then-Republican-controlled Congress for engendering two of the three largest bank failures in U.S. history.
The GOP, however, wasn't alone in supporting Sen. Mike Crapo's (R-Idaho) Economic Growth, Regulatory Relief, and Consumer Protection Act. As Sen. Elizabeth Warren (D-Mass.), a trenchant critic of the legislation, observed when it was moving through Congress, several Democrats—including Sens. Mark Warner (Va.), Joe Manchin (W.Va.), and Jon Tester (Mont.)—were integral to its passage.
To justify their decision, many of them pointed to Frank. The originator of the Dodd-Frank Wall Street Reform and Consumer Protection Act used his cachet as a presumed banking expert to legitimize a rollback of the very framework he helped enact in 2010 as chair of the House Financial Services Committee. But the ex-lawmaker wasn't merely an uninterested bystander. In 2015, he joined the board of directors at Signature, a crypto-friendly bank that was poised to benefit from less stringent oversight.
Frank said Crapo's Economic Growth, Regulatory Relief, and Consumer Protection Act "would not help the biggest Wall Street banks and denied it would increase the risks of another financial crisis," The Washington Post reported when then-President Donald Trump signed the bill into law in May 2018. "Some Democrats leaned heavily on those words as they pushed back against the plan's liberal critics."
However, the newspaper noted, "proponents of the law rarely, if ever, mentioned that Frank is not just the author of the 2010 law, but also sits on the board of New York-based Signature Bank."
In the wake of Signature's collapse on Sunday night, Frank's role in downplaying the risks of deregulation—while being paid by a bank that stood to gain from it—has received fresh light.
As the Post reported in May 2018: "Dodd-Frank imposed additional regulatory safeguards on banks with more than $50 billion in assets, but the rollback that passed this week, among other things, raises that threshold to $250 billion. Signature Bank has more than $40 billion in assets and can now grow significantly without automatically facing additional regulation."
But the bank's growth over the past half-decade came to a screeching halt over the weekend when its customers, alarmed by the failure of SVB, quickly withdrew $10 billion.
"Frank acknowledged that Signature stood to benefit, but he said his role on the bank's board did not influence his thinking," the Post reported five years ago. "Frank said his position on the threshold predates his compensation from the financial sector."
As Politicoreported on Monday, Frank disputes that Trump-era deregulation "had anything to do with" Signature's failure, even though it weakened oversight of "mid-size and regional banks like his own."
"I don't think that had any impact," Frank told the outlet. "They hadn't stopped examining banks."

Frank went so far as to tellCNBC that there was "no real objective reason" that Signature had to enter federal receivership.
"I think part of what happened was that regulators wanted to send a very strong anti-crypto message," Frank argued. "We became the poster boy because there was no insolvency based on the fundamentals."
Warren, by contrast, has focused her ire directly on the deregulatory moves minimized by Frank.
"Had Congress and the Federal Reserve not rolled back the stricter oversight, SVB and Signature would have been subject to stronger liquidity and capital requirements to withstand financial shocks," Warren wrote Monday in a New York Times opinion piece.
"They would have been required to conduct regular stress tests to expose their vulnerabilities and shore up their businesses," the lawmaker continued. "But because those requirements were repealed, when an old-fashioned bank run hit SVB, the bank couldn't withstand the pressure—and Signature's collapse was close behind."
"These bank failures were entirely avoidable if Congress and the Fed had done their jobs and kept strong banking regulations in place since 2018," she added. "SVB and Signature are gone, and now Washington must act quickly to prevent the next crisis."
Like Warren, Independent Sen. Bernie Sanders of Vermont has called for fully repealing "the disastrous 2018 bank deregulation law."
News
SUPPORT OUR WORK.
We are independent, non-profit, advertising-free and 100%
reader supported.