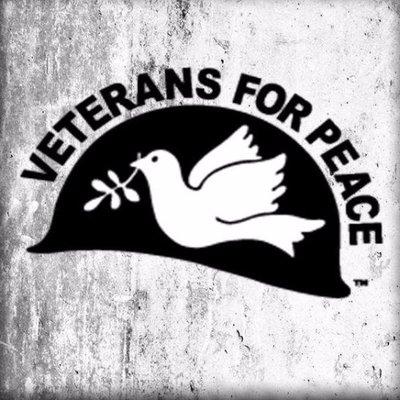 For Immediate Release
Contact:
Elliott Adams, 518-441-2697
Ellen Barfield, 410-948-8023
Tarak Kauff, 845-249-9489
Iraq and Vietnam Veterans Occupy National Archives Building
"Arresting Bush and Cheney for war crimes will honor our oath to the Constitution," vets say.
WASHINGTON
On
Tuesday morning, September 23, 7:30am, at the front of the Na tional
Archives Building on Constitution Ave. in Washington , D.C. , five
military veterans will risk arrest as they climb a 9-foot retaining
fence and occupy a 35-foot high ledge to raise a 22x8 foot banner
stating, "DEFEND OUR CONSTITUTION. ARREST BUSH AND CHENEY: WAR CRIMINALS!"
The group, which includes Vietnam and Iraq War veterans, has declared its intention to stay on the ledge, fasting for 24 hours "in
remembrance of those who have perished and those still suffering from
the crimes of the Bush administration," according to a written
statement. With a portable PA system, they will
broadcast recorded statements from prominent Americans for the
impeachment and/or arrest of George W. Bush and Richard Cheney. "Citizens Arrest Warrants" will be distributed to people waiting in line to enter the Na tional Archives.
The veterans emphasized they are taking this action because "Bush
and Cheney's serial abuse of the Law of the Land clearly marks them as
domestic enemies of the Constitution...they have illegally invaded and
occupied Iraq, deliberately destroyed civilian infrastructure,
authorized torture, and unlawfully detained prisoners. These actions clearly mark them as war criminals...accountability extends beyond impeachment to prosecution for war crimes even after their terms of office expire."
"We take this action as a last resort," their statement added. "For years we have pursued every avenue open
to good, vigilant citizens to bring these men to justice, to
re-establish the rule of law, and to restore the balance of power
described in our Constitution. We are not disturbing the peace; we are attempting to restore the peace. We are not conducting ourselves in a disorderly manner; our action is well-ordered and well-considered. We are not trespassing; we have come to the home of our Constitution to honor our oath to defend it."
Those participating are all members of Veterans For Peace and include Elliott Adams: 61, NY, VFP President and former Army paratrooper in Viet Na m; Ellen Barfield: 52, MD, former U.S. Army Sgt., full-time peace and justice advocate; Kim Carlyle: 61, NC, mountain homesteader, former Army Spec 5, 828-626-2572; Diane Wilson: 59, TX, shrimp boat captain, former Army medic, 361-785-4680; Doug Zachary: 58, TX, VFP staff, former USMC LCpl discharged as a conscientious objector, 512-791-9824; and Tarak Kauff (ground support) 67, NY, painting contractor, former U.S. Army Airborne.
Veterans For Peace is a global organization of Military Veterans and allies whose collective efforts are to build a culture of peace by using our experiences and lifting our voices. We inform the public of the true causes of war and the enormous costs of wars, with an obligation to heal the wounds of wars. Our network is comprised of over 140 chapters worldwide whose work includes: educating the public, advocating for a dismantling of the war economy, providing services that assist veterans and victims of war, and most significantly, working to end all wars.
(314) 725-6005
LATEST NEWS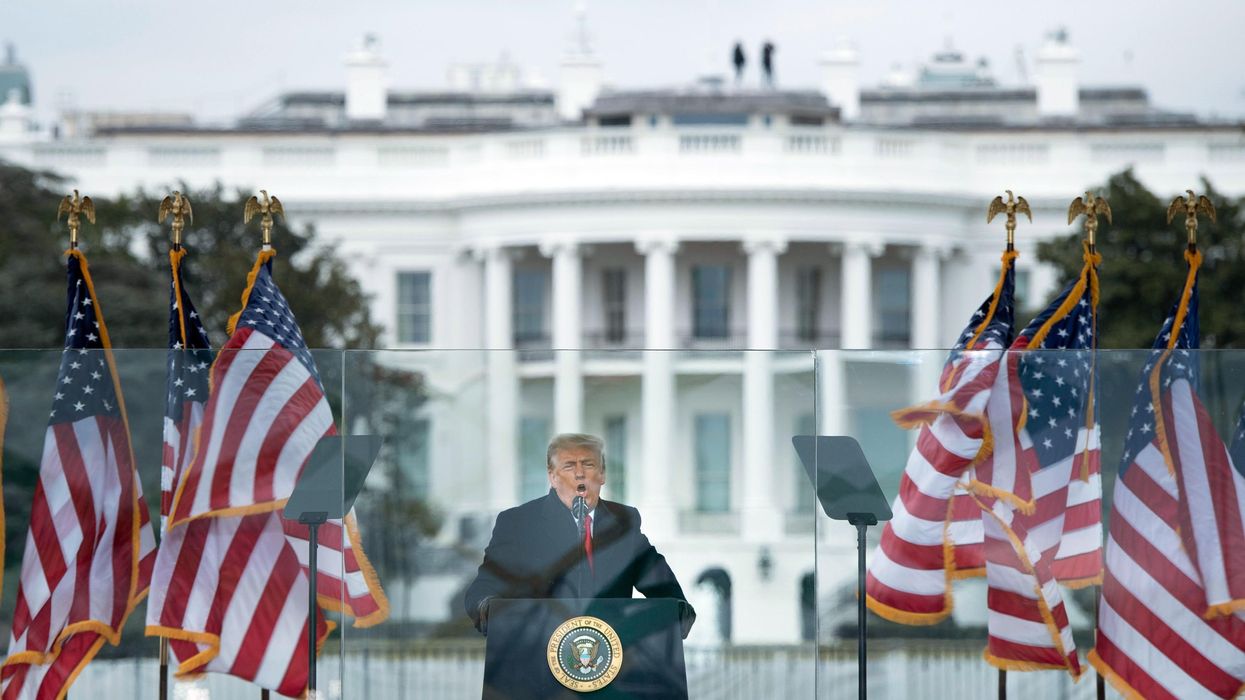 Trump's attempt to "secure or perpetuate incumbency" did not fall in the perimeters of his official duties, the Biden administration said.

The U.S. Department of Justice said Thursday that there are limits to a president's immunity from lawsuits filed over their performing of official duties—namely, that immunity does not extend to allegations that former President Donald Trump incited violence leading up to the January 6, 2021 attack on the U.S. Capitol.
The DOJ has typically backed Trump's claim that he is immune from civil lawsuits based on his "speech on matters of public concern," but government lawyers said that claims from 11 lawmakers and two Capitol Police officers regarding the danger they were placed in during the riot should be able to move forward in court without running up against that immunity.
Trump has attempted to fight those lawsuits with "only a single, categorical argument: A president is always immune from any civil suits based on his 'speech on matters of public concern'... even if that speech also constitutes incitement to imminent private violence," said the DOJ.
"The United States respectfully submits that the court should reject that categorical argument," continued the government.
Trump has appealed a lower court ruling that rejected his claim of immunity, with the court arguing that the former president's attempt to "secure or perpetuate incumbency" by inciting his supporters to try to stop the certification of the 2020 election was not part of his official duties as president.

The DOJ
backed
Trump's claim of immunity when E. Jean Carroll, who has accused the former president of raping her in the 1990s, sued him for defamation. The former president had responded to reporters' questions about the allegations by saying, "It never happened" and "She's not my type"—remarks that government lawyers said were not "appropriate" but did qualify as fulfilling his responsibility "to be responsive to the media and public."
In the case of January 6, the department said, "such incitement of imminent private violence would not be within the outer perimeter of the office of the president of the United States."
In a hearing before the U.S. District Court of Appeals for the D.C. Circuit in December, Trump attorney Jesse Binnall claimed presidential immunity should apply to the January 6 case because Trump was using the "bully pulpit" when he urged his supporters to march to the U.S. Capitol, where they then breached the building.
Binnall said Trump couldn't be sued even if he told his followers to "burn Congress down."

The DOJ noted that it was not taking a position "regarding the potential criminal liability of any person for the events of January 6, 2021," including Trump.
Antonio Arellano, vice president of communications for NextGen America, expressed hope that the department's view on Trump's immunity will bring him closer to facing accountability for his actions on January 6.
"Trump must face justice," he said.

News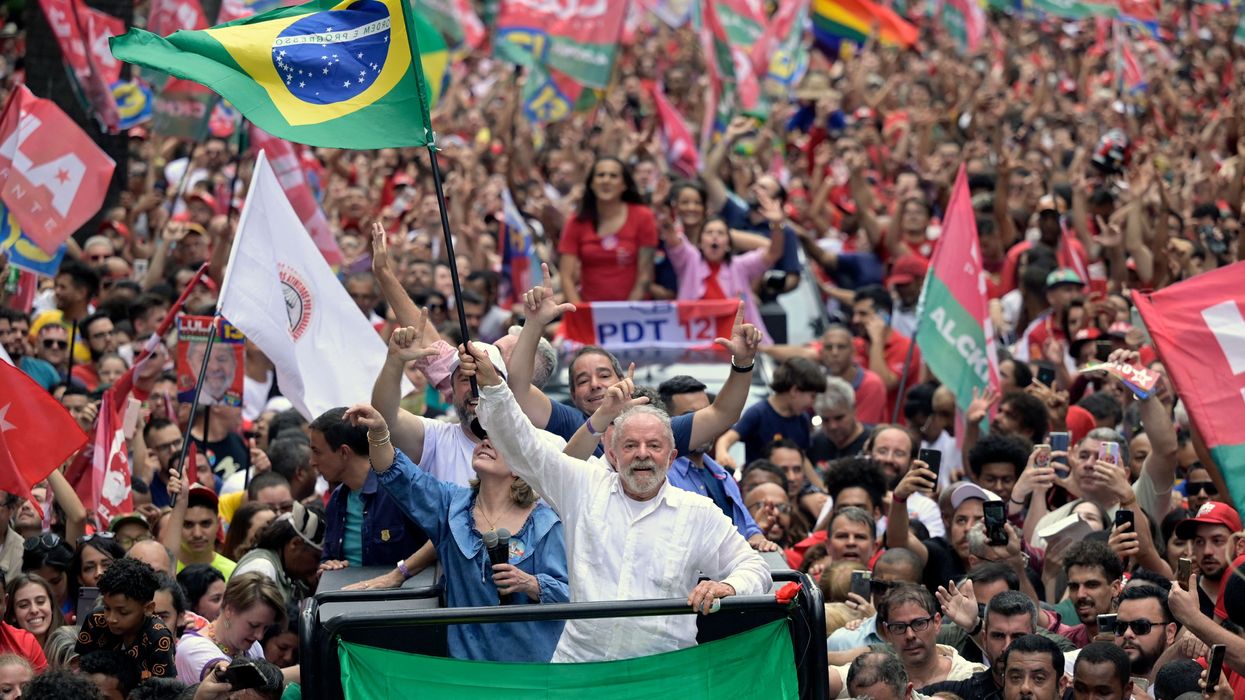 "The level of democracy enjoyed by the average world citizen in 2022 is back to 1986 levels. This means that 72% of the world's population, 5.7 billion people, live under authoritarian rule," said V-Dem's director.
An annual report released Thursday by researchers in Sweden sounds the alarm about countries that are "undergoing autocratization" but also highlights how people around the world "have reclaimed democracy and stopped negative trends."
The Varieties of Democracy Institute (V-Dem) at the University of Gothenburg produces the world's largest dataset on democracy, with over 31 million data points for 202 nations from 1789 to 2022. Its new report focuses on the state of countries last year.
V-Dem's Democracy Report 2023: Defiance in the Face of Autocratization says the world was "almost evenly divided between 90 democracies and 89 autocracies at the end of 2022."
"The fact that eight democracies that were in a period of autocratization have stopped that process and 'bounced back' is uplifting news for democracy."
As the report lays out, the institute has four broad categories for countries:
Closed Autocracy: No multiparty elections for the executive; absence of fundamental democratic components such as freedom of expression, freedom of association, and free and fair elections.
Electoral Autocracy: Multiparty elections for the executive exist; insufficient levels of fundamental requisites such as freedom of expression and association, and free and fair elections.
Electoral Democracy: Multiparty elections for the executive are free and fair; satisfactory degrees of suffrage, freedom of expression, freedom of association.
Liberal Democracy: Requirements of Electoral Democracy are met; judicial and legislative constraints on the executive along with the protection of civil liberties and equality before the law.
Over the past decade, dozens of countries have experienced "drastic changes" in freedom of expression, government censorship of media, government repression of civil society, quality of elections, and academic freedom, the analysis explains. A record 42 nations—accounting for 43% of the global population—are autocratizing, up from 33 nations and 36% of the population the previous year.
"Advances in global levels of democracy made over the last 35 years have been wiped out," the report warns. While "the current wave of autocratization spans all regions of the world," the most dramatic decline is in the Asia-Pacific region, with significant shifts also documented across Eastern Europe and Central Asia as well as Latin America and the Caribbean.
\u201cLIVE now: Democracy Report 2023 @StaffanLindberg & @epapada present the latest \n#DR23 findings. \nCommentators: @CarnegieDCG, @bdulani\nWatch here! https://t.co/GIraDVGV9A\nDR link: https://t.co/eEgWx2WRSb\u201d

— V-Dem Institute (@V-Dem Institute) 1677765558
"The level of democracy enjoyed by the average world citizen in 2022 is back to 1986 levels. This means that 72% of the world's population, 5.7 billion people, live under authoritarian rule," said the institute's director, Staffan I. Lindberg, in a statement.
The report points out that the percentage for 2022 "is an increase from 46% 10 years ago," adding:
A plurality—44% of the world's population, or 3.5 billion people—reside in electoral autocracies, which include populous countries such as India, Nigeria, Pakistan, Russia, the Philippines, and Türkiye.

Closed autocracies with sizable populations include China, Iran, Myanmar, and Vietnam. This regime type accounts for 28% of the world's population, or 2.2 billion people.

By contrast and despite being the most common regime type in the world, 58 electoral democracies host only 16% of the world's population.
Meanwhile, just 13% of the global population, or 1 billion people, live in the 33 liberal democracies.
"Perhaps tellingly, the three largest democracies in terms of population size—United States, Indonesia, and Brazil—are all autocratizers in the last 10 years," the report notes, while also recognizing that leftist Brazilian President Luiz Inácio "Lula" da Silva's recent defeat of far-right former President Jair Bolsonoro "may signal a reversal of Brazil's period of autocratization."
The report further spotlights "unique cases of democratic resilience and reversal after a period of substantial autocratization" in Bolivia, Moldova, Ecuador, the Maldives, North Macedonia, Slovenia, South Korea, and Zambia.
"The fact that eight democracies that were in a period of autocratization have stopped that process and 'bounced back' is uplifting news for democracy," declared Lindberg. "It is rare to see countries that can make a U-turn."
These nations, he said, "have brought about a pro-democracy mobilization, they have re-established an objective judicial system, deposed authoritarian leaders, introduced free and fair elections, worked to reduce corruption, and rejuvenated civil society."

News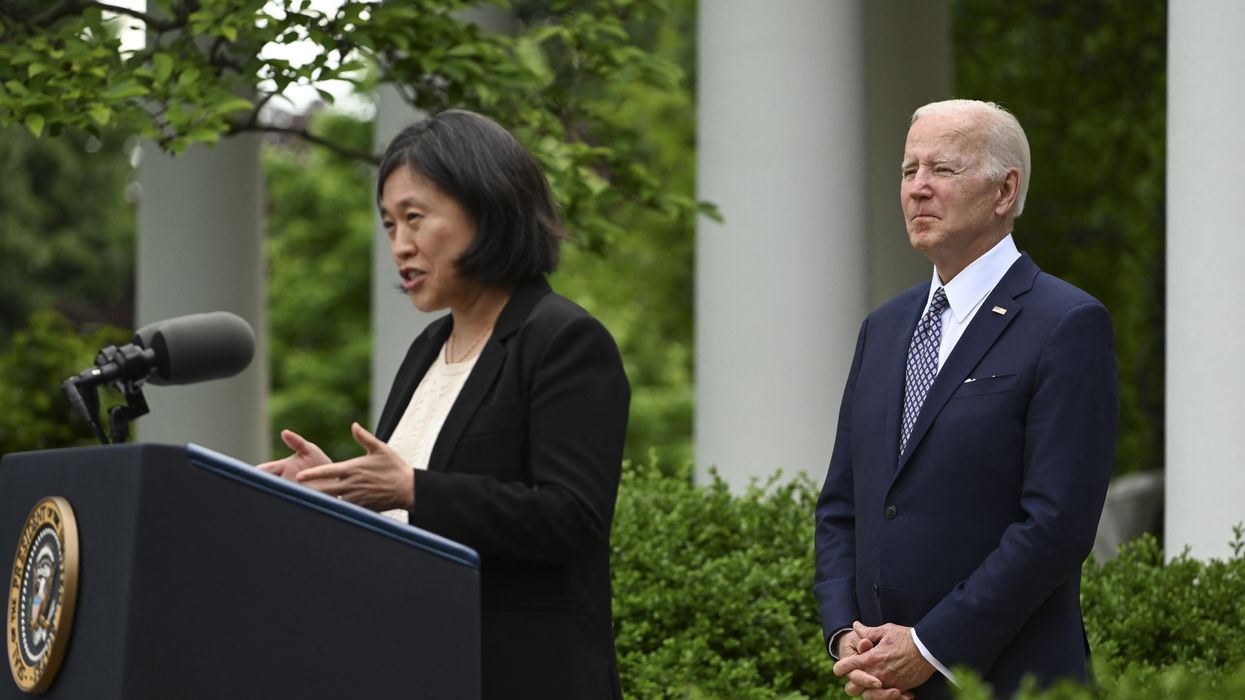 The coalition urged the U.S. to ensure the Indo-Pacific Economic Framework "prioritizes working people, combats global climate change, and reins in Big Tech abuses."
A coalition of 403 progressive advocacy groups on Thursday outlined conditions they say must be met for a pending Indo-Pacific trade pact to achieve important labor and environmental objectives and urged the White House to promote them during upcoming negotiations.
"As organizations whose constituencies continue to experience the harm caused by past corporate-centered trade agreements, we have a strong desire to work with your administration to advance goals you have described for the Indo-Pacific Economic Framework (IPEF)—particularly in terms of a long overdue shift in direction for U.S. trade policy that finally places working people and climate action at the center," the coalition wrote in a letter to President Joe Biden.
The letter comes in the wake of a two-week Asia-Pacific Economic Cooperation (APEC) meeting in Palm Springs—where trade justice campaigners rallied for a "worker-centered and climate-friendly" IPEF—and shortly before U.S. Trade Representative Katherine Tai's office is expected to unveil Washington's proposals for the agreement's labor, environment, and digital trade chapters during a key negotiating round later this month in Bali, Indonesia.
In order to secure a final deal that "corrects the errors of past trade pacts and becomes a useful model for future agreements that deliver real benefits to people and the planet," the groups explained their shared priorities for those three issues:
Labor: "To advance your administration's promised worker-centered trade model, IPEF must include strong labor rights commitments based on standards set in the International Labor Organization's core conventions, and it must also include facility-specific enforcement mechanisms, building off the Rapid Response Mechanism in the U.S.-Mexico-Canada Agreement (USMCA). IPEF signatory countries must also be required to make the changes to their labor laws necessary to align them with their new IPEF obligations before the pact is signed by the United States. IPEF must take steps forward relative to the USMCA, not backward, on labor rights and labor enforcement."
Environment: "Given that previous U.S. trade agreements, including the USMCA, fail to even mention the term 'climate change,' IPEF will need to be particularly ambitious in its climate provisions if it is to help the United States and Indo-Pacific region achieve their climate and environmental justice goals. Among other environmental measures, IPEF must require that countries adopt, implement, and maintain binding climate standards, and must likewise extend swift-and-certain enforcement mechanisms to those provisions."
Digital Trade: "On the matter of 'digital trade,' IPEF's terms must not be allowed to undermine the administration's domestic anti-monopoly and tech regulation agenda by locking in international rules that threaten consumer privacy, data security, worker rights, civil rights, algorithm justice, and competition policy here and throughout the Indo-Pacific. In comparison to the USMCA's digital terms, any data flow guarantees or limits on safeguarding where data can be processed or stored must be scaled back significantly in any IPEF deal, with much broader exceptions added to better protect Americans' personal data, as well as to protect good-paying jobs in the digital economy."
"A wide range of organizations across the United States are ready to fight for an Indo-Pacific trade deal that furthers the president's vision of creating a new model for trade and international cooperation that prioritizes working people, combats global climate change, and reins in Big Tech abuses," said Arthur Stamoulis, executive director of Citizens Trade Campaign, which organized the letter.
"Whatever labor, environmental, and digital positions the U.S. ultimately introduces," he added, "will play a big role in determining whether IPEF is helpful in advancing these goals."
Signatories include the Amazon Labor Union, Asian Pacific American Labor Alliance, Communications Workers of America, Greenpeace USA, International Association of Machinists and Aerospace Workers, International Brotherhood of Teamsters, National Family Farm Coalition, Public Citizen, Rethink Trade, Trade Justice Education Fund, and United Steelworkers.
"A wide range of organizations across the United States are ready to fight for an Indo-Pacific trade deal that furthers the president's vision of creating a new model for trade and international cooperation."
"We are heartened by and appreciate reports that IPEF will not include some of the damaging provisions found in past trade agreements, such as the anti-worker, anti-environment, and anti-democratic investor-state dispute settlement (ISDS) system and public procurement terms that could undermine 'Buy America,' 'buy local,' and 'buy green' programs," the letter says.
However, "the list of countries selected as initial IPEF partners... includes many with records of labor rights violations, including unionist assassinations, human trafficking, forced labor, child labor, and more," it continues.
The Biden administration announced this week that it plans to crack down on the exploitation of child migrants in the U.S., following a bombshell New York Times report exposing a surge in child labor law violations committed by several corporations.
The coalition's letter stresses that "so-called 'Good Regulatory Practice' provisions must not replicate the terms of past trade proposals aimed at delaying, weakening, and destroying future public interest policies before they are even created."
Moreover, "any agricultural provisions should allow for the creation of strategic food and grain reserves and other public investment in agricultural resilience and local food systems; include measures to stop land grabs and otherwise protect the human rights of farmers and farm workers; and set floors, rather than ceilings, when it comes to food safety and fair price measures for producers and consumers," states the letter.
Finally, the letter emphasizes the need to make the IPEF negotiating process more transparent and participatory:
The United States' requirement that IPEF negotiating parties sign confidentiality agreements undermines the ability for an informed citizenry to provide input on policy that impacts their livelihoods and communities; we urge you to terminate these confidentiality agreements. We also urge you to publish upcoming U.S. IPEF proposals for public comment prior to tabling them, including those on critical chapters like labor, the environment, and digital trade that we understand will be tabled soon, in addition to all other texts. And we urge the United States and other countries to publish proposals and any draft composite texts at the close of each IPEF negotiating round. A more transparent and participatory negotiating process for IPEF would allow for a wider set of interests to provide informed input and ensure equitable treatment of communities which are not part of the official U.S. trade advisor system, mostly representing corporations who now have access to U.S. proposals and other confidential IPEF texts.
"Reversing an unnecessarily bureaucratic and obtuse trade negotiating regime requires operating in a transparent manner and would facilitate broader public support and confidence among civil society organizations," the letter adds.
Ahead of talks last summer between the U.S. and 13 Asian and Australiasian nations, Jane Kelsey, a trade justice campaigner with Aotearoa in New Zealand, said that if the Biden administration "can produce a real alternative that puts people and the planet front and center, and can convince our governments to genuinely support that new paradigm, we will work to make it succeed."
"But if IPEF is just another way to promote the old corporate agenda, and a proxy for the U.S.'s geopolitical goals," she warned, "we will campaign against it like we did with the Trans-Pacific Partnership."
News
SUPPORT OUR WORK.
We are independent, non-profit, advertising-free and 100%
reader supported.