Our work is licensed under Creative Commons (CC BY-NC-ND 3.0). Feel free to republish and share widely.
Jon Queally
Jon Queally is managing editor of Common Dreams.
A state of emergency has been declared over large sections along Mexico's Pacific coast on Friday as Hurricane Patricia, listed now as a Category 5 and described as the "strongest storm ever measured on the planet."
With sustained winds of over 160 mph and maximum speeds of 200 mph, the U.S. National Hurricane Center described Patricia as the "strongest hurricane on record" in eastern North Pacific Basins and forecasters are warning that coupled with those devastating winds, a powerful storm surge--featuring giagantic waves and massive inland flooding--could overwhelm coastal regions when it makes landfall in the coming hours.
"This is an extremely dangerous, potentially catastrophic hurricane," said NHC meteorologist Dennis Feltgen.
Writing for the Weather Underground blog, meteorologist Bob Henson said that "history is being made" as experts assessed the size and strength of the unprecedented storm. "Late Thursday night," Henson reports, "an Air Force Hurricane Hunter flight captured some of the most extreme observations ever recorded in 70 years of reconnaissance activity."
In a subsequent post, Henson and his colleague Jeff Masters characterized the storm in even more dramatic terms:
Stunning, historic, mind-boggling, and catastrophic: that sums up Hurricane Patricia, which intensified to an incredible-strength Category 5 storm with 200 mph winds overnight. At 2:46 am EDT October 23, 2015 an Air Force hurricane hunter aircraft measured a central pressure of 880 mb in Patricia, making it the most intense hurricane ever observed in the Western Hemisphere. The aircraft measured surface winds of 200 mph, which are the highest reliably-measured surface winds on record for a tropical cyclone, anywhere on the Earth.
Using predictions of the storm's path, the Mexican government declared a state of emergency for 56 municipalities in the coastal states of Colima, Nayarit and Jalisco. Residents in those areas were being told to prepare for the "worst-case scenario" and government emergency agencies were using the hashtag #PrevenirEsVivir ("to prevent is to live") to remind citizens of hurricane safety protocols.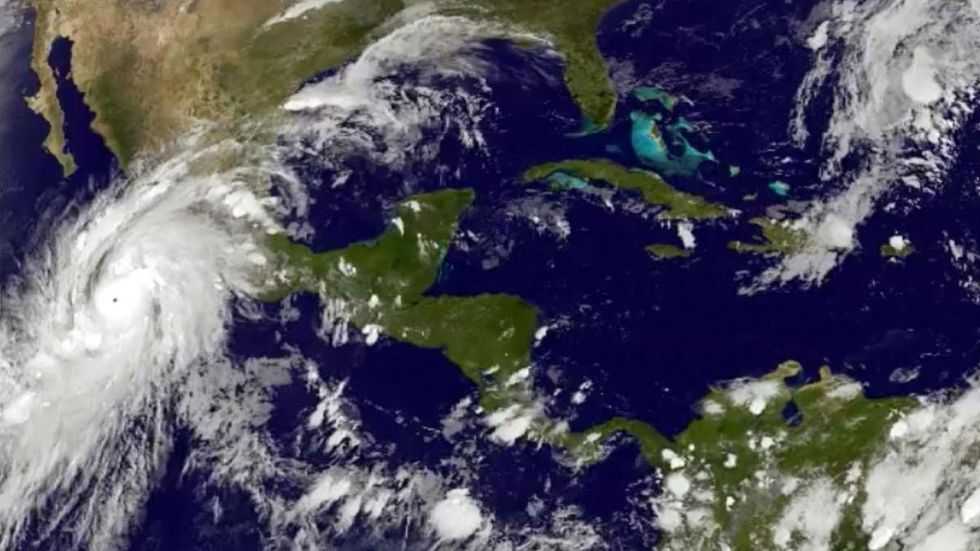 Regarding the unprecedented strength of the storm, Weather.com adds:
Hurricane Patricia became the strongest Pacific hurricane on record shortly after midnight CDT early Friday. Air Force Hurricane Hunters had flown through the eye of Patricia and reported a sea-level pressure of 894 millibars as measured by a dropsonde inside the eye itself. Wind measurements suggested that the pressure measurement was not in the exact center of the eye and was probably not the absolute lowest pressure, prompting NHC to estimate the minimum central pressure at 892 millibars in its special 12:30 a.m. CDT advisory.

Current wind reports at selected cities in Mexico. Some sites do not report at all times of day. Enhanced satellite imagery shows the cloud pattern in and around the hurricane.

Tropical cyclone strength comparisons are typically based on minimum central pressure. At 892 millibars, Patricia shattered the Eastern Pacific basin's previous record of 902 millibars set by Hurricane Linda in 1997.

While a number of typhoons in the western North Pacific have been stronger, Patricia is by far the strongest hurricane in any basin where the term "hurricane" applies to tropical cyclones - namely, the central and eastern North Pacific basins and the North Atlantic basin, which includes the North Atlantic Ocean itself plus the Gulf of Mexico and Caribbean Sea.
We've had enough. The 1% own and operate the corporate media. They are doing everything they can to defend the status quo, squash dissent and protect the wealthy and the powerful. The Common Dreams media model is different. We cover the news that matters to the 99%. Our mission? To inform. To inspire. To ignite change for the common good. How? Nonprofit. Independent. Reader-supported. Free to read. Free to republish. Free to share. With no advertising. No paywalls. No selling of your data. Thousands of small donations fund our newsroom and allow us to continue publishing. Can you chip in? We can't do it without you. Thank you.