Our work is licensed under Creative Commons (CC BY-NC-ND 3.0). Feel free to republish and share widely.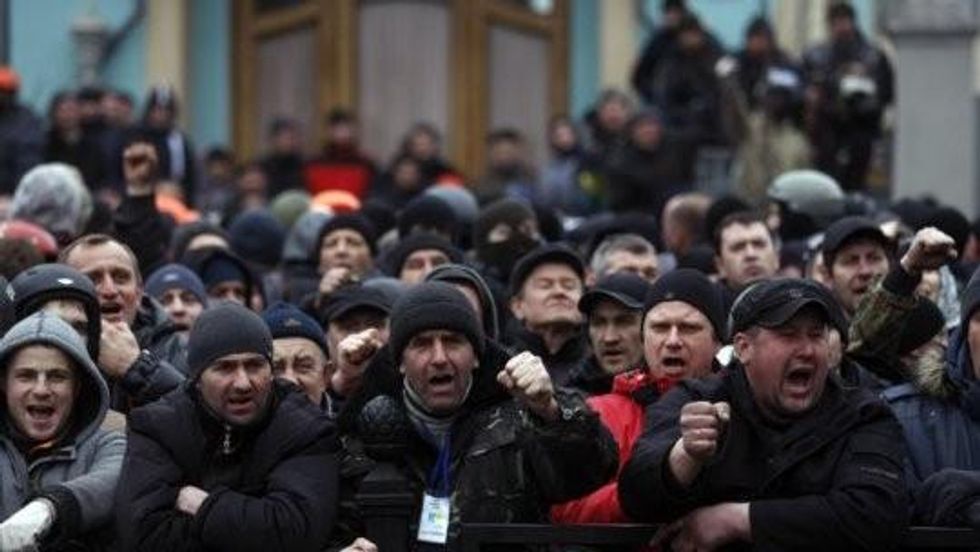 Turmoil continues in Ukraine on Saturday as its parliament voted to oust embattled President Viktor Yanukovich and authorized the release of opposition leader Yulia Tymoshenko.
Al Jazeerareports that the vote to dismiss Yanukovich
came hours after anti-government protesters seized [his] office in the capital city of Kiev. He had insisted earlier in the day that he would not step down, even as his grip on power appeared to be rapidly crumbling. The latest developments followed two days of violence that turned central Kiev into a battle zone and left at least 77 people dead.

The military said it would not get involved in trying to stamp out the uprising, after protesters entered Yanukovich's office compound in the capital.
Yanukovich denounced the move as a "coup."
Ukraine's parliament voted to have early presidential elections May 25.
The country is now "dangerously split," the Guardianreports, and
[t]he disintegration of Yanukovich's government marks a setback for the Russian president, Vladimir Putin, who had counted on the Ukrainian leader to bring the country into a Eurasian union of former Soviet-bloc nations.
The Guardian and France 24 are live-blogging the events as they continue to unfold.
Twitter users are capturing live developments as well:
________________
We've had enough. The 1% own and operate the corporate media. They are doing everything they can to defend the status quo, squash dissent and protect the wealthy and the powerful. The Common Dreams media model is different. We cover the news that matters to the 99%. Our mission? To inform. To inspire. To ignite change for the common good. How? Nonprofit. Independent. Reader-supported. Free to read. Free to republish. Free to share. With no advertising. No paywalls. No selling of your data. Thousands of small donations fund our newsroom and allow us to continue publishing. Can you chip in? We can't do it without you. Thank you.