Our work is licensed under Creative Commons (CC BY-NC-ND 3.0). Feel free to republish and share widely.
The Obama administration has given Royal Dutch Shell the green light to begin "preparatory activities" for oil drilling in Alaska's Chukchi Sea on Thursday to the outrage of environmental groups.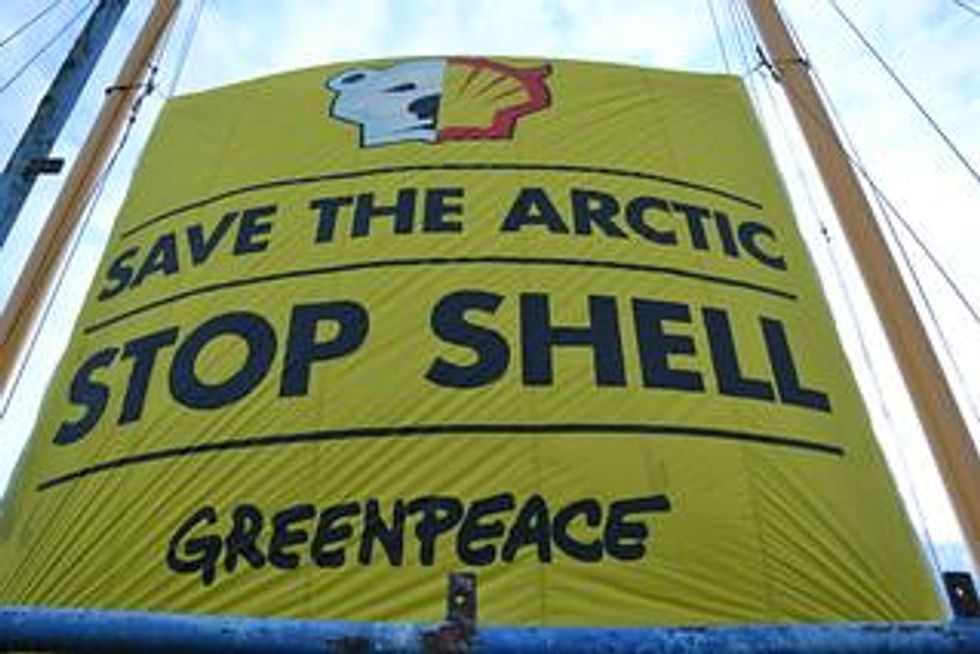 The U.S. Interior Department said the OK was for Shell to begin preparatory work but not tap into underground oil reserves at this point.
Shell is still waiting for Coast Guard approval of its oil-spill containment barge, the Arctic Challenger, which remains in a Bellingham, Wash., shipyard, and is waiting on modifications to its air-quality permits from the EPA.
Deputy Interior Secretary David Hayes says the Arctic Challenger wasn't need at this time "because there is not the opportunity for an oil spill" at this stage.
But Interior Secretary Ken Salazar may believe it's not entirely necessary, owing to his comment in June regarding the possibility of Shell causing an oil spill in the Arctic. "I believe there will not be an oil spill," Salazar said. This is despite Shell's notorious record of repeated oil spills in Nigeria.
"While this is an interim step only," stated NRDC senior attorney Niel Lawrence reacting to today's decision, "this is like a building inspector letting a developer start construction on a skyscraper on shaky ground before the safety plans are even complete."
Rebecca Noblin, Alaska director at the Center for Biological Diversity calls the decision a "monumental mistake."
"By opening the Arctic to offshore oil drilling, President Obama has made a monumental mistake that puts human life, wildlife and the environment in terrible danger. The harsh and frozen conditions of the Arctic make drilling risky, and an oil spill would be impossible to clean up," said Noblin. "Scariest of all, the Obama administration is allowing Shell to go forward without even having the promised oil-spill containment equipment in place."
Noblin emphasized the risky nature of Arctic drilling. "While opposition to Shell's drilling plans has resulted in significant safety improvements, Arctic drilling can never really be safe. The president is putting America's natural heritage on the line just to add to Shell's bottom line," Noblin said. "Make no mistake: Once we've ruined the Arctic for wildlife, we'll never get it back. The unique animals that evolved over millions of years to survive in this frozen wilderness -- and nowhere else -- will be condemned to extinction."
We've had enough. The 1% own and operate the corporate media. They are doing everything they can to defend the status quo, squash dissent and protect the wealthy and the powerful. The Common Dreams media model is different. We cover the news that matters to the 99%. Our mission? To inform. To inspire. To ignite change for the common good. How? Nonprofit. Independent. Reader-supported. Free to read. Free to republish. Free to share. With no advertising. No paywalls. No selling of your data. Thousands of small donations fund our newsroom and allow us to continue publishing. Can you chip in? We can't do it without you. Thank you.