Our work is licensed under Creative Commons (CC BY-NC-ND 3.0). Feel free to republish and share widely.
Today Iranian President Mahmoud Ahmadinejad said his country was ready to sit down for negotiations with the West.
Agence France-Pressereports:
"They have this excuse that Iran is dodging negotiations while it is not the case...," the Iranian leader was quoted as saying by state media. "Why should we run away from the negotiations?"

Ahmadinejad was implicitly responding to comments made by Western officials urging the Islamic republic to return to negotiations over its contested nuclear programme.

"The European Union stands together in sending that clear message to the government of Iran: that we wish to go back to negotiations, to invite them to pick up the issues which were left on the table in Istanbul a year ago," EU foreign policy chief Catherine Ashton said on Tuesday.
* * *
On Monday, the EU had decided on an oil embargo against Iran starting July 1. The BBCreports:
Nuclear row: Iran President Ahmadinejad offers talks

In a joint statement, UK Prime Minister David Cameron, French President Nicolas Sarkozy and German Chancellor Angela Merkel said Iran had "failed to restore international confidence in the exclusively peaceful nature of its nuclear programme".

The EU said the sanctions prohibit the import, purchase and transport of Iranian crude oil and petroleum products as well as related finance and insurance. All existing contracts will have to be phased out by 1 July.

Investment as well as the export of key equipment and technology for Iran's petrochemical sector is also banned.

EU foreign policy chief Catherine Ashton said the purpose of the sanctions was "to put pressure on Iran to come back to the negotiating table".
Al Jazeera has video on the EU sanctions decision:
* * *
Two countries not supporting the sanctions are China and India. The Independentreports:
India pledges to continue buying oil from Iran

India has no intention of following suit. The country is hungry for energy, with an economy growing at more than 7 per cent. The AFP news agency reports that India buys 12 per cent of its oil from Iran, which is its second largest supplier after Saudi Arabia.

China is the Islamic Republic's largest customer, accounting for around 20 per cent of its exports, and has already made clear it has no plan to alter this arrangement. Last year, as the issue of sanctions emerged, there were reports India may seek to barter for the oil, offering steel, electronic goods and food in exchange.
* * *
A new report from the Institute for Science and International Security (ISIS) indicates that Iran will not build a nuclear bomb in 2012. From The Guardian:
Iran won't build nuclear weapon in 2012, says draft Isis report

Iran is unlikely to move towards building a nuclear weapon in 2012 because it cannot yet produce enough weapon-grade uranium and is being deterred by sanctions and the prospect of an Israeli attack, according to a draft report by the Institute for Science and International Security (Isis).



The report by the institute founded by nuclear expert David Albright offers a more temperate view of Iran's nuclear program than some of the heated rhetoric that has surfaced since the United States and its allies stepped up sanctions on Tehran.

The Isis analysis is revealed after a prediction that Israel will attack Iran in 2012 to try and stop any nuclear bomb programme.

"Iran is unlikely to decide to dash toward making nuclear weapons as long as its uranium enrichment capability remains as limited as it is today," the report said.[...]

...According to the Isis report: "Although Iran is engaged in nuclear hedging, no evidence has emerged that the regime has decided to build nuclear weapons."
* * *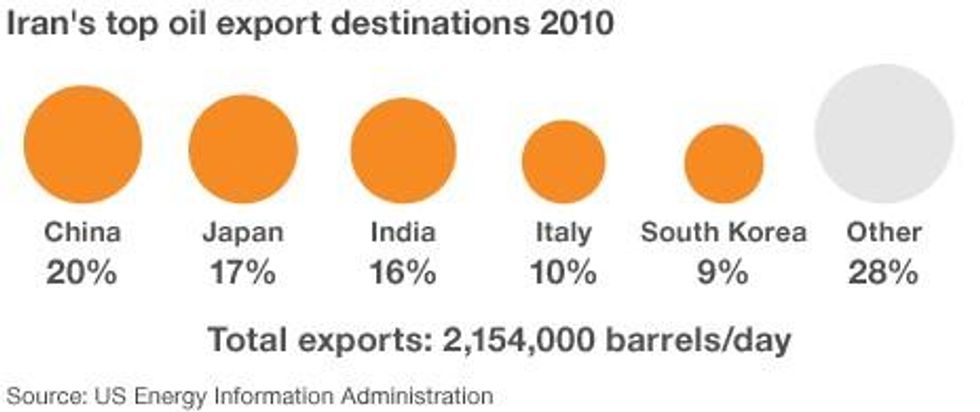 We've had enough. The 1% own and operate the corporate media. They are doing everything they can to defend the status quo, squash dissent and protect the wealthy and the powerful. The Common Dreams media model is different. We cover the news that matters to the 99%. Our mission? To inform. To inspire. To ignite change for the common good. How? Nonprofit. Independent. Reader-supported. Free to read. Free to republish. Free to share. With no advertising. No paywalls. No selling of your data. Thousands of small donations fund our newsroom and allow us to continue publishing. Can you chip in? We can't do it without you. Thank you.