Our work is licensed under Creative Commons (CC BY-NC-ND 3.0). Feel free to republish and share widely.
Steffie Woolhandler
Dr. Steffie Woolhandler is a co-founder of Physicians for a National Health Program. She is a professor of public health at the City University of New York and visiting professor of medicine at Harvard Medical School. She is also a primary care physician at Cambridge Hospital in Cambridge, Mass.
David Himmelstein
Dr. David Himmelstein is a co-founder of Physicians for a National Health Program. He is a professor of public health at the City University of New York and visiting professor of medicine at Harvard Medical School. He has served as the chief of the division of social and community medicine at Cambridge Hospital where he practices primary care internal medicine, and co-founded the Center for a National Health Program Studies at Harvard.
It's good the Supreme Court decided to follow the Constitution rather than play politics. But, from a medical point of view, there's little to celebrate in its upholding of the Affordable Care Act.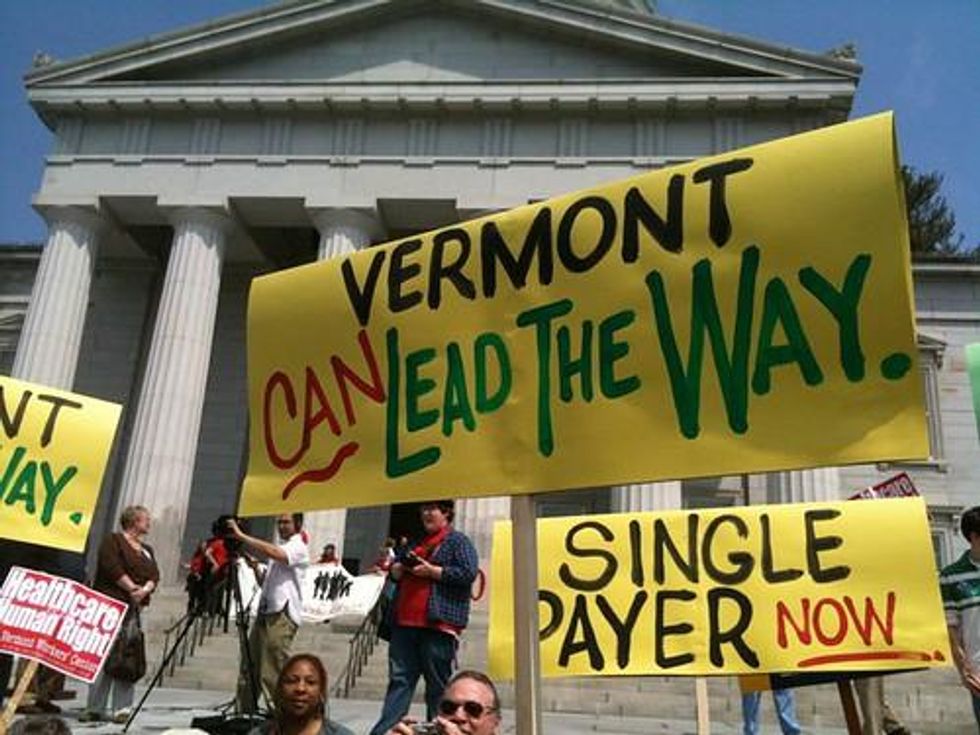 The health reform will leave 26 million uninsured even when it's fully implemented, and force tens of millions to buy lousy coverage from private insurers. Instead of cutting out the insurance middlemen who caused the health care crisis, Obamacare hands them a trillion-dollar windfall from federal subsidies, mandated premiums and Medicaid managed-care contracts.
Because of this sweetheart deal with the insurance industry, the ACA offers no relief from spiraling health care costs.
The results are predictable. Twenty-six million uninsured means 26,000 deaths each year from lack of coverage. Soaring health costs and ever-skimpier insurance mean financial ruin for more and more Americans; already 800,000 middle-class families are driven into medical bankruptcy each year.
In Massachusetts (where Mitt Romney enacted the model for the ACA in 2006) the number of uninsured has fallen by half to 5.6 percent, but costs have skyrocketed. The premium for the cheapest mandated coverage for a 55-year-old is $5,000, and the policy has a $2,000 deductible - that's $7,000 out of pocket before insurance kicks in.
Little wonder that medical bankruptcies haven't fallen in Massachusetts, and surveys have found little improvement in how easy it is to get or afford care.
The unrelenting health crisis in Massachusetts has led doctors there to support more radical reform - single-payer national health insurance - by more than 2 to 1 over Romney/Obamacare; even fewer want to go back to the pre-2006 system.
Single payer - a public plan resembling an expanded and upgraded Medicare - could cover the uninsured and upgrade coverage for the rest of us without any increase in health costs.
By replacing private insurers with a streamlined system of public financing, single payer would save $400 billion each year that's currently wasted on useless paperwork and insurance profits. And single payer would restore Americans' right to choose any doctor and any hospital.
In poll after poll, most people support single payer, and surveys show doctors nationwide like it too.
Aside from Republicans' attempts to repeal the ACA, Washington won't move on health reform until the ACA is fully implemented in 2014 - and it becomes clear it hasn't solved the crisis. In the meantime, insurers have a rerun of the disastrous HMO experience of the 1990s in store for us, with HMOs rebranded as ACOs (Accountable Care Organizations).
But activists and lawmakers in several states are already pushing ahead in better directions.
Vermont has passed a bill that lays the groundwork for single payer (the governor calls it "a road map to single payer"). The Hawaii Health Authority, mandated by the Legislature to design a "universal health care system covering everyone in the state," looks set to follow Vermont's lead.
Single-payer bills have won majorities in New York's state Assembly (but not its Senate), and in the California Legislature (where the governor vetoed it). And several other states have pending bills and active single-payer movements.
While federal legislation is essential to assure that every American is covered, one of these state efforts may be the spark plug that gets Congress off its duff. Until then, more and more Americans will find health care a source of suffering instead of succor.
We've had enough. The 1% own and operate the corporate media. They are doing everything they can to defend the status quo, squash dissent and protect the wealthy and the powerful. The Common Dreams media model is different. We cover the news that matters to the 99%. Our mission? To inform. To inspire. To ignite change for the common good. How? Nonprofit. Independent. Reader-supported. Free to read. Free to republish. Free to share. With no advertising. No paywalls. No selling of your data. Thousands of small donations fund our newsroom and allow us to continue publishing. Can you chip in? We can't do it without you. Thank you.