Owen Jones
Owen Jones is a columnist and the author of "Chavs: The Demonization of the Working Class" (2016). Follow him on Twitter: @OwenJones84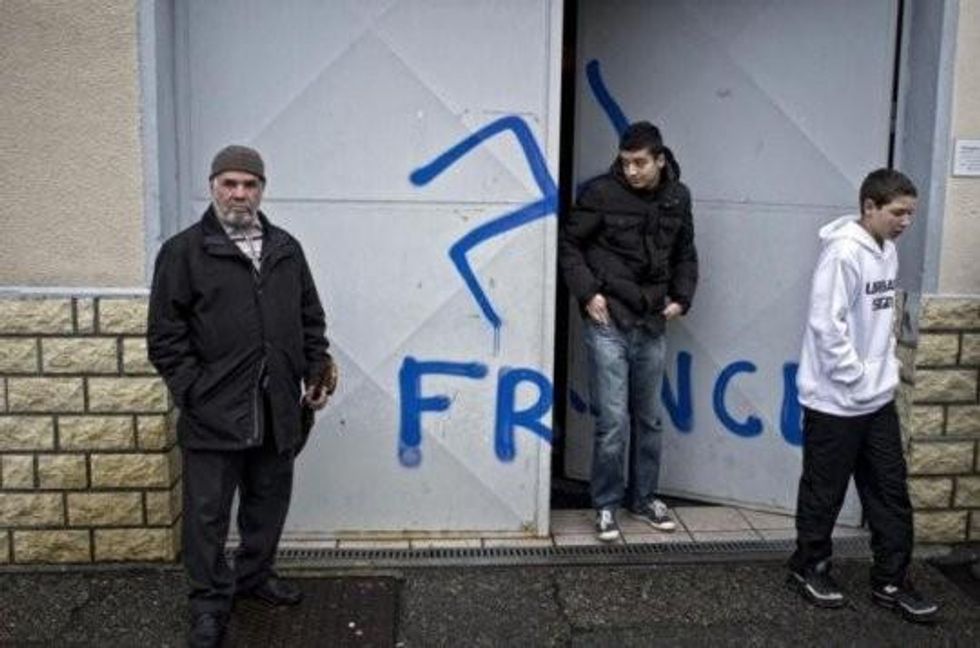 To be a prominent Muslim means suffering a daily diet of bigotry and even outright hatred. This week, Mehdi Hasan - who, other than my colleague Yasmin Alibhai-Brown, is Britain's only prominent Muslim journalist - wrote of how, every day, he is attacked as a "jihadist" and a "terrorist". He has been described as a "dangerous Muslim shithead", a "moderate cockroach", and worse. The message from his critics is clear: Muslims have no legitimate place in public life.
Mehdi Hasan was right to speak out, but it must not be left to Muslims alone to take on this bigotry. A tide of Islamophobia has swept Europe for many years, and - shamefully - all too few have taken a stand. Even many who regard themselves as "progressives" have either remained silent or even indulged anti-Muslim prejudice. It's time for Muslims and non-Muslims alike to join forces against the most widespread - and most acceptable - form of bigotry of our times.
Think I'm exaggerating? Consider that the far-right's main target of choice is no longer Jews or black people: it's Muslims. The BNP portrays itself as a crusade against the "Islamification" of Britain; in the 2010 election, it launched a "Campaign Against Islam". Its leader, Nick Griffin, describes Islam as "wicked" and a "cancer", and has blamed Muslims for problems such as drugs and rape. The English Defence League stages frequent - and often intimidating - street rallies protesting against Muslims.
But anti-Muslim prejudice isn't simply confined to the far-right fringes. I attended a Stockport sixth form with a large Muslim student population. The reality of their lives is all but airbrushed out of existence. When they appear at all, it's generally as fanatics, extremists or a community somehow "harbouring" dangerous extremists. (When do Britain's whites face the absurdity of being called on to crack down on far-right fanatics supposedly in their ranks?) One study took a selection of newspapers in a single week: 91 per cent of reports featuring Muslims were negative.
One of my Muslim fellow students was Dr Leon Moosavi, fast becoming a national authority on Islamophobia. He battles against the widespread denial that anti-Muslim prejudice is a problem. But consider that, in one poll conducted by the Friedrich Ebert Foundation, 45 per cent of Britons agreed that "there are too many Muslims" in Britain. Imagine if nearly half the population admitted to believing that "there are too many Jews" in Britain: how loud would our alarm be?
Of course, it is not just a British problem: the poison of Islamophobia has infected Europe's political mainstream. According to a Pew Research Center survey, nearly six out of 10 Europeans believe that Muslims were "fanatical", and half believed they were "violent". As here, the European far-right aims fire at Muslims above all other groups. In the Netherlands, an anti-Muslim party led by Geert Wilders is the third largest in parliament. Wilders compares the Koran to Mein Kampf, calls Islam a "Trojan Horse" in Europe and demands that the country's 850,000 Muslims be paid to leave the country. Wilders doesn't languish on the fringes: the current Dutch cabinet depended for two years on his party's support.
Or take sleepy Switzerland, where the Swiss People's Party (SVP) is the biggest party in the country's Federal Assembly. The SVP won a referendum on the banning of minarets, which the party's general secretary described as "symbols of Islamic power". During the vote, Geneva's mosque was repeatedly vandalised. Farhad Afshar, the president of the Coordination of Islamic Organisations, had no doubt what signal was sent by this vote: "that Muslims do not feel accepted as a religious community". But it gets even darker than that. In June, the Zurich-based SVP politician Alexander Muller was forced to stand down after tweeting: "Maybe we need another Kristallnacht... this time for mosques." The parallels with anti-Semitism could not be more overt.
In France - where recently 42 per cent polled for Le Monde believed that the presence of Muslims was a "threat" to their national identity - a record number voted for the anti-Muslim National Front in April's presidential elections. Denmark's third largest party is the People's Party, which rails against "Islamisation" and demands the end of all non-Western immigration. The anti-Muslim Vlaams Belang flourishes in Flemish Belgium. But those who take a stand against Islamophobia are often demanded to qualify it with a condemnation of extremism. When is this ever asked of other stands against prejudice? When we condemn anti-Semitic hate, must we criticise repressive Israeli policies in the same breath? It would be absurd - they are completely separate issues, and indeed millions of Jews across the world oppose the actions of Israel's government.
Anti-Muslim hate is a European pandemic. I'm proud to stand with Mehdi Hasan and other Muslims facing Islamophobia. But - I implore, I beg fellow non-Muslims - stand with them too, before this hatred spirals further out of control.
We've had enough. The 1% own and operate the corporate media. They are doing everything they can to defend the status quo, squash dissent and protect the wealthy and the powerful. The Common Dreams media model is different. We cover the news that matters to the 99%. Our mission? To inform. To inspire. To ignite change for the common good. How? Nonprofit. Independent. Reader-supported. Free to read. Free to republish. Free to share. With no advertising. No paywalls. No selling of your data. Thousands of small donations fund our newsroom and allow us to continue publishing. Can you chip in? We can't do it without you. Thank you.