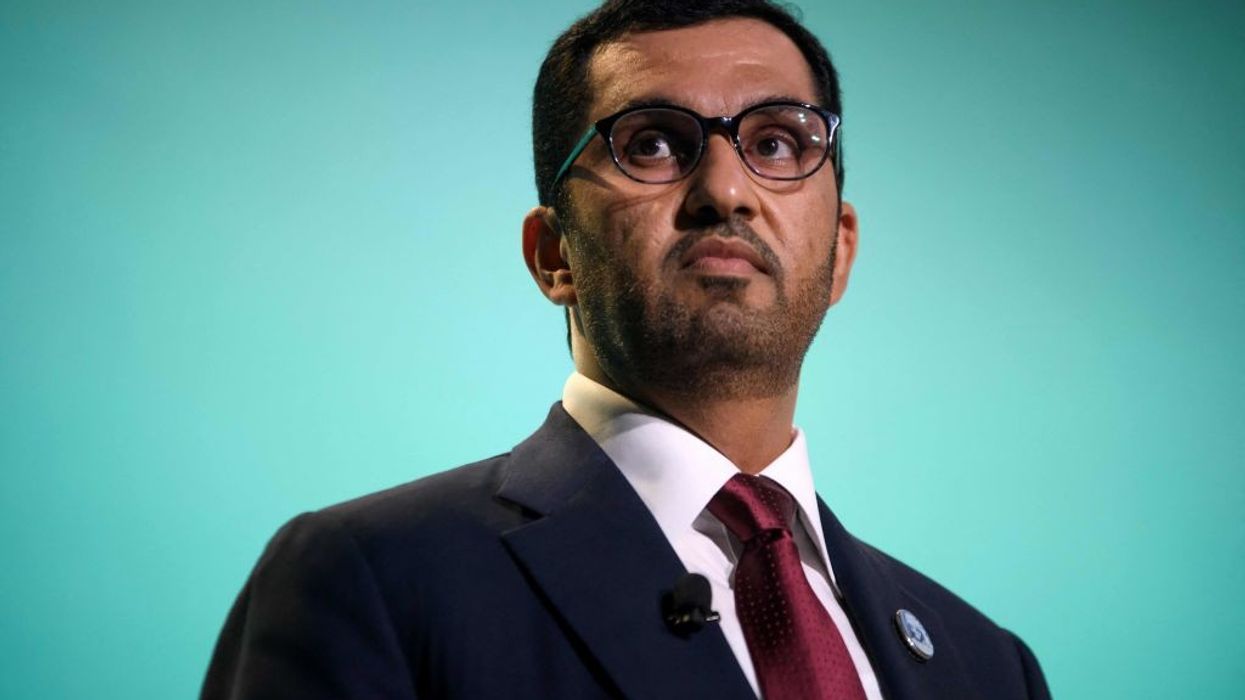 "This is a classic case of hypocritical fossil fuel firms saying one thing and doing another," said a senior Global Witness investigator.
An investigation published Friday by the international NGO Global Witness revealed that the oil giant run by Emirati Minister of Industry Sultan Ahmed Al Jaber—who is also president of this year's United Nations Climate Change Conference—was responsible for 14 times more planet-heating carbon emissions last year than it reported.

Last month, Al Jaber, who is CEO of state-owned Abu Dhabi National Oil Company (ADNOC), said that nations attending this autumn's U.N. summit, or COP28, in Dubai "must be brutally honest" about "all emissions, everywhere. [Scope] 1, 2, and 3."
As Global Witness explained:
Scope 1 and 2 emissions do not include pollution released when fossil fuels like oil and gas are burned for energy. These—known as scope 3—typically make up the vast majority of an oil company's carbon footprint. Although most oil and gas majors do not traditionally track Scope 3, some such as BP and Chevron do include scope 3 reductions in their climate targets.

Analysis of production data from Rystad Energy shows that ADNOC in 2022 produced over 650 million barrels of oil—enough to power China's oil demand for six weeks—and over 40 billion cubic meters of gas.

Emissions from those products alone are calculated to just over 340 million tonnes of CO2—more than the U.K. produces each year, and 14.1 times higher than the emissions the ADNOC disclosed this week.
"This is a classic case of hypocritical fossil fuel firms saying one thing and doing another," Global Witness senior investigator Patrick Galey said in a statement. "Sultan Al Jaber is on one hand asking companies to include all emissions in their climate strategies, while his firm is patting itself on the back for disclosing only a tiny fraction of its true climate impact."
"Fossil fuels account for 90% of the carbon emissions that are heating the planet and inflicting misery and loss on millions of people. The climate doesn't respond to clever accounting," Galey added. "While conceding publicly that a liveble future means cutting all emissions, Al Jaber's firm is refusing to acknowledge the vast majority of its products' emissions as its own."
At the same time, Al Jaber is presiding over a massive expansion of ADNOC—the world's 11th-largest fossil fuel company—that is planned to boost production by the equivalent of over 7.5 billion barrels of oil in the coming years. According toThe Guardian, that's the world's fifth-largest increase.

Climate defenders have warned all year that COP28 is likely to end in failure after the UAE appointed Al Jaber to preside over the summit, which seeks to "unite the world towards agreement" on "the most pressing global challenge of our time."

ne global climate campaigner
said
that tapping Al-Jaber to head COP28 "tantamount to putting the head of a tobacco company in charge of negotiating an anti-smoking treaty."
News