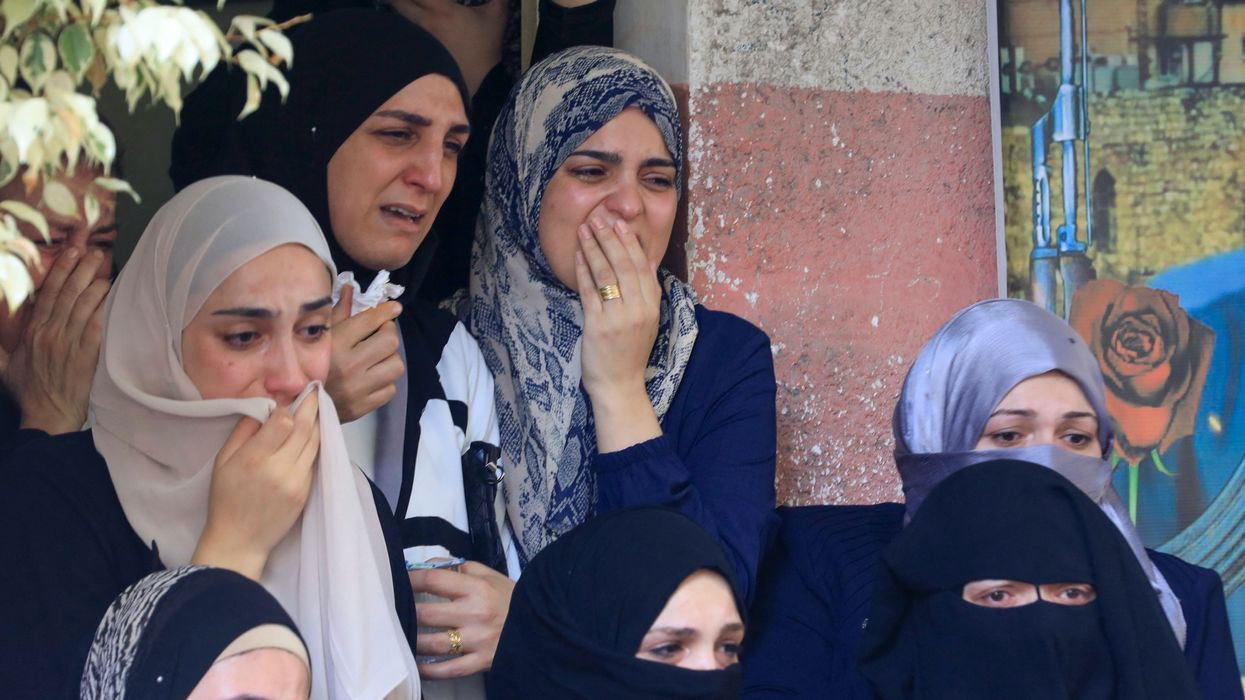 Fares Abu Samra was the 37th Palestinian child killed by Israeli forces this year.

A 14-year-old Palestinian boy was shot dead by Israeli occupation forces during a Thursday morning raid in the West Bank City of Qalqilya.
The Palestinian Health Ministry said Fares Abu Samra—the 37th child killed by Israeli forces this year—was shot in the head as occupation troops stormed the area.
Witnesses said Palestinian youths resisted the Israeli invaders by throwing stones, and that the troops returned fire with live rounds and so-called "less lethal" projectiles including rubber-coated steel bullets, stun grenades, and tear gas.
Abu Samra was killed just hours after another Palestinian, identified by the health ministry as 23-year-old Mohammed Abd al-Hakim Nada, died after being shot in the chest by Israeli forces during an invasion of the al-Ein refugee camp near the West Bank city of Nablus.
The Israel Defense Forces said it had entered the camp to arrest a "suspected militant." Local media reported that Palestinian resistance leader Nour al-Basiouni was the target of the raid.

According to Palestinian media and human rights groups, Israeli occupation forces and settlers have killed at least 165 Palestinians so far this year in the West Bank and East Jerusalem, while another 36 Palestinians were killed by Israeli troops in Gaza.
Palestinian militants have killed 25 Israelis, including six children, during the same period.
Also on Thursday, far-right Israeli Security Minister Itamar Ben-Gvir was internationally condemned after leading at least 1,700 Jewish settlers who stormed the al-Aqsa mosque compound in Jerusalem. The third-holiest site in Islam, al-Aqsa stands on what Jews call the Temple Mount—Judaism's most sacred site since biblical times—and has been illegally occupied by Israeli forces since 1967.
"This place is important to us and we have to return to it and prove our sovereignty," asserted Ben-Gvir, who leads the Otzma Yehudit (Jewish Power) party and who was convicted in 2007 of incitement to racism after he advocated the ethnic cleansing of Palestinians.
The United States, Turkey, Saudi Arabia, and Jordan were among the countries that criticized Ben-Gvir's actions, with the U.S. Embassy in Jerusalem asserting that "any unilateral action or rhetoric that jeopardizes the status quo is unacceptable."

Thursday's event came amid continuing protests by Israelis opposed to what many are calling a "judicial coup" by Prime Minister Benjamin Netanyahu's far-right government. Last week, Israeli lawmakers approved part of the judicial overhaul that will restrict the Supreme Court's ability to check government action.

News