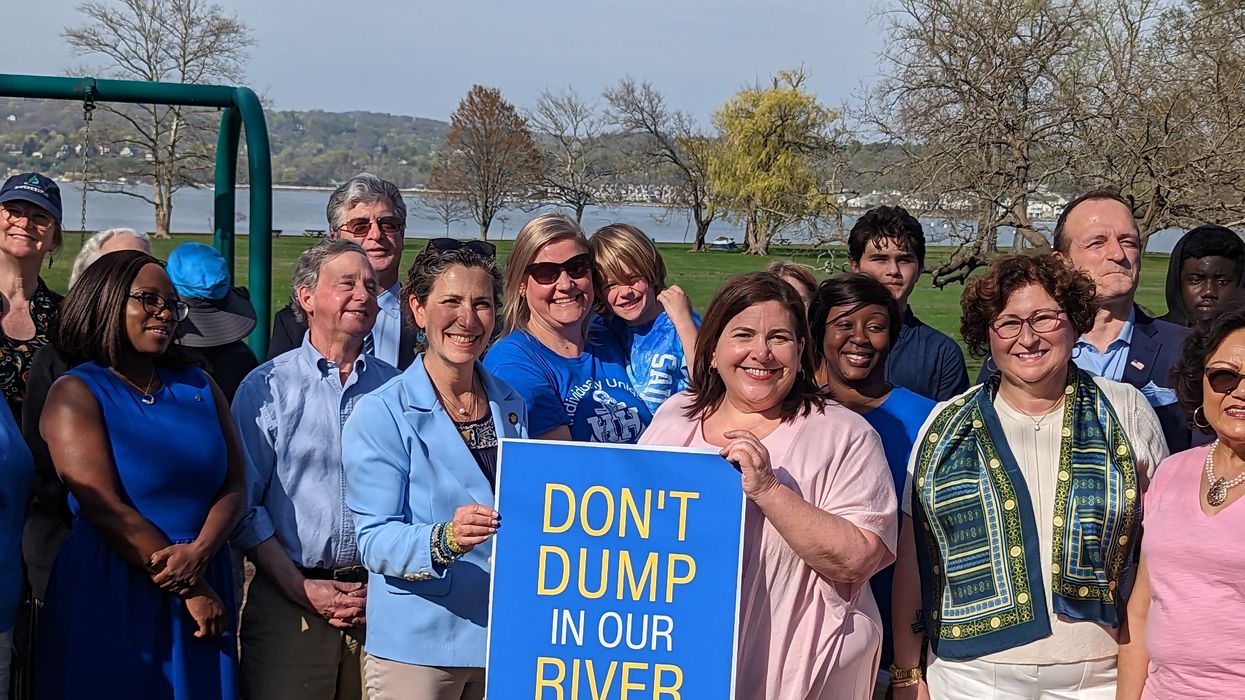 "Communities have spoken loud and clear that it is unacceptable to use the Hudson River as a dumping ground," said one campaigner.
Public health advocates in New York celebrated what one organizer called "the power of our communities over corporations" after Gov. Kathy Hochul signed legislation passed two months ago into law, barring companies from dumping nuclear wastewater into the Hudson River.
The Democratic governor's decision to sign the Save the Hudson Bill (A.7208/S.6893) came weeks before Holtec International was planning to begin discharging 45,000 gallons of wastewater from pools that were used to cool spent nuclear reactor fuel at the former Indian Point nuclear power plant.
The company ultimately planned to dump one million gallons of the wastewater into the Hudson, which at least 100,000 people use for their drinking water. The water could contain the isotope tritium, which has been linked to cancers, miscarriages, and genetic defects.
Organizers at Riverkeeper, Food & Water Watch (FWW), the Indian Point Safe Energy Coalition (IPSEC), and other groups have led hundreds of thousands of New Yorkers in speaking out against the plan—which was originally supposed to move forward in May but was delayed following public outcry.
"Gov. Hochul is sending a strong signal to corporate polluters—industrial waste has no place in our water," said Alex Beauchamp, Northeast regional director of FWW. "The Save the Hudson bill will ensure that the Hudson River is no longer treated as a toxic dumping ground, prioritizing public health and the environment over corporate expediency. Holtec's plan to dump radioactive water in the Hudson River was dangerous from the start, and New Yorkers from all over the state quickly organized robust opposition."
More than 400,000 people, 35 localities, and 138 civil society groups have petitioned Hochul to sign the bill in recent months, with advocates saying Holtec should be directed to store the wastewater in tanks at the site of Indian Point—which was shut down in 2021 after decades of local activism—until a safe method of disposal can be determined.
"This is a victory for the Hudson River and all its advocates!" said Marilyn Elie of IPSEC. "We are all better off because of this bill becoming law. Now on to see what Holtec's response will be and how they will store the tritiated water."
State Sen. Pete Harckham (D-40), who sponsored the bill, called the signing of the bill "one of the great environmental victories in state history."
"The overwhelming opposition from the public against Holtec's profit-driven discharges has resonated across New York," said Riverkeeper president Tracy Brown, "as communities have spoken loud and clear that it is unacceptable to use the Hudson River as a dumping ground for radioactive waste."
News