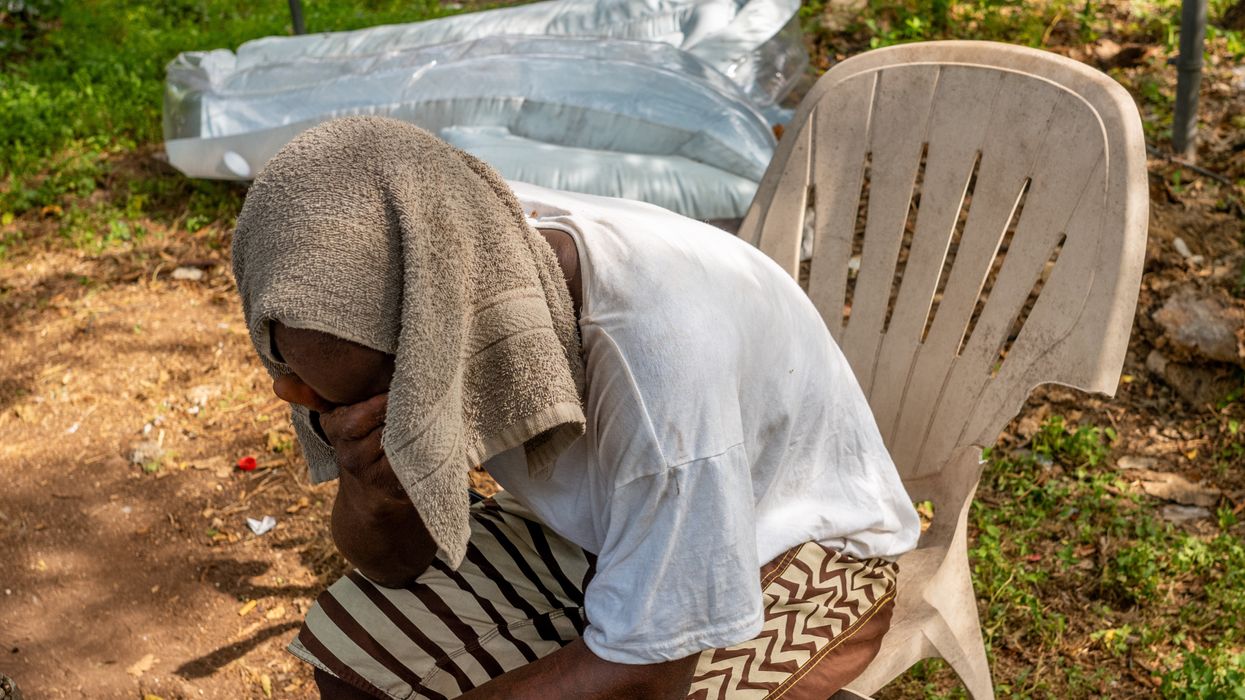 "To effectively safeguard communities facing extreme heat," said one policy expert, "we need improved occupational safety policies around heat, cooling standards, and ways to target services for those populations most in need."
At least nine people have died of heat-related causes in one Texas county in the last eight days as the state has been gripped by extreme temperatures caused by a heat dome that has developed over the Southwest—a heatwave that has broken numerous records, including for power consumption, and is expected to break more in the coming days.
Webb County Medical Examiner Corinne Stern, whose county in southern Texas includes the border city of Laredo, told officials at a county commissioners meeting on Monday that she was surprised by the death toll, considering the area is accustomed to hot and humid summers.
"We don't see this in our county," Stern said. "Laredo knows heat. Webb County knows heat. And I think our county was caught a little off-guard. These are unprecedented temperatures here."
Laredo was among several cities that broke or tied with their historic records for high temperatures on Tuesday. Del Rio, also along the U.S.-Mexico border, marked its 10th day in a row of record-breaking highs, reaching 110°F.

Outside of Webb County, a 14-year-old died at Big Bend National Park while hiking on June 23, and the extreme heat has also claimed the lives of a utility lineman in East Texas and a postal worker in Dallas. Since June 22, five bodies have also been discovered in Sunland Park, New Mexico—just over the Texas border and a common place for migrants to cross into the U.S. from Mexico—but the causes of death have not been disclosed by authorities.
Ashley Ward, director of the Heat Policy Innovation Hub at Duke University, noted that the extreme heat follows Republican Texas Gov. Greg Abbott's signing of a law that eliminated local requirements for water breaks for workers.
"Ironically, the state of Texas recently overturned worker protections against heat health hazards by rolling back mandated water and rest breaks starting September 1," said Ward. "Many other states also have inadequate worker protections for periods of extreme heat."
"To effectively safeguard communities facing extreme heat—and especially the people most at risk of heat-related illnesses and death—we need improved occupational safety policies around heat, cooling standards, and ways to target services for those populations most in need," she added.
As Common Dreamsreported last week, the state's surging investment in solar power has helped to meet power demand and to largely avoid blackouts, but the Texas Electric Reliability Council has asked residents this week to cut back on power usage as much as possible.
The council said power usage across the state reached a record of 80,828 megawatts at 6:00 pm on Tuesday, surpassing a high mark of 80,148 that was set last July during another period of extreme heat. The new record was expected to be exceeded again on Wednesday.
The National Weather Service said temperatures are likely to reach 110°F to 115°F on Thursday and Friday in Texas as the heat spreads into Arkansas, Louisiana, Kansas, and Oklahoma. Ninety million people in the U.S. were under heat safety alerts on Wednesday.
The heat that has killed more than a dozen Texans was made five times more likely to occur by the climate emergency, the independent think tank Climate Central said earlier this month.

Health authorities have reported a marked increase in the number of people arriving at emergency departments to be treated for heat-related symptoms this past week, with the Texas Syndromic Surveillance system finding that on June 20, approximately 350 people who sought medical attention at the state's hospitals were suffering heat-related symptoms—the highest number of such visits on a single day so far this year, and higher than any day in 2022.
The emergency medical services (EMS) in Houston fielded 416 calls for heat-related illnesses between June 1 and June 23, and authorities in San Antonio took 234 calls over the same period. Last year, the San Antonio EMS fielded 163 heat-related calls in the first 25 days of June.
The Texas Tribunereported that the state does not officially acknowledge the deaths of inmates in prisons—70% of which do not have full air conditioning. At least five prisoners have died of cardiac arrest or heart attacks during this wave of extreme heat, the outlet said.
"In the past two weeks we've had heat indexes of 120," said Claire Zagorski, a licensed paramedic in Austin. "In a prison (cinderblock, no breeze) that becomes incompatible with life pretty rapidly."

News