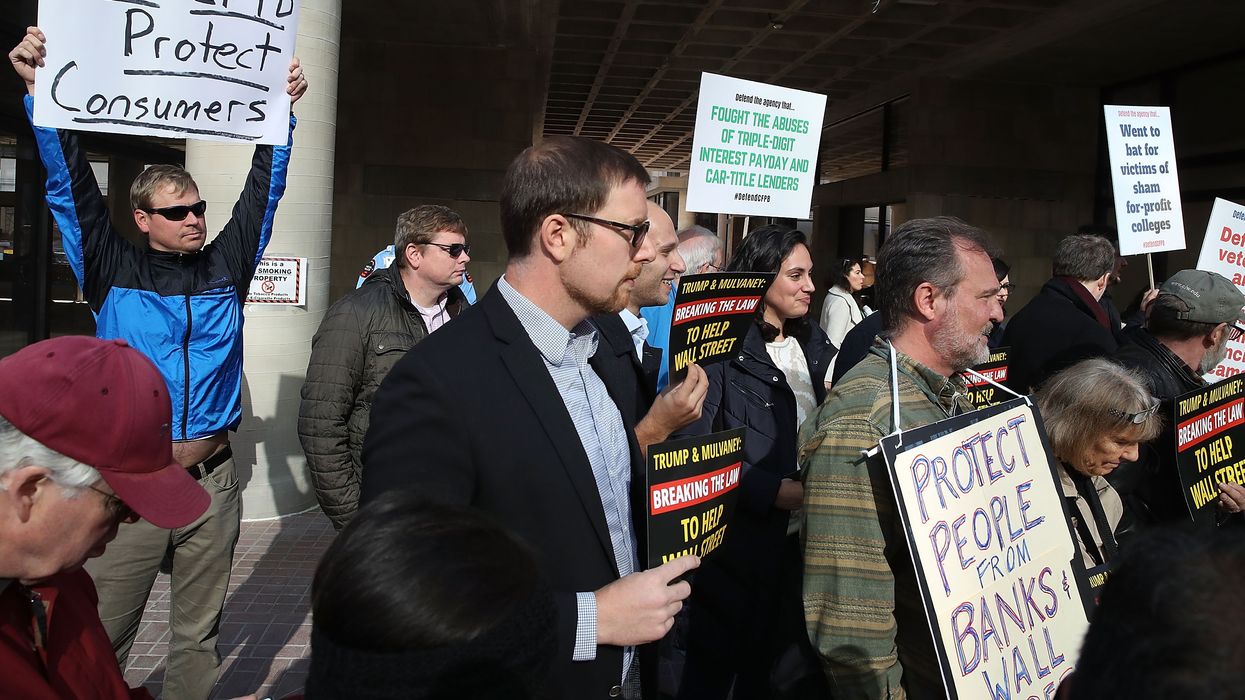 "Big bank special interests with a record of discrimination have delivered a one-two punch against the bureau in their own selfish interest to turn away borrowers of color with impunity," said one consumer advocate.
A government watchdog on Tuesday said a federal judge's ruling in Texas blocking the Consumer Financial Protection Bureau from implementing an anti-discrimination rule was the outcome of a "long-running, organized effort by greedy industries" to defang the agency.
Judge Randy Crane, whom former Republican President George W. Bush appointed to be the chief U.S. district judge of the Southern District of Texas, handed down an injunction blocking the CFPB from implementing its rule requiring banks to collect data on loan applications for women-owned, minority-owned, and small businesses to identify and root out potential discrimination.
The ruling applies only to Rio Bank in McAllen, Texas, and members of the Texas Bankers Association (TBA) and American Bankers Association (ABA), which filed a lawsuit earlier this year challenging the rule, claiming it would do "irreparable" harm to banks that would be required to hire and train new employees and install new data collection software in order to comply.
Accountable.US pointed out that members of the banking associations have well-documented histories of discriminating against small business loan applicants in exactly the way the rule set out to eliminate.
"Anyone paying attention knows this latest legal assault against the CFPB has nothing to do with upholding the Constitution and everything to do with keeping the agency from protecting borrowers from industry discrimination and abuse," said Liz Zelnick, director of the economic security and corporate power program at Accountable.US. "Big bank special interests with a record of discrimination have delivered a one-two punch against the bureau in their own selfish interest to turn away borrowers of color with impunity."
"The bankers' case that discrimination is just a normal part of doing business only makes a stronger case for why everyday Americans need the bureau to stay strong, independent, and free from political influence in Congress," she added.
The group noted that ABA board member JPMorgan Chase settled with the U.S. Department of Justice in 2017 for $55 million over allegations of discrimination against mortgage borrowers who were members of minority groups. The CFPB has also fined Washington Federal Bank—whose president and CEO is on the trade group's board of directors—a total of $234,000 for data errors that the agency said could perpetuate discrimination.

The ABA and TBA also joined the U.S. Chamber of Commerce in filing a separate lawsuit last year to challenge the CFPB's crackdown on discrimination; the plaintiffs in that case have spent nearly $1 million to settle discrimination cases in the past decade.

Jesse Van Tol, president and CEO of the National Community Reinvestment Coalition, accused the Wall Street groups of "tedious whining."

"It's a ludicrous and retrograde position to take, in effect asserting a right to discriminate in secret to illegally deprive marginalized communities of economic opportunity," Van Tol told Bloomberg Law on Monday.
In October the U.S. Supreme Court is scheduled to hear arguments in the CFPB's appeal of a ruling last year which found the agency's funding structure through the Federal Reserve violates the Constitution's appropriations clause.

"If the financial industry is allowed to slam the door on Americans seeking financial services on the basis of identity without consequence, it will keep many families from getting ahead," said Zelnick on Tuesday. "If the special interests successfully cripple the CFPB's ability to protect all consumers, it will make it that much harder to grow the middle class."
News