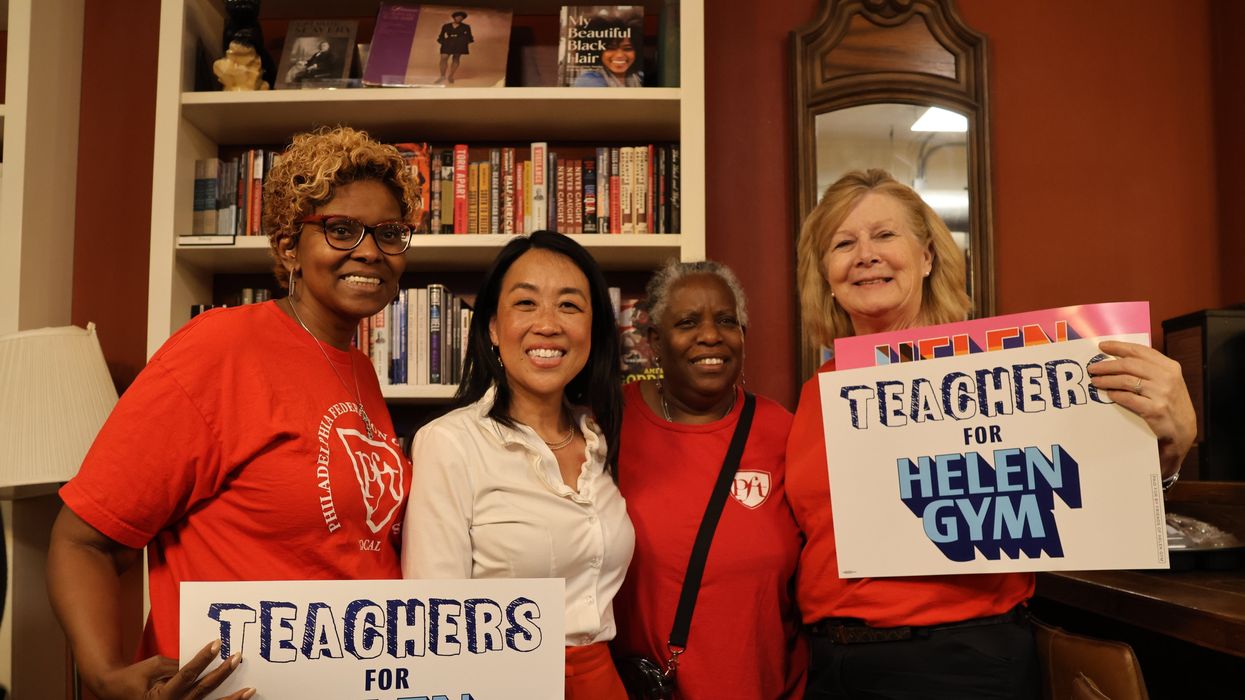 Helen Gym's campaign manager has said charter school advocate Jeffrey Yass is "bankrolling a false smear campaign against the only candidate in the race with a real vision to invest in Philly's public schools."
Jeffrey Yass—Pennsylvania's richest man, a registered libertarian, and a charter school advocate—has given over $1 million to a group trying to convince Philadelphians not to vote for progressive mayoral candidate Helen Gym, a former teacher and public school supporter, in Tuesday's Democratic primary.
Gym is one of nine candidates appearing on the Democratic ballot, though based on polling she is considered a top contender alongside two fellow former Philadelphia City Council members—Allan Domb and Cherelle Parker—as well as Jeff Brown, a supermarket chain founder, and Rebecca Rhynhart, Philly's ex-comptroller.
Brendan McPhillips, Gym's campaign manager, said in a statement to The Philadelphia Inquirer earlier this month that the billionaire is "bankrolling a false smear campaign against the only candidate in the race with a real vision to invest in Philly's public schools."
"This is how billionaires keep their own taxes low while killing public education funding."

Gym co-founded the citywide group Parents United for Public Education in 2006 and her campaign website details her plans for Philadelphia schools, pledging that "as mayor, Helen will lead an education-first agenda that recognizes the future of our city relies on the health and well-being of our young people."
The Inquirer reported that Yass—who has primarily funded Pennsylvania Republicans but also given money to groups backing Democrats who support expanding charter schools—couldn't be reached for comment, but Coalition for Safety and Equitable Growth treasurer Mo Rushdy said the super PAC's donors believe "our next mayor needs to have a commonsense approach to solving the problems facing Philadelphia" and "Helen Gym is the wrong person to confront these challenges."
Bunch continued:
It's not that the $1.1 million is a lot of dough—it is for you and me but not so much for Yass. He reportedly has a net worth of $28.5 billion, and is said to have spent at least $18 million on politics ahead of last year's primary, some on the Pennsylvania governor's race but a lot on candidates, both Republican and Democrat, who support what he calls "school choice." (The anti-Gym PAC has other backers including Josh Kopelman, The Inquirer's board chairman, who gave $50,000.) But why is Yass so committed to his vision of an America where mostly nonunionized charter schools or religious schools thrive while what his crowd insists on calling "government schools" wither?

It matters because Yass and his giant wad of cash are just one major point of attack on what's becoming an all-out assault on U.S. public schools in the 2020s—one that combines billionaires like Yass and their free market voodoo economics with the uglier, in-the-trenches culture wars of doctrinaire conservatives convinced that "woke," pink-haired teachers are indoctrinating kids about race or LGBTQ rights.

On Tuesday in Pennsylvania, voters will be making choices about the future of public schools not just in Philadelphia—where several buildings are closed due to asbestos, amid a broader crisis of disrepair—but in school board elections in smaller communities like Kutztown, torn asunder by campaigns to ban books from Gender Queer to Two Degrees, or Central Bucks, riven by months of conflict over issues such as LGBTQ-friendly books or stickers. It's part of a national climate in which school board meetings resemble hockey games, while teachers are increasingly demoralized.
American Federation of Teachers president Randi Weingarten shared Bunch's column on social media and joined unionized Philly educators and Gym for a Monday night campaign event.
"It's been a decadeslong journey to get here. Standing alongside educators again and again to stop school closures, end a state takeover, and demand fair funding," Gym tweeted of the event. "Now it's time to finish the job we started all those years ago. We will fulfill the promise of our public schools."
Although her campaign follows recent progressive mayoral victories is Boston, Chicago, and Los Angeles, "Gym is loath to discuss the national implications of her race," CNNreported Monday. She told the network that "I'm running for office to change the way people actually live in this city," pushing for change "that has to be felt by the people themselves, not by an ideology, not by a quote-unquote abstract movement."
However, progressives across the country have their eyes on Gym. The American Prospect managing editor Ryan Cooper wrote last week that "if she can pull out a victory, it could provide a lesson for how progressives can win in crime-wracked big cities."
In a Sunday viewpoint for In These Times, David I. Backer, an associate professor of education policy at West Chester University in Pennsylvania, highlighted how Gym's "unbelievably long list of her accomplishments" as a city council member shows what she could do as mayor.
"Helen really represents the coming of age of the progressive movement," Our Revolution executive director Joseph Geevarghese told CNN. "She emerged as a community activist and organizer, she then sought political power, sought to bring movement politics into the political realm… Helen's trajectory reflects the trajectory of the progressive movement."
Our Revolution is among dozens of progressive advocacy groups, unions, and politicians who have endorsed Gym—including Boston Mayor Michelle Wu and Chicago Mayor Brandon Johnson along with U.S. Sen. Bernie Sanders (I-Vt.) and Reps. Jamaal Bowman (D-N.Y.), Pramila Jayapal (D-Wash.), Ayanna Pressley (D-Mass.), and Alexandria Ocasio-Cortez (D-N.Y.). Sanders and Ocasio-Cortez rallied with Gym at Franklin Music Hall in Philadelphia over the weekend.
"They've got money, but we've got the people," Ocasio-Cortez reportedly told the crowd. "I always say to my team back home, progressives win in a street fight, and that's what we've got here in Philly today, a street fight. We need to be knocking on every door, texting all our friends. We talk about youth organizing up, which means people need to call their tías, their tíos, their uncles, their cousins, todo, everybody."

News