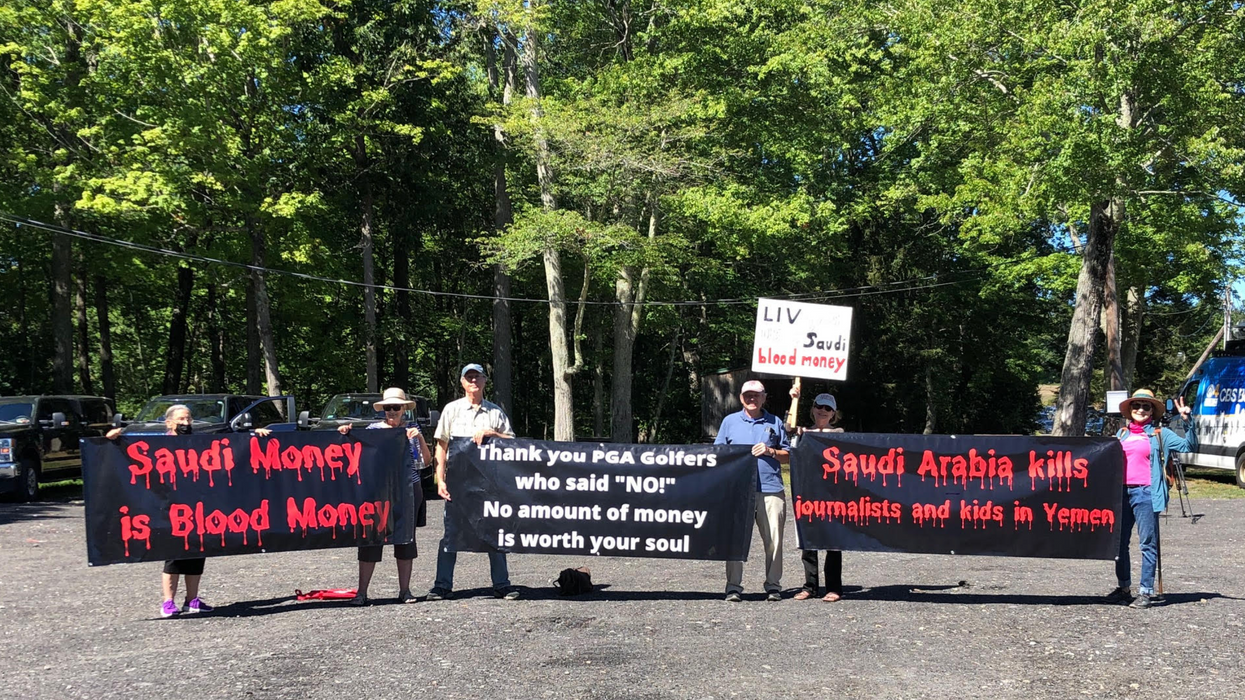 "PGA Tour leaders should be ashamed of their hypocrisy and greed."

Relatives of people killed in the September 11, 2001 attacks on the United States and 9/11 survivors said Tuesday that they are "shocked and deeply offended" by a newly announced merger between the PGA Tour and the Saudi-backed LIV Golf circuit, a deal widely condemned as "sportswashing" one of the world's worst human rights violators.
In an agreement that will end years of acrimony and litigation, PGA Tour, DP World Tour, and the Saudi Public Investment Fund (PIF)—which owns LIV Golf—surprised the world of golf and beyond by announcing Tuesday that they are merging into "a new, collectively owned, for-profit entity."
"Our entire 9/11 community has been betrayed by Commissioner Monahan and the PGA."
PGA Commissioner Jay Monahan—who last year asked players considering leaving for LIV Golf if they've "ever had to apologize for being a member of the PGA Tour"—
told
CNBC
on Tuesday that he's now "recognized that together, we can have a far greater impact on this game than we can working apart."
Human rights advocates excoriated Monahan and the deal. Terry Strada, who chairs the 9/11 Families United coalition and whose husband Tom died in the attack on the World Trade Center, said in a statement that "Monahan co-opted the 9/11 community last year in the PGA's unequivocal agreement that the Saudi LIV project was nothing more than sportswashing of Saudi Arabia's reputation."
\u201cJay Monahan changed his tune considerably after telling the media and players his concerns with the Saudi-backed LIV Golf tour. \n\nPart 1 \ud83d\udc47\u201d

— Awful Announcing (@Awful Announcing) 1686093488
"But now the PGA and Monahan appear to have become just more paid Saudi shills, taking billions of dollars to cleanse the Saudi reputation so that Americans and the world will forget how the kingdom spent their billions of dollars before 9/11 to fund terrorism, spread their vitriolic hatred of Americans, and finance al-Qaeda and the murder of our loved ones," Strada continued. "Make no mistake—we will never forget."
"Mr. Monahan talked last summer about knowing people who lost loved ones on 9/11, then wondered aloud on national television whether LIV golfers ever had to apologize for being a member of the PGA Tour," Strada added. "They do now—as does he. PGA Tour leaders should be ashamed of their hypocrisy and greed. Our entire 9/11 community has been betrayed by Commissioner Monahan and the PGA as it appears their concern for our loved ones was merely window-dressing in their quest for money—it was never to honor the great game of golf."
\u201cNothing is more American than the PGA vilifying golfers who took hundreds of millions of dollars to play for an immoral, murderous undemocratic, anti-American regime...\n\nThen partnering with that immoral, undemocratic, anti-American murderous regime.\n\nhttps://t.co/NBIrZbCKxb\u201d

— Michael Harriot (@Michael Harriot) 1686065123
Some members of U.S. Congress—a body that responded to 9/11 by voting overwhelmingly to authorize an open-ended war that experts say has claimed millions of lives—welcomed the PGA-LIV Golf merger, among them Reps. Jim Clyburn (D) and Nancy Mace (R), both of South Carolina.
"Obviously Saudi money being involved... you know, I'd have some concerns over that," Mace, who chairs the Congressional Golf Caucus, toldHuffPost. "But look at my district—we've got over 30 golf courses."
Former President Donald Trump—whose golf courses have hosted LIV Golf events—called the deal "big, beautiful, and glamorous" for the sport.

Other lawmakers—mostly Democrats—condemned the merger.

\u201cA merger of this size & weight deserved a vote from the PGA Tour Players -- another reason why player unions matter. \u00a0Golf is one of the only major professional sports leagues in the US without one.\u201d

— Ro Khanna (@Ro Khanna) 1686070295
"Hypocrisy doesn't begin to describe this brazen, shameless cash grab," Senate Finance Committee Chair Ron Wyden (D-Ore.) tweeted. "I'm going to dive into every piece of Saudi Arabia's deal with the PGA. U.S. officials need to consider whether a deal will give the Saudi regime inappropriate control or access to U.S. real estate."
Sen. Richard Blumenthal (D-Conn.) accused the PGA Tour of paying "lip service" to uplifting the game of golf, which will be used "unabashedly by [Saudi Arabia] to distract from its many crimes."
\u201cSo weird. PGA officials were in my office just months ago talking about how the Saudis' human rights record should disqualify them from having a stake in a major American sport.\n\nI guess maybe their concerns weren't really about human rights?\u201d

— Chris Murphy \ud83d\udfe7 (@Chris Murphy \ud83d\udfe7) 1686066929
Ruled for generations by the House of Saud under Wahhabism, a fundamentalist form of Sunni Islam, Saudi Arabia perennially scores near the bottom of most international human rights indices. Women, religious and sexual minorities, and political dissidents are especially repressed. "Crimes" including apostasy—renouncing Islam—blasphemy, witchcraft, prostitution, and even adultery are punishable by death, often by public beheading.
Abroad, Saudi Arabia leads a U.S.-backed coalition intervening in Yemen's civil war, in which nearly 400,000 people have been killed. Despite pledging to make Saudi Arabia a "pariah" during his 2020 presidential campaign, U.S. President Joe Biden has, like his predecessors going back to the first half of the 20th century, continued friendly and highly lucrative relations with the monarchy.
\u201c\u201c[Saudis] are scary motherf-ckers to get involved with. We know they killed [Jamal] Khashoggi and have a horrible record on human rights. They execute people over there for being gay.\u201d - Phil Mickelson. Within a day, he apologized to the Saudi Royal Family for these comments.\u201d

— Dave Zirin (@Dave Zirin) 1686081241
According to U.S. intelligence agencies, Saudi Crown Prince Mohammed bin Salman ordered the 2018 kidnapping and brutal murder of Jamal Khashoggi, a Washington Post columnist with permanent U.S. residency. Biden angered many human rights advocates by moving to protect the crown prince from accountability.
U.S. Secretary of State Antony Blinken is currently in Saudi Arabia, where he met with bin Salman in Jeddah Tuesday. Blinken said the pair "discussed deepening economic cooperation, especially in the clean energy and technology fields," while emphasizing that "our bilateral relationship is strengthened by progress on human rights."

News