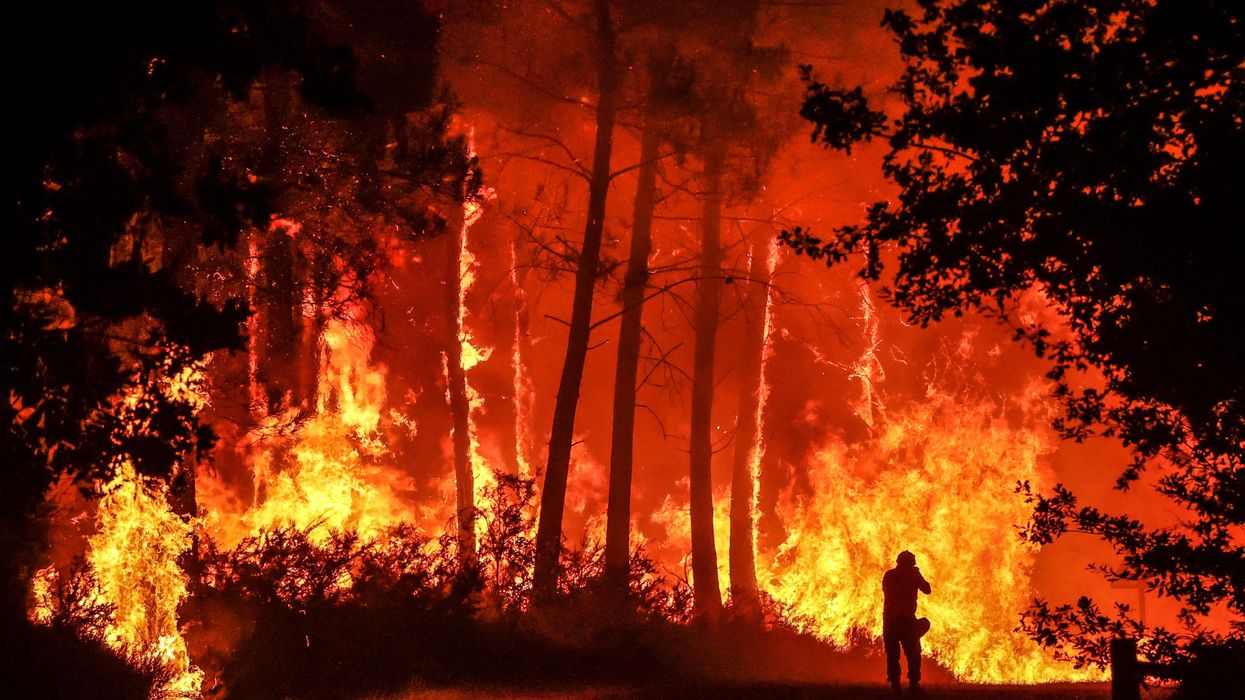 "It's the first time in history that it's more likely than not that we will exceed 1.5°C," said a co-author of a new U.N. report.
Naturally-occurring El Niño events have resulted in hotter global temperatures for thousands of years, but a United Nations agency warned Tuesday that the warming trend that scientists expect to form in the coming months will be intensified by heat-trapping greenhouse gas emissions—likely resulting in an average global temperature that's more than 1.5°C above pre-industrial levels for at least a year.
"A warming El Niño is expected to develop in the coming months and this will combine with human-induced climate change to push global temperatures into uncharted territory," said Prof. Petteri Taalas, secretary-general of the World Meteorological Organization (WMO), as the agency released its Global Annual to Decadal Climate Update ahead of the El Niño Southern Oscillation (ENSO) event.
A global average temperature that exceeds 1.5°C above pre-industrial levels would mean that the planet temporarily grows hotter than the limit specified by the Paris climate agreement.
The WMO report says there is a 66% chance that the annual average global temperature will exceed 1.5°C above pre-industrial levels for at least one year between 2023 and 2027.

"It's the first time in history that it's more likely than not that we will exceed 1.5°C," Adam Scaife of the U.K.'s Met Office, who worked on the report, toldReuters.
As Common Dreamsreported Monday, climate scientists are currently observing trends in the Pacific Ocean that appear "very much like the 1997 and 2015 early stages of a Super El Niño," in which very high temperatures would be recorded near the equator.

El Niño events occur roughly every five years, and the one that appears to be forming now is likely to make at least one of the next five years the warmest on record. The El Niño event that occurred in 2016 contributed to 2016, 2019, and 2020 being the hottest years on record so far.
The WMO report said there is a 98% chance that the upcoming five-year period as a whole will be the warmest in recorded history. There is a 32% likelihood that the five-year mean temperature will exceed the 1.5°C threshold.
Although the breach of the 1.5°C limit is expected to be temporary, Taalas warned that this El Niño event could signal a new pattern.
"This report does not mean that we will permanently exceed the 1.5°C level specified in the Paris Agreement which refers to long-term warming over many years. However, WMO is sounding the alarm that we will breach the 1.5°C level on a temporary basis with increasing frequency," said Taalas. "This will have far-reaching repercussions for health, food security, water management, and the environment. We need to be prepared."
Scientists and heat experts have begun calling on officials to prepare communities with cooling stations, access to air conditioning equipment, and other measures to cope with the hot weather El Niño is expected to bring.
Prior to 2015, the chance of the annual global average temperature crossing the 1.5°C threshold was "close to zero," according to the WMO. Between 2017 and 2021, scientists recorded a 10% chance.
\u201cChance of temporarily exceeding 1.5\u00b0C global warming: \n\n\ud83d\udfe2 2015 \u2248 0% \n\n\ud83d\udfe1 2017-2021 \u2248 10%\n\n\ud83d\udfe0 2023-2027 \u2248 66%\n\nToday's @WMO report shows we must accelerate action this decade to avoid the worst impacts of #ClimateChange.\u201d

— UN Climate Change (@UN Climate Change) 1684333323
"Global mean temperatures are predicted to continue increasing, moving us away further and further away from the climate we are used to," said Dr. Leon Hermanson, a Met Office scientist who led the report.
The report noted that warming in the Arctic is "disproportionately high," which has threatened the collapse of a crucial ocean current system and disrupted weather patterns in the northern hemisphere.
Climate writer Andy Rowell called the WMO's report both "heartbreakingly terrifying and predictable" as the fossil fuel industry and policymakers refuse to heed the warnings of scientists and energy experts, who say the continued extraction of oil and gas have no place on a pathway to avoiding the 1.5°C warming limit.
\u201cHeart-breakingly terrifying and predictable at the same time, but Big Oil just keeps on ignoring the science and drilling your future away. #ClimateEmergency \n\nhttps://t.co/glv9Y3Pyyc\u201d

— Andy Rowell (@Andy Rowell) 1684320614
"This report must be a rallying cry to intensify global efforts to tackle the climate crisis," Doug Parr, chief scientist at Greenpeace U.K.,
told
Reuters
.
News