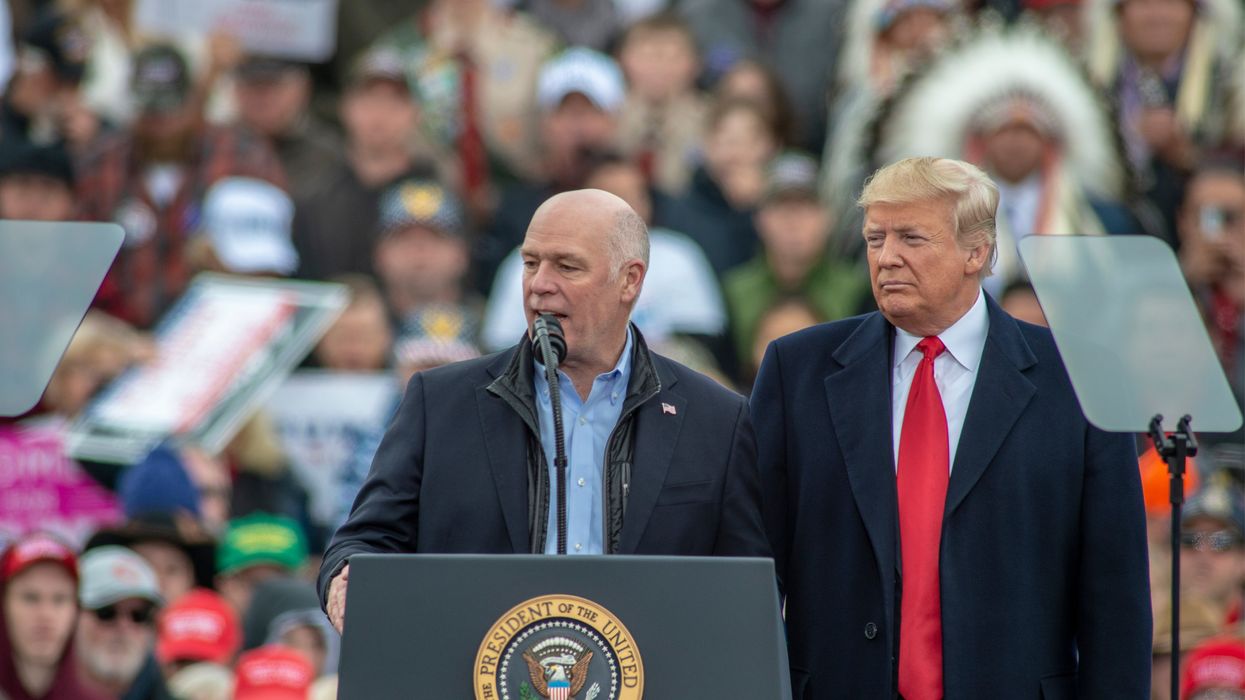 "We will never trade our First Amendment rights for cheap political points," said the civil liberties group.
The ACLU and other civil liberties groups accused the Montana GOP of running roughshod over free expression after Republican Gov. Greg Gianforte signed a bill completely banning TikTok in the state and prohibiting private companies from allowing Montanans to download the popular social media app.
Gianforte's move made Montana the first state in the U.S. to ban TikTok as congressional Republicans—and some Democrats—push for a federal ban or heavy restrictions, casting the short-form video platform as a national security threat with little to no supporting evidence.
TikTok is a subsidiary of the Chinese tech firm ByteDance. Gianforte echoed the typical GOP line on TikTok in a statement Wednesday, saying the new ban is aimed at protecting "Montanans' private data and sensitive personal information from being harvested by the Chinese Communist Party."
But the ACLU of Montana said in response that "there's no public evidence of harm that would meet the high bar set by the U.S. and Montana Constitutions" to justify a total ban on a widely used communication platform.
"With this ban, Governor Gianforte and the Montana legislature have trampled on the free speech of hundreds of thousands of Montanans who use the app to express themselves, gather information, and run their small business in the name of anti-Chinese sentiment," said Keegan Medrano, the ACLU of Montana's policy director. "We will never trade our First Amendment rights for cheap political points."
Montana's new ban, which is set to take effect on January 1, 2024, sets financial penalties of up to $10,000 a day for companies—including TikTok itself—that continue to make the app available for Montanans to download.
"This unconstitutional ban undermines the free speech and association of Montana TikTok users and intrudes on TikTok's interest in disseminating its users' videos," the Electronic Frontier Foundation wrote on Twitter. "It is a blatant violation of the First Amendment, whether it's done by Congress or Montana."
\u201cThe state of Montana just banned TikTok. \n\nHave questions about circumventing network censorship? Here's our guide: https://t.co/xI9mJLQXhc\u201d

— EFF (@EFF) 1684363997
More than 150 million Americans use TikTok, according to the company's own figures.
Earlier this year, the Biden administration launched a fresh effort to force ByteDance to sell TikTok, reprising a failed pressure campaign first launched by the Trump White House. Late last year, President Joe Biden signed into law a spending bill containing a provision barring the TikTok app from devices issued by the federal government.

Congressional Republicans, including Sen. Josh Hawley (R-Mo.), have demanded legislative action to prohibit TikTok nationwide, drawing pushback from progressive lawmakers who say the push is fueled by dangerous anti-China sentiment and unfounded national security fears.
"I am opposed to efforts by some Republicans and Democrats to unilaterally ban an entire social media platform," Rep. Ilhan Omar (D-Minn.) said in a statement in late March, echoing Reps. Alexandria Ocasio-Cortez (D-N.Y.), Jamaal Bowman (D-N.Y.), and others.
"I don't like censorship," Omar added.

News