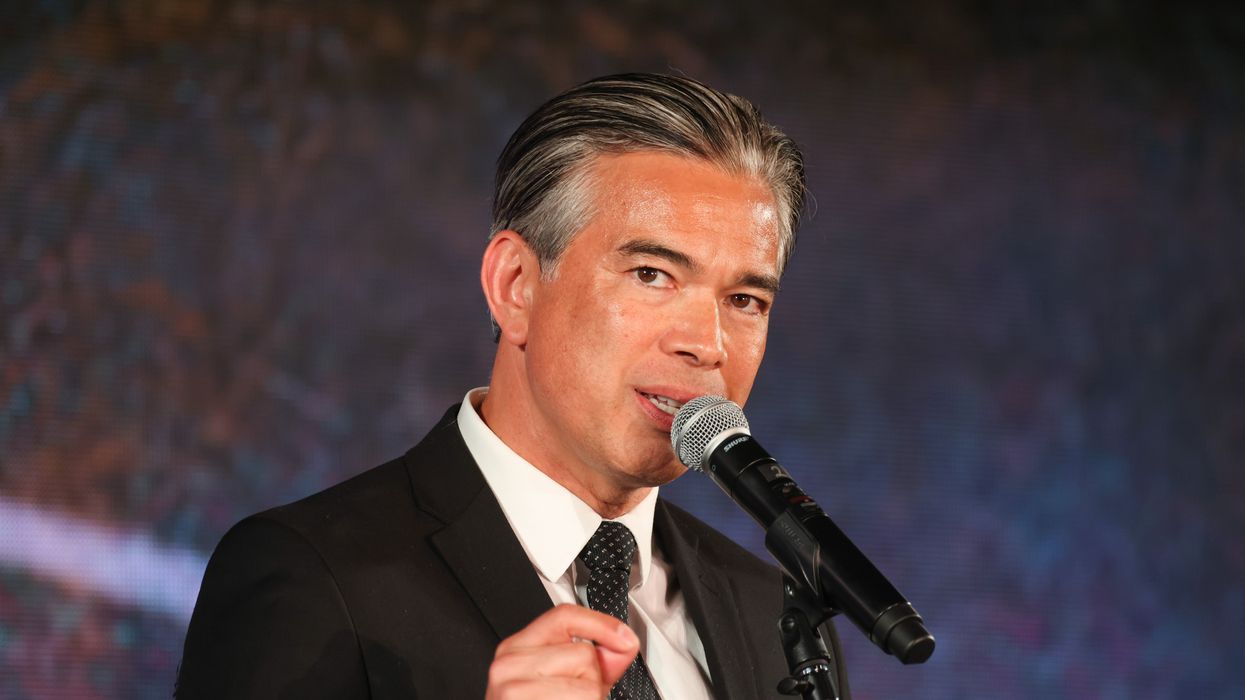 "This is Gov. DeSantis, this is his baby, this is his project."
California Attorney General Rob Bonta on Sunday accused Florida governor and 2024 GOP presidential hopeful Ron DeSantis of duplicitously sending a group of South American migrants to Sacramento in a bid to score "cheap political points."
"This is Gov. DeSantis, this is his baby, this is his project, his fingerprints are all over it," Bonta, a Democrat, told the Los Angeles Times. "The governor signed it, the Legislature approved to fund it in the budget, and they hired Vertol Systems Co., a vendor, to carry out the work."
"It's DeSantis being exactly who he is and advertising to the world that he is petty, little... and full of political stunts that hurt, harm, and abuse and exploit people to try and get cheap political points," he added. "It's wrong."
Bonta's remarks were based on documents the 16 migrants from Venezuela and Colombia were carrying that showed the chartered flight they took from New Mexico to Sacramento was coordinated by the Florida Division of Emergency Management. Vertol Systems has arranged similar flights in the past, including the September 2022 transportation of a large group of Venezuelan and Colombian migrants from San Antonio, Texas to Martha's Vineyard in Massachusetts.
"Human trafficking is not only despicable; it's a felony."
According to the faith-based community organizing group PICO California, the 16 South Americans were approached outside a migrant center in El Paso, Texas by representatives of a private contractor who promised them jobs and other assistance. The group was bused from El Paso to New Mexico and then flown to Sacramento, where they were dropped off Friday night outside the city's main Catholic church.
"They were lied to and deceived," PICO campaign director Eddie Carmona told the Associated Press.
\u201cPICO CA ardently condemns the actions that led to 16 of our immigrant brothers & sisters being transported across the country under false pretenses. We are grateful to our Sac community @SacramentoACT for showing up with radical compassion. https://t.co/3mAyDzHde7\u201d

— PICO California (@PICO California) 1685836583
Bonta told the Times that "they never intended to help them find a job but told them that they would do that so they could get on the plane and sign their documents and be transported to Sacramento."
"They completely exploited, abused, and manipulated these folks who were vulnerable and were hoping and dreaming of a job and told they would be helped finding that job only to be abandoned," he added.
Cecilia Flores, narrative and communications strategist at the multi-faith advocacy group Sacramento Area Congregations Together, toldKCRA that the migrants are "in shock."
"I think they're very exhausted," she added. "I think they are just trying to catch up with processing exactly what happened."
Sacramento Bishop Jaime Soto told the Times that "the urgency to respond was heard by Catholics and people of goodwill."
"We are thankful to our partner organizations who took up the holy work of hospitality, dedicating their time and resources to ensure that every migrant did not feel alone and abandoned," he added.
\u201cAn investigation is underway after over a dozen migrants arrived in Sacramento, CA by private jet with no prior arrangement or care in place and documentation \u201cpurporting to be from the government of the State of Florida."\n\nUsing people as pawns -- again.\nhttps://t.co/YJQj6uqrbf\u201d

— Rep. Anna V. Eskamani \ud83d\udd28 (@Rep. Anna V. Eskamani \ud83d\udd28) 1685896011
Bonta and Democratic California Gov. Gavin Newson said Saturday that they met with around a dozen of the affected migrants. Bonta said the California Department of Justice is investigating who paid for their flight and whether any laws were broken.
"While we continue to collect evidence, I want to say this very clearly: State-sanctioned kidnapping is not a public policy choice, it is immoral and disgusting," Bonta said in a statement. "We are a nation built by immigrants and we must condemn the cruelty and hateful rhetoric of those, whether they are state leaders or private parties, who refuse to recognize humanity and who turn their backs on extending dignity and care to fellow human beings."
"California and the Sacramento community will welcome these individuals with open arms and provide them with the respect, compassion, and care they will need after such a harrowing experience," he added.
\u201cToday I met with over a dozen migrants who were brought to Sacramento by private plane, with no prior arrangement or care in place.\n\nWe are investigating the circumstances by which these individuals were brought to California.\u201d

— Rob Bonta (@Rob Bonta) 1685845344
Democratic Sacramento Mayor Darrell Steinberg also issued a statement Saturday asserting that "human trafficking is not only despicable; it's a felony."
"I urge the appropriate authorities to investigate how 16 vulnerable people were lured to travel from El Paso, Texas, to Sacramento," he added. "Whoever is behind this must answer the following: Is there anything more cruel than using scared human beings to score cheap political points?"
DeSantis, along with Republican Gov. Greg Abbott of Texas and Doug Ducey, Arizona's former GOP governor, have bused or flown more than 12,000 migrants to Democratic-led cities since April to protest what they falsely call the Biden administration's "open border" immigration policies.
Florida's Republican-controlled Legislature has recently authorized $22 million for DeSantis' program of sending migrants to sanctuary states and cities.

News