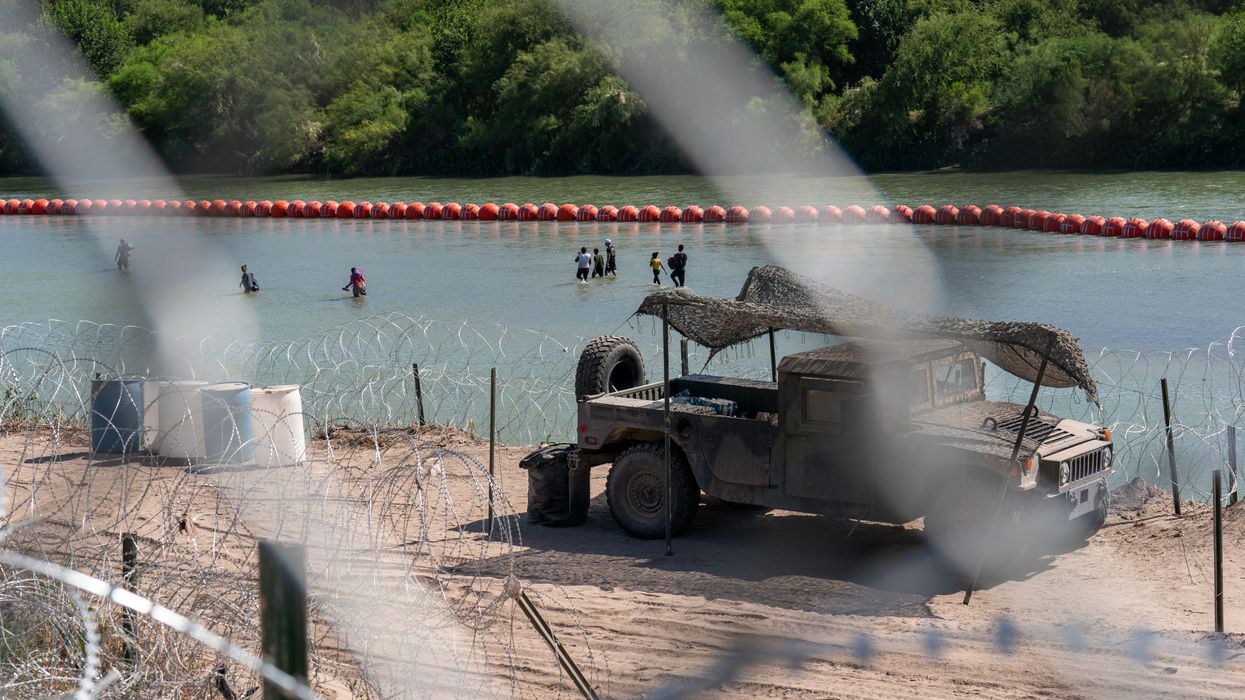 "These inhumane traps were placed by Greg Abbott to harm and kill people who were just looking to move to survive and thrive," said one rights group.
Migrant rights groups and Texas Democrats on Wednesday welcomed a federal judge's order that the state remove from the Rio Grande about 1,000 feet of orange buoys fastened together with metal cables and anchored with concrete blocks.
The federal Department of Justice sued Texas and Republican Gov. Greg Abbott over the buoys in July. Judge David A. Ezra of the Western District of Texas—an appointee of former President Ronald Reagan—ordered the state to remove the barrier by September 15 and prohibited "building new or placing additional buoys, blockades, or structure" in the river along the U.S.-Mexico border.
"Gov. Abbott announced that he was not 'asking for permission' for Operation Lone Star, the anti-immigration program under which Texas constructed the floating barrier," Ezra wrote. "Unfortunately for Texas, permission is exactly what federal law requires before installing obstructions in the nation's navigable waters."
Democratic Texas Congressman Joaquin Castro said that "Abbott knows his actions are illegal. I'm glad the court is forcing him to remove his death traps from the Rio Grande. He has endangered lives, damaged Texas' working relationship with our largest trading partner, and let politics rather than sensible policy dictate his actions."
U.S. Rep. Greg Casar, another Texas Democrat, also praised the preliminary injunction on X, formerly Twitter, and charged that "Greg Abbott's Operation Lone Star is abusive, illegal, wasteful, and inhumane."
Activists and advocacy groups also celebrated the development on social media. Antonio Arellano of NextGen America called the decision a "major win" for the Biden-Harris administration and human rights.
United We Dream Action declared that "these inhumane traps were placed by Greg Abbott to harm and kill people who were just looking to move to survive and thrive."
Krish O'Mara Vignarajah, president and CEO of Lutheran Immigration and Refugee Service, said in a statement that "from the onset, Gov. Abbott's improvised buoy wall was an inhumane response to a humanitarian emergency, but this ruling makes crystal clear its underlying illegality. This 1,000-foot barrier diverted $1,000,000 of Texas taxpayer funds for a political stunt that was designed to secure media coverage, not the border."

"The Abbott administration's buoy wall is just one deeply problematic example of its disregard for the core values of Americans who are eager to welcome and embrace asylum-seeking families," she continued. "It is far less costly, both financially and morally, to treat asylum-seekers with basic human dignity."
Aaron Reichlin-Melnick, policy director at the American Immigration Council, wrote of the ruling: "All in all, a resounding defeat for Gov. Abbott—one they likely knew was coming, despite his puffery about Texas' alleged right to install the barrier. Federal law is quite clear on this issue; if you want to install a structure in a river, get a permit. And Texas didn't."
Reichlin-Melnick added it is "no surprise" Abbott has already pledged that "Texas will appeal." In his statement, the governor also said the state "is prepared to take this fight all the way to the U.S. Supreme Court."
Meanwhile, U.S. Associate Attorney General Vanita Gupta said that the Justice Department is "pleased that the court ruled that the barrier was unlawful and irreparably harms diplomatic relations, public safety, navigation, and the operations of federal agency officials in and around the Rio Grande."

News