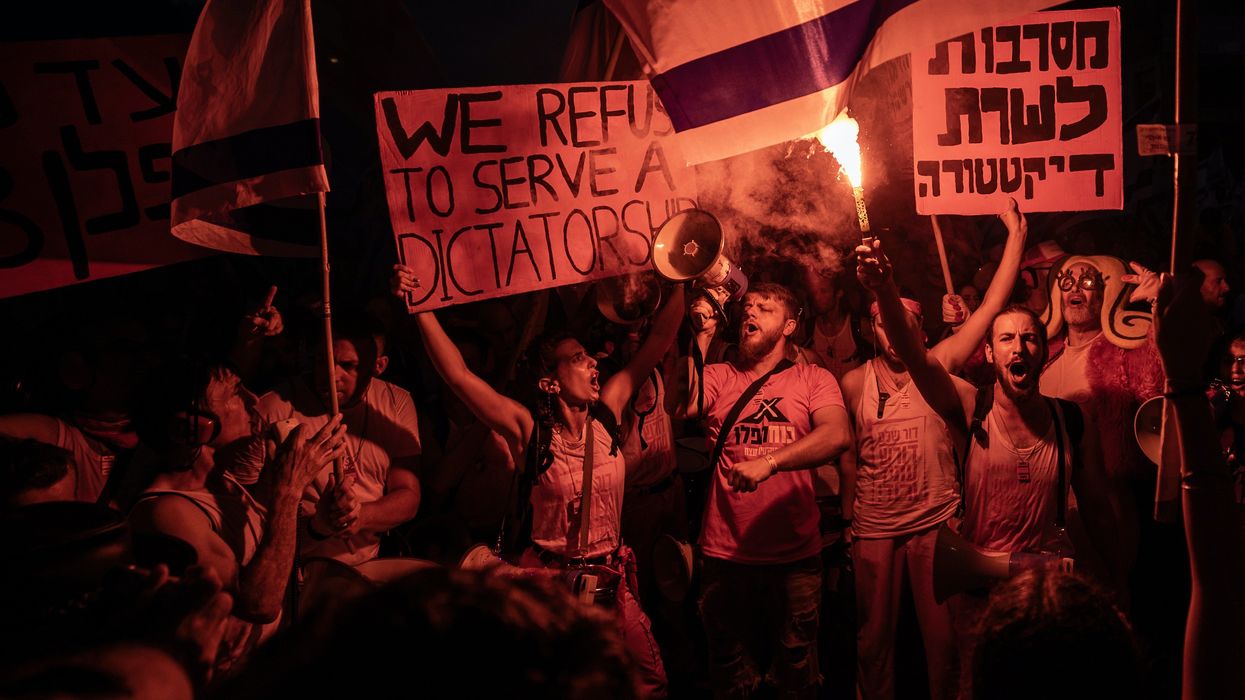 "The damage is enormous," a former Bank of Israel governor told demonstrators in Tel Aviv as the Knesset gave final approval of a key component of the highly contentious judicial overhaul.
As an estimated 200,000 Israelis took to the streets of cities across the nation Saturday in protest, the country's parliament advanced a bill to weaken the Supreme Court—legislation condemned by opponents as a "judicial coup."
The far-right coalition in the Knesset—Israel's parliament—led by Prime Minister Benjamin Netanyahu voted for the third and final time to advance a key component of a proposed judicial overhaul package which would repeal the "reasonableness" standard used by the Israeli Supreme Court to overrule egregious government decisions. The vote clears the way for the legislation to be ratified into law on Monday.
"If the government does not come to its senses, the consequences will hit us hard."
For the 29th straight week, Israelis took part in large demonstrations against the bill. Israeli and international media report demonstrators blocked roads in and around Jerusalem and Tel Aviv. Police reportedly used horses and water cannons to disperse protesters.
"I'm very scared of what's happening in Israel now and I'm very worried about the future of my daughter," Jerusalem protester Lotem Pinchover, a 40-year-old academic, toldCBS News.
Former Bank of Israel governor Jacob Frenkel told demonstrators in Tel Aviv that "if the government does not come to its senses, the consequences will hit us hard."
"We never experienced such destruction of values in such a short time, not by our external enemies, but by government policy," Frenkel added. "The damage is enormous."
Critics have accused Netanyahu—who faces multiple criminal corruption charges—of attempting to weaken the judiciary in a bid to boost his chances of dodging prosecution. Netanyahu is prohibited from personal involvement in the judiciary overhaul due to a conflict of interest related to the charges against him.
Repercussions of the advancing legislation mounted in recent days as Asaf Zalel, the director-general of Israel's Education Ministry, resigned on Friday and nearly half the country's air force reserve helicopter pilot instructors suspended their service in protest of the bill. Earlier this month, more than 1,100 Israeli air force reservists threatened to not report for duty over the judicial overhaul.
On Thursday, U.S. congressional Democrats led by Reps. Jan Schakowsky (Ill.) and Annie Kuster (N.H.) introduced a resolution supporting Israel's pro-democracy protests.
"The Netanyahu government's anti-democratic agenda not only threatens Israel's standing in the world, but also the very core of the special relationship between the United States and Israel," Schakowsky asserted. "I hope this resolution serves as a warning to the Netanyahu government to reverse course, and as a beacon of hope for the millions of Israelis protesting to save the foundation and future of their nation."
News