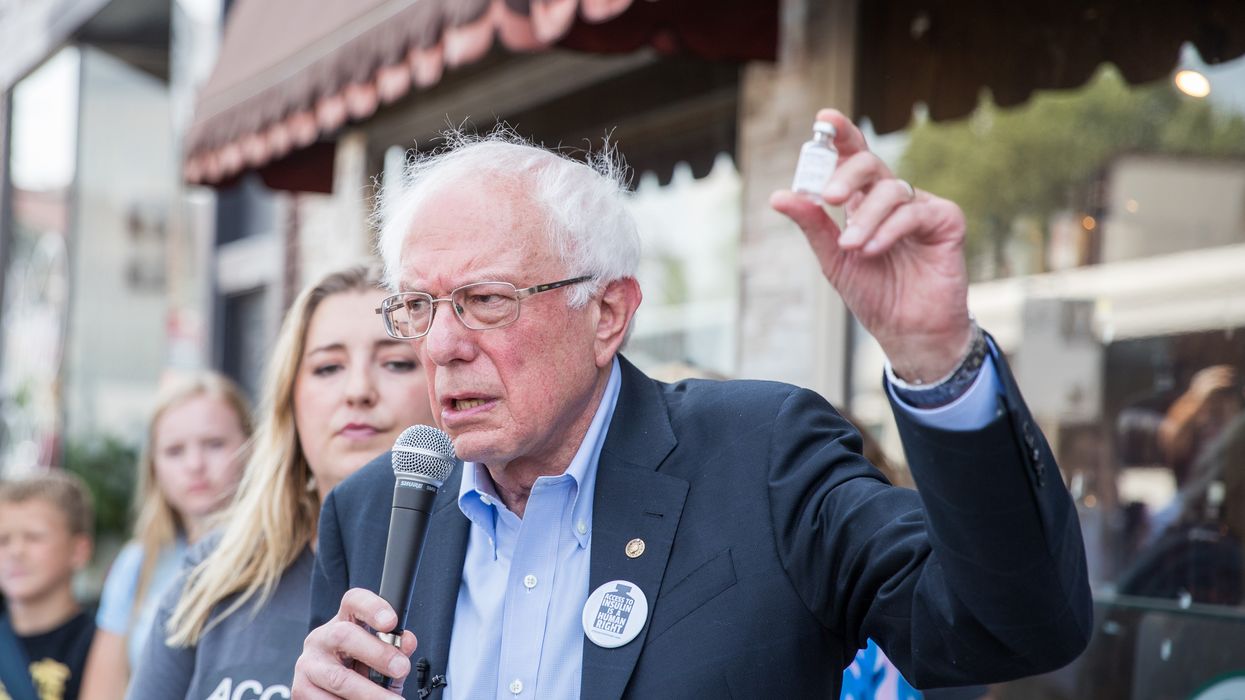 The senator introduced legislation last week to cap insulin prices at $20 per vial.
Crediting advocacy groups with pressuring two out of the three pharmaceutical companies that supply insulin to patients with diabetes in the United States to drastically lower their prices, Sen. Bernie Sanders on Tuesday called on the last of the trio, Sanofi, to do the same while arguing price caps should be mandatory—not a choice.
Novo Nordisk on Tuesday announced that it will cut prices by up to 75% for some of its insulin products starting next year, less than two weeks after one of its rival companies, Eli Lilly, said it plans to slash prices for its most widely used insulin products by 70%.
A vial of one of Novo's products, NovoLog, will drop from more than $289 to just over $72, and the insulin product FlexPen will cost $139, down from more than $500, starting January 1, 2024.
The price changes come after the price of insulin for patients has more than tripled in recent decades, with deadly consequences for some of the eight million Americans who rely on synthetic insulin to convert food into energy. A study based on the 2021 National Health Interview Survey last November found that 1.3 million people in the U.S. rationed their insulin supply in 2021 due to the drug's prohibitive cost.
Sanders (I-Vt.) noted that "grassroots pressure" forced Eli Lilly and Novo this month to announce major price cuts, but said that as chairman of the Senate Health, Education, Labor, and Pensions (HELP) Committee he "will soon hold a hearing on the need to guarantee insulin at an affordable price to everyone who needs it," suggesting that voluntary price cuts by companies are not sufficient.
Public pressure by groups including Patients for Affordable Drugs and Lower Drug Prices Now has resulted in some recent insulin price reforms, including a provision that took effect in January capping insulin copayments at $35 per month for Medicare recipients.

As Common Dreams reported last week, days after Eli Lilly announced its voluntary price cuts, Sanders, a longtime advocate of affordable insulin, joined Rep. Cori Bush (D-Mo.) in introducing legislation that would prohibit pharmaceutical companies from charging more than $20 for a vial of insulin. President Joe Biden has called for the product to be capped at $35 per vial for all patients—a proposal that Senate Republicans voted down last year.
Novo's announcement, said Biden, "builds on the important progress we made last year when I signed a law to cap insulin at $35 for seniors. I urge all other manufacturers to follow suit and Republicans in Congress to join us and cap insulin at $35 for all Americans."
Advocacy groups also called on Sanofi, the third insulin manufacturer for American patients, to follow its rival companies' lead and introduce price cuts.
"Let's keep fighting," said Lower Drug Prices Now, "so that patients can afford any medicine they need."

News