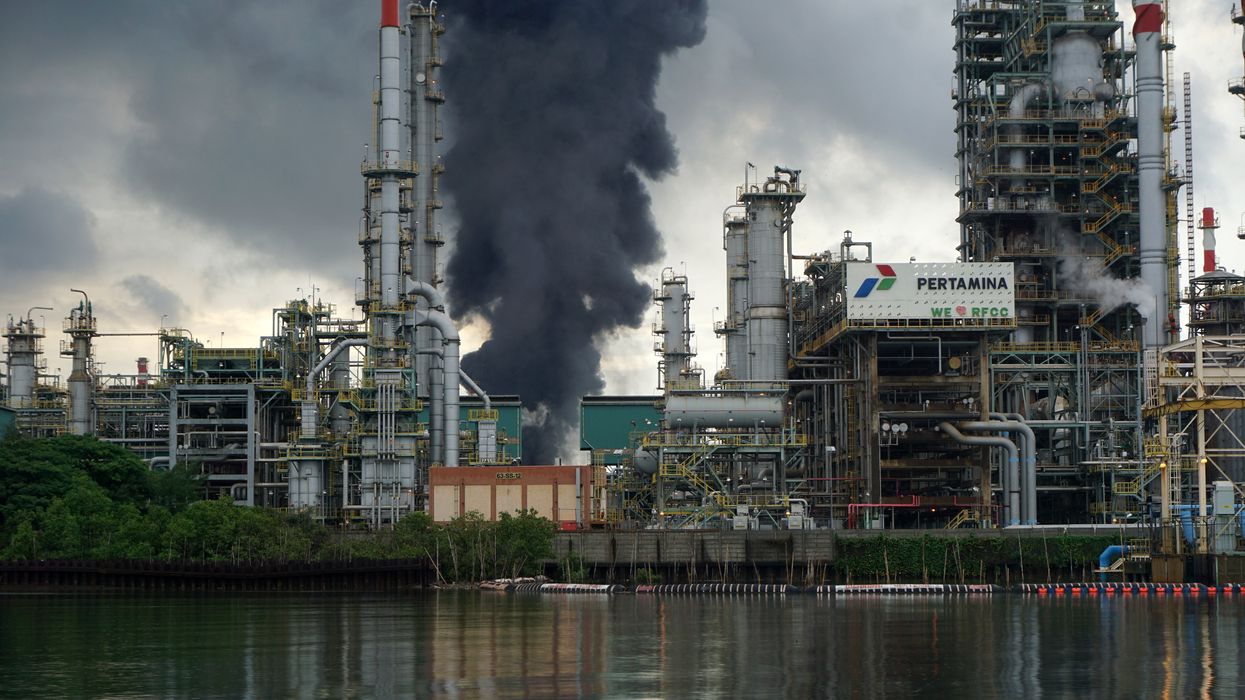 "This dirty refinery would threaten the air, land, and water of communities in Indonesia, making a mockery of Biden's purported commitment to environmental justice," said one climate campaigner.
Climate groups accused President Joe Biden of violating his pledge to end public financing for international fossil fuel projects after the U.S. Export-Import Bank voted Thursday to approve a $99.7 million loan for an Indonesian oil refinery.
The Export-Import Bank's (EXIM) board of directors, chaired by Biden appointee Reta Jo Lewis, said the loan would "support facility expansion and fuel efficiency and safety upgrades" at a Balikpapan refinery run by Pertamina, Indonesia's state-owned oil company.
Lewis said the expansion project—which has drawn vocal opposition from U.S. and Indonesian civil society organizations—would also "support hundreds of U.S. jobs at dozens of manufacturers across the country, and allow Indonesia to substantially reduce its reliance on imported, refined transportation fuels."
But climate organizations aren't buying the bank's claims about the supposed benefits of funding the oil refinery expansion, a move that runs directly counter to Biden's 2021 vow to end new financing for overseas fossil fuel projects. The decision to approve the funding came less than a month after EXIM briefly backed off its plan to support the nearly $100 million loan in the face of outrage from environmentalists.
"Biden's claims to be a climate leader are increasingly laughable after EXIM's approval of this refinery," Adam McGibbon, public finance strategist at Oil Change International, said in a statement Friday. "Biden has broken the most significant climate promise the United States made at the 2021 Glasgow climate conference."
Kate DeAngelis, international finance program manager at Friends of the Earth U.S., said Thursday that EXIM's support for the refinery expansion "thumbs its nose at Biden's pronounced need for responsible climate action, and his commitment in Glasgow to end overseas fossil fuel finance."
"This project is disastrous enough and yet continues to be a high risk of fires and spills that will harm local communities and the environment," said DeAngelis. "While President Biden is putting forward policies to address climate change, he is financially backing climate disasters through the Export-Import Bank."
\u201cThe oil refinery in Indonesia that @EximBankUS voted to support has a history of fires and spills that have polluted the marine environment.\n\nOne oil spill area polluted at least 7,000 hectares of water. And the risk of further incidents is high. https://t.co/YGEZvSiF3W\u201d

— Friends of the Earth (Action) (@Friends of the Earth (Action)) 1683837274
Bloombergreported Thursday that EXIM's financing is "set to help bolster gasoline production by 101,000 barrels per day at the PT Kilang Pertamina Balikpapan Petroleum Refinery." The loan's approval marked "the first major EXIM bank decision on a fossil fuel project since Biden became president and promised to curb such public funding support," the outlet noted.
Facing backlash over EXIM's move, the Biden White House tried to distance itself from the vote.
"EXIM made an independent decision to approve the loan under its authorities and its decision does not reflect administration policy," said National Security Council spokesperson Adam Hodge, who insisted the White House "stands by its commitment to end new direct public support for the international unabated fossil fuel energy sector."
EXIM has long been criticized for funneling public money to the fossil fuel industry amid the worsening climate emergency.
Friends of the Earth and Oil Change International noted in a report last year that "fossil fuels dominate EXIM's energy portfolio," pointing to the bank's approval of "one of the largest transactions in its history for [liquefied natural gas] in Mozambique in 2019 (and then revised in 2020)."
"Since then," the report continued, "EXIM has continued to approve support for troubling projects, including Pemex, the Mexican oil and gas company with a terrible worker safety and environmental record that led to an ocean inferno and massive methane leak, and Freeport LNG, which involved a lender that quickly collapsed after the EXIM deal and a recent explosion created a 450-foot fireball."
In a letter to EXIM board members earlier this year, Friends of the Earth U.S. and Wahana Lingkungan Hidup Indonesia—both affiliates of Friends of the Earth International—warned against any U.S. support for the Balikpapan refinery, citing the "the high risk of fires and oil spills and the negative impacts on the local communities and climate."
"As the main purpose of the refinery is to produce gasoline and diesel," the letter added, "EXIM support for this project would be in violation of President Biden's climate executive orders and plans, as well as his commitment in Glasgow to end public support for the international fossil fuel projects."
EXIM's vote came as the Biden administration continued to face backlash for greenlighting the Willow project and other major drilling initiatives that will undercut lagging efforts to rein in planet-warming carbon emissions.
"Lending his support to devastating fossil fuel development like the Willow oil project, Alaska LNG, Gulf Coast exports, and the Mountain Valley Pipeline is bad enough," Collin Rees, Oil Change International's U.S. program manager, said Friday.
"But this [EXIM financing] approval shows the United States is committed to doing the fossil fuel industry's bidding in all corners of the world," Rees added. "This dirty refinery would threaten the air, land, and water of communities in Indonesia, making a mockery of Biden's purported commitment to environmental justice."
News