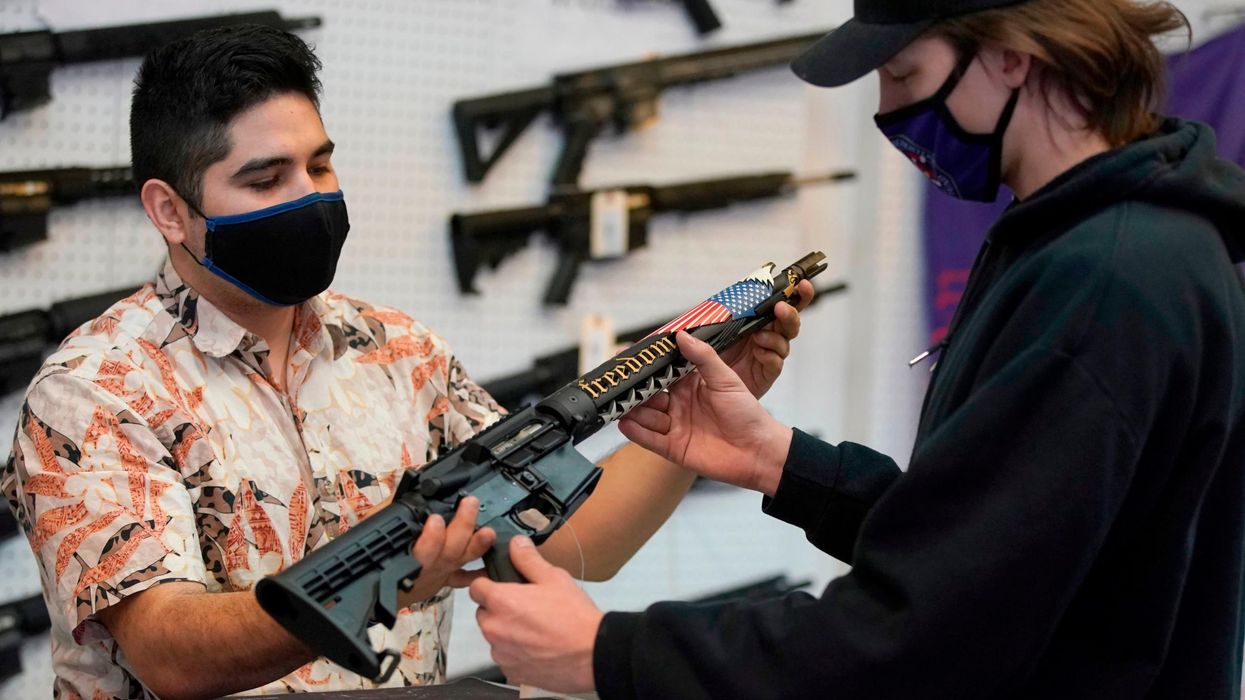 "The court's ruling will undoubtedly put lives at risk," said one policy expert. "It must be reversed."
A federal judge's ruling in Virginia on Thursday once again made clear the impact of the U.S. Supreme Court's decision in the case of New York State Rifle & Pistol Association v. Bruen, in which the right-wing majority ruled that laws and regulations pertaining to firearms must fall within the United States' so-called "historical tradition."

The ruling on Thursday was handed down by U.S. District Judge Robert E. Payne, a George H.W. Bush appointee, in the case of a 20-year-old who was turned away when he attempted to buy a Glock 19x handgun from a federally licensed dealer.
Under regulations put in place by the Bureau of Alcohol, Firearms, Tobacco, and Explosives (ATF) and the Gun Control Act of 1968, federally licensed sellers have been prohibited from selling guns to 18-to-20-year-olds, who have had to make such purchases in private sales.
Payne ruled that "the statutes and regulations in question are not consistent with our nation's history and tradition," and that "therefore, they cannot stand."
The judge made clear in his decision that the ruling was underpinned by Bruen, in which Justice Clarence Thomas wrote in the majority opinion that "constitutional rights are enshrined with the scope they were understood to have when the people adopted them."
According to Payne, the fact that 18-year-olds were permitted to join militias at the time of the nation's founding suggests that buyers should not have to reach age 21 before purchasing handguns from licensed sellers.
"The Second Amendment's protections apply to 18-to-20-year-olds. By adopting the Second Amendment, the people constrained both the hands of Congress and the courts to infringe upon this right by denying ordinary law-abiding citizens of this age the full enjoyment of the right to keep and bear arms unless the restriction is supported by the nation's history," said Payne. "That is what Bruen tells us."
Princeton University professor Eddie S. Glaude Jr. denounced the ruling as "madness," while New York University law professor Chris Sprigman said the decision is the latest result of "America's extremist form of constitutionalism."
\u201cAmerica\u2019s extremist form of constitutionalism strikes again. https://t.co/wlsYXBI4BK\u201d

— Chris Sprigman (@Chris Sprigman) 1683835308
Janet Carter, senior director of issues and appeals at gun control advocacy group Everytown Law, pointed to research that shows that "18- to 20-year-olds commit gun homicides at triple the rate of adults 21 years and older."
"The federal law prohibiting federally licensed firearms dealers from selling handguns to individuals under the age of 21 is not just an essential tool for preventing gun violence, it is also entirely constitutional," Carter told The Washington Post. "The court's ruling will undoubtedly put lives at risk. It must be reversed."
Attorneys on both sides of the case said they expected the Biden administration to appeal the ruling.
Numerous polls have shown that the majority of Americans favor stricter gun control measures, and a survey of gun owners taken last year by NPR/Ipsos found that 67% of respondents favored raising the age for any gun purchase from 18 to 21.
"At a moment when Americans are growing more unified and in favor of gun control," said historian Brian Rosenwald, "Clarence Thomas' grotesque, inane opinion in Bruen is going to make all of them illegal."

News