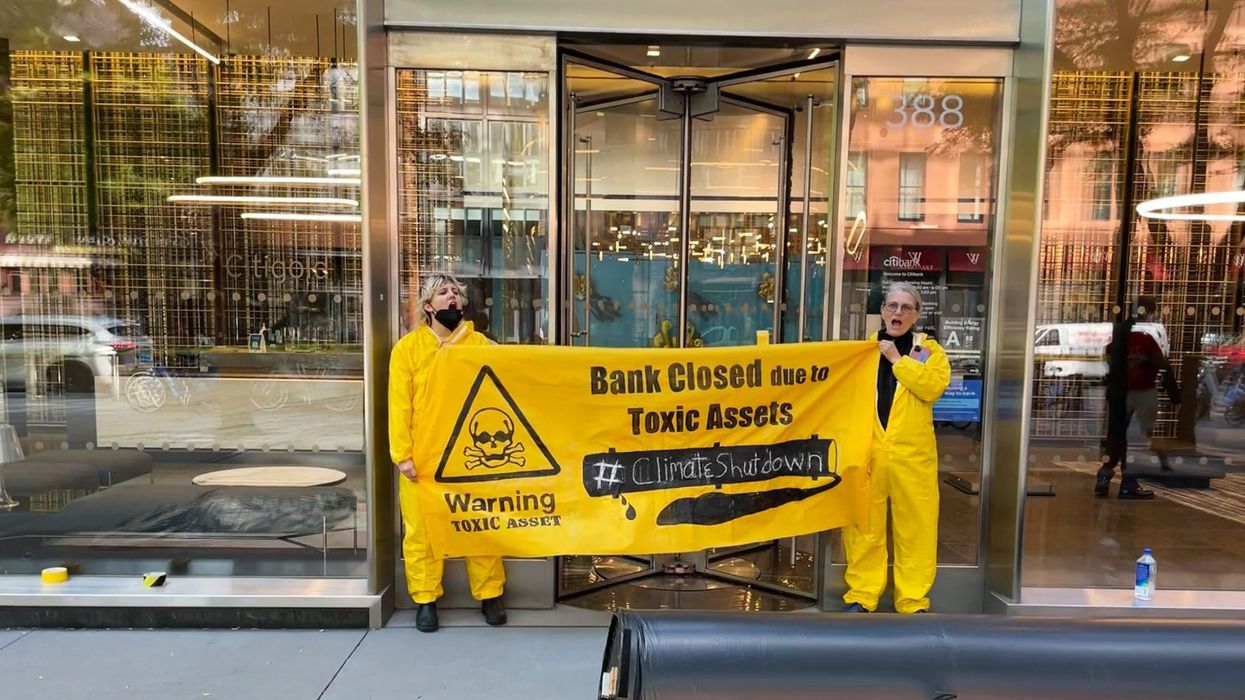 "Citi is the world's second-largest financier of fossil fuels," noted one group taking part in the protest. "How do these people sleep at night? How?"
Declaring a #ClimateShutdown, hundreds of activists blockaded the entrances of Citibank's Lower Manhattan headquarters Thursday morning to demand that the financial giant end fossil fuel financing and stop greenwashing its record of planet-heating investments.

"We're shutting down Citibank, the world's second-largest funder of fossil fuels," the activist group Stop the Money Pipeline explained on X, the social platform formerly known as Twitter. "Citi says it's a climate leader, but it's also the main financier of oil expansion in the Amazon."
Jay Waxse of Climate Defiance told Common Dreams that 25 activists were arrested at the protest, including two of the group's organizers.
Citibank is "torching the planet," said Waxse, "so the least we can do is disrupt business as usual."
"Workers were talking. Executives were reeling," Waxse added. "Citi must change their ways, or we'll be back."

Another group, Climate Defiance, said sources informed it that "every door in the Citibank HQ has been shuttered" and that "the bank just went into lockdown over the climate protest."
"Thousands of bankers are now getting turned away, angry and confused," the group added, posting photos supporting its claim.
According to a report published earlier this month by a coalition of green groups, JPMorgan Chase ($434.2 billion), Citibank ($332.9 billion), Wells Fargo ($318.2 billion), and Bank of America ($281.2 billion) have been the world's biggest fossil fuel financiers since the Paris climate agreement took effect in 2016. Those four banks alone accounted for 28% of all identified fossil fuel financing in 2022.
Groups participating in or supporting Thursday's direct action include Oil & Gas Action Network, Stop the Money Pipeline, Climate Defiance, Climate Organizing Hub, Climate Defenders, Youth Climate Finance Alliance, and New York Communities for Change.
"Since the Paris agreement was adopted, Wall Street banks have provided $1.4 trillion to the fossil fuel industry," Stop the Money Pipeline's website explains. "Big asset managers are the world's largest investors in coal, oil, and gas. Insurance companies provide insurance for new fossil fuel projects without which they could not be built."
"The fossil fuel corporations driving the climate crisis depend on this support of the financial sector," the group added. "That's why we're pushing banks, insurance companies, and asset managers to end fossil financing. If we stop the flow of money, we stop the flow of oil."
News