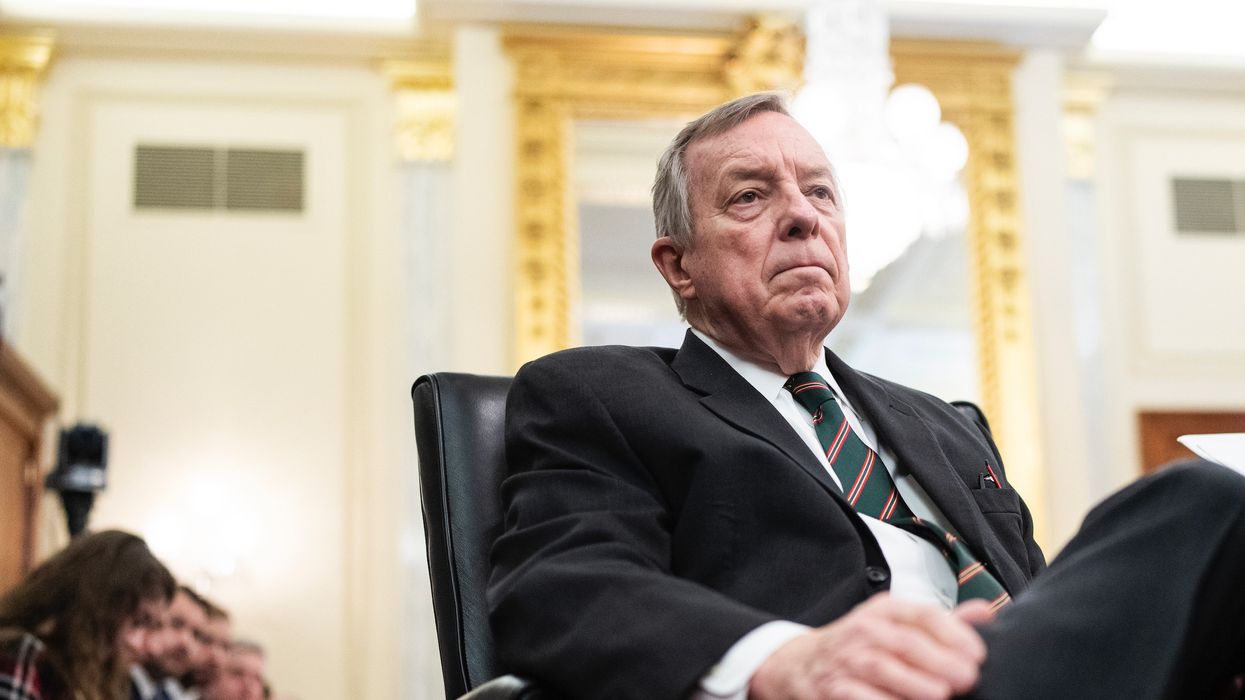 "Harlan Crow thinks he is the law," remarked one legal expert. "The billionaire and his lawyer apparently believe they get to stop congressional investigations if they so choose."
Legal experts and U.S. Senate Judiciary Chair Dick Durbin on Tuesday derided billionaire Harlan Crow's refusal to answer the panel's questions regarding years of gifts—including luxury vacations and private school tuition—bestowed by the Republican megadonor upon Supreme Court Justice Clarence Thomas and his family.
In a letter to Durbin (D-Ill.) responding to requests for information about the private jet, yacht, and upstate New York resort owned by Crow and his holding companies, Michael Bopp of the law firm Gibson Dunn—which represents Crow—asserted that the Judiciary Committee "has not identified a valid legislative purpose for its investigation and is not authorized to conduct an ethics investigation of a Supreme Court justice."
Durbin responded to Bopp's letter with a statement arguing that the missive "did not provide a credible justification for the failure of Mr. Crow and three corporate entities to respond to the committee's written questions."
"First of all, the committee did not receive individual responses from anyone representing the three companies," Durbin said. "That is untenable since the gifts and access to justices that these companies provided are highly relevant to the committee's legislative efforts on ethics reform."
\u201cSCOOP: Here's the letter that Justice Clarence Thomas's benefactor

Harlan Crow

sent to the Senate Judiciary Committee last night. His lawyers, from top firm Gibson Dunn, are arguing Congress doesn't have the authority to investigate the Supreme Court.\n\nhttps://t.co/PAtQvK7a8S\u201d

— Emily Birnbaum (@Emily Birnbaum) 1684861388
"Second, the letter claims that Congress lacks authority to enact ethics legislation that applies to Supreme Court justices—a claim belied by multiple congressionally enacted ethics laws that Chief Justice [John] Roberts highlighted as applying to Supreme Court justices in his April 25 'Statement on Ethics Principles and Practices,'" Durbin continued.
"Further, Mr. Crow's letter relies on a separation of powers defense when Mr. Crow does not work, and has never worked, for the Supreme Court," the senator added. "Harlan Crow believes the secrecy of his lavish gifts to Justice Thomas is more important than the reputation of the highest court of law in this land. He is wrong."
Chris Geidner, a former legal editor and Supreme Court correspondent for BuzzFeed News, wrote on his Law Dork Substack:
What is perhaps most remarkable about the letter is not even its dismissal of the congressional oversight request—which absolutely must be followed at the earliest possible moment by the committee's issuance of a subpoena—but, rather, the underlying basis for that decision. In the letter, Bopp concludes—again, on Crow's behalf—that "Congress lacks the authority" to pass ethics legislation relating to the Supreme Court.

Bopp cannot state that as a matter of law—and dismiss Durbin's request based on that knowledge. This is so because Chief Justice John Roberts himself has acknowledged that Congress has already passed ethics legislation that applies to the justices. What's more, Roberts also explained in 2011 that the court has never addressed whether Congress can do so but that the justices "nevertheless comply with those provisions."
"Harlan Crow thinks he is the law," Geidner contended. "The billionaire and his lawyer apparently believe they get to stop congressional investigations if they so choose."
\u201cthe tl;dr of this letter is "the separation of powers means supreme court justices can do whatever they want & congress can't do shit about it."\n\n(can't wait to read neil gorsuch's ~fantastico~ rewriting of this into a supreme court opinion.)\u201d

— Leah Litman (@Leah Litman) 1684863630
MSNBC legal analyst Jordan Rubin, a former Manhattan prosecutor, quipped that Crow's "arrogant and misguided" response to Durbin "practically begs for a subpoena."
Rubin's remarks echo progressive calls to subpoena both Crow and Thomas.

In addition to Durbin, Senate Finance Committee Chair Ron Wyden (D-Ore.) has also asked Crow to account for gifts he gave to Thomas and his family, and called the billionaire's rationale for not doing so "a joke."
"The bottom line is that nobody can expect to get away with waving off finance committee oversight, no matter how wealthy or well-connected they may be," Wyden said earlier this month.
News