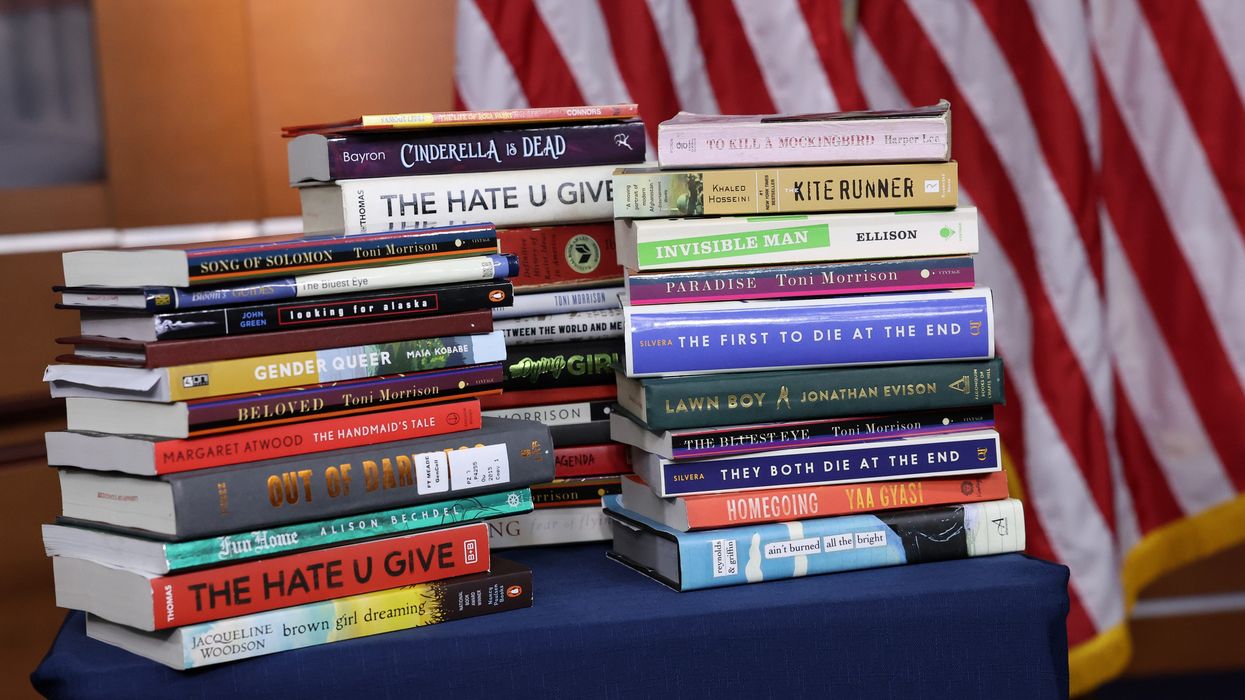 "When we ban books, we're closing off readers to people, places, and perspectives," said the American Library Association. "But when we stand up for stories, we unleash the power that lies inside every book."
A coalition of publishers, teacher and librarian groups, and other advocates on Sunday kicked off this year's Banned Books Week by rallying behind the freedom to read amid an alarming surge in right-wing book bans across the United States.
For over 40 years, the annual Banned Books Week—whose theme this year is Let Freedom Read—has united writers, publishers, booksellers, educators, librarians, and readers "in shared support of the freedom to seek and to express ideas, even those some consider unorthodox or unpopular," as the American Library Association (ALA) put it.
"When we ban books, we're closing off readers to people, places, and perspectives. But when we stand up for stories, we unleash the power that lies inside every book," the ALA said. "We liberate the array of voices that need to be heard and the scenes that need to be seen. Let freedom read!"
As of August 31, the ALA's Office for Intellectual Freedom has documented 695 attempts this year to remove a total of 1,915 titles from public and school libraries. Last year, the group counted 1,269 attempts to censor library books and other resources—the highest number of ban efforts since the ALA started tracking them over 20 years ago and nearly double the previous year's tally.
ALA said that of the record 2,571 unique titles targeted for censorship, most were by or about LGBTQ+ people and Black, Indigenous, and people of color.
"This is a dangerous time for readers and the public servants who provide access to reading materials," ALA Office for Intellectual Freedom director Deborah Caldwell-Stone said in a statement. "Readers, particularly students, are losing access to critical information, and librarians and teachers are under attack for doing their jobs."
For this year's Banned Books Week, PEN America and We Believe led a joint statement signed by more than three dozen publishers and advocacy groups.
The statement begins: "We believe in the freedom to read. Schools and libraries are critical places to kindle imaginations and spark a lifelong love of learning. Students deserve classrooms and school libraries that help them be successful. We believe stories matter. Books can be powerful, compelling, insightful, and enjoyable. Literature has endless value and should be publicly accessible to all."
"We believe in the freedom to learn," the signers continued. "Students need access to accurate history. Students deserve the chance to understand their world and everyone in it. Growing up is hard enough. Classrooms and school libraries should be spaces where all students feel they belong."
"We believe teachers and librarians deserve respect," the statement continues. "Schools and libraries are staffed by trained professionals who make informed decisions about educational materials. Their assessments should be respected and not subject to political pressure, threats, or intimidation."
"We believe parents are partners in education," the publication asserts. "Parents have long had a voice in schools. When a parent, student, or teacher requests or objects to a book, they should have their concerns heard and considered. However, one parent's views or one group of parents' views should not restrict access to books for all."
"We believe in clear, consistent, transparent policies around reviewing books," the advocates added. "Books must not be removed from shelves just because they are challenged. Evaluations of books must be based on facts and the merits, considered by decision-makers who have read the book in its entirety."
PEN America recorded a 33% surge in book bans at U.S. K-12 public schools during the 2022-23 academic year over the previous school year. The group noted 3,362 incidents involving 1,557 unique titles. Over 40% of these bans happened in Florida, where Republican Gov. Ron DeSantis—a 2024 presidential candidate—is waging a war on public education.
According to PEN America, the single-most censored title during the last school year was Maia Kobabe's Gender Queer, a graphic memoir recounting the transgender author's journey from adolescence to adulthood. The book has been banned in dozens of school districts, often following pressure from far-right activists like Florida-based Moms for Liberty.

"If I'd had a book to read like this, specifically, when I was like a freshman in high school, it would have saved me years of questioning and confusion about my identity," Kobabe said in defense of the award-winning work.
A survey published last week by EveryLibrary Institute and Book Riot found that nearly three-quarters of U.S. parents agree or somewhat agree that book bans by public libraries infringe on their right to make choices for their children.

This week, PEN America and We Believe are also leading a letter for concerned citizens to sign and send to state governors and lawmakers to urge them to "fight back against book bans."
The letter begins, "Did you know that 4 in 5 Americans say they would be less likely to support a candidate in 2024 who is in favor of implementing book bans, according to a new poll from Ipsos and We Believe?"
"America's children are our future. Preparing them to lead and succeed in our increasingly diverse and complicated world starts with protecting their freedom to read, learn, and grow," the letter states. "Our nation's strength has always come from the free flow of speech and ideas. We should be modeling these ideals for our kids—not ripping books from their shelves."
The popular anti-censorship campaign has sparked at least one effort to ban Banned Books Week. However, the growing censorship threat has also spurred action to protect the freedom to read. Earlier this year, Illinois became the first state to prohibit public libraries from banning books.
"I refuse to let a dangerous strain of white nationalism determine whose histories are told in Illinois," Democratic Gov. JB Pritzker said after signing the legislation. "Because what these book bans in libraries really are about is censorship—marginalizing people, ideas, and facts."
At the national level, Rep. Jamie Raskin (D-Md.) and Sen. Brian Schatz (D-Hi.) last week reintroduced a resolution recognizing Banned Books Week and condemning "the escalating attacks on books and freedom of expression in the United States."
"The escalating crisis of book bans across our country in recent years is a direct attack on First Amendment rights and should concern everyone who believes freedom of expression and the freedom to read are essential for a strong democracy," Raskin said. "The sinister efforts to remove books from our schools and libraries are a hallmark of authoritarian regimes."
News