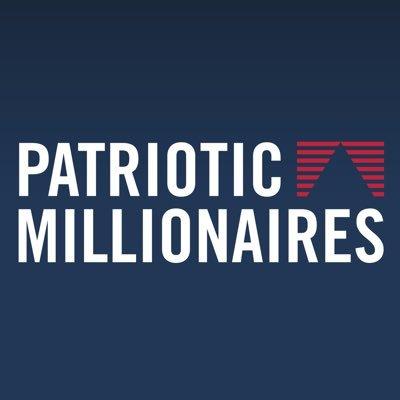 Patriotic Millionaires: Bipartisan Infrastructure Deal Must Be Paired With Ambitious Reconciliation Bill
WASHINGTON
Today, President Biden joined a group of 21 bipartisan Senators in endorsing a $579 billion infrastructure bill that would be paid for in part by Americans who work for a living, to avoid raising taxes on corporations or wealthy individuals. In response Morris Pearl, former managing director at Blackrock, Inc., and Chair of the Patriotic Millionaires, issued the following statement in response:
"While we are glad to see 10 Republicans come on board to support a bill that would create jobs and rebuild our country's crumbling infrastructure, this bill is not a sufficient solution to the challenges facing our country. The deal reached today fails to address our overwhelming infrastructure needs because it fails to do what an overwhelming majority of Americans have asked their elected representatives to do -- tax the rich.
That's why this bill must be directly tied with a larger, more ambitious reconciliation bill that includes significant tax increases on millionaires, billionaires, and corporations. We agree with President Biden, Speaker Pelosi, and Majority Leader Schumer - this bill cannot move forward separate from a reconciliation bill.
It is absurd to see funding for this skinny bill scrounged from over a dozen sources, some of which will negatively impact the lives and financial well being of everyday Americans, when the American people are clamoring for higher taxes on millionaires and corporations. Middle-class Americans already bear the brunt of the tax burden in this country. The American people know that the tax code has been rigged against them for decades, and they're fed up. It's time for Congress and the Pres
The Patriotic Millionaires is a group of high-net worth Americans who share a profound concern about the destabilizing level of inequality in America. Our work centers on the two things that matter most in a capitalist democracy: power and money. Our goal is to ensure that the country's political economy is structured to meet the needs of regular Americans, rather than just millionaires. We focus on three "first" principles: a highly progressive tax system, a livable minimum wage, and equal political representation for all citizens.
(202) 446-0489
LATEST NEWS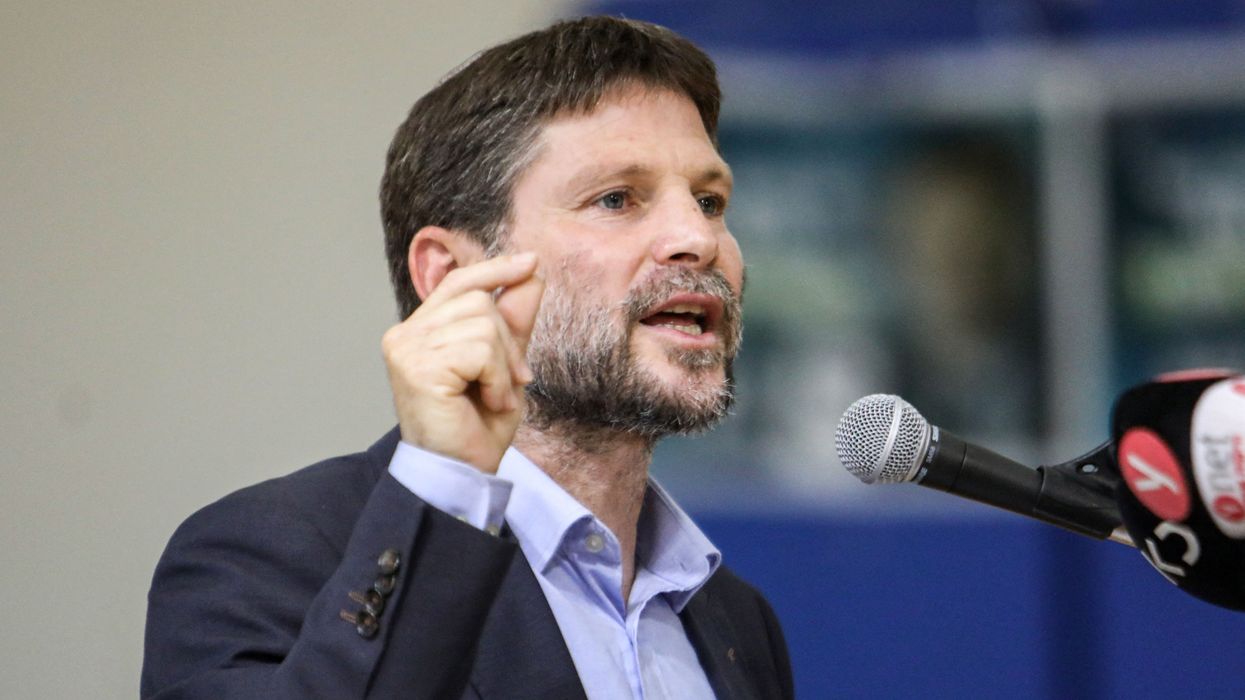 The "only difference between Smotrich and 'liberals' is that he's open about Zionism being genocidal," said one observer.
While condemning the latest anti-Palestinian rights comments from far-right Israeli Finance Minister Bezalel Smotrich, advocates on Monday said his remarks were "genocidal" and noted that Smotrich's violent rhetoric represents longstanding views by Zionists in Israel and elsewhere.
A day after Palestinian and Israeli leaders met in Egypt to discuss deescalating tensions ahead of Ramadan and Passover, Smotrich spoke at a memorial service in Paris where he claimed the Palestinian people are "an invention" dating back to the mid-20th century to fight Zionism.
"There's no such thing as Palestinians because there's no such thing as a Palestinian people," said Smotrich, standing at a podium that displayed a map of Israel, including the occupied West Bank and parts of Jordan. "There is no such thing as a Palestinian nation. There is no Palestinian history. There is no Palestinian language."
He also asked the crowd, "Do you know who are the Palestinians?" before claiming he himself is Palestinian because his grandparents were from Jerusalem and the northern Israeli town of Metula, despite the fact that his surname is derived from a Ukrainian town where his ancestors lived.
The Foreign Ministry of Jordan called Smotrich's comments "extremist, inflammatory, [and] racist" while Palestinian officials described them as "fascist."
Smotrich's comments came less than a month after he publicly said the State of Israel should "wipe out" the village of Hawara soon after the town was targeted by Israeli settlers in a deadly rampage. For those comments, Palestinian rights groups called on the United States government to bar Smotrich from the country.
The Biden administration granted Smotrich a visa despite officials' claims that they found his remarks "repugnant."
Israeli Prime Minister Benjamin Netanyahu's government this month granted Smotrich broad power over the occupied West Bank, including control over settlement planning.

Smotrich's comments also came as Netanyahu's coalition government signaled it is moving forward with parts of a planned overhaul of the country's judicial system, which critics say will make Israel's government even more authoritarian.

Violence in the occupied Palestinian territories has exploded in recent weeks, with 85 people killed by Israeli forces so far this year. Observers have raised alarm that violence could intensify as Jewish and Muslim people are expected to visit Jerusalem's Old City and holy sites to mark Passover and Ramadan in the coming weeks.
Benzion Sanders of the Israel-based anti-occupation group Breaking the Silence warned that Smotrich's comments on Sunday indicated not just his personal beliefs, but his "vision" as a government official and chair of the Religious Zionist Party.
"He's been talking about the vision to ethnically cleanse Palestinians for years," said Sanders.

While the open violence of Smotrich's rhetoric in recent weeks has been uncommon, said Ali Abunimah of Electronic Intifada, his comments have been in line with Israel's long history of "expelling Palestinians from their land and denying their existence."
The "only difference between Smotrich and 'liberals' is that he's open about Zionism being genocidal," said Abunimah.
News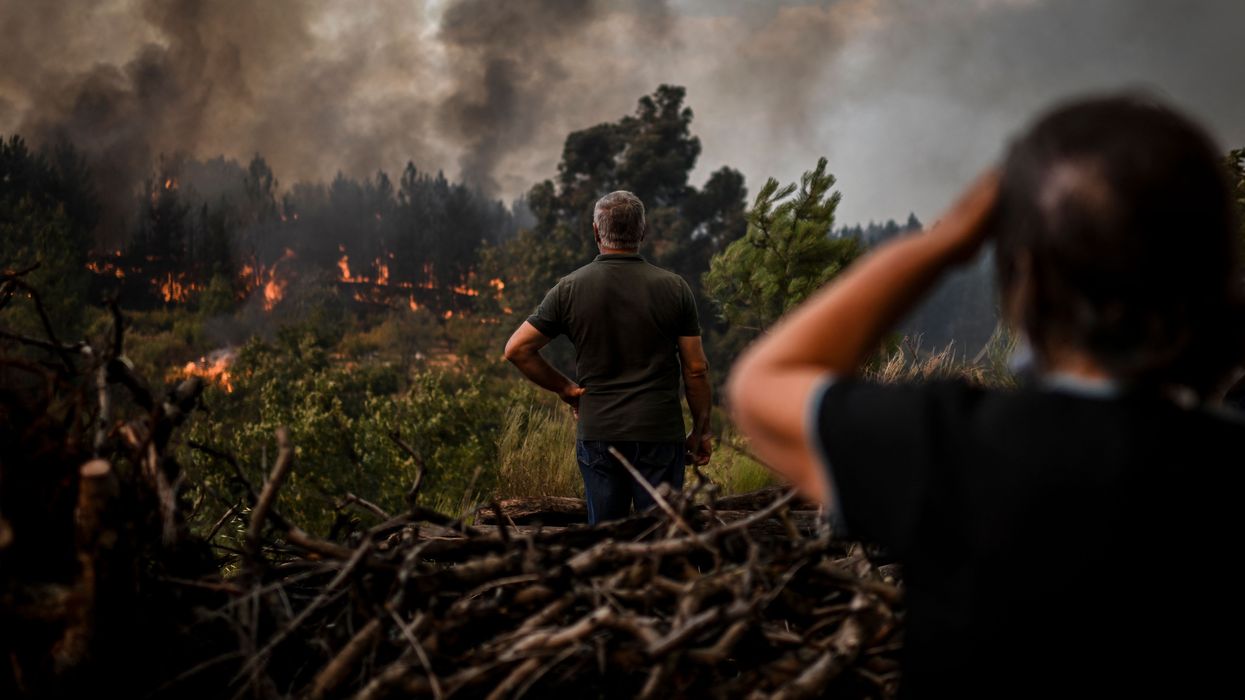 "We must move into warp-speed climate action now. We don't have a moment to lose," said United Nations Secretary-General António Guterres.
The head of the United Nations outlined a plan Monday to "super-charge" climate action after the Intergovernmental Panel on Climate Change released its most stark warning yet about the trajectory of planetary heating and its cascading impacts on ecosystems and the life they sustain.
"This report is a clarion call to massively fast-track climate efforts by every country and every sector and on every timeframe," said U.N. Secretary-General António Guterres, who argued the IPCC's findings show that "humanity is on thin ice—and that ice is melting fast."
"Today's IPCC report is a how-to guide to defuse the climate time bomb," Guterres added. "It is a survival guide for humanity. As it shows, the 1.5-degree limit is achievable. But it will take a quantum leap in climate action."
To achieve such a leap, the U.N. chief said it is imperative for governments to urgently work toward a number of benchmarks, including:

No new coal and the phasing out of coal by 2030 in OECD countries and 2040 in all other countries;
Ending all international public and private funding of coal;
Ensuring net zero electricity generation by 2035 for all developed countries and 2040 for the rest of the world;
Ceasing all licensing or funding of new oil and gas—consistent with the findings of the International Energy Agency;
Stopping any expansion of existing oil and gas reserves;
Shifting subsidies from fossil fuels to a just energy transition; and
Establishing a global phase-down of existing oil and gas production compatible with the 2050 global net zero target.
"By the end of COP28, I count on all G20 leaders to have committed to ambitious new economy-wide nationally determined contributions encompassing all greenhouse gases and indicating their absolute emissions cuts targets for 2035 and 2040," said Guterres, who is set to host a September summit aimed at building global support for bold climate action.
"Partial pledges won't cut it," Guterres said Monday. "We have never been better equipped to solve the climate challenge—but we must move into warp-speed climate action now. We don't have a moment to lose."
"This report is a clarion call to massively fast-track climate efforts by every country and every sector and on every timeframe."
Compiled by hundreds of top scientists from around the world, the IPCC's new report—like previous iterations—emphasizes that greenhouse gas emissions stemming from human activity "have unequivocally caused global warming" and that "continued greenhouse gas emissions will lead to increasing global warming."

"There is a rapidly closing window of opportunity to secure a liveable and sustainable future for all," the report states. "The choices and actions implemented in this decade will have impacts now and for thousands of years."
Warming beyond the Paris accord's most ambitious target of 1.5°C by century's end, the report warned, would expose ecosystems and societies to "greater and more widespread" consequences, including "increased wildfires, mass mortality of trees, drying of peatlands, and permafrost thawing, weakening natural land carbon sinks and increasing releases of GHGs."
The report cautioned that without dramatic emission cuts, the world could hit the 1.5°C warming threshold by "the first half of the 2030s." Earth has already warmed 1.1°C since the mid-19th century.
IPCC scientists estimated that global greenhouse gas emissions must be cut by 60% by 2035—compared to 2019 levels—to keep alive hopes of averting climate catastrophe.

Romain Ioualalen, global policy campaign manager at Oil Change International, said Monday that the new assessment "once more raises the alarms to code red."
"The United Nations secretary-general's response to the IPCC report makes it abundantly clear that the time when countries can pretend to be climate leaders while expanding oil and gas production is over," said Ioualalen. "This is why the Biden administration's reckless decision to approve the Willow oil project in Alaska deserves international condemnation."
"We commend Secretary-General Guterres for laying out clear expectations for all countries to ban new oil and gas projects immediately while charting a just and equitable transition away from fossil fuels and towards clean energy for all," Ioualalen continued. "This question must be at the heart of the secretary general's September summit and COP28."
News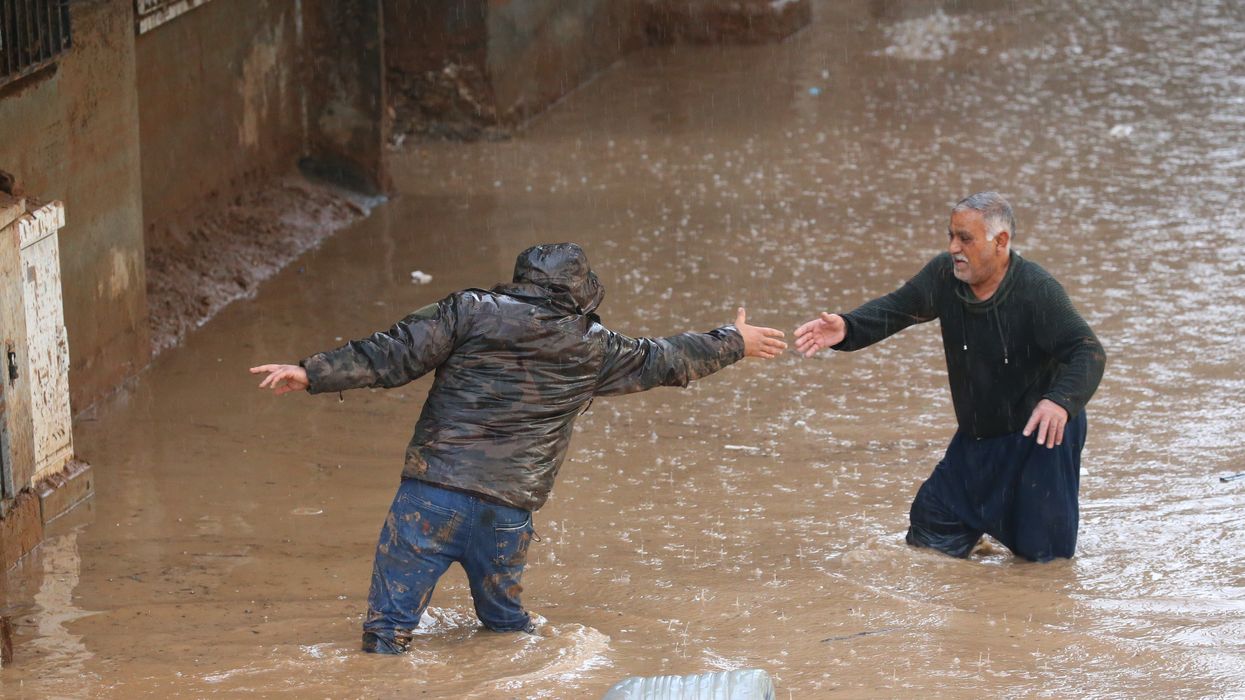 "The central message from climate scientists is unmistakable: governments must rally to drastically cut emissions and cease the extraction and burning of fossil fuels this decade."
A United Nations panel composed of the world's top scientists is set to release its latest climate assessment on Monday as governments fail to heed repeated, increasingly urgent warnings that the window for action to prevent catastrophic global heating is nearly shut.
The landmark report from the Intergovernmental Panel on Climate Change (IPCC) will come after a year in which planet-warming CO2 emissions shattered records once again as the impacts of such pollution—from "apocalyptic" flooding in Pakistan to deadly drought in East Africa—continued to mount.
After repeated delays, government delegations signed off on the IPCC's Sixth Assessment Report on Sunday, clearing the way for the formal release of a sprawling synthesis of years of climate research.
The Associated Pressreported that the final decision came after "officials from big nations such as China, Brazil, Saudi Arabia, the United States, and the European Union haggled through the weekend over the wording of key phrases in the text."
Lesley Hughes, a former IPCC author and a director of the Australia-based Climate Council, said ahead of the report's release that "while this is a summary report of work we'd already seen in development, there is no doubt the findings of this report will be dire."
"Since the previous IPCC report was released, we've had even more unnatural disasters," Hughes added. "We must focus on the fact that predictions are now becoming observations. We've also had a period since the previous IPCC report came out where global emissions are rising once again, so the gap between where we are and where we need to go is increasing rather than decreasing."
"If we haven't seriously turned things around by the time the next such assessment report is due, then we'll be in very deep trouble."
The IPCC's 2021 report was deemed a "code red for humanity," a glaring signal that accelerated global action to phase out fossil fuel extraction and use was needed to avert disaster.
But in the years since, governments—specifically the rich nations most responsible for the climate crisis—have refused to act with the speed and ambition that scientists say is necessary.
At the end of 2022, the U.N. climate conference—an event teeming with fossil fuel lobbyists—ended with no concrete action to rein in oil and gas production.
As a result, hugely profitable global fossil fuel giants are planning to expand their operations in the coming years, potentially locking in additional emissions and further imperiling efforts to meet critical warming targets.
Governments, including those that claim to view the climate crisis as an existential threat, are actively aiding the continued extraction of fossil fuels. Just last week, the Biden administration approved the largest proposed oil drilling project on U.S. public land despite widespread opposition.
"This is the kind of thing that we simply can't afford to do anymore," Kristina Dahl of the Union of Concerned Scientists wrote late last week. "The fossil fuel industry has, for decades, opposed and obstructed any meaningful action on climate change. And despite ardent claims otherwise, the industry has refused to commit to align its business model with what the IPCC says is required to minimize climate harms. The industry remains a barrier to the future the world's children deserve."

Simon Bradshaw, the Climate Council's director of research, said Monday that the IPCC's new report will represent "a final warning."
"The central message from climate scientists is unmistakable: governments must rally to drastically cut emissions and cease the extraction and burning of fossil fuels this decade," said Bradshaw. "That message has been delivered repeatedly, and consistently, for many decades."
"We are seeing progress when it comes to renewable energy uptake, and cleaner transport, but things just aren't moving fast enough. If we haven't seriously turned things around by the time the next such assessment report is due, then we'll be in very deep trouble," Bradshaw added. "We have a choice here to act swiftly this decade. If we start giving it our all right now, we can avert the worst of it. So many solutions are readily available, like solar and wind power, storage, electric appliances, and clean transport options. We need to get our skates on."
News
SUPPORT OUR WORK.
We are independent, non-profit, advertising-free and 100%
reader supported.