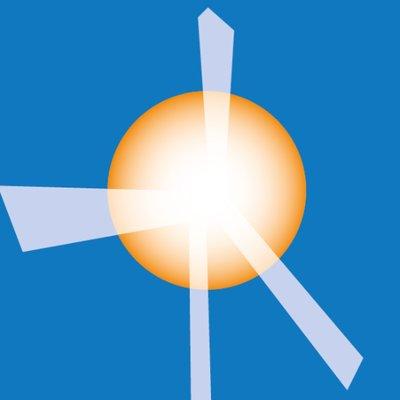 For Immediate Release
Contact:
Michael Keegan, Coalition for a Nuclear-Free Great Lakes and Don't Waste Michigan, (734) 770-1441,
mkeeganj@comcast.com
Terry Lodge, legal counsel for environmental coalition opposed to Palisades' operation, (419) 205-7084,
tjlodge50@yahoo.com
Environmental Groups Warn Michigan Governor Whitmer about Sale of Palisades Atomic Reactor to Holtec
Fears of Radioactive Contamination to be Left Behind, Short Cuts on Highly Radioactive Waste Management
WASHINGTON
The national nuclear power industry watch-dog group Beyond Nuclear, with support from Michigan-based organizations Don't Waste Michigan and Coalition for a Nuclear-Free Great Lakes, has written Michigan Governor Gretchen Whitmer, urging the state government intervene against the license transfer of Palisades nuclear power plant, in Van Buren County on the Lake Michigan shoreline, from its current owner, Entergy, to a subsidiary of New Jersey-based Holtec International. Entergy has announced it will shut Palisades for good by May 31, 2022, after which the reactor will enter its decommissioning phase. Numerous other state officials, including the Lt. Gov., Attorney General, Public Service Commissioners, Department of Health and Human Services officials, Department of Environment, Great Lakes, and Energy (EGLE) officials, Michigan's Treasurer, the state's U.S. congressional delegation, state legislative leaders, and Indigenous Nations leaders, were copied on the letter.
If the U.S. Nuclear Regulatory Commission (NRC) approves the license transfer of Palisades, then Holtec, along with its consortium partner SNC-Lavalin of Montreal, Quebec, would be put in charge of Palisades' decommissioning (facility dismantlement), radiological cleanup, and highly radioactive waste management. Palisades' sister reactor site, Big Rock Point in Charlevoix, Michigan, would be included in the sale. There is a meeting of the U.S. Nuclear Regulatory Commission (NRC) on Tuesday, December 8th, from 2 to 4pm Eastern, to discuss the sale and license transfer. State officials, environmental group representatives, and impacted residents can attend the teleconference, make comments, and share concerns. Members of the news media can ask questions. Details of the NRC meeting are posted here, including the teleconference call-in numbers. Here is a link to the slideshow that will be presented. Michigan Radio has reported on the meeting.
The groups have warned Gov. Whitmer that transferring Palisades' licenses to Holtec poses significant risks to Michigan -- in terms of health and safety, environmental impacts on the surrounding area and Lake Michigan, and in terms of its impact on the state's economy and fiscal health. Holtec's track record -- as well as that of its decommissioning consortium partner, SNC-Lavalin of Canada -- includes bribery, fraud, and malfeasance, as well as serious shortcomings in terms of financial assurance, technical qualifications, and decommissioning experience.
Simply put, there's ample reason to worry Holtec could do a superficial job of decommissioning, exhaust Palisades' already woefully inadequate decommissioning trust fund and other public monies, walk away with no liability, and leave the Great Lakes State and surrounding communities, downwind and downstream, to bear the risks and costs of a radioactively contaminated site over the long term. It's happened to other reactor communities before. This is of great concern at Palisades, given its
significant radioactive contamination of soil and groundwater
, on the edge of Lake Michigan as well as an inland aquifer, both of which are used for drinking water by immediately adjacent communities, such as Palisades Park and South Haven.
But these risks are addressable, the groups have pointed out. While the industry-captured U.S. Nuclear Regulatory Commission -- unfortunately, given its dereliction of duty -- has sole, exclusive jurisdiction over radiological safety issues, state governments are not powerless, the groups assert. The State of Michigan can and should assert its significant authority over numerous other aspects of the license transfer and decommissioning decisions, the environmental coalition has stated.
Michael Keegan with the Coalition for a Nuclear-Free Great Lakes, and co-chair of the Don't Waste Michigan board of directors based in Monroe, Michigan, stated: "Four mechanisms by which the State of Michigan can protect its residents include: insistence of $500 million in surety bonds/escrow, until Palisades' cleanup meets the state government's expectations; a state-authorized Decommissioning Citizens Advisory Board, with funding from the Decommissioning Trust Fund, with independent expertise, autonomy, and oversight with teeth; transparency and quality assurance; and the State of Michigan becoming an official legal intervenor in the license transfer proceeding, demanding public hearings."
Terry Lodge, Toledo, Ohio-based attorney, legal counsel to the environmental coalition opposed to Palisades' ongoing operations for the past 15 years, stated: "NRC's very troubling likely decisions, to let Entergy operate one of the most dangerous atomic reactors in the country for at least another year and a half, and then allow it to be handed off to the most controversial dismantler around, Holtec, should give no one rest."
Kevin Kamps of Beyond Nuclear, a Don't Waste Michigan board of directors member representing the Kalamazoo chapter, stated: "Holtec and SNC-Lavalin are crooked companies, which have engaged in bribery and other criminal behaviors. They cannot be trusted, other than to do as little radiological cleanup as they can get away with, while taking as many shortcuts on high-level radioactive waste management as they can get away with, and then pocket all the remaining money from the decommissioning trust fund, all with rubber-stamp complicity and collusion from the Nuclear Regulatory Commission."
Kamps added: "After Consumers Energy and Entergy looted Palisades' decommissioning trust fund to the tune of $316 million in 2007, Entergy now claims there is only $552 million left. This is woefully inadequate to perform comprehensive radiological cleanup of
Palisades' significantly contaminated site
, located on the edge of Lake Michigan, headwaters of the Great Lakes, drinking water supply for 40 million people downstream, in seven U.S. states, two Canadian provinces, and a large number of Indigenous Nations. Holtec and SNC-Lavalin have clearly shown that they cannot be trusted to carry out such a high stakes job. We call on Michigan's governor, attorney general, Public Service Commission, county and local governments, to intervene as strongly against Holtec's takeover of Palisades and Big Rock Point, as have their equivalents in the State of New York against Holtec's takeover of Indian Point, in order to protect Michiganders against the costs, liabilities, and risks inherent in atomic reactor decommissioning and irradiated nuclear fuel management."
Beyond Nuclear aims to educate and activate the public about the connections between nuclear power and nuclear weapons and the need to abandon both to safeguard our future. Beyond Nuclear advocates for an energy future that is sustainable, benign and democratic.
(301) 270-2209
LATEST NEWS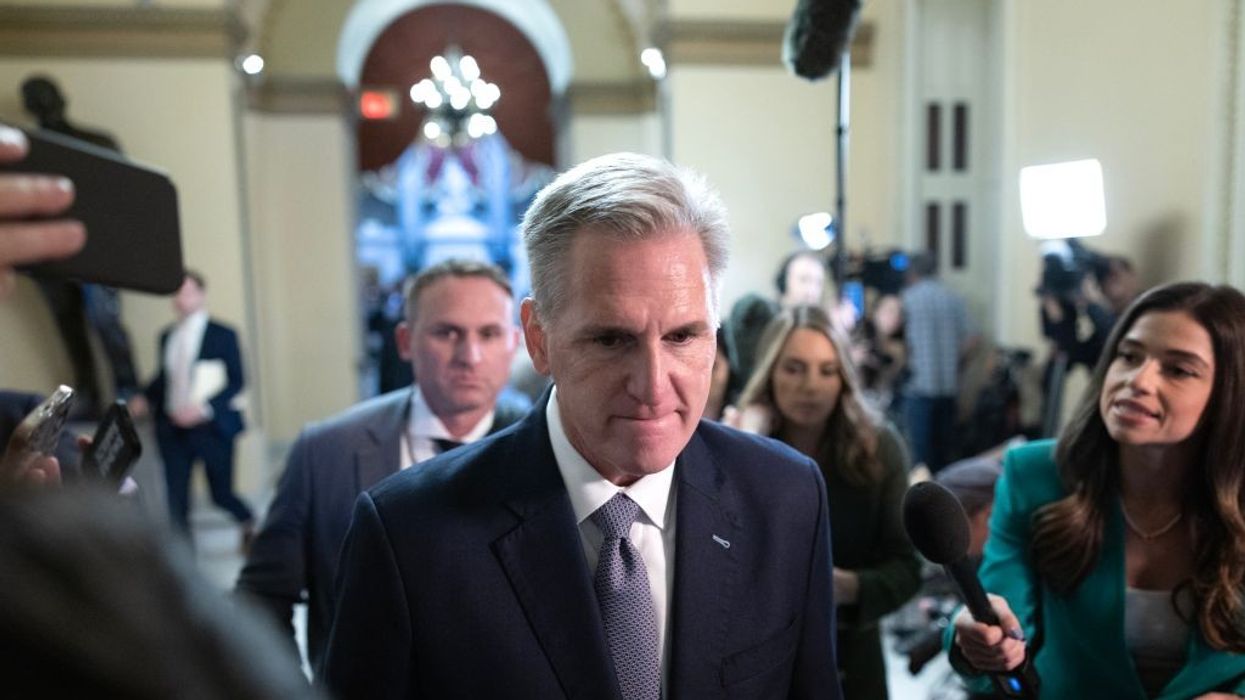 "In divided government, appropriations bills must be bipartisan to pass," Sharon Parrott said, adding that the House must "shift its approach."
With a government shutdown narrowly avoided hours from the midnight Sunday deadline, Center for Budget and Policy Priorities president Sharon Parrott had advice for how lawmakers could move forward.
"With a stopgap measure in place, Congress needs to pass funding bills that meet the needs of people, communities, and the economy and eschew cuts already rejected in the debt ceiling agreement," Parrott wrote Saturday on the social media site formerly known as Twitter.
Parrott noted that the House was only able to pass a continuing resolution (CR) to keep the government temporarily funded Saturday when Speaker Kevin McCarthy (R-Calif.) abandoned attempts to pass partisan spending bills and instead pivoted to a bipartisan, clean CR with no additional social spending cuts or right-wing policies tacked on.
"They shouldn't repeat this mistake as Congress moves to complete full-year funding bills that meet the nation's needs."
"In divided government, appropriations bills must be bipartisan to pass," Parrott continued Saturday. "That's how the Senate has crafted funding bills this year, and today's House CR vote shows it is the only path forward. But that means the House needs to shift its approach."
In an August report, David Reich of the Center for Budget and Policy Priorities (CBPP) observed that the House appropriations bills up until that point had been passed along partisan lines, with Republicans including steeper cuts to non-military spending than those negotiated in the debt ceiling agreement, rolling back Inflation Reduction Act funding earmarked for addressing the climate crisis and modernizing the Internal Revenue Service, and tacked on riders attacking LGBTQ+ rights, racial justice, and reproductive freedom.
"The House's sharply partisan approach is likely to make it harder to reach an agreement on final funding bills," he predicted accurately.
Now that the House has passed a temporary clean CR, Parrott urged Republicans to learn from the experience.
"It took House Republicans too long to abandon their partisan approach of deep cuts and controversial riders in a CR," Parrott said. "They shouldn't repeat this mistake as Congress moves to complete full-year funding bills that meet the nation's needs."
If they return to pushing cuts and poison pills, she warned, "that would only waste more time and risk more shutdown drama."
Whether House Republicans will heed her advice remains to be seen. As of Sunday, most of the talk within the party revolved around whether or not the far-right flank would challenge McCarthy's speakership over Saturday's compromise.
Matt Gaetz (R-Fla.) toldABC News' This Week that he planned to file a motion in the coming week to remove McCarthy.
"I am relentless and I will continue pursue this objective," Gaetz said.
In response, McCarthy told Gaetz to "Bring it on" when speaking withCBS's Face the Nation.
"Let's get over with it and let's start governing," he said.
In a Sunday appearance on CNN's State of the Union, however, Rep. Alexandria Ocasio-Cortez questioned the Republicans' ability to do that.
"The Republican Party right now is completely out of step with the American people," she said, observing that even self-described moderates had voted for spending bills that would cut funding for low-income schools by 80%.
"This is not a moderate party, period," she said. "There are not moderates in the Republican Party."
As a shutdown loomed, She said the party had "run around the House like a Roomba until they found a door that House Democrats opened."
News
Despite Saturday's reprieve, Sen. John Fetterman warned that "pushing the snooze button solves nothing, because these same losers will try to pull the same shit in 45 days."
A government shutdown was averted Saturday night after the Senate voted 89 to 9 to approve a stopgap spending measure passed by the House of Representatives that afternoon.
The agreement funds the government for 45 days and includes an additional $16 billion in disaster funding as New York City mops up from flash flooding following an extreme rain storm. It does not include aid for Ukraine.
"It has been a day full of twists and turns, but the American people can breathe a sigh of relief," Senate Majority Leader Chuck Schumer (D-N.Y.) said on the Senate floor. "There will be no government shutdown."
"This is not entertainment, it's governance. We must not allow the Freedom Caucus to turn our government into The Steve Wilkos Show."
The bill now heads to President Joe Biden for his signature.
"This is good news for the American people," Biden said in a statement. "But I want to be clear: We never should have been in this position in the first place."
Biden criticized far-right Republicans in the House for demanding cuts beyond what the president had negotiated with House Speaker Kevin McCarthy (R-Calif.) in a deal that progressives had already criticized for slashing programs for needy Americans and pushing through the controversial Mountain Valley Pipeline.
"They failed," Biden said of the far-right bloc.
MoveOn executive director Rahna Epting pointed out on social media that "this entire crisis was a GOP manufactured one."
"The Republican controlled House of Reps couldn't get their act together, and their endless infighting only transpired into bare minimum alignment at the 11th hour," Epting said.
Sen. Bernie Sanders (I-Vt.) celebrated the fact that the far-right bid to enshrine even steeper cuts to the social safety net did not succeed.
"I'm delighted that Congress was able to avoid a painful and unnecessary shutdown," he tweeted. "I'm also pleased that programs working families need were not cut and that there was a good increase in funds for disaster relief which will help Vermonters rebuild from July's terrible flooding."

Sen John Fetterman (D-Pa.), however, pointed out that the Republicans could force a similar crisis again on November 17 when the stopgap agreement expires.
"I voted at 8:30 pm on a Saturday night, that's my job. But the American people should never have to worry about their government shutting down," Fetterman posted on social media. "Pushing the snooze button solves nothing, because these same losers will try to pull the same shit in 45 days."
"I voted yes tonight to keep the government open, but I'm done normalizing this dysfunction," he continued. "This is not entertainment, it's governance. We must not allow the Freedom Caucus to turn our government into The Steve Wilkos Show."
Epting also expressed concern about what would happen when the deal expired.
"We do this all over again in 45 days, and Republicans will shut the government down then," Epting said. "This likely leads to more instability and extremism in the House as the far right will try to remove McCarthy over this. If we elect clowns, we get a circus."
Before the larger budget fight, Congress is now poised to take up the question of additional funding for Ukraine, something Biden, Schumer, and Sanders all flagged as a priority.
House Democratic leadership also said they expected a House vote on Ukraine funding soon in a statement reported by Jake Sherman of Punchbowl News.
News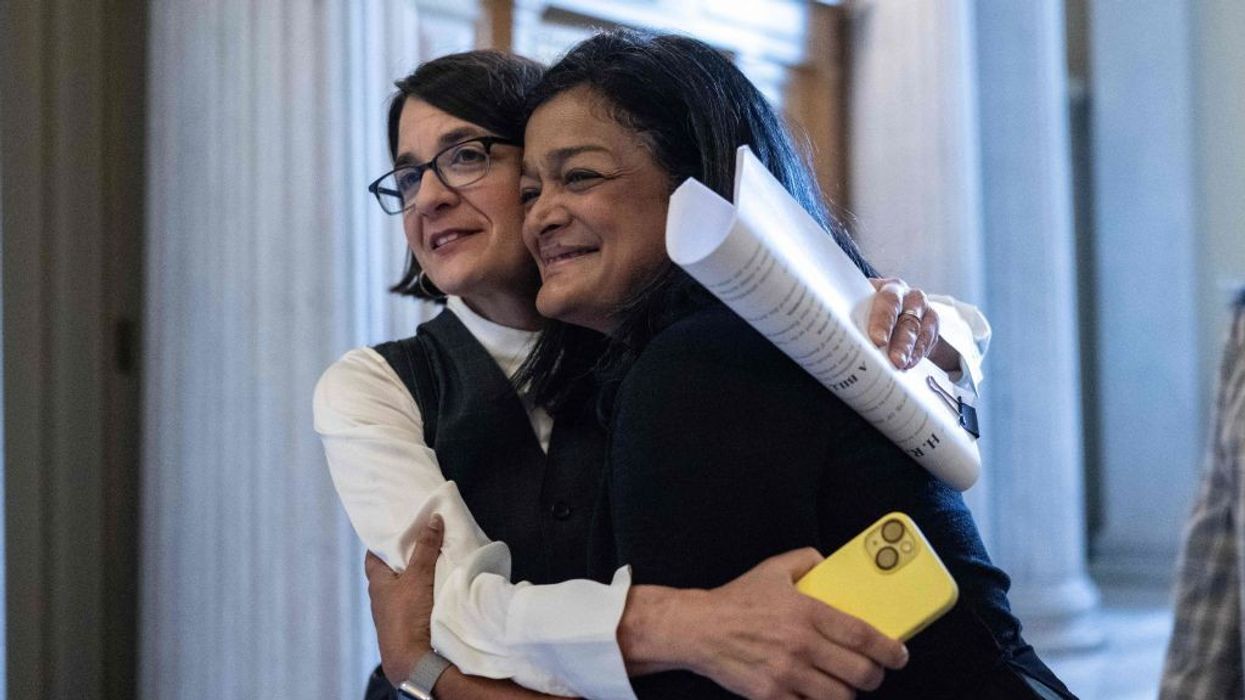 Speaker Kevin McCarthy had previously said that bringing a clean spending bill to the floor would count as surrender.
The House of Representatives voted 335 to 91 to keep the government open Saturday afternoon, as House Majority Leader Kevin McCarthy put forward a bill to fund the government for 45 days without the steep cuts to services or harder border measures demanded by far-right Republicans.
McCarthy had previously said that bringing a clean spending bill to the floor would count as surrender, Politico pointed out. The outlet's Congress reporter Olivia Beavers noted on social media that McCarthy received more votes from Democrats than from his own party, at 209 and 126 respectively.
"It's been interesting watching the MAGA Republicans surrender," Ilhan Omar (D-Minn.) tweeted. "All their must-have poison policies have been removed from the House bill we just passed. We held the line and won for the American people."
On Friday, 21 House Republicans rejected a spending measure that would have cut the budgets of several agencies by almost 30% and included harsher border control measures, The Associated Press reported.While Democrats rejected the measure for being too extreme, the 21 Republicans argued it didn't go far enough.
That refusal prompted McCarthy to change tactics Saturday, despite the fact that his speakership will likely be challenged by the right.
"If somebody wants to remove me because I want to be the adult in the room, go ahead and try," McCarthy said, as AP reported. "But I think this country is too important."
"Democrats held the line against Republicans' cruel, extreme, and unworkable agenda and the Republican resolve crumbled."
The House bill funds the federal government at 2023 levels through November 17 and includes the additional $16 billion in disaster funding requested by President Joe Biden. It does exclude funding for Ukraine, which was a part of the Senate's temporary spending measure. However, Washington Post White House economics reporter Jeff Stein tweeted that it was a "truly striking L for House conservatives demanding massive domestic spending cuts."
"A few days ago, far-right of GOP was insisting ~10% cuts to domestic programs were insufficient," he said. "Now, looks like they're going to get 0% cuts instead."
In an earlier tweet, Stein pointed out that since the stopgap measure relies on spending levels from Fiscal Year 2023, it avoids cuts to WIC, childcare, scientific research, housing support, and other domestic programs.
Progressive lawmakers counted the vote as a win.
"House Democrats have engineered a huge victory for the American people in averting a Republican shutdown," Congressional Progressive Caucus Chair Pramila Jayapal (D-Wash.) said in a statement. "This is a moment of relief for thousands of federal employees and working-class federal contract workers who will not miss a paycheck and the millions of Americans who rely on government services that will continue uninterrupted."
"The reason that the government will remain open tonight is simple," she continued. "Democrats held the line against Republicans' cruel, extreme, and unworkable agenda and the Republican resolve crumbled."
"Here's what went down: We just won a clean 45 day gov extension, stripped GOP's earlier 30% cuts to Social Security admin etc., staved off last minute anti-immigrant hijinks, and averted shutdown (for now)," Alexandria Ocasio-Cortez (D-N.Y.) tweeted. "People will get paychecks and MTG threw a tantrum on the way out. Win-win."
"For months, Speaker McCarthy has been a puppet of the extreme far-right. Democrats held the line on no cuts to the programs that our people depend on and we won," posted Maxwell Alejandro Frost (D-Fla.). "Big fight ahead on the budget, but this is a win. McCarthy folded and we kept the government open."
To avoid a shutdown, a bill must be ready for Biden to sign by 12:01 am Sunday. The Senate is likely to vote on the House meassure this evening, The New York Times reported.
Even if the Senate passes the measure, Jayapal said there would be more work to do and 45 days to pass a permanent funding resolution.
"Republicans are still trying to gut food, housing, and home-heating assistance for low-income families; take teachers out of classrooms; criminalize abortion; cut social security funding; and create a death panel for the earned benefits seniors rely on," she said.
"Republicans have managed to fulfill the absolute bare minimum of their obligations as the governing majority, but Democrats will need to remain vigilant," she added.
News
Independent, nonprofit journalism needs your help.
Please Pitch In
Today!