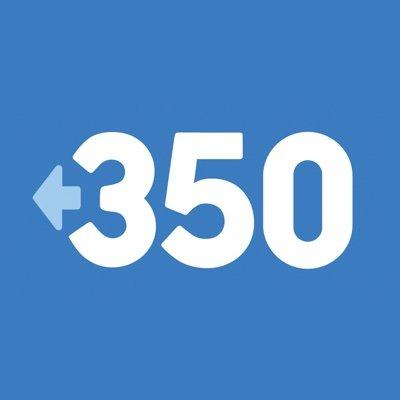 For Immediate Release
May, 14 2018, 12:00am EDT
350.org's May Boeve on Poor People's Campaign Arrest: "There Is No Climate Justice if the Poor Are Left Behind"
Today, movement leaders rallied in the nation's capital to engage in nonviolent direct action with the Poor People's Campaign, a national call for a moral revival demanding a shift in the way we think about poverty, racism, ecological devastation, and the war economy. Hundreds of people were arrested, including 350.org's Executive Director May Boeve.

WASHINGTON
Today, movement leaders rallied in the nation's capital to engage in nonviolent direct action with the Poor People's Campaign, a national call for a moral revival demanding a shift in the way we think about poverty, racism, ecological devastation, and the war economy. Hundreds of people were arrested, including 350.org's Executive Director May Boeve.

As she was arrested, Boeve issued the following statement:
"Today, I risked arrest with the Poor People's Campaign because there is no climate justice if the poor are left behind. Building the fossil free world that works for all of us requires coming together across our differences to demand bold and necessary change. 350.org stands with poor people across America, and around the world. We need a fast and just transition for the poorest and most impacted by climate change and the fossil fuel economy. Together, we will make sure it's fossil fuel billionaires, not our communities, who bear the costs of climate change's destruction."
The Poor People's Campaign action took place as dozens of communities across the U.S. rallied at City Halls and public spaces to introduce local resolutions and engage with elected officials. Fossil Free organizers are demanding local officials commit to a just and equitable transition to a fossil Free world with: (1) 100% renewable energy for all; (2) no new fossil fuel projects; and (3) not a penny more for dirty energy. Communities across the U.S. will mobilize around the Poor People's Campaign Ecological Devastation week of action happening the first week of June.
Tonight, climate and environmental movement leaders -- including Antonia Juhasz, Pennie Opal Plant, Gloria Ushigua Santi, Juan Flores and Bill McKibben -- will hold a discussion on how California can be a global model for the fast and just transition from a major oil-producer to a 100% renewable energy economy.
350 is building a future that's just, prosperous, equitable and safe from the effects of the climate crisis. We're an international movement of ordinary people working to end the age of fossil fuels and build a world of community-led renewable energy for all.
LATEST NEWS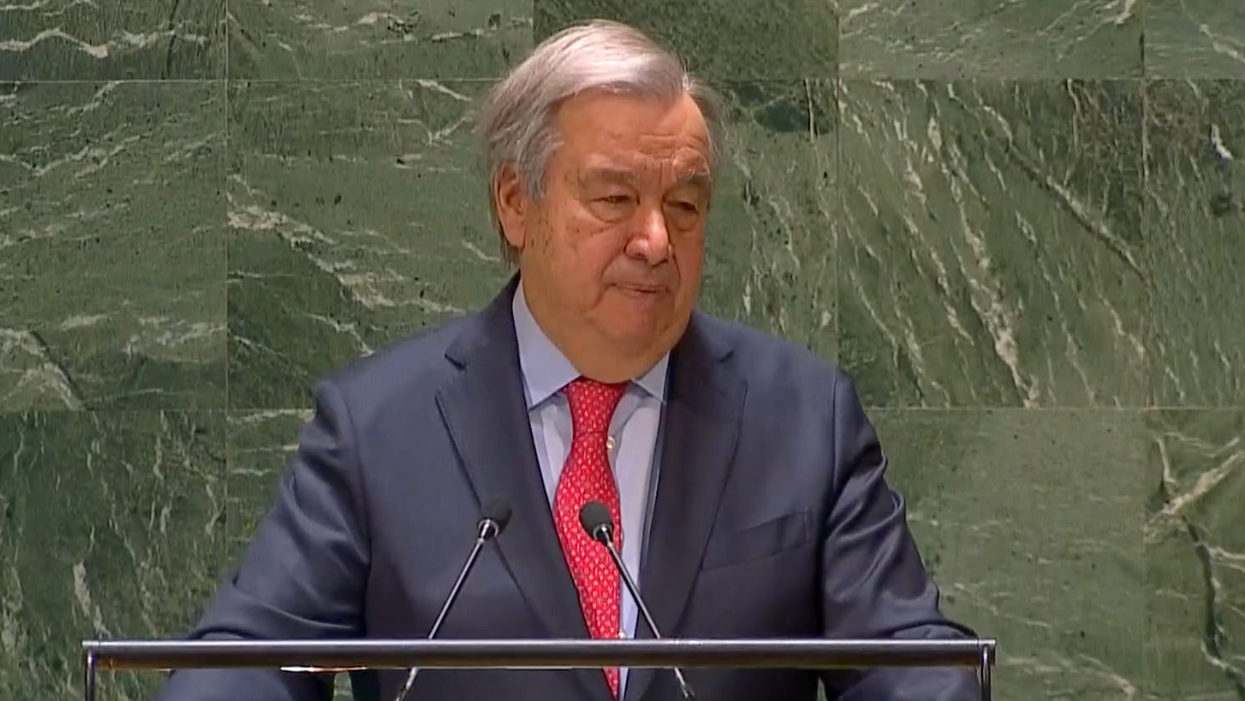 "No more baby steps. No more excuses. No more greenwashing," said U.N. Secretary-General António Guterres. "No more bottomless greed of the fossil fuel industry and its enablers."
United Nations Secretary-General António Guterres made clear Monday that securing a livable planet depends on stopping the "bottomless greed of the fossil fuel industry and its enablers."
In a speech to the General Assembly, Guterres called for an end to "the merciless, relentless, senseless war on nature" that "is putting our world at immediate risk of hurtling past the 1.5°C temperature increase limit and now still moving towards a deadly 2.8°C."
2023 must be "a year of reckoning," the U.N. chief said as he outlined his priorities for the months ahead. "It must be a year of game-changing climate action. We need disruption to end the destruction. No more baby steps. No more excuses. No more greenwashing."
Scientists have warned repeatedly that scaling up the extraction and burning of coal, oil, and gas is incompatible with averting the most catastrophic consequences of the climate emergency. Nevertheless, hundreds of corporations—bolstered by trillions of dollars in annual public subsidies—are still planning to ramp up planet-heating pollution in the years ahead, prioritizing profits over the lives of those who will be harmed by the ensuing chaos.
"I have a special message for fossil fuel producers and their enablers scrambling to expand production and raking in monster profits: If you cannot set a credible course for net-zero, with 2025 and 2030 targets covering all your operations, you should not be in business," said Guterres. "Your core product is our core problem."
"We need a renewables revolution, not a self-destructive fossil fuel resurgence," he added.
In order to halve global greenhouse gas emissions this decade, the U.N. chief said, the world needs "far more ambitious action to cut carbon pollution by speeding up the shift from fossil fuels to renewable energy—especially in G20 countries—and de-carbonizing highest emitting industrial sectors—steel, cement, shipping, and aviation.
In addition, he continued, the world needs "a Climate Solidarity Pact in which all big emitters make an extra effort to cut emissions, and wealthier countries mobilize financial and technical resources to support emerging economies in a common effort to keep 1.5°C alive."
"We need a renewables revolution, not a self-destructive fossil fuel resurgence."
"Climate action is impossible without adequate finance," Guterres noted. "Developed countries know what they must do: At minimum, deliver on commitments made at the latest COP. Make good on the $100 billion promise to developing countries. Finish the job and deliver on the Loss and Damage Fund agreed in Sharm El-Sheikh. Double adaptation funding. Replenish the Green Climate Fund by COP28. Advance plans for early warning systems to protect every person on earth within five years. And stop subsidizing fossil fuels and pivot investments to renewables."
Like the 26 annual U.N. climate meetings that preceded it, COP27 ended last November with no commitment to a swift and just global phase-out of coal, oil, and gas.
In an effort to avoid a repeat performance at COP28 in the United Arab Emirates this December, Guterres intends to convene a "Climate Ambition Summit" in September.
"The invitation is open to any leader—in government, business, or civil society," Guterres said Monday. "But it comes with a condition: Show us accelerated action in this decade and renewed ambitious net-zero plans—or please don't show up."
"COP28 in December will set the stage for the first-ever Global Stocktake—a collective moment of truth—to assess where we are, and where we need to go in the next five years to reach the Paris goals," he continued.
Guterres added that "humanity is taking a sledgehammer to our world's rich biodiversity—with brutal and even irreversible consequences for people and planet. Our ocean is choked by pollution, plastics, and chemicals. And vampiric overconsumption is draining the lifeblood of our planet—water."
In 2023, the world "must also bring the Global Biodiversity Framework to life and establish a clear pathway to mobilize sufficient resources," said the U.N. chief. "And governments must develop concrete plans to repurpose subsidies that are harming nature into incentives for conservation and sustainability."
"Climate action is the 21st century's greatest opportunity to drive forward all the Sustainable Development Goals," Guterres stressed. "A clean, healthy, and sustainable environment is a right we must make real for all."
Guterres' speech was not limited to the climate and biodiversity crises. He also emphasized the need for a "course correction" on devastating wars and raging inequality, calling for a new global economic architecture that foregrounds the needs of the poor instead of allowing the richest 1% to capture nearly half of all newly created wealth.
"This is not a time for tinkering," said the U.N. chief. "It is a time for transformation."
News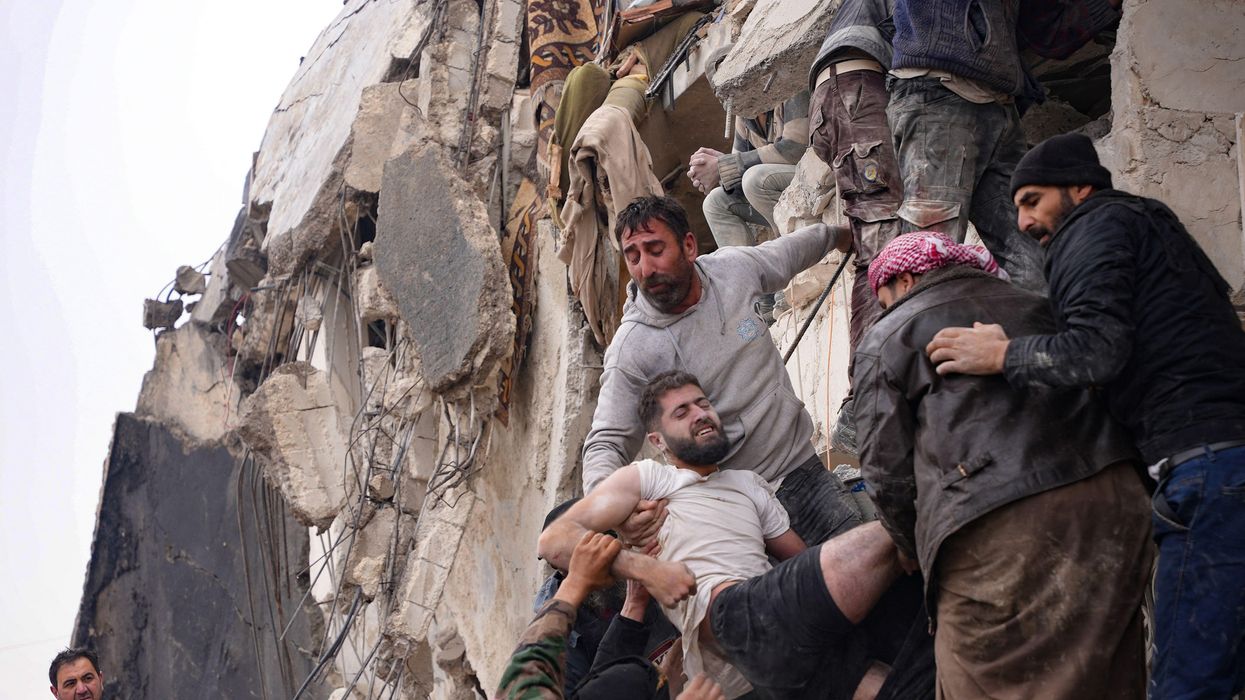 Thousands of buildings flattened with the death toll certain to rise as rescue crews attempt to reach those trapped in the rubble.
Thousands of collapsed buildings, widespread destruction, and deep anguish were reported alongside over 2,300 dead and thousands more injured after a pair of earthquakes—an initial 7.8 tremor on the Richter scale in the early morning and another that measured 7.5—devastated Syria and Turkey on Monday.
Amid dozens of aftershocks—and the quakes being also felt in Cyprus, Israel, Lebanon, Egypt, and the Occupied Palestinian Territories—the full scale of the destruction and the ultimate death toll remains unknown, though early estimates of the dead and wounded were rising by the hour.
According to Turkey's Hurriyet Daily, President Recep Tayyip Erdoğan described the quakes as the most severe in the nation since 1939.
The first quake occurred just after 4:00 am local time in Kahramanmaras province, north of Gaziantep, near the Syrian border, while the second took place in the southeastern Turkey.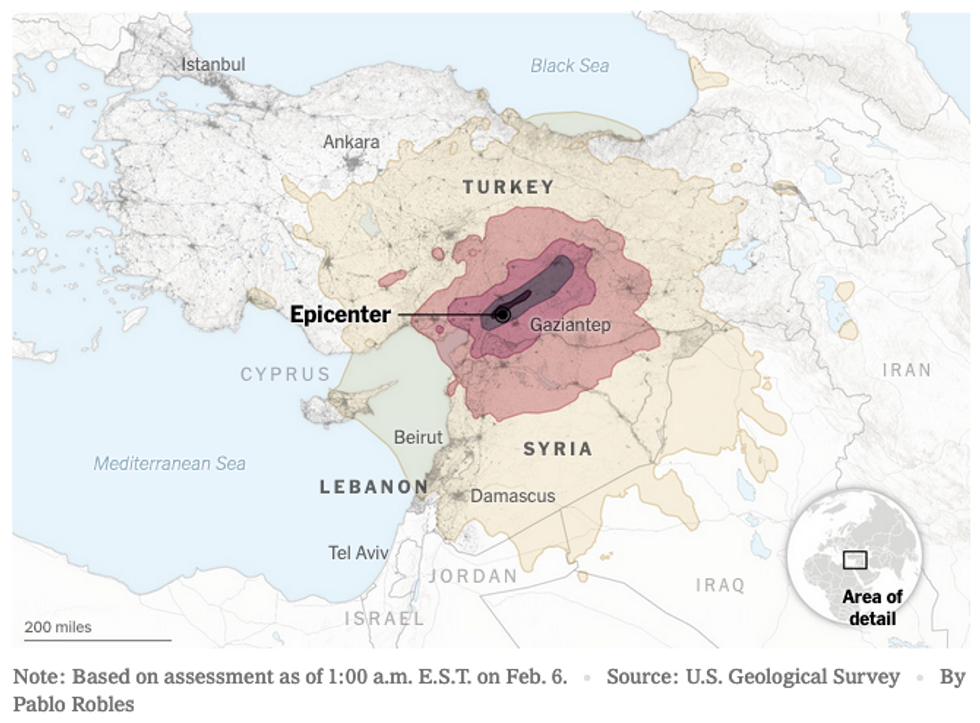 One television crew was reporting on the first quake in the city of Malatya, when the second one hit:
\u201cThis TV crew was broadcasting live when a second magnitude 7.5 earthquake hit Turkey \u2935\ufe0f\u201d

— Al Jazeera English (@Al Jazeera English) 1675678564
According to Al-Jazeera:
Rescuers were digging through the rubble of levelled buildings in the city of Kahramanmaras and neighbouring Gaziantep. Crumbled buildings were also reported in Adiyaman, Malatya and Diyarbakir.

The death toll in government-held areas of Syria climbed to 339, according to Syrian state media, with deaths reported in the cities of Aleppo, Hama, Latakia and Tartous.
Around the globe, human rights champions and political leaders offered sympathy to those impacted by the disaster and vowed emergency assistance to both Turkey and Syria.
\u201cThinking about all who will be impacted by this devastating earthquake.\u201d

— Rashida Tlaib (@Rashida Tlaib) 1675650440
Agnes Callamard, head of Amnesty International, said her organization was "in deep sorrow" following news of the disaster.
"We extend our deepest condolences to all those who have lost loved ones, and call for the Governments and international community to provide speedy search and relief," Callamard said.
Filippo Grandi, High Commissioner for Refugees at the United Nations, said, "We at UNHCR stand in solidarity with the people of Türkiye and Syria affected by today's devastating earthquake and are ready to help provide urgent relief to the survivors through our field teams wherever possible."

News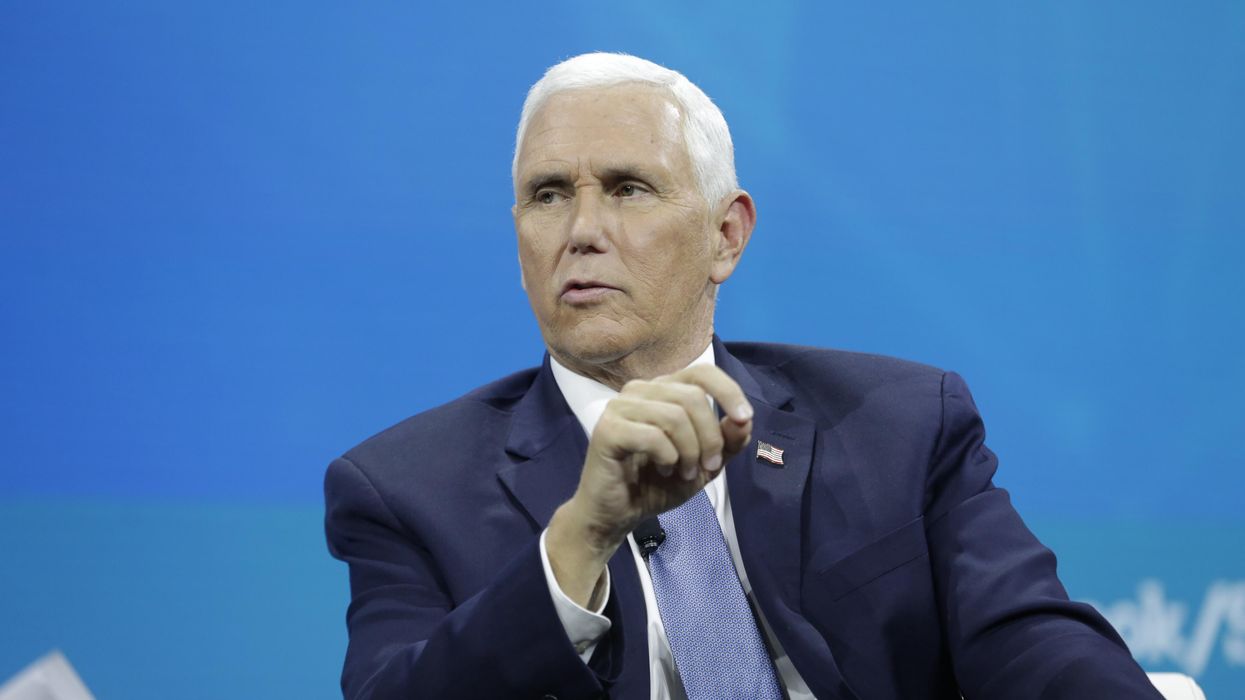 "They want to cut and privatize Social Security and take away our young people's futures," said Democratic Rep. Pramila Jayapal.
Former Vice President Mike Pence, a possible 2024 presidential candidate, has voiced support for a Social Security privatization scheme that the George W. Bush administration unsuccessfully pushed nearly two decades ago.
In a closed-door event Thursday hosted by the National Association of Wholesale-Distributors, a corporate trade group, Pence said he believes that "the day could come when we can replace the New Deal with a better deal, literally give younger Americans the ability to take a portion of their Social Security withholdings and put that into a private savings account that the government would oversee."

"I mean, a very simple fund that could generate 2% would give the average American twice what they're going to get back on their Social Security today. And it could save the government money doing it," Pence said, according to video footage obtained by the Democratic-aligned group American Bridge 21st Century.
Watch:

\u201cMike Pence calls for privatizing Social Security for young people as a way to cut spending on public benefits. "We could replace the New Deal with a better deal," he told a conference of business executives.\u201d

— More Perfect Union (@More Perfect Union) 1675466552
Experts have forcefully rejected the notion that private savings accounts of the kind Pence endorsed—which would allow workers to divert a portion of their payroll tax contributions into private investment accounts—would be more beneficial than Social Security's guaranteed benefits, as the former vice president suggested.
"The popular argument that Social Security privatization would provide higher returns for all current and future workers is misleading, because it ignores transition costs and differences across programs in the allocation of aggregate and household risk," Olivia Mitchell, John Geanakopolos, and Stephen Zeldes—economists sympathetic to the idea of privatization—wrote in a 2000 paper.
Experts have also said private accounts would not, as Pence put it, "save the government money."

In 2005, analysts with the Center on Budget and Policy Priorities (CBPP) estimated that a privatization plan put forth by former Sen. John Sununu (R-N.H.) and former Rep. Paul Ryan (R-Wis.) would "create $85.8 trillion in additional debt (equal to 93.7% of GDP) by 2050" while not boosting Social Security's long-term solvency—something Republicans claim they want to do.

"Creation of a system of private accounts would not change the amount of revenue coming into the federal government, but it would increase government spending, because the federal government would be making regular payments into the private accounts," the CBPP analysts explained. "These payments would represent new government spending. This increase in spending, unaccompanied by an increase in revenues, would widen annual deficits."
Despite the myriad drawbacks of private accounts as a partial or full-scale alternative to Social Security, Republicans have continued to promote them.
Last year, the Republican Study Committee—a panel that Pence chaired during the Bush administration—released a budget proposal that urged lawmakers to "consider legislative options that allow employers and employees to reduce their payroll tax liability and use those savings to invest in private retirement options."
Pence's remarks Thursday came as the White House and House Republicans are locked in a high-stakes standoff over the debt ceiling, which the GOP does not want to raise without also inflicting steep cuts to federal spending.
As part of their sweeping austerity push, House Republicans have suggested raising the retirement age, which would cut Social Security benefits across the board.

"Republicans keeping saying the quiet part out loud: They want to cut and privatize Social Security and take away our young people's futures," Rep. Pramila Jayapal (D-Wash.), chair of the Congressional Progressive Caucus, tweeted late Saturday. "Democrats will never let this happen."
News
SUPPORT OUR WORK.
We are independent, non-profit, advertising-free and 100%
reader supported.