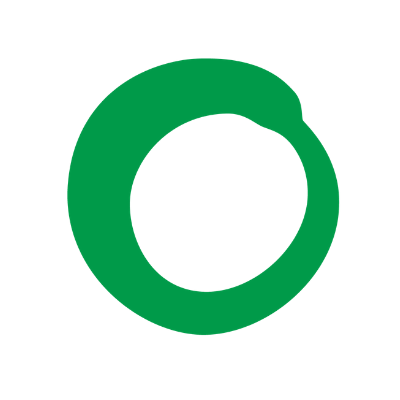 For Immediate Release
November, 21 2013, 08:38am EDT
Contact:
Dipti Bhatnagar, Friends of the Earth International Climate Justice and Energy coordinator: +48 537884908 (Polish mobile) or email dipti@foei.org
Jagoda Munic, chairperson of Friends of the Earth International: +385 98 17 95 690 (Croatian mobile) or email jagoda@zelena-akcija.hr
Friends of the Earth International media line: +31-6-5100 5630 (valid only until 22 Nov) or email: media@foei.org
Civil Society Walks Out of Warsaw Climate Talks, says Hope Lies with Building Peoples' Power
Today, one day before the planned conclusion of the Warsaw UN climate talks, hundreds of individuals from all continents representing social movements, trade unions and non-governmental organizations - including Friends of the Earth International - walked out of the UN climate conference in protest. [1]
WARSAW, Poland
Today, one day before the planned conclusion of the Warsaw UN climate talks, hundreds of individuals from all continents representing social movements, trade unions and non-governmental organizations - including Friends of the Earth International - walked out of the UN climate conference in protest. [1]
"Polluters and corporations dominated this conference with their empty talk, so we walked out in protest. Polluters talk, we walk," said Jagoda Munic, Chairperson of Friends of the Earth International.
"While people around the world are paying with their lives and livelihoods, and the risk of runaway climate change draws closer, we simply could not sit by this egregious inaction. Corporate profits should not come before peoples' lives," said Jagoda Munic.
"People and communities around the world who are already implementing climate-safe, local energy systems are the real climate leaders. Together, we must now apply political pressure so that our governments follow these leaders instead of the corporate polluters," she added.
Friends of the Earth International witnessed at these talks outrageous inaction by developed country governments - and in particular the 'Dirty Four': Australia, Canada, Japan and the US.
Meanwhile, the Polish host government actively helped corporate polluters such as coal companies to influence the talks. The European Union also disappointed, with only minimal ambition and insufficient climate finance proposals.
In Warsaw, industrialised countries' governments did nothing to cut emissions or provide real finance to tackle climate change. In addition, they continued to avoid their responsibility to prevent climate catastrophe.
"Developed nations governments have been hijacked by corporate polluters and their positions prevented even a minimal progress of the talks. Developed country governments actions in Warsaw demonstrate that they are listening to polluters such as Shell and ArcelorMittal instead of their own people, said Dipti Bhatnagar, Friends of the Earth International Climate Justice and Energy coordinator.
"We are calling on developed countries to go back home and listen to their own people. People all over the world demand urgent steps to agree an ambitious, binding and equitable international agreement on climate change. Now is the time to break free from our fossil fuel addiction and start a transformation towards sustainable and just societies," she added.
The UN is the most democratic space to address the climate crisis. The UN climate talks are supposed to be making progress on implementing the agreement that world governments made in 1992 to stop man-made and dangerous climate change.
The agreement recognises that rich countries have done the most to cause the problem of climate change and should take the lead in solving it, as well as provide funds to poorer countries as repayment of their climate debt.
Friends of the Earth International is the world's largest grassroots environmental network, uniting 74 national member groups and some 5,000 local activist groups on every continent. With over 2 million members and supporters around the world, FOEI campaigns on today's most urgent environmental and social issues.
LATEST NEWS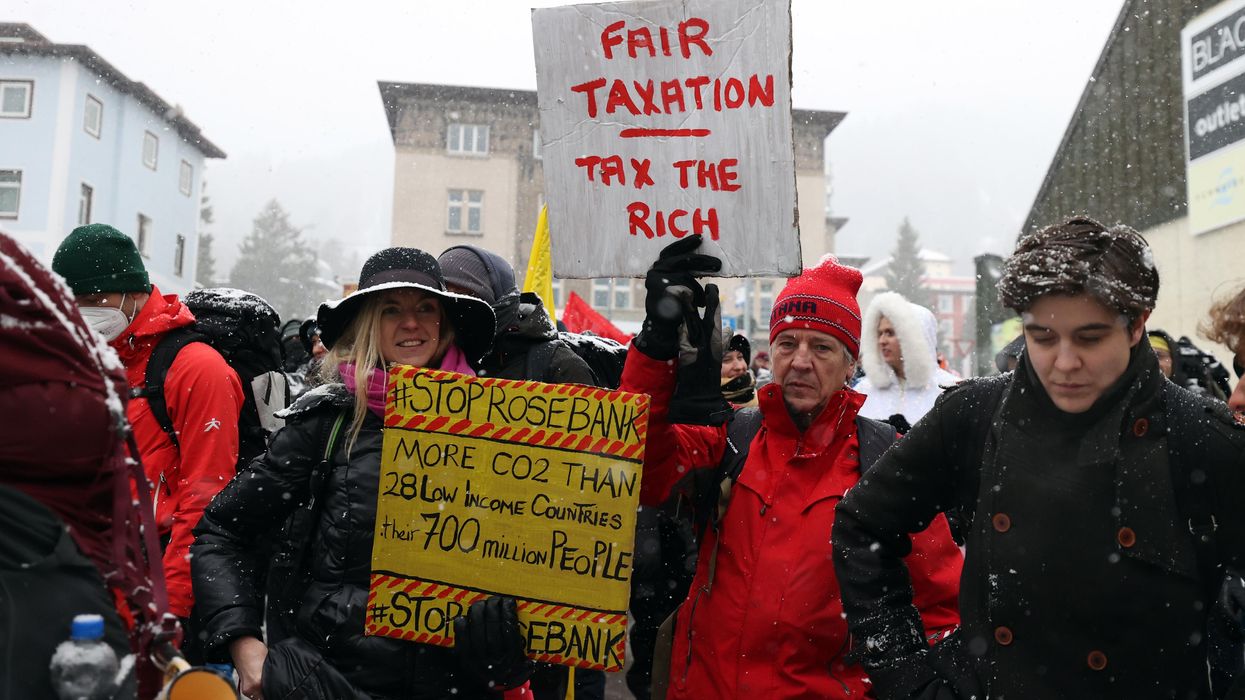 Billionaires have seen their wealth skyrocket over the past two years, adding roughly $2.7 billion per day to their fortunes while ordinary people struggle to afford basic necessities.
As the world's corporate and political elite convened in Davos, Switzerland for the first winter World Economic Forum in three years, an analysis published Monday by Oxfam International found that the global rich have captured nearly two-thirds of all wealth generated since 2020—a period marked by a devastating pandemic, worsening costs of living crises, and continued fallout from the climate emergency.
In a new report titled Survival of the Richest, Oxfam shows that the top 1% worldwide grabbed $26 trillion of the $42 trillion in new wealth created, close to twice as much as the bottom 99% of the global population.
Billionaires, in particular, have seen their wealth explode since 2020, adding around $1.7 million to their net worth for every $1 in wealth gained by a person in the bottom 90% of the global income distribution. According to Oxfam, billionaires' fortunes have grown by an average of $2.7 billion per day since 2020.
Meanwhile, nearly 2 billion workers across the globe likely saw inflation rise at a faster pace than their wages, resulting in a real pay cut that has increased poverty, hunger, and other hardships.
"While ordinary people are making daily sacrifices on essentials like food, the super-rich have outdone even their wildest dreams," said Gabriela Bucher, executive director of Oxfam International. "Just two years in, this decade is shaping up to be the best yet for billionaires—a roaring '20s boom for the world's richest."
Oxfam's report also spotlights how corporations have taken advantage of crises such as pandemic-induced supply chain woes and Russia's war on Ukraine to drive up prices for consumers around the world, making it more difficult for billions of people to afford basic necessities.
The analysis finds that at least 95 food and energy corporations more than doubled their profits in 2022, bringing in $306 billion in windfall profits and dishing out 84% of it to their shareholders.
"The Walton dynasty, which owns half of Walmart, received $8.5 billion over the last year," Oxfam notes. "Indian billionaire Gautam Adani, owner of major energy corporations, has seen this wealth soar by $42 billion (46%) in 2022 alone. Excess corporate profits have driven at least half of inflation in Australia, the U.S., and the U.K."
"Forty years of tax cuts for the super-rich have shown that a rising tide doesn't lift all ships—just the superyachts."
To combat skyrocketing inequality produced by excess corporate profits and the disproportionate wealth gains of the ultra-rich—who also contribute far more to the climate crisis than the rest of humanity—Oxfam argues that governments around the world should institute "a systemic and wide-ranging increase in taxation" targeting billionaires who often pay astonishingly low tax rates.
The new report cites the example of Tesla CEO Elon Musk, who—according to Internal Revenue Service documents obtained by ProPublica—paid a true tax rate of just over 3% between 2014 and 2018.
By comparison, Oxfam observes, "Aber Christine, a flour vendor in Uganda, makes $80 a month and pays a tax rate of 40%."
The aid group's report makes clear that Musk is hardly alone among billionaires in reaping massive wealth gains—much of it unrealized stock appreciation—while paying little tax.
"Every billionaire is a policy failure," the report says. "The very existence of booming billionaires and record profits, while most people face austerity, rising poverty, and a cost-of-living crisis, is evidence of an economic system that fails to deliver for humanity. For too long, governments, international financial institutions, and elites have misled the world with a fictional story about trickle-down economics, in which low tax and high gains for a few would ultimately benefit us all. It is a story without any basis in truth."
It's unclear whether the Davos summit—dominated by individuals and corporations committed to preserving and growing their wealth—will feature discussion of anything close to the tax policy that Oxfam recommends. Specifically, the group calls on policymakers to "permanently increase taxes on the richest 1%... to a minimum of 60% of their income from both labor and capital, with higher rates for multi-millionaires and billionaires."
Oxfam also urges governments to "tax the wealth of the richest 1% at rates high enough to significantly reduce the numbers and wealth of the richest people, and redistribute these resources. This includes implementing inheritance, property, and land taxes, as well as net wealth taxes."

Taxation is not mentioned in an overview of the World Economic Forum's central topics.
In a statement, Bucher said that "taxing the super-rich and big corporations is the door out of today's overlapping crises."
"It's time we demolish the convenient myth that tax cuts for the richest result in their wealth somehow 'trickling down' to everyone else," said Bucher. "Forty years of tax cuts for the super-rich have shown that a rising tide doesn't lift all ships—just the superyachts."
News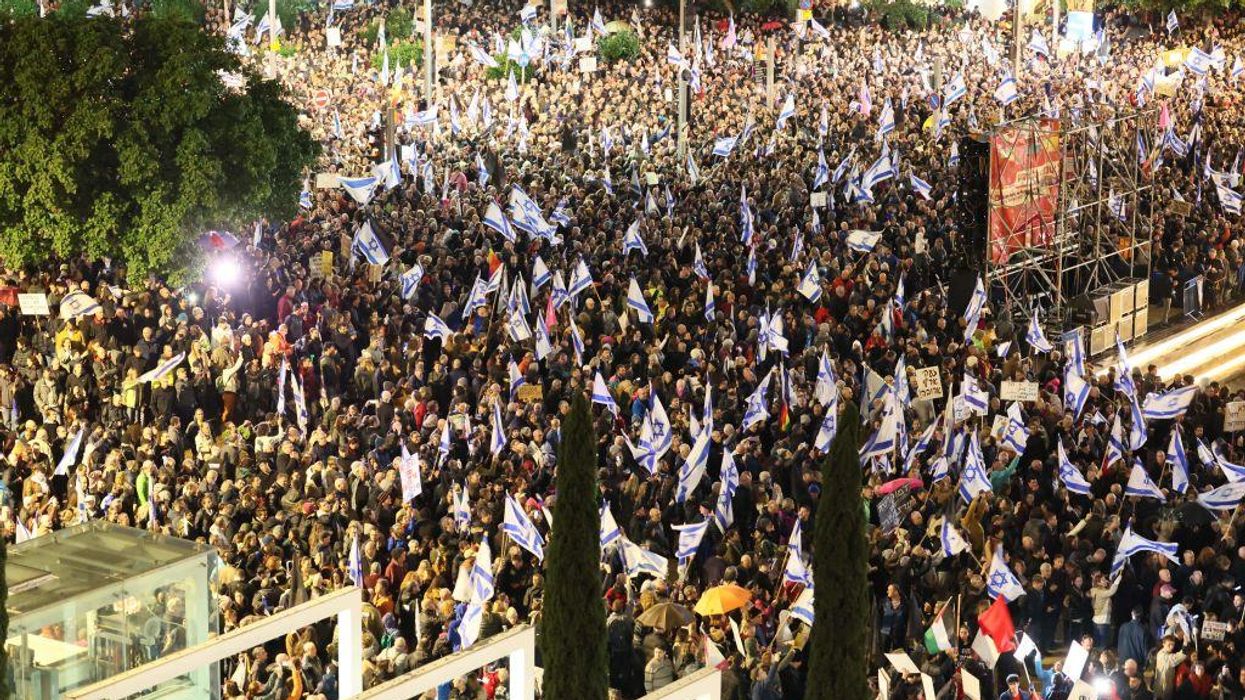 Over 100,000 marched in Tel Aviv against the government, in one of the biggest protests in Israel in many years
Tens of thousands of Israelis marched in central Tel Aviv and in two other major cities on Saturday night, protesting far rightwing PM Benjamin Netanyahu's plan to overhaul the legal system and weaken the Supreme Court — undermining democratic rule just weeks after his election.
Despite cold, rainy weather, marchers, many covered with umbrellas, held Israeli flags and placards saying "Criminal Government," "The End of Democracy," and "We Are Preserving Our Shared Home." Netanyahu was guilty of a "legal putsch," read another.
Critics say Netanyahu's would cripple judicial independence, foster corruption, set back minority rights, and deprive Israel's court system of credibility.
Netanyahu and his ultranationalist security minister Itamar Ben-Gvir ordered police to take tough action if protesters displayed Palestinian flags at Saturday's protest. Social media footage showed a number of Palestinian flags on display in defiance of Netanyahu.
"Elections do not give anyone the power to destroy democracy itself," said former Justice Minister Tzipi Livni as she addressed the protest in Tel Aviv, adding that Israel's far-right government is "carrying out a political takeover of the country and waging a war against its democratic institutions."
"Spilled poison, lies, slandering one's brother, marking as an enemy anyone who thinks differently. [They are doing] everything so that we crumble from the inside and weaken as a society before the big attack," she said.
"We will stop you, and we will not compromise because democracy in Israel, our freedom and our rights are not political trade," Livni said. "They can call us traitors, but we are the ones who protect the motherland from them. They can threaten handcuffs – we are not afraid," she said.
News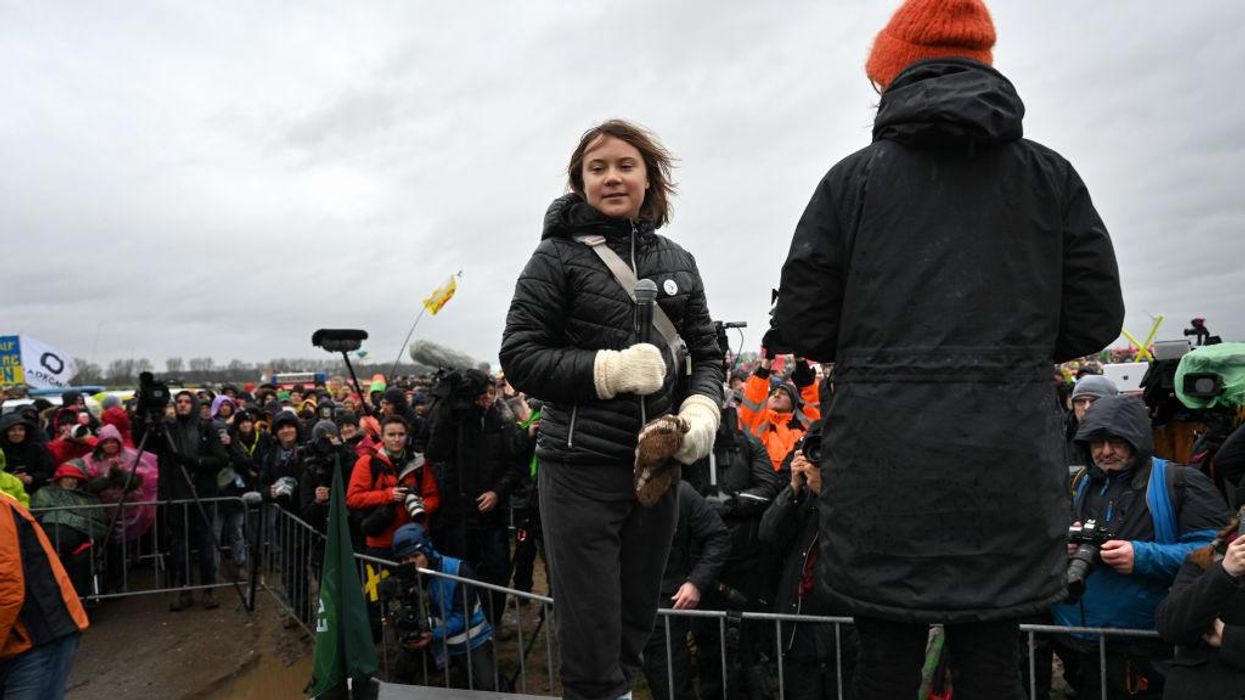 Greta Thunberg criticized Germany's Green Party on Saturday for supporting the demolition of the village of Lützerath
Thousands of people demonstrated in a pouring rain on Saturday protesting the clearance and demolition of a village in western Germany that is due to make way for the expansion of the coal mine Garzweiler.
Swedish climate activist Greta Thunberg joined the demonstrators as they protested the clearance of Luetzerath, walking through the nearby village of Keyenberg. Protesters chanted "Every village stays" and "You are not alone."
Activists from climate action groups including Fridays for Future, Extinction Rebellion and Last Generation came from across the country to join the protest.
Thunberg criticized Germany's Green Party on Saturday for supporting the demolition of the village of Lützerath.
German outlet dpa reported:
Making deals with fossil fuel corporations such as energy giant RWE – which has bought the site of Lützerath for mining – "show where their priorities are", Thunberg said of the Greens, who form part of Germany's coalition government, in an interview with dpa.
Leading Green politicians such as Economy Minister Robert Habeck have defended the demolition of Lützerath, arguing that the coal below is needed to maintain energy security in the current crisis.
"The coal that is in the ground here will not lower prices immediately. Anyone who thinks like that is simply out of touch with reality," Thunberg said.
The Greens are also in power in the state of North-Rhine Westphalia, where the village of Lützerath has become the latest flashpoint for activists opposed to the government's continued use of coal.
During a visit to Lützerath Friday afternoon, 20-year-old Thunberg said it was "horrible to see what's happening here."
"We expect to show what people power looks like, what democracy looks like. When governments and corporations are acting like this, destroying the environment, putting countless people at risk, the people step up," she said.
The climate activist also referred to "outrageous ... police violence" occurring at the site.
Thunberg held up a sign that read, "Keep it in the ground."
Sara Ayech, Global Campaign Lead for Climate at Greenpeace International said Saturday: "We're in 2023, in the middle of a climate crisis, and while destroying a village to expand one of the biggest carbon bombs in Europe should be considered criminal, it is still legal. Fossil fuel companies' influence is so powerful that the ones considered criminals now are the ones fighting for climate justice. It is time to hold fossil fuel companies accountable."
Environmentalists say bulldozing the village to expand the Garzweiler mine would result in huge amounts of greenhouse gas emissions.
The local and national governments, both of which include the Green party, made a deal with fossil fuel giant RWE last year allowing it to destroy the village in return for a promise to end coal use by 2030, rather than 2038.



News
SUPPORT OUR WORK.
We are independent, non-profit, advertising-free and 100%
reader supported.