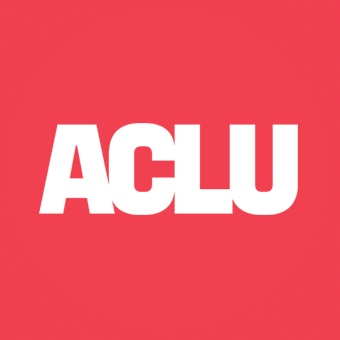 ACLU of Florida Launches "Let Me Vote" Campaign to Empower Vulnerable Voters
Floridians share personal stories to highlight the importance of becoming informed to overcome voting barriers
WASHINGTON
Today, a group of Floridians ranging from lifelong voting rights activists to newly sworn-in U.S. citizens came together to share stories of overcoming newly-created barriers to the ballot box and participate in the most important part of our democracy, the right to vote. The event, held at the Miami Dade College Wolfson Campus, marked the launch of the American Civil Liberties Union (ACLU) of Florida's "Let Me Vote" campaign, part of a nationwide ACLU campaign of the same name seeking to empower America's most vulnerable voters by getting accessible, accurate information to them to prevent voting restrictions from getting in their way.
Recent changes in Florida election laws and procedures have made it more difficult for some Floridians to vote. These barriers include a 2011 law that makes it more difficult for people to register to vote and restricts early voting and voter address changes;, a state law requiring photo ID at the polls;, and new restrictions to the state's process for restoration of civil rights for former felons. Portions of these laws have been challenged by groups including the ACLU of Florida, and while some barriers have been lifted, these new policies threaten to exclude thousands of Floridians from participating in our democracy.
The ACLU of Florida's "Let Me Vote" campaign seeks to make sure every Floridian - particularly African Americans, Hispanics, and young voters, all of whom are disproportionately impacted by the voting rule changes and restrictions - understands how these changes may impact them, and how by becoming familiar with the rules, they can come to the ballot box and make their voice heard.
"The ACLU and coalition partners have been challenging and pushing back against voter suppression schemes in Florida and across the nation," stated Howard Simon, Executive Director of the ACLU of Florida. "With some success, we have encouraged the courts to strike down restrictions on access to the voting booth -- but too many barriers still remain."
"I'm confident that Floridians will not let these barriers stand in their way," Simon continued. "Over the next several weeks, the faces of suppression will become the voices of empowerment as Floridians share the importance of becoming informed voters, ready to defend their right to vote. Every one of us has a simple message: 'let me vote.'"
At the launch of the campaign, Floridians from all walks of life shared their personal stories of triumphing over roadblocks to voting in order to inspire other Floridians to do the same.
Portions of their stories are below:
Carolina Gonzalez - Public Information Officer, ACLU of Florida
"The barriers to voting in my home country (of Venezuela) may be 2000 miles long, but it's a journey I'm willing to make. I hope American citizens will be willing to make the much shorter journey alongside me this fall, ultimately arriving at the same destination: a democracy as it was meant to be."
Maribel Balbin - President, League of Women Voters of Miami
"Discouraging third-party voter registration groups from registering voters has a disproportionate impact on the minority community. Minority voters, such as blacks and Hispanics, are twice as likely to register to vote via a third-party group as non-minority voters. [...]The New York Times reported that Florida was down 81,000 in voter registration this year, we at the League are doing everything possible to overcome that."
Natalie Carlier - South Florida Regional Field Coordinator for Civic Engagement, National Council of La Raza
"In 2008 on the morning of election day, my mother rushed into my room at 6am to force me out of bed because we were going to go vote together. [...] We stood in line together that day, waiting for the polls to open, and I realized then that my mom had come a long way from Colombia to the U.S. to let her voice be heard. And if it was important enough for her, it was important enough for me."
Kish'sha B. Sharp - General Counsel, NAACP Miami-Dade Branch
"We have answered the assault by registering more voters, and most importantly educating them on the new rules to ensure they have full access at the ballot box and turn out to vote. We have utilized mobile technology and social media to recruit volunteers and register and educate voters. [...]The bottom line is that we will not let any of the tactics be an excuse for anyone to fail to exercise their right to vote."
Gilca Santos - A newly sworn-in U.S. citizen
"It was one of the happiest days of my life. The day I got married, the day we arrived in the U.S., the days when my three children were born, and the day I became a citizen. [...] Now that I am a citizen, I want to exercise my right to vote. I just registered for the first time one month ago and I am very excited. I want to help people from my community, and if I vote I can do it."
Fanny Rengifo - A Colombian-born U.S. citizen registering to vote for the first time
"Today, I am registering to vote. Despite the fact that I've been a citizen for almost 5 years now, I felt alone and without any motivation to vote. But this election I am more motivated than ever. [...]Today I have a group of friends that teach me, support and encourage me, and this year I will finally feel the joy of casting my vote to help others achieve their dreams, the way I wanted to achieve my dreams, the way my daughter is achieving her dreams too."
Jameer Baptise - Field Director, SAVE Dade
"Throughout my upbringing as a first generation American I was constantly reminded that the single most powerful contribution I could make to my country and one afforded to me as a birthright was my duty to vote. Every time I help someone register to vote, I replay the story of my mom and dad; the memories of when each were finally eligible to step into the booth and punch the holes and pull the lever and how it made them feel truly American."
Dr. Rosalind Osgood - Secretary-Treasurer, Florida Rights Restoration Coalition
"Nothing in my history has led me to doubt that an empowered community will always overcome the most insurmountable challenges before them. I am a testament to that; So many of you in this room today are a testament to that; And across the country in the face of voter suppression, millions are standing together as testament to the strength of an empowered electorate."
Wednesday's event was co-sponsored by: Miami-Dade College, Florida Immigrant Coalition, Florida Rights Restoration Coalition, the League of Women Voters of Miami-Dade County, the NAACP Miami-Dade Branch, the National Council of La Raza, and SAVE Dade.
Additional information about the ACLU of Florida's "Let Me Vote" campaign is available at https://www.aclufl.org/letmevote
A collection of high-resolution photos from the event is available here: https://www.aclufl.org/letmevote/20120-09-ACLULetMeVoteLaunchPhotos.zip
Full text of the speakers' stories, audio from the event and broadcast-quality HD video are available upon request.
The American Civil Liberties Union was founded in 1920 and is our nation's guardian of liberty. The ACLU works in the courts, legislatures and communities to defend and preserve the individual rights and liberties guaranteed to all people in this country by the Constitution and laws of the United States.
(212) 549-2666
LATEST NEWS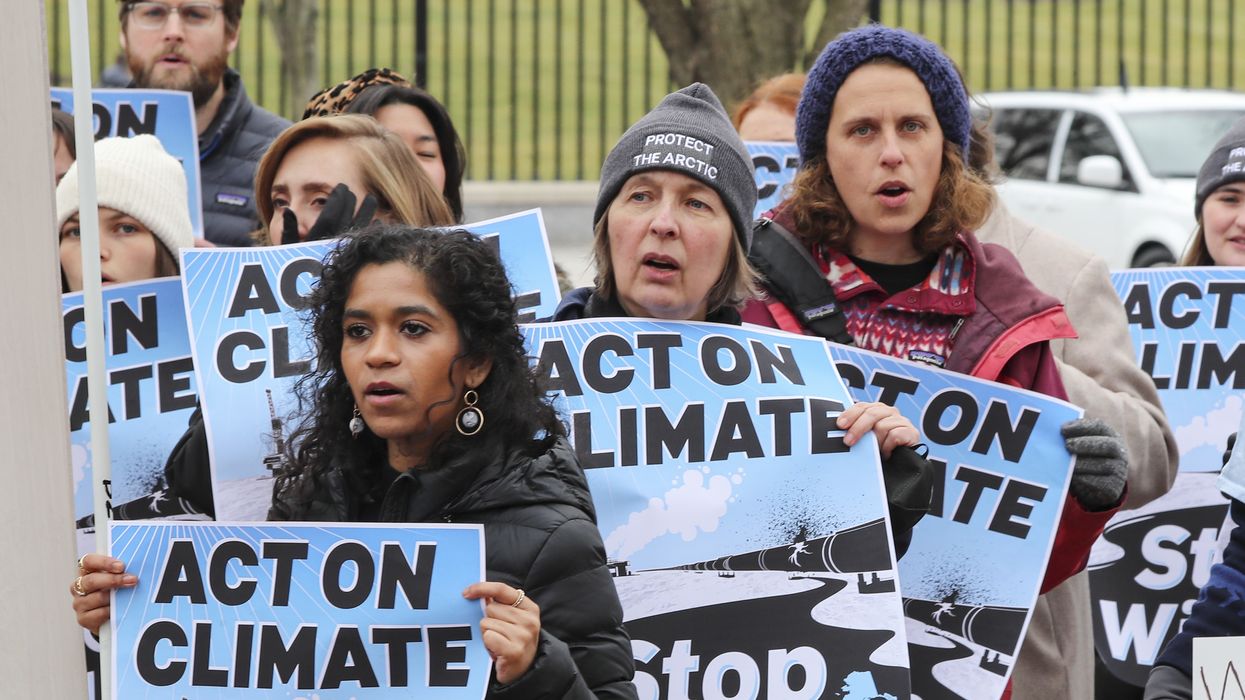 "Biden will keep being haunted until he changes course," said one climate campaigner.
Further emboldened by the Intergovernmental Panel on Climate Change's fresh call for rapid emission cuts, campaigners are planning to rally outside the U.S. Interior Department on Tuesday morning to protest the Biden administration's approval of a massive oil drilling project that—if completed—would spew millions of tons of carbon dioxide into the atmosphere each year.
In a press release announcing the demonstration, which is set to begin at 9:00 am ET, Fossil Free Media said those voicing outrage over the administration's decision to greenlight the project will include climate activists, social media influencers, students, and others.
The protest will coincide with President Joe Biden's planned remarks at the White House Conservation in Action Summit at the Interior Department, which signed off on a version of ConocoPhillips' Willow Project last week despite widespread opposition and warnings that it would undermine the global climate fight.
The Interior Department has estimated that the Alaska drilling project—the largest of its kind on U.S. public land—could produce nearly 580 million barrels of oil over three decades and unleash more than 270 million metric tons of planet-warming CO2. Green groups are suing the administration in an effort to stop the project, which is not expected to begin producing oil for another six years.

Jamie Henn, the director of Fossil Free Media, wrote Monday that the IPCC's report "makes it all the more clear that Biden's approval of the Willow Project was an act of climate denial and destruction."
The report, the product of years of work by hundreds of leading scientists from around the world, says greenhouse gas emissions must be cut by 60% over roughly the next decade to keep the Paris climate accord's critical warming target alive.
The Biden administration's approval of the Willow Project and other drilling—during his first two years in office, Biden outpaced former President Donald Trump in permit approvals—called into further doubt the White House's commitment to treating the climate crisis as an "existential threat."
"Reading the U.N.'s latest dire climate warnings just days after Biden approved massive new Arctic oil drilling is utterly infuriating," Shaye Wolf, climate science director at the Center for Biological Diversity, said Monday. "The fossil-fueled path to more climate disasters, mass displacements, and wildlife extinctions is bleak, but it's not inevitable."
"Chief among world leaders, Biden has the tools to not only ratchet up renewables but move us decisively off fossil fuels," Wolf added. "Scientists have mapped the way to a livable planet, but we need the political will to get us there."
On Monday, shortly following the release of the IPCC report, climate activists disrupted a Washington, D.C. event hosted by the Center for Strategic and International Studies, where White House climate adviser Ali Zaidi appeared to deliver an address on the "future of U.S. climate and energy leadership."
Reutersreported that "a dozen protesters holding a sign saying 'End Fossil Fuels' chanted 'Keep your promise, no new drilling' for several minutes, preventing Zaidi from starting his remarks." Zaidi responded by pointing to the climate investments approved under the Inflation Reduction Act (IRA).
"At the end of the day, nobody in a position of power seems to be accepting the reality and the urgency of this moment," Reilly Haught, a 23-year-old protestor from West Virginia, told Reuters. "And that's what we wanted to share with him. We just can't go on with business as usual with only the people in suits having these important conversations."
Collin Rees of Oil Change International tweeted Monday that "'climate leaders' don't approve huge fossil fuel projects like the Willow Project, which would negate most emissions reductions from the IRA even under rosy estimates."
"The IPCC is clear—no new oil + gas," Rees added. "Biden will keep being haunted until he changes course."
News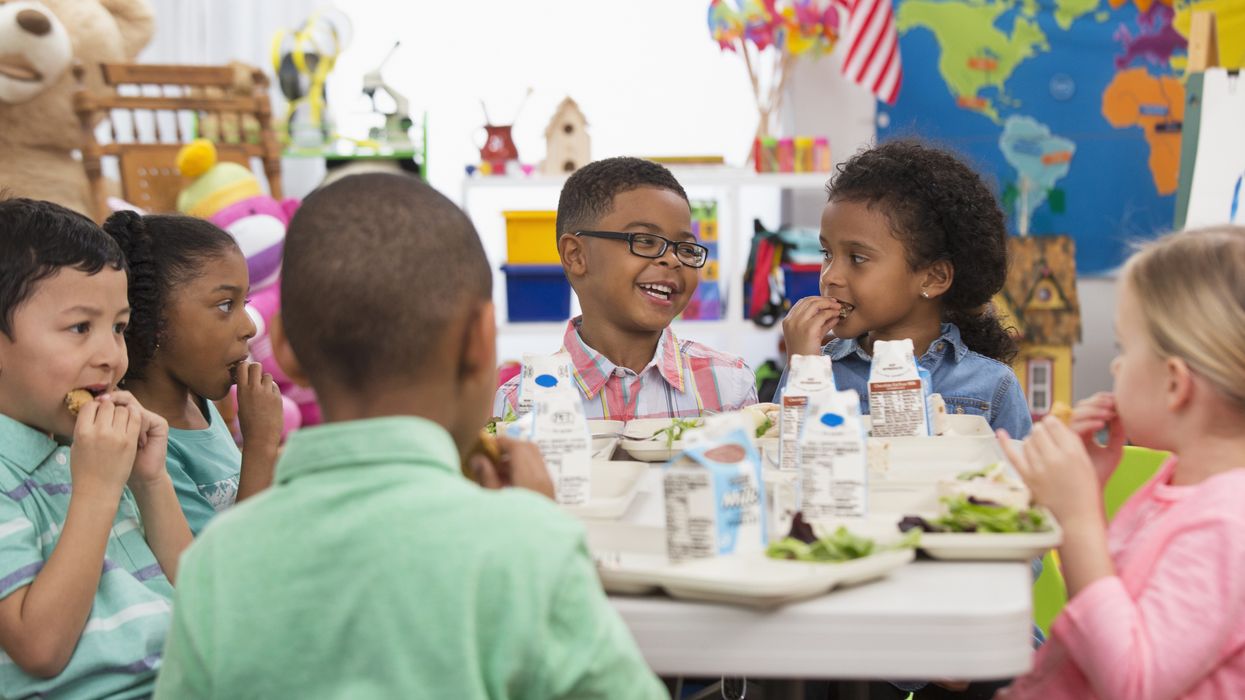 "Hiving off a tiny part of the public school bundle and charging a means-tested fee for it is extremely stupid," argues Matt Bruenig.

Minnesota last week became just the fourth U.S. state to guarantee universal free school meals, triggering a fresh wave of demands and arguments for a similar federal policy to feed kids.
"Universal school meals is now law in Minnesota!" Democratic U.S. Rep. Ilhan Omar, who represents the state, tweeted Monday. "Now, we need to pass our Universal School Meals Program Act to guarantee free school meals to every child across the country."
Omar's proposal, spearheaded in the upper chamber by Sen. Bernie Sanders (I-Vt.), "would permanently provide free breakfast, lunch, dinner, and a snack to all school children regardless of income, eliminate school meal debt, and strengthen local economies by incentivizing local food procurement," the lawmakers' offices explained in 2021.
Congressional Republicans last year blocked the continuation of a Covid-19 policy enabling public schools to provide free breakfast and lunch to all 50 million children, and now, many families face rising debt over childrens' cafeteria charges.
"The school bus service doesn't charge fares. Neither should the school lunch service."
Matt Bruenig, founder of the People's Policy Project, highlighted Monday that while children who attend public schools generally have not only free education but also free access to bathrooms, textbooks, computer equipment, playgrounds, gyms, and sports gear, "around the middle of each school day, the free schooling service is briefly suspended for lunch."
"How much each kid is charged is based on their family income except that, if a kid lives in a school or school district where 40% or more of the kids are eligible for free lunch, then they are also eligible for free lunch even if their family income would otherwise be too high," he detailed. "Before Covid, in 2019, 68.1% of the kids were charged $0, 5.8% were charged $0.40, and 26.1% were charged the full $4.33... The total cost of the 4.9 billion meals is around $21 billion per year. In 2019, user fees covered $5.6 billion of this cost."
Bruenig—whose own child has access to free school meals because of the community eligibility program—continued:
The approximately $5.6 billion of school lunch fees collected in 2019 were equal to 0.7% of the total cost of K-12 schooling. In order to collect these fees, each school district has to set up a school lunch payments system, often by contracting with third-party providers like Global Payments. They also have to set up a system for dealing with kids who are not enrolled in the free lunch program but who show up to school with no money in their school lunch account or in their pockets. In this scenario, schools will either have to make the kid go without lunch, give them a free lunch for the day (but not too many times), or give them a lunch while assigning their lunch account a debt.

Eligibility for the $0 and $0.40 lunches is based on income, but this does not mean that everyone with an eligible income successfully signs up for the program. As with all means-tested programs, the application of the means test not only excludes people with ineligible incomes, but also people with eligible incomes who fail to successfully navigate the red tape of the welfare bureaucracy.
The think tank leader tore into arguments against universal free meals for kids, declaring that "hiving off a tiny part of the public school bundle and charging a means-tested fee for it is extremely stupid."
Bruenig pointed out that socializing the cost of child benefits like school meals helps "equalize the conditions of similarly-situated families with different numbers of children" and "smooths incomes across the lifecycle by ensuring that, when people have kids, their household financial situation remains mostly the same."
"Indeed, this is actually the case for the welfare state as whole, not just child benefits," the expert emphasized, explaining that like older adults and those with disabilities, children cannot and should not work, which "makes it impossible to receive personal labor income, meaning that some other non-labor income system is required."
Conservative opponents of free school lunches often claim that "fees serve an important pedagogical function in society to get people to understand personal responsibility" and because they "are means-tested, they serve an important income-redistributive function in society," he noted. "Both arguments are hard to take seriously."
Pushing back against the first claim, Bruenig stressed that right-wingers don't apply it to other aspects of free schooling such as bus services. He also wrote that the means-testing claim "is both untrue and at odds with their general attitudes on, not just redistribution, but on how child benefit programs specifically should be structured."
A tax for everyone with a certain income intended to make up the $5.6 billion in school meal fees, he argued, "would have a larger base and thus represent a smaller share of the income of each person taxed and such a tax would smooth incomes over time," while also eliminating means-testing—which would allow schools to feed all kids and ditch costly payment systems.
As Nora De La Cour reported Sunday for Jacobin: "The fight for school meals traces its roots all the way back to maternalist Progressive Era efforts to shield children and workers from the ravages of unregulated capitalism. In her bookThe Labor of Lunch: Why We Need Real Food and Real Jobs in American Public Schools, Jennifer Gaddis describes how early school lunch crusaders envisioned meal programs that would be integral to schools' educational missions, immersing students in hands-on learning about nutrition, gardening, food preparation, and home economics. Staffed by duly compensated professionals, these programs would collectivize and elevate care work, making it possible for mothers of all economic classes to efficiently nourish their young."
Now, families who experienced the positive impact of the pandemic-era program want more from the federal government.
"When schools adopt universal meals through community eligibility or another program, we see improvements in students' academic performance, behavior, attendance, and psychosocial functioning," wrote De La Cour, whose reporting also includes parent and cafeteria worker perspectives. "Above all, the implementation of universal meals causes meal participation to shoot up, demonstrating that the need far exceeds the number of kids who are able to get certified."
Crystal FitzSimons, director of school-based programs at the Food Research and Action Center (FRAC), told Jacobin, "There is a feeling that we can't go back."

News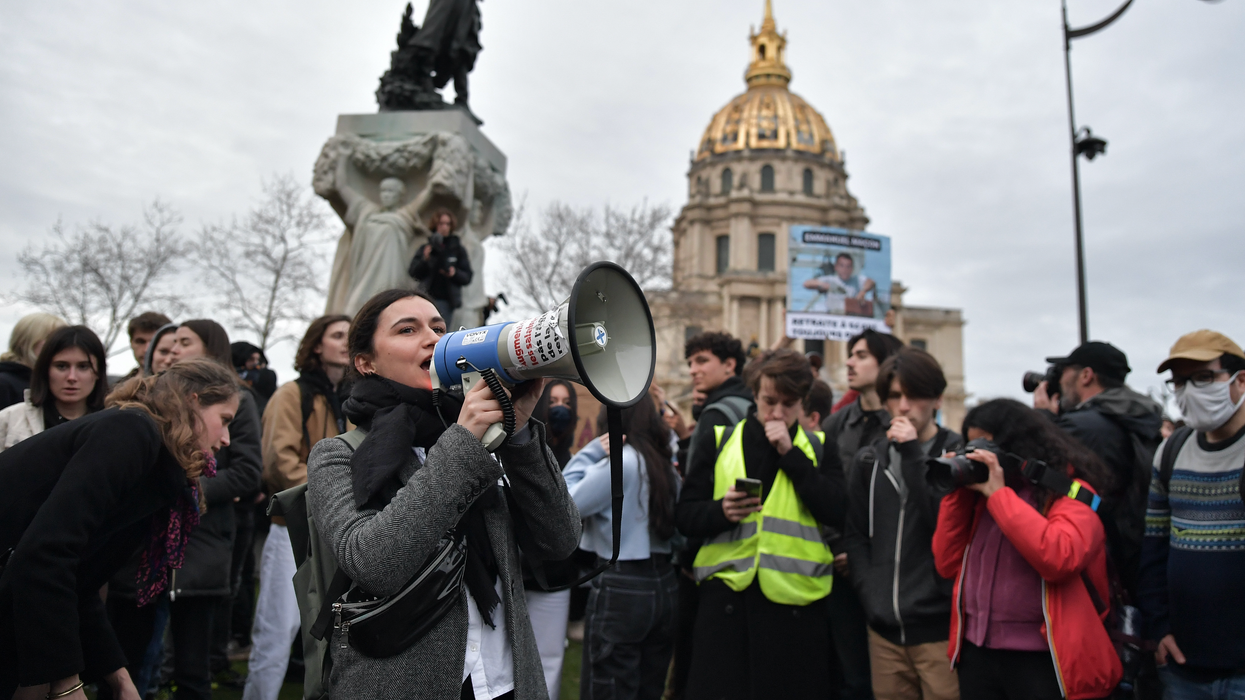 Protests—some of them violently repressed by police—broke out in Paris and cities across the nation after a parliamentary vote following the government's deeply unpopular move to raise the retirement age by two years.

Fresh protests erupted in Paris and other French cities on Monday after President Emmanuel Macron's government narrowly survived a pair of parliamentary no-confidence votes over bypassing the lower house of Parliament to raise the retirement age from 62 to 64.
The first parliamentary vote of no confidence, called by a small group of centrist lawmakers, fell nine votes short of the 278 needed to pass, Agence France-Presse reports. A second no-confidence vote, brought forward by the far-right National Rally, was also rejected.
The French Senate, which is dominated by right-wing parties, approved the higher retirement age last week. However, faced with the prospect of a vote shortfall in the National Assembly, Macron's government then invoked special constitutional powers to push through the retirement age hike.
The deeply unpopular policy has sparked widespread protests, some of which have drawn hundreds of thousands of people into the streets despite government bans on gatherings in locations including Place de la Concorde and the area of Avenue des Champs-Elysées in Paris.
Protests renewed following Monday's votes, with thousands of demonstrators marching in Paris alone. Videos posted on social media showed police charging protesters, spraying them with pepper spray, and beating them. One video showed officers brutalizing a person who appeared to be a photojournalist while an onlooker repeatedly shouted "it's the press!"

"We are not resigned," the Aubervilliers parliamentary group of the left-wing populist party La France Insoumise (LFI), or France Unbowed, tweeted Monday. "The fight against retirement reforms continues. All together in the street until the retirement of this unjust and illegitimate reform!"
LFI's parliamentary group in Haute-Garonne—which includes the southern city of Tolouse—tweeted that "Macron is more isolated than ever."
"The fight continues tonight," the party group said, previewing a Monday evening demonstration.
French unions are calling for a nationwide general strike on Thursday.
News
SUPPORT OUR WORK.
We are independent, non-profit, advertising-free and 100%
reader supported.