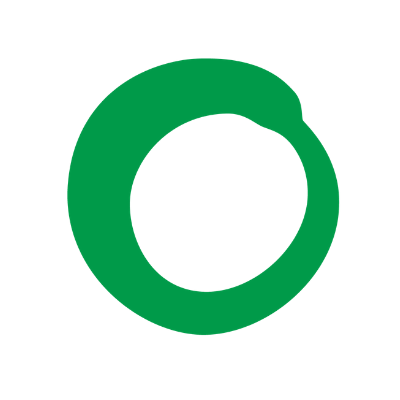 For Immediate Release
August, 24 2011, 11:36am EDT
Taking "Green Scissors" to Budget Would Yield $380 billion in Savings
Memo to congressional Super Committee: Taking "Green Scissors" to budget would yield $380 billion in savings
WASHINGTON
Ending a third of a trillion dollars in environmentally harmful subsidies could go a long way toward solving our nation's budget challenges, an unusual right-left coalition said today in a groundbreaking report.
The report -- "Green Scissors 2011" -- provides a roadmap to saving up to $380 billion over five years by curbing wasteful spending that harms the environment. That amounts to a full quarter of the savings the new congressional Super Committee has been charged with obtaining, in half the time. For full details on the report, go to https://www.greenscissors.com.
Green Scissors 2011 is being released by four organizations: progressive environmental group Friends of the Earth, deficit hawk Taxpayers for Common Sense, consumer watchdog Public Citizen and free-market think tank The Heartland Institute. (For reactions from current and former U.S. House members from both political parties, please see below list of statements.)
"While all four groups have different missions, histories, goals and ideas about the role of government," the groups write in the report, "we all agree that we can begin to overcome our nation's budgetary and environmental woes by tackling spending that is not only wasteful but environmentally harmful."
The groups propose cutting many fossil fuel, nuclear and alternative energy subsidies. Other targets include massive giveaways of publicly owned timber, poorly conceived road projects and a bevy of questionable Army Corps of Engineers water projects.
"The Green Scissors report documents the breadth and depth of damage that government spending does to our environment," said Heartland Institute Vice President Eli Lehrer. "Cutting government in the right places can make for a cleaner, healthier environment."
"At a time when working families are expected to belt-tighten, so too must wasteful public investments in mature, polluting technologies," said Tyson Slocum, director of Public Citizen's Energy Program. "For too long lobbyists kept these undeserving programs and tax preferences for the fossil fuel and nuclear industry funded."
"These common sense cuts represent the lowest of the low hanging budgetary fruit," said Taxpayers for Common Sense President Ryan Alexander. "Lawmakers across the political spectrum should be scrambling to eliminate these examples of wasteful spending and unnecessary tax breaks that are squandering our precious tax dollars while the nation is staring into a chasm of debt."
"We can go a long way toward solving our nation's budget problems by cutting spending that harms the environment, and this report provides the Super Committee with a road map," said Friends of the Earth climate and energy tax analyst Ben Schreiber. "At a time of great polarization, Super Committee members can and should find common ground by ending wasteful polluter giveaways."
As the report notes: "To get our nation's spending in check we will need to end wasteful programs and policies. They not only cost us up front, but also create additional financial liabilities down the road and threaten our nation's fragile land, air and water. In addition, we need to ensure that we receive a fair return on government assets. From the more than a century old 1872 Mining Law that gives away precious metals -- like gold and copper -- on federal lands for free, to $53 billion in lost oil and gas revenues from royalty free leases in federal waters granted in the late 1990s, to the $6 billion per year ethanol tax credit, there are dozens of reforms that can return hundreds of bil!lions to taxpayers while helping to address our nation's top environmental priorities."
"The 2011 Green Scissors Report is a reminder that it's time for Congress to have a serious, rational discussion about cutting the budget," said Rep. Earl Blumenauer (D-Ore.). "With painful budget cuts already under discussion that will require American families to make sacrifices, it is only fair, for example, that we also stop the handouts to our richest oil companies."
"Conservatives believe in the accountability of the marketplace," said former Rep. Robert Inglis (R-S.C.). "Subsidies cost us money, and they shield some participants from innovation. It's that innovation that can grow our economy and clean up the air, water and land."
"The Green Scissors report is full of recommendations that will help us be good stewards of the environment while also being good stewards of taxpayer dollars," said Rep. Tom Petri (R-Wis.). "While we won't all agree on every proposed cut, the report's recommendations are a good place to start as we look for ways to put our nation on a more sustainable fiscal path."
The Green Scissors Campaign strives to make environmental and fiscal responsibility a priority in Washington. For more than 16 years, Green Scissors has exposed subsidies and programs that both harm the environment and waste taxpayer dollars.
A PDF of Green Scissors 2011 is available here (pdf)
Friends of the Earth fights for a more healthy and just world. Together we speak truth to power and expose those who endanger the health of people and the planet for corporate profit. We organize to build long-term political power and campaign to change the rules of our economic and political systems that create injustice and destroy nature.
(202) 783-7400
LATEST NEWS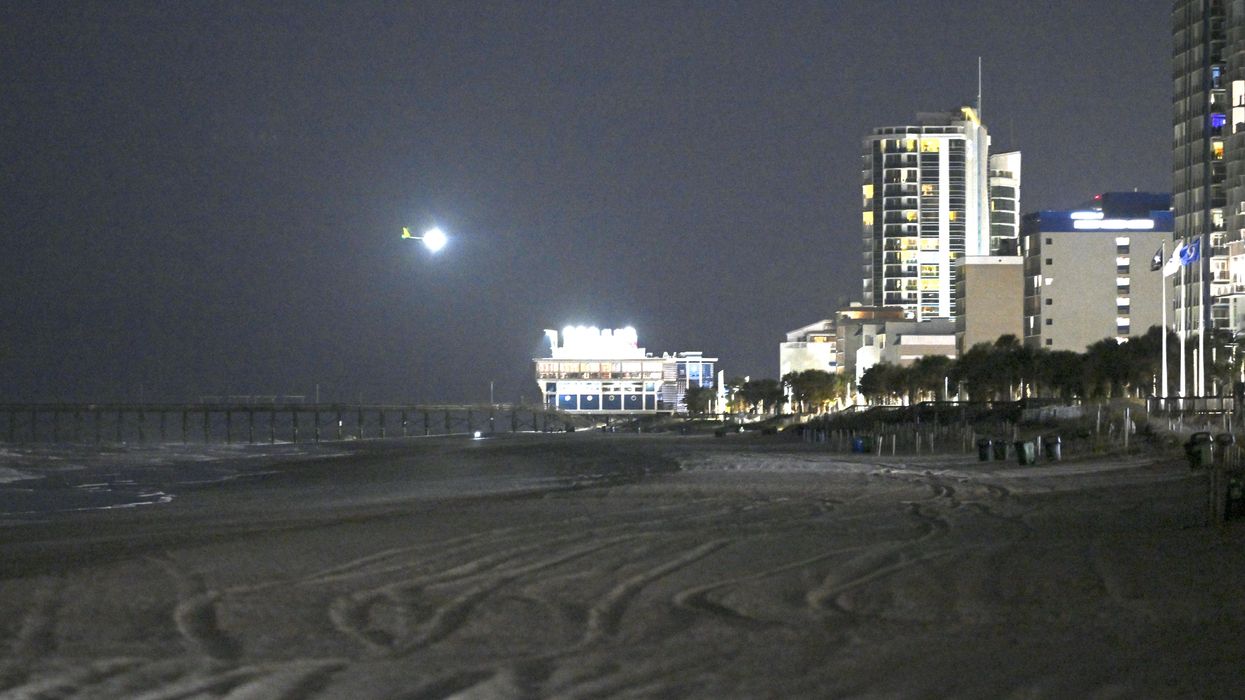 China's Ministry of Foreign Affairs said the U.S. military's move, ordered by President Joe Biden, "seriously violates international convention."
China's Foreign Affairs Ministry issued a
statement
Saturday condemning the Pentagon for
shooting down
a balloon that Beijing says was a civilian aircraft that drifted over the United States by mistake.
"The Chinese side clearly requested that the U.S. appropriately deal with this in a calm, professional, and restrained manner," the ministry said, again dismissing the Pentagon's claim that the high-altitude balloon was part of a surveillance operation aimed at monitoring sensitive military sites.
"For the United States to insist on using armed force is clearly an excessive reaction that seriously violates international convention," the ministry continued, invoking force majeure, which under international law refers to unforeseen circumstances that are beyond a state's control. China has claimed the balloon was a civilian weather research aircraft that was blown way off course by unexpected winds.
"China will resolutely defend the legitimate rights and interests of the enterprise involved, and retains the right to respond further," the ministry concluded.
War hawks in the Republican Party, including former President Donald Trump, predictably reacted with hysteria to the Pentagon's Thursday announcement that it detected the balloon over the state of Montana.
"President Biden should stop coddling and appeasing the Chinese communists. Bring the balloon down now and exploit its tech package, which could be an intelligence bonanza," said Sen. Tom Cotton (R-Ark.), one of the most vocal warmongers in Congress. "And President Biden and Secretary Austin need to answer if this was detected over Alaskan airspace. If so, why didn't we bring it down there? If not, why not? As usual, the Chinese Communists' provocations have been met with weakness and hand-wringing."
An unnamed Pentagon official said Saturday that this latest incident is one of several times a Chinese balloon has been detected in U.S. airspace in recent years. The other balloons were not shot down.
"[People's Republic of China] government surveillance balloons transited the continental United States briefly at least three times during the prior administration and once that we know of at the beginning of this administration, but never for this duration of time," the official said in a briefing with reporters.

Tensions between the U.S. and China have risen sharply in recent months, largely over Taiwan. The Biden administration recently announced that it is expanding the U.S. military's footprint in the Philippines, a move widely characterized as a message to China.
As The New York Timesreported Thursday, "A greater U.S. military presence in the Philippines would... make rapid American troop movement to the Taiwan Strait much easier. The archipelago of the Philippines lies in an arc south of Taiwan, and the bases there would be critical launch and resupply points in a war with China. The Philippines' northernmost island of Itbayat is less than 100 miles from Taiwan."

Rep. Michael McCaul (R-Texas) said late last month that the odds of a U.S. war with China within the next two years are "very high," echoing the assessment of the head of the Air Mobility Command.

Far from promoting diplomatic talks with China, Republicans in Congress appear bent on ratcheting up tensions further—and some Democrats are joining them. Last month, with overwhelming bipartisan support, House Republicans established the Select Committee on the Strategic Competition Between the United States and the Chinese Communist Party.
Upon her appointment to the panel on Thursday, Rep. Mikie Sherrill (D-N.J.) called the Chinese Communist Party "a threat to our democracy and way of life" and said the select committee represents the "best opportunity to accomplish real results for Americans and respond to China's aggression."
Rep. Mike Gallagher (R-Wis.), the chair of the select committee, has said the panel's goal is to help the U.S. "win this new Cold War" with China.
Nearly two dozen House progressives issued a statement last month opposing the formation of the committee, saying the U.S. "can and must work towards our economic and strategic competitiveness goals without 'a new Cold War' and without the repression, discrimination, hate, fear, degeneration of our political institutions, and violations of civil rights that such a 'Cold War' may entail."
News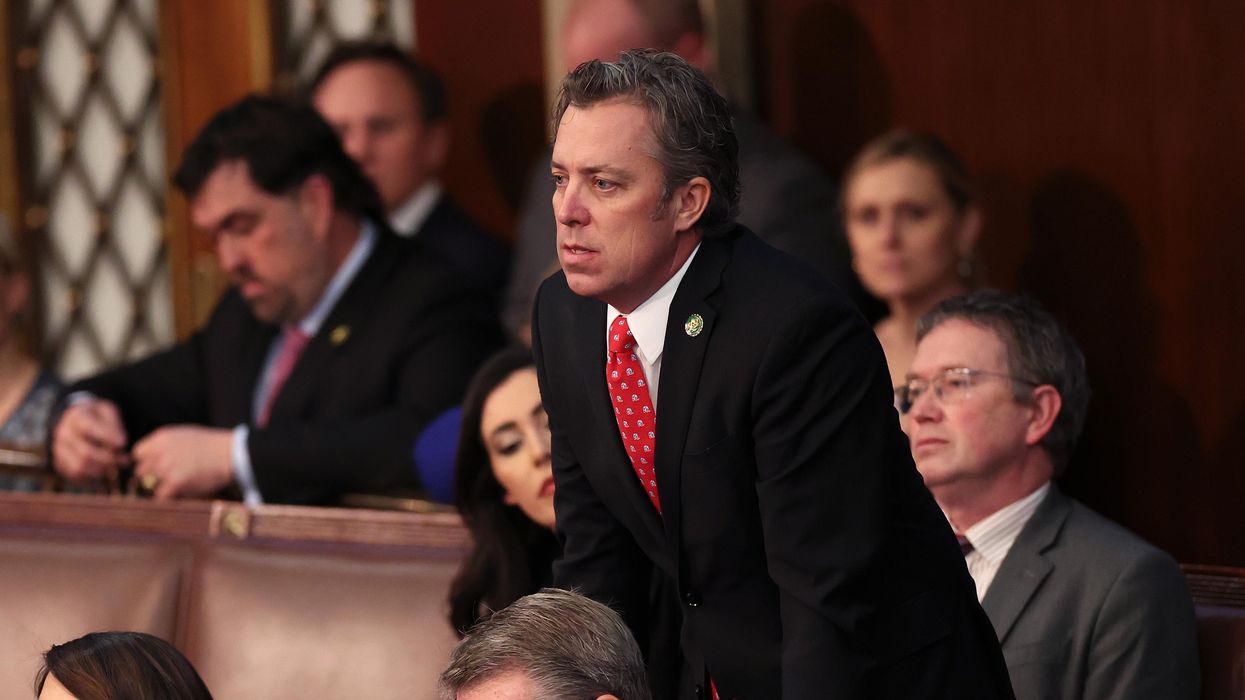 "House Republicans are trying to slash lifelines for middle-class families on behalf of rich special interests," said a White House spokesperson.
The White House on Saturday condemned a newly introduced Republican bill that would repeal the Inflation Reduction Act, a law that includes a number of changes aimed at lowering costs for Medicare recipients.
Unveiled Thursday by freshman Rep. Andy Ogles (R-Tenn.), the bill has 20 original co-sponsors and is endorsed by several right-wing groups, including the Koch-funded organization Americans for Prosperity.
The Biden White House argued that rolling back the Inflation Reduction Act, which also contains major climate investments, would represent "one of the biggest Medicare benefit cuts in American history" as well as a "handout to Big Pharma." According to Politico, which first reported the White House's response to the GOP bill, the administration is planning to release "state-by-state data indicating how this would affect constituents in different areas."
"House Republicans are trying to slash lifelines for middle-class families on behalf of rich special interests," White House spokesperson Andrew Bates said in a statement. "Who on earth thinks that welfare for Big Pharma is worth selling out over a million seniors in their home state?"

The Inflation Reduction Act authorized a $35-per-month cap on insulin copayments for Medicare recipients, as well as an annual $2,000 total limit on out-of-pocket drug costs.
The bill will also, among other long-overdue changes, allow Medicare to begin negotiating the prices of a subset of the most expensive prescription drugs directly with pharmaceutical companies, which fiercely opposed the law and are working with Republicans to sabotage it. The newly negotiated prices are set to take effect in 2026.
Ogles, whose two-page bill would eliminate the above reforms, repeatedly attacked Medicare, Medicaid, and other federal programs and protections during his 2022 campaign for the U.S. House.
\u201cNEW @Campbell4TN ad in TN-5: \u201cExtreme Andy Ogles in his own words \u2014 a SUPERCUT\u201d\n\nWatch @AndyOgles back a no exceptions abortion ban, cutting Medicare & Medicaid, eliminating Dept of Ed, impeaching Biden, deny the election was legit, etc\u2026 do better, TN-5.\nhttps://t.co/YhCRGXIPsU\u201d

— The Tennessee Holler (@The Tennessee Holler) 1667748662
The White House's critique of Ogles' bill comes as Biden is facing pressure from advocates and physicians to cancel a Medicare privatization scheme that his administration inherited from its right-wing predecessor and rebranded.
It also comes as the White House is locked in a standoff with House Republicans over the debt ceiling. Republican lawmakers have pushed for deeply unpopular cuts to Medicare, Social Security, and other critical federal programs as a necessary condition for any deal to raise the country's borrowing limit and avert a catastrophic default.
"In less than a month, MAGA extremists have threatened to drive the economy into a recession by defaulting on our debt, promised to bring up a bill to impose a 30% national sales tax, and now have introduced legislation to repeal the Inflation Reduction Act," Patrick Gaspard, president and CEO of the Democratic Party-aligned Center for American Progress said in a statement. "This will cut taxes for corporations who earn billions in profit while empowering Big Pharma and Big Oil to continue ripping off the American people."
"It is vital that all Americans understand what is at risk if MAGA extremists succeed in passing their latest dangerous idea: millions of lost jobs, millions more without health insurance, and higher costs for lifesaving insulin, utilities, and more," Gaspard added.
News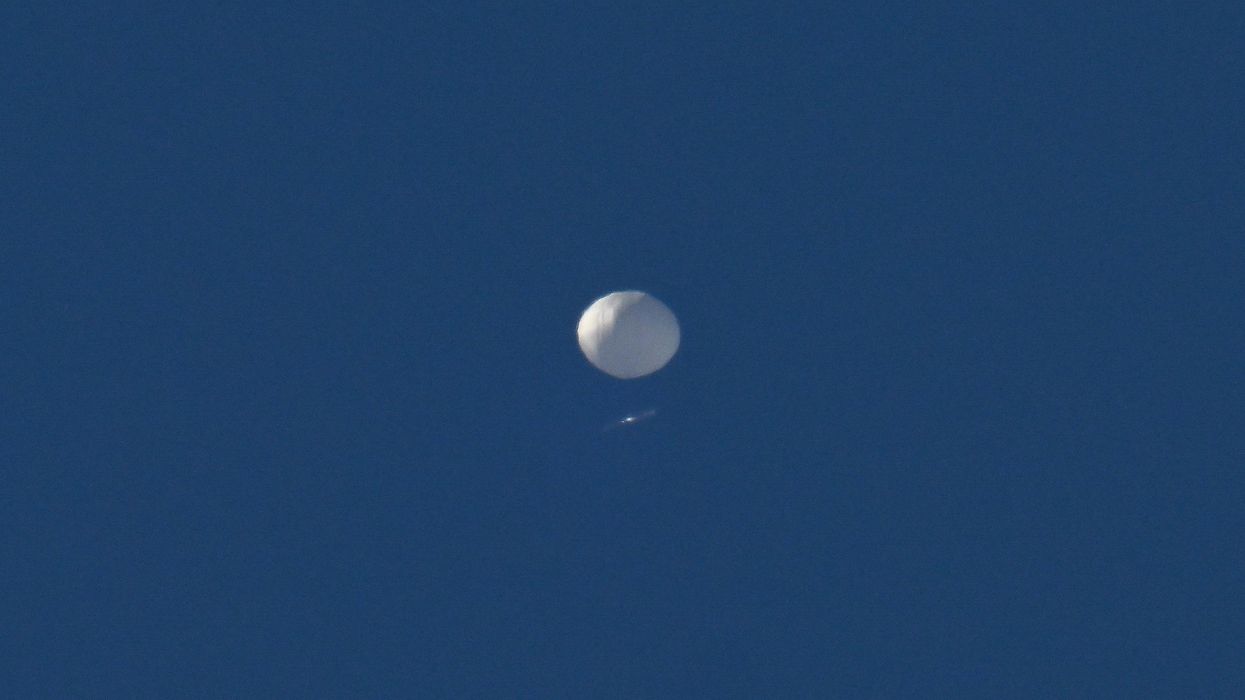 The Associated Press reported that "an operation was underway in U.S. territorial waters to recover debris from the balloon."
The United States military shot down a Chinese balloon off the South Carolina coast on Saturday, according to the Associated Press.
"An operation was underway in U.S. territorial waters to recover debris from the balloon, which had been flying at about 60,000 feet and estimated to be about the size of three school buses," AP reported. "Before the downing, President Joe Biden had said earlier Saturday, 'We're going to take care of it,' when asked by reporters about the balloon. The Federal Aviation Administration and Coast Guard worked to clear the airspace and water below."
Defense Secretary Lloyd Austin confirmed in a statement that "at the direction of President Biden, U.S. fighter aircraft assigned to U.S. Northern Command" successfully downed the balloon "off the coast of South Carolina in U.S. airspace."
The U.S. has said it believes the high-altitude balloon was a part of a surveillance operation, something China has denied.
"The airship is from China," a spokesperson for the country's foreign ministry said Friday. "It is a civilian airship used for research, mainly meteorological, purposes. The Chinese side regrets the unintended entry of the airship into U.S. airspace due to force majeure. The Chinese side will continue communicating with the U.S. side and properly handle this unexpected situation."
The U.S. first detected the balloon over the state of Montana earlier in the week, leading Secretary of State Antony Blinken to cancel his planned trip to China as tensions between the two countries continue to rise.

As Jake Werner of the Quincy Institute for Responsible Statecraft wrote Friday, members of Congress have "used the incident to hype fears about China," citing House China Select Committee Chairman Mike Gallagher's (R-Wis.) claim that the balloon posed "a threat to American sovereignty" and "a threat to the Midwest."
Werner stressed that "foreign surveillance of sensitive U.S. sites is not a new phenomenon," nor is "U.S. surveillance of foreign countries."
"The toxic politics predominating in Washington seems to have convinced the Biden administration to further restrict communications with Beijing by calling off Blinken's trip," Werner added. "Letting war hawks set America's agenda on China can only end in disaster. Conflict is not inevitable, but avoiding a disastrous U.S.-China military confrontation will require tough-minded diplomacy—not disengagement."

News
SUPPORT OUR WORK.
We are independent, non-profit, advertising-free and 100%
reader supported.