For Immediate Release
March, 29 2011, 11:21am EDT
Nepal: Rampant Child Kidnappings
Prosecute Abductions for Ransom and Killings of Children in Southern Region
NEW YORK
Criminal gangs and other armed groups are abducting children in Nepal's southern plains region known as the Terai for ransom, sometimes killing the children, Human Rights Watch said today. The Nepali government should ensure prompt and thorough investigations and prosecutions into all of these cases, Human Rights Watch said.
"These armed groups are willing to risk children's lives to extort money from poor shopkeepers, farmers, and teachers," said Bede Sheppard, senior children's rights researcher at Human Rights Watch. "If the police consistently fail to get these children freed and home safely, they lose the faith of the community they are supposed to protect."
In a recent investigation in Terai, Human Rights Watch documented five cases of child abduction for ransom by armed and criminal groups. The abductions Human Rights Watch documented are a small proportion of the total, and the problem appears to be much broader. An English-language media survey by Human Rights Watch shows that at least 28 children had been abducted in the Terai region in 2010. Nine of these abductions ended with the child being killed, and in two cases girls were raped by their abductors.
In almost all the cases that Human Rights documented, police failed to secure the child's release before parents paid ransom. Some families told Human Rights Watch that police had not acted swiftly or undertaken what the parents considered to be an adequate investigation.
In one case, the father of 15-year-old Mubarak Rayin of Dhanusha district hired a private investigator, tracked down a suspect a few days after the boy's abduction in October, and handed him over to the police for investigation.
Police were not able to secure Mubarak's release, though. A month later, police informed the family they had found Mubarak's body three days after the abduction, his head apparently crushed with rocks, and that they had buried him instead of notifying the family promptly and handing the body over to them.
Police told Human Rights Watch that they were not able to identify the body at the time but they later came to believe it had been Mubarak's. The police have informed Human Rights Watch that they have arrested the suspected kidnappers, but they have yet to hand over Mubarak's body to the family or to tell them its whereabouts.
"The kidnapping and killing of Mubarak Rayin underscores the urgency of investigating child abductions more promptly and responsibly," Sheppard said. "Police not only failed to rescue him, but they mishandled the aftermath of his death. The failure to return Mubarak's body to his family has only aggravated their suffering."
The family has every right to have Mubarak's body returned to them, and to cremate the body according to their own tradition, Human Rights Watch said.
In the cases investigated by Human Rights Watch, police efforts to secure the release of children usually took more than ten days, and almost always occurred only after the family had paid the ransom demanded. The initial ransom request was an average of 500,000 rupees (US$7,142), a crippling amount of money for these families.
There have also been serious allegations by families and human rights activists that members of the police themselves have been involved in carrying out abductions, or have benefitted from turning a blind eye to these cases. The abduction and killing of two teenagers, Kapil Dwibedi, and Liladhar Bhatta in October 2010 in Nepalgunj, Banke district, was one example. The media reported that the prime suspect arrested by the police implicated two local police superintendents and a sub-inspector of National Investigation Bureau in the incident. Police have not yet publicized the facts of the investigation into the alleged involvement of the three police officers.
Human Rights Watch called on the government of Nepal to investigate all cases of abductions and take appropriate measures to prevent these abductions.
In addition, Human Rights Watch called on donors who provide funding for Nepal's police to raise this issue and inquire about the status of investigations into the following abduction cases documented by Human Rights Watch:
Subhas Kumar Sah, a 12-year-old boy from Siraha district, abducted by two men on his way home from his father's food stall in Lahan, Siraha district.
The kidnappers called his father, Garib Shah, and demanded 5 million rupees ($71,430). Police investigated but could not secure Subhas's release. Fearing for the child's safety and that police would be unable to rescue him, the family negotiated the ransom. Subash was freed 12 days after the abduction.
Mubarak Rayin, 15, and Satish Sah, nine, abducted on their way to Janakpur bazaar on October 21, 2010.
The kidnappers released Satish four days later, after his parents paid 275,000 rupees ($3,930). Mubarak's family was not able afford the ransom.
Janak Chaudhari, a 12-year-old boy from Saptari district, abducted outside his school at midday on November 2, 2010.
Three days later, the kidnappers called Janak's family and asked for 500,000 rupees ($7,142). Media reported that police found Janak in India and rescued him on November 23.
Suresh Kumar Yadav, 14-year-old son of the secretary of a Village Development Committee, abducted by an armed gang on April 9, 2010, from Saptari district, and taken to India.
The family negotiated and paid ransom to the kidnappers and secured Suresh's release. The family told Human Rights Watch that police had investigated the case and helped the family rescue Suresh from India after the payment.
Human Rights Watch is one of the world's leading independent organizations dedicated to defending and protecting human rights. By focusing international attention where human rights are violated, we give voice to the oppressed and hold oppressors accountable for their crimes. Our rigorous, objective investigations and strategic, targeted advocacy build intense pressure for action and raise the cost of human rights abuse. For 30 years, Human Rights Watch has worked tenaciously to lay the legal and moral groundwork for deep-rooted change and has fought to bring greater justice and security to people around the world.
LATEST NEWS
"Oil company bosses and shareholders are being allowed to get even richer by banking huge profits, while normal people are facing enormous energy bills and millions are being forced into fuel poverty."
The London-based oil giant Shell reported Thursday that its profits more than doubled in 2022 to a record $40 billion as households across Europe struggled to heat their homes, a crisis that campaigners blamed on the fossil fuel industry's price gouging.
Global Witness estimated that Shell's full-year profits for 2022 would be enough to cover the annual energy bills of nearly half of all U.K. households. The group also calculated that Shell's profits could fund "the £28 billion that the U.K. government estimates would be needed to give all public sector workers—including nurses, teachers, police and firefighters—raises in line with inflation."
"For those facing exorbitant energy bills, and for all of our nurses, firefighters, and teachers on the picket line this week, Shell's profits are an insult. Shell is richer because we're poorer," Jonathan Noronha-Gant, a senior campaigner at Global Witness, said Thursday. "If oil and gas companies were properly taxed, and if our government stopped handing them billions of pounds in the form of tax breaks and other subsidies—then that would free up the money that's desperately needed to give Brits long-term support with the cost of their energy bills, and to give our key workers the financial recognition they deserve. But so far that hasn't happened."
"So we have to ask ourselves—whose side is our government on?" Noronha-Gant continued. "Are they on the side of those of us living in cold, draughty homes, or are they on the side of an industry that is riding the wave of the energy crisis in Europe and the war in Ukraine, and is wrecking the planet in the process? All in the name of enriching its shareholders."
With its new earnings report, Shell joined ExxonMobil, Chevron, and other major oil companies in posting record-shattering profits for 2022, a year that saw massive energy market disruptions stemming from Russia's war on Ukraine.
"The announcement of yet another obscene profit for Shell shows the scale of the harm that these companies are inflicting on households and businesses."
Shell announced Thursday that it returned a total of $26 billion to shareholders last year through dividends and share buybacks. The company said last month that it expects to pay just $2.4 billion in windfall taxes in the U.K. and E.U. for 2022.
"Our results in Q4 and across the full year demonstrate the strength of Shell's differentiated portfolio, as well as our capacity to deliver vital energy to our customers in a volatile world," Shell CEO Wael Sawan said in a statement. "We believe that Shell is well positioned to be the trusted partner through the energy transition."
Climate advocates countered that far from helping alleviate Europe's energy crisis, Shell—which has been accused of overstating its renewable energy spending—is a big part of the problem.

"The announcement of yet another obscene profit for Shell shows the scale of the harm that these companies are inflicting on households and businesses," said Freya Aitchison, an oil and gas campaigner with Friends of the Earth Scotland. "Oil company bosses and shareholders are being allowed to get even richer by banking huge profits, while normal people are facing enormous energy bills and millions are being forced into fuel poverty."
"Shell is worsening climate breakdown and extreme weather by continuing to invest and lock us into new oil and gas projects for decades to come," Aitchison added, pointing to the company's Jackdaw gas project. "These profit figures are further evidence that our current fossil-fueled energy system is seriously harming people and the climate."
Earlier this week, as Common Dreamsreported, four Greenpeace campaigners boarded and occupied a Shell-contracted platform in the Atlantic Ocean to call attention to the company's contributions to global climate chaos. The Shell platform is headed toward a major oil and gas field in the U.K. North Sea.
On Thursday, Greenpeace activists set up a mock gas station price board outside of Shell's London headquarters to spotlight the firm's record-shattering profits.
\u201cNo more excuses. Stop Drilling, Start Paying. #MakeShellPay\u201d

— Greenpeace UK (@Greenpeace UK) 1675346085
Elena Polisano, a senior climate justice campaigner for Greenpeace U.K., said in a statement Thursday that "Shell is profiteering from climate destruction and immense human suffering."
"While Shell counts their record-breaking billions, people across the globe count the damage from the record-breaking droughts, heatwaves, and floods this oil giant is fueling," said Polisano. "This is the stark reality of climate injustice, and we must end it."

News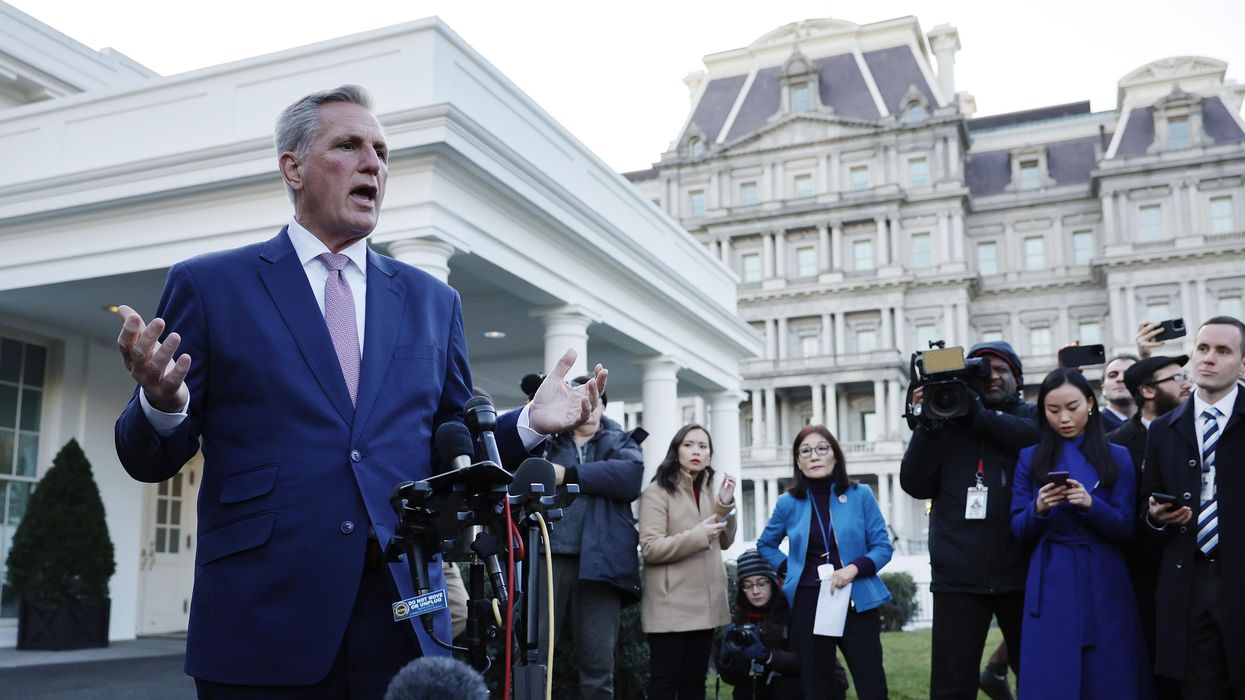 House Republicans' effort to cap spending at 2022 levels would impact "a wide array of public services," including healthcare programs, education, and much more.
After a private meeting with President Joe Biden on Wednesday, House Speaker Kevin McCarthy reiterated his support for steep federal spending cuts as part of any deal to raise the debt ceiling, upholding his commitment to the far-right Republicans who threatened to deny him the top leadership post.
"I was very clear that we're not passing a clean debt ceiling," McCarthy (R-Calif.) told reporters following his conversation with the president. "We're not spending more next year than we spent this year. We've got to find a way to change this and I want to sit down and work."
While some members of his caucus have vocally singled out Social Security and Medicare, McCarthy has declined to explain precisely what and how much he wants to cut. But as part of a deal with the far-right flank of his caucus, McCarthy agreed to push for a cap on federal spending at fiscal year 2022 levels.
According to an analysis released Wednesday by the Center on Budget and Policy Priorities (CBPP), such a cap would entail significant cuts to "a wide array of public services that the federal government provides and that people and communities depend on, including public health; food safety inspections; air traffic control operations; the administration of Medicare and Social Security; housing and other assistance for families with low incomes; education and job training; and scientific and medical research, to name just a few."
"Moreover, many of these programs are still feeling the effects of austerity imposed largely by the 2011 Budget Control Act," CBPP's Joel Friedman and Richard Kogan wrote, pointing to a law that the GOP forced through following a damaging round of debt ceiling brinkmanship. "Even with a recent boost in 2023, funding for non-defense programs outside of veterans' medical care is about 2% below its 2010 level, adjusted for inflation, and 9% below when adjusted for both inflation and population growth. Funding for these programs needs to rise to meet national needs, address shortfalls that hamper the delivery of government services, and help create an economy in which everyone has the resources they need to thrive."
CBPP's estimates suggest that a federal spending cut of $146 billion across military and non-military programs would be required to meet House Republicans' demand to cap fiscal year 2024 spending at 2022 levels.

But Friedman and Kogan stressed that cuts to non-military discretionary spending—a broad category that includes healthcare and education programs—would have to be even larger if the Pentagon budget is shielded, as some House Republicans have proposed. Military spending represents more than half of all federal discretionary spending.
"Reducing defense funding to its 2022 level in 2024 would require a cut of $76.2 billion from its current level," Friedman and Kogan noted. "If instead one assumes that defense funding is frozen in 2024—that is, held at its 2023 level rather than being reduced to the 2022 level—but that House Republicans still press to return total discretionary funding to its 2022 level, then those additional cuts would need to be absorbed by non-defense programs. If that comes on top of protecting veterans' medical care, then the remaining non-defense programs would need to be cut by 24.3% on average."

"The cuts the House Republicans are calling for, whether achieved by reducing non-defense programs categorized as discretionary or mandatory, are deep," Friedman and Kogan concluded. "Claims that they are designed merely to root out 'wasteful spending' are highly misleading and distract from the policy implications of these proposals and the harm they would cause."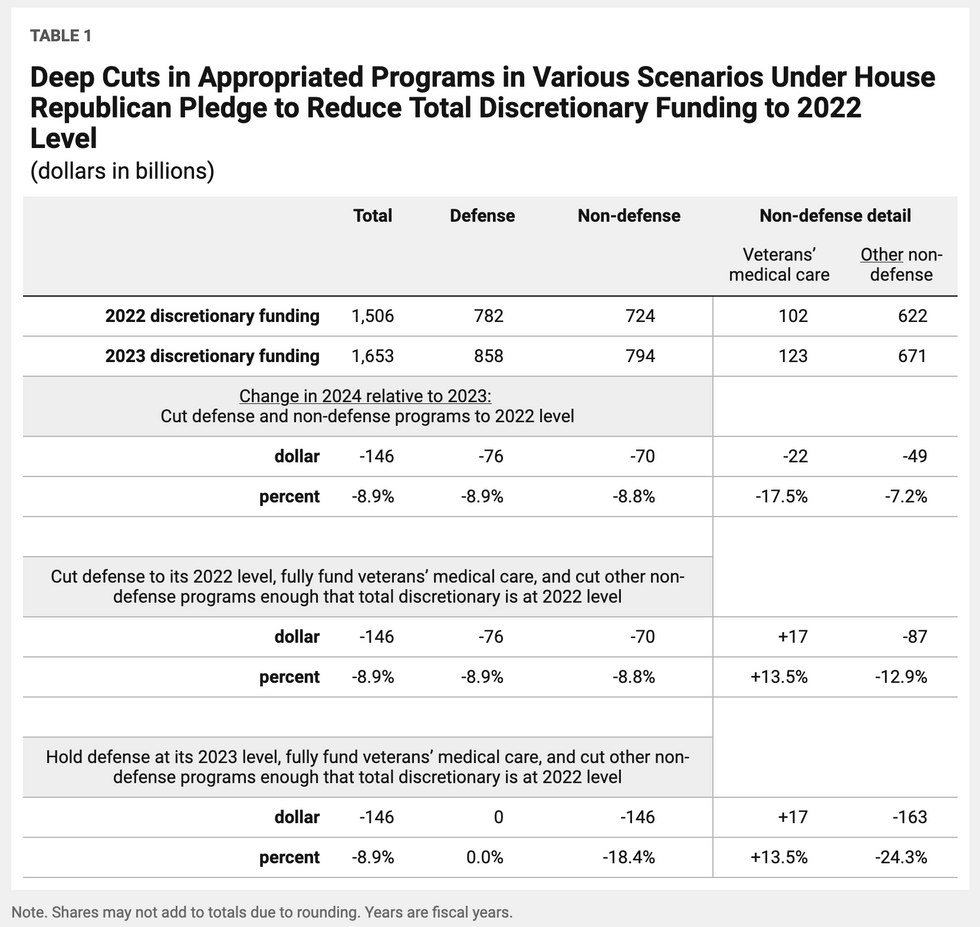 The White House has insisted on legislation that raises the debt ceiling without any attached spending cuts or other conditions, a message it reiterated after Biden's meeting with McCarthy on Wednesday.

"President Biden made clear that, as every other leader in both parties in Congress has affirmed, it is their shared duty not to allow an unprecedented and economically catastrophic default," the White House said in a readout of the meeting. "The president welcomes a separate discussion with congressional leaders about how to reduce the deficit and control the national debt while continuing to grow the economy."
As McCarthy prepared for his discussion with Biden, the Republican Study Committee (RSC)—the largest House GOP caucus—convened on Capitol Hill to discuss their priorities for time-sensitive debt ceiling negotiations.
According to a presentation slide obtained by Politico's Olivia Beavers, RSC chair Rep. Kevin Hern (R-Okla.) offered a broad outline of the GOP's group's priorities, including a reversal of recent discretionary spending increases. Last year, the RSC called for gradually increasing the retirement age and partially privatizing Social Security.
Aaron Fritschner, communications director for Rep. Don Beyer (D-Va.), criticized House Republicans' continued refusal to put forth a budget detailing their specific demands.
"Wow what a disaster," Fritschner tweeted in response to the RSC presentation. "They truly have no idea what to do."
News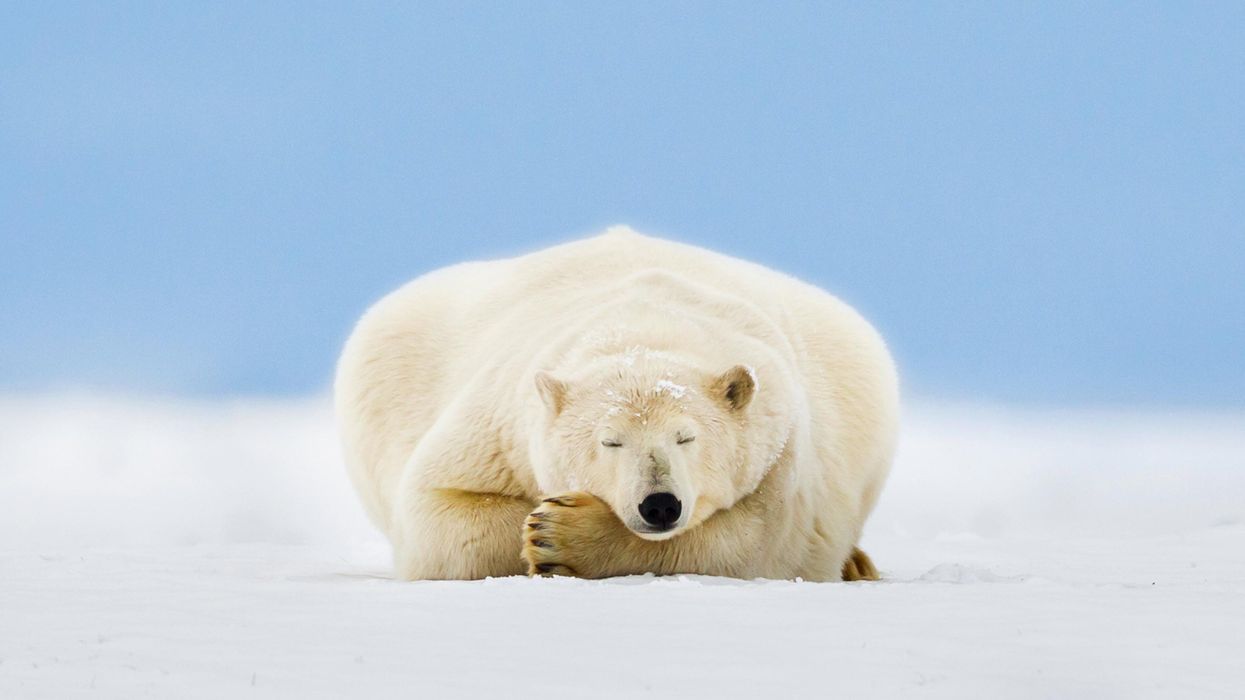 "We need a law on the books that will affirm these lands are not for sale, preserve the wilderness of the Coastal Plain, and uphold the sovereignty of Arctic Indigenous peoples," said Sen. Ed Markey, one of the bill's lead sponsors.
Indigenous, climate, and conservation advocates on Wednesday welcomed the reintroduction of congressional legislation to restore protections and prevent fossil fuel development in Alaska's Arctic National Wildlife Refuge.
Sens. Ed Markey (D-Mass.), Maria Cantwell (D-Wash.), Martin Heinrich (D-N.M.), and Michael Bennet (D-Colo.), along with Reps. Jared Huffman (D-Calif.) and Brian Fitzpatrick (R-Pa.), reintroduced the Arctic Refuge Protection Act, the continuation of legislative efforts dating back to the 1980s to protect the critical wilderness and its inhabitants.
The lawmakers said in a statement that their bill "will restore critical protections to the Arctic National Wildlife Refuge—home to the Gwich'in people and the nation's largest national wildlife refuge—by designating the Coastal Plain ecosystem as wilderness under the National Wilderness Preservation System."
If passed, the bill "would permanently halt any new oil and gas leasing, exploration, development, and drilling on the Coastal Plain, and would safeguard the subsistence rights of the Arctic Indigenous peoples who depend upon the unique ecosystem within the Arctic Refuge," the statement explained.
As Huffman's office noted:
The Arctic National Wildlife Refuge covers 19.6 million acres and is the largest unit in the National Wildlife Refuge System. The 1.56 million-acre Coastal Plain, the biological heart of the refuge, contains the calving grounds for the Porcupine caribou herd and is home to denning polar bears, musk oxen, wolves, and more than 150 species of migratory birds. The 9,000-strong Gwich'in Nation, living in Alaska and Canada, make their home on or near the migratory route of the Porcupine caribou herd, and have depended on this herd for their subsistence and culture for thousands of years.
"The Arctic National Wildlife Refuge is a national treasure and a cultural and spiritual home for Arctic Indigenous peoples," said Markey. "The traditional relationship that the Gwich'in and Iñupiat have had with the refuge for generations, as well as the singular ecosystem on the Coastal Plain, should not be put into harm's way because of old failed promises of a fictional financial windfall."
"We need a law on the books that will affirm these lands are not for sale, preserve the wilderness of the Coastal Plain, and uphold the sovereignty of Arctic Indigenous peoples—who must be consulted regarding the use, management, and conservation of the Coastal Plain," he added.
"The Arctic National Wildlife Refuge is a national treasure and a cultural and spiritual home for Arctic Indigenous peoples."
Karlin Itchoak, Alaska regional director for the Wilderness Society, stated that the bill "recognizes not only the importance of protecting wildlife and public land, but also shows respect and concern for the Indigenous peoples who live in and near the Arctic National Wildlife Refuge."
"The Coastal Plain of the refuge is sacred to the Gwich'in Nation, and the Iñupiat people have stewarded this land since time immemorial," Itchoak added. "Protecting the Coastal Plain from oil drilling is essential to their cultures, food security, and ways of life, as well as to the global climate."

Some Indigenous and conservationist activists expressed their deep disappointment last year after congressional Democrats excluded Arctic protections from their $430 billion budget reconciliation package. Protections including a measure to end the Trump-era mandate for oil and gas leases on the Coastal Plain were included in the Build Back Better package that made it no further than passage by House Democrats in 2021.
The lawmakers said the reintroduced bill "would enshrine the protections sought by President [Joe] Biden on his first day in office, which were reaffirmed last June when the administration temporarily suspended drilling lease sales in the Arctic refuge."
However, they stressed that "the Coastal Plain ecosystem remains at risk due to oil and gas lease sales mandated by the 2017 Tax Cuts and Jobs Act"—also known as the Republican Tax Scam—signed into law by then-President Donald Trump. Such lease sales ultimately generated little interest.
The reintroduction of the Arctic Refuge Protection Act came on the same day that the Biden administration's Bureau of Land Management infuriated climate advocates by publishing an environmental assessment recommending partial approval of ConocoPhillips' Willow Project, a major drilling initiative on Alaska's North Slope, which contains much of the Arctic National Wildlife Refuge.

News
SUPPORT OUR WORK.
We are independent, non-profit, advertising-free and 100%
reader supported.